Pumpkin Basque cheesecake is a one-bowl, 7 ingredient recipe. The perfect cheesecake for Thanksgiving, rich with warm autumn flavors. It's very basic, and because it's a crustless cheesecake, it's super easy to make.
WHY TRY THIS RECIPE FOR PUMPKIN CHEESECAKE?
Gorgeous, gourmet fall dessert recipe that tastes absolutely incredible!
The Basque cheesecake recipe is straightforward and requires no effort
No need for complicated techniques or a water bath for baking
Fool-proof, easy, creamy cheesecake
Can be made a day in advance
Jump to :
WHAT IS BASQUE CHEESECAKE?
Basque cheesecake, aka "burnt Basque cheesecake" or "San Sebastián cheesecake," is a rustic and unique variation of the traditional cheesecake. The popular dessert began in the Basque Country of Spain, and what sets the burnt Basque cheesecake recipe apart is its caramelized exterior. We intentionally bake the cheesecake at a higher temperature. So, it has a dark, caramelized crust and creamy, rich, custardy interior.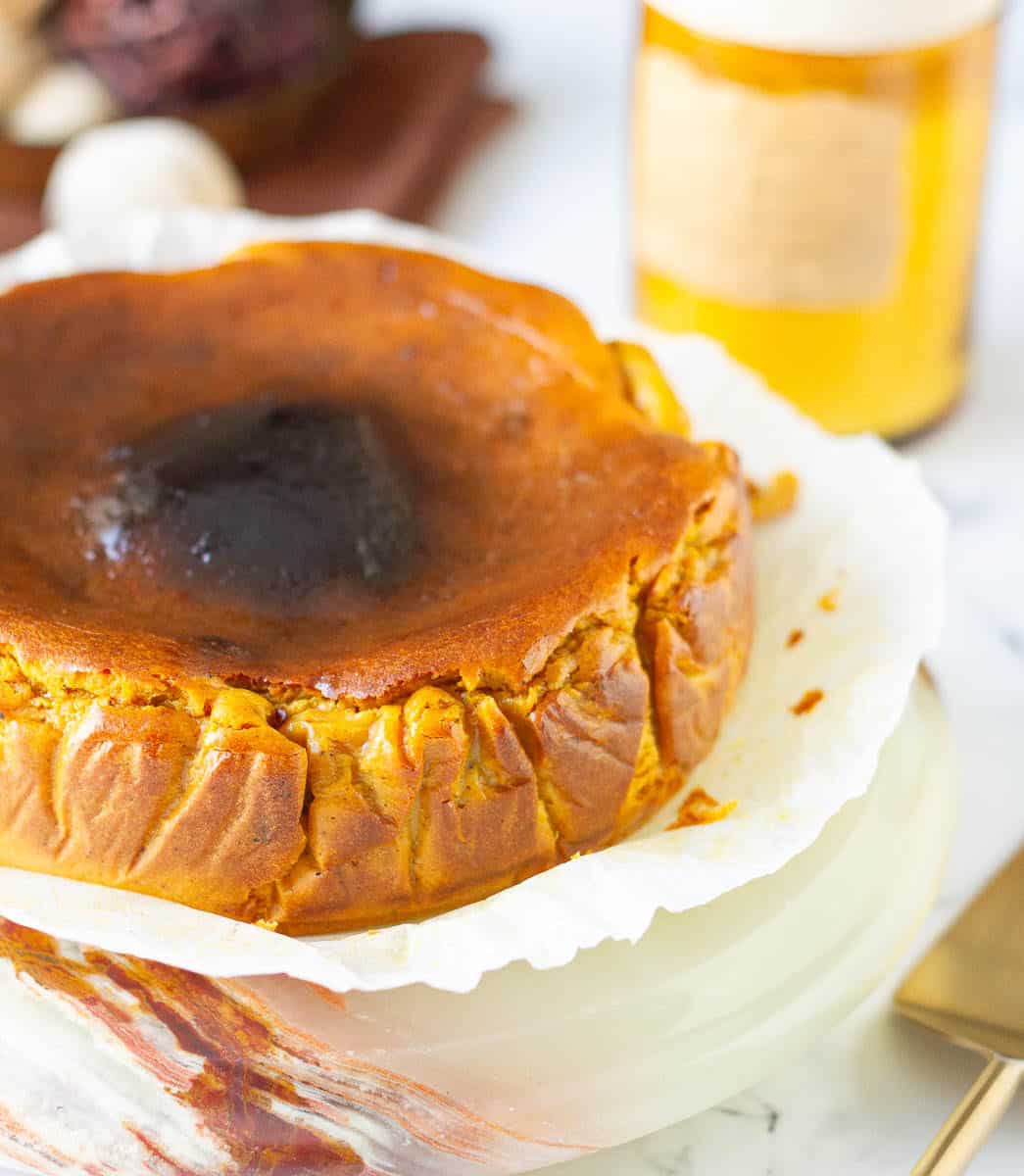 BASQUE PUMPKIN CHEESECAKE INGREDIENTS
Sugar: I used caster, but raw or cane, either will work.
Pumpkin: I used butternut squash for the purée, but feel free to switch to any variety readily available. Or use canned purée.
Eggs are essential from a structural perspective in this recipe for pumpkin dessert. They give the cake a gorgeous lift and creamy texture.
Pumpkin pie spice is readily available online and in stores. Still, I use my own recipe because it's comfortable to make at home and allows me to control the spice mix better. Swing by here for it.
HOW TO MAKE PUMPKIN PURÉE?
There's nothing wrong with using canned purée, but if you live in a corner of the world where it isn't available or have some extra time, I wholeheartedly recommend making it at home.
Fresh purée has the best taste. Peel and dice the pumpkins and then cook them in one of the following three ways:
Add the pieces to a saucepan with water and snap the lid shut.
Toss them in some oil and cook them in a microwave until they are soft.
Use a steamer. I prefer this method. With a fork, mash the steamed pumpkin. You can also use a stick or regular blender.
500 grams of pumpkin will give you about 250 -300 grams of purée. Make sure your purée is not too watery. If it is, simply cook it for a few minutes to get rid of excess moisture.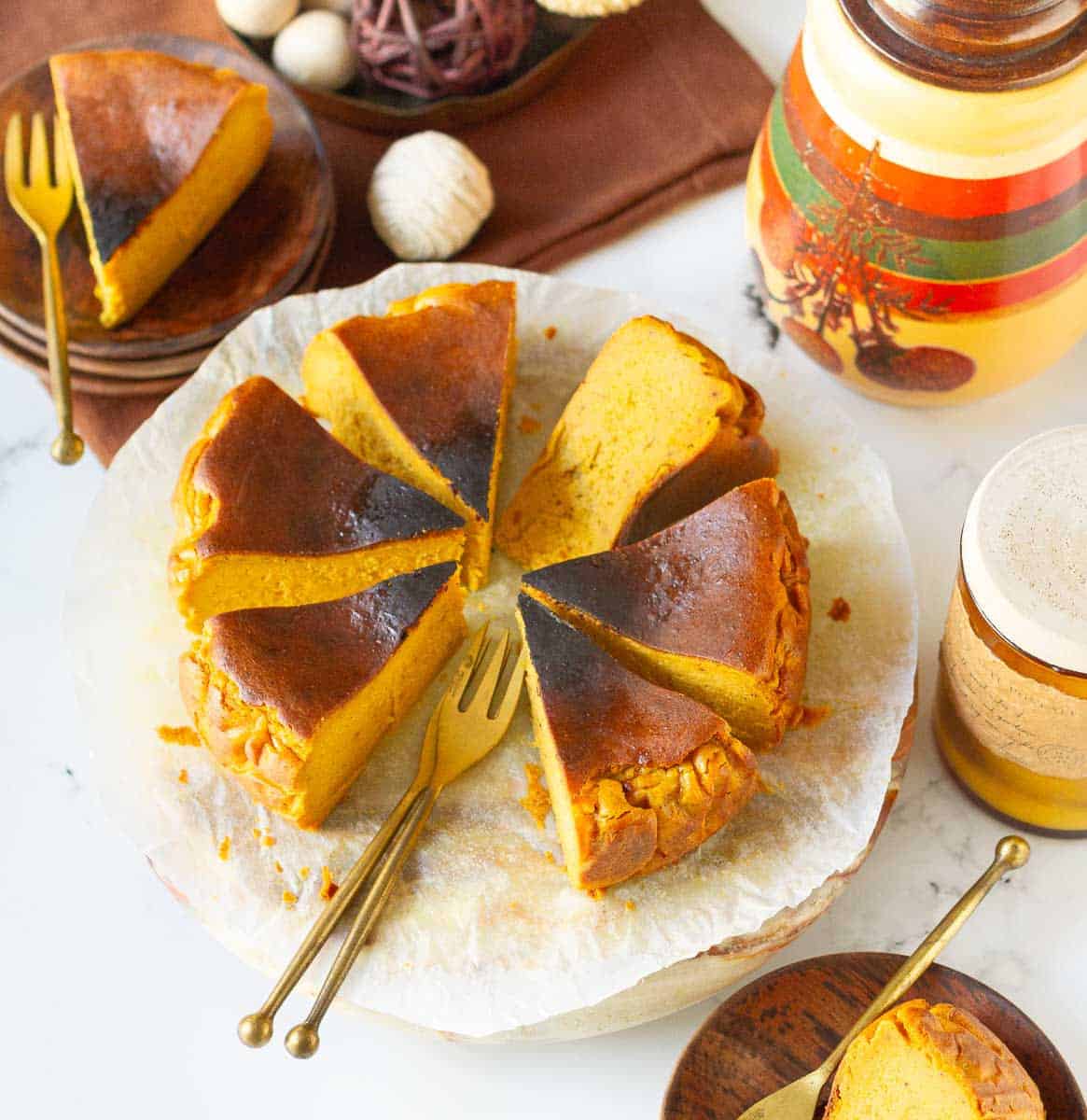 HOW TO MAKE PUMPKIN BASQUE CHEESECAKE?
Step 1: Preheat the oven to 200°C and line an 8" cake tin with parchment paper.
Step 2: Mix softened cream cheese with sugar until the latter is dissolved, and you have a smooth consistency (about 2–3 minutes).
Step 3: Add eggs, pumpkin purée, vanilla extract, all-purpose flour, and pumpkin pie spice. Blend until you have a smooth, thick mixture.
Step 4: Pour the Basque cheesecake batter into the tin and bake for 45 to 50 minutes.
Step 5: Turn off the heat, crack the oven door open, and let the cake sit for a few minutes.
Step 6: Transfer to the countertop for 30 to 40 minutes.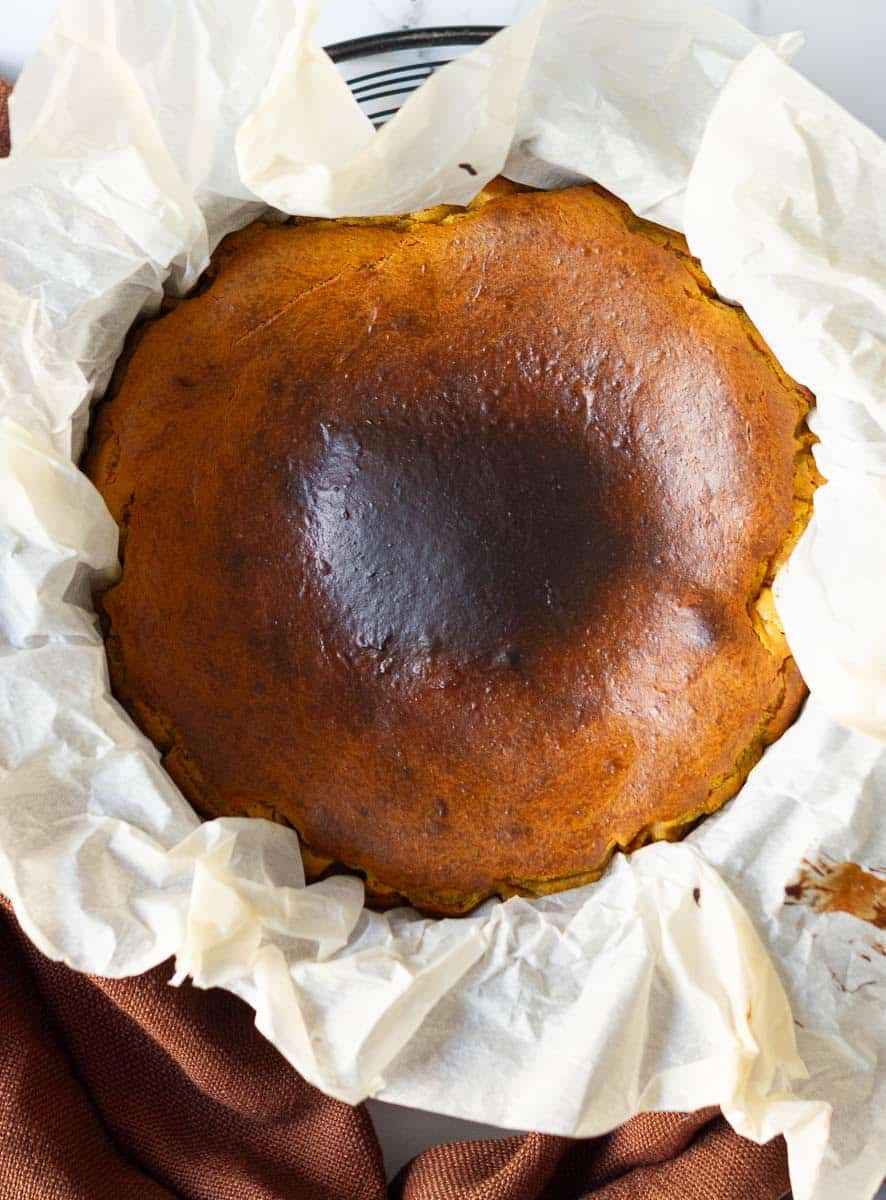 Step 7: Refrigerate overnight (or at least 8 to 10 hours).
Final Step: Unmold, slice, and serve!
PUMPKIN CHEESECAKE RECIPE NOTES
Line your cake tin with parchment paper. You can use a regular cake tin or a springform one. Just be sure to line it.
Don't use separate strips of parchment paper for the bottom and the sides. The cake batter will seep through the gaps. Use a large sheet and press it against the sides. Leave about 2 inches of overhang, as the pumpkin Basque cheesecake rises quite a bit.
Use room temperature ingredients, especially the eggs, cream, and cream cheese.
If the batter looks lumpy, feel free to sieve it. It's the best trick in the book for a velvety Basque cheesecake.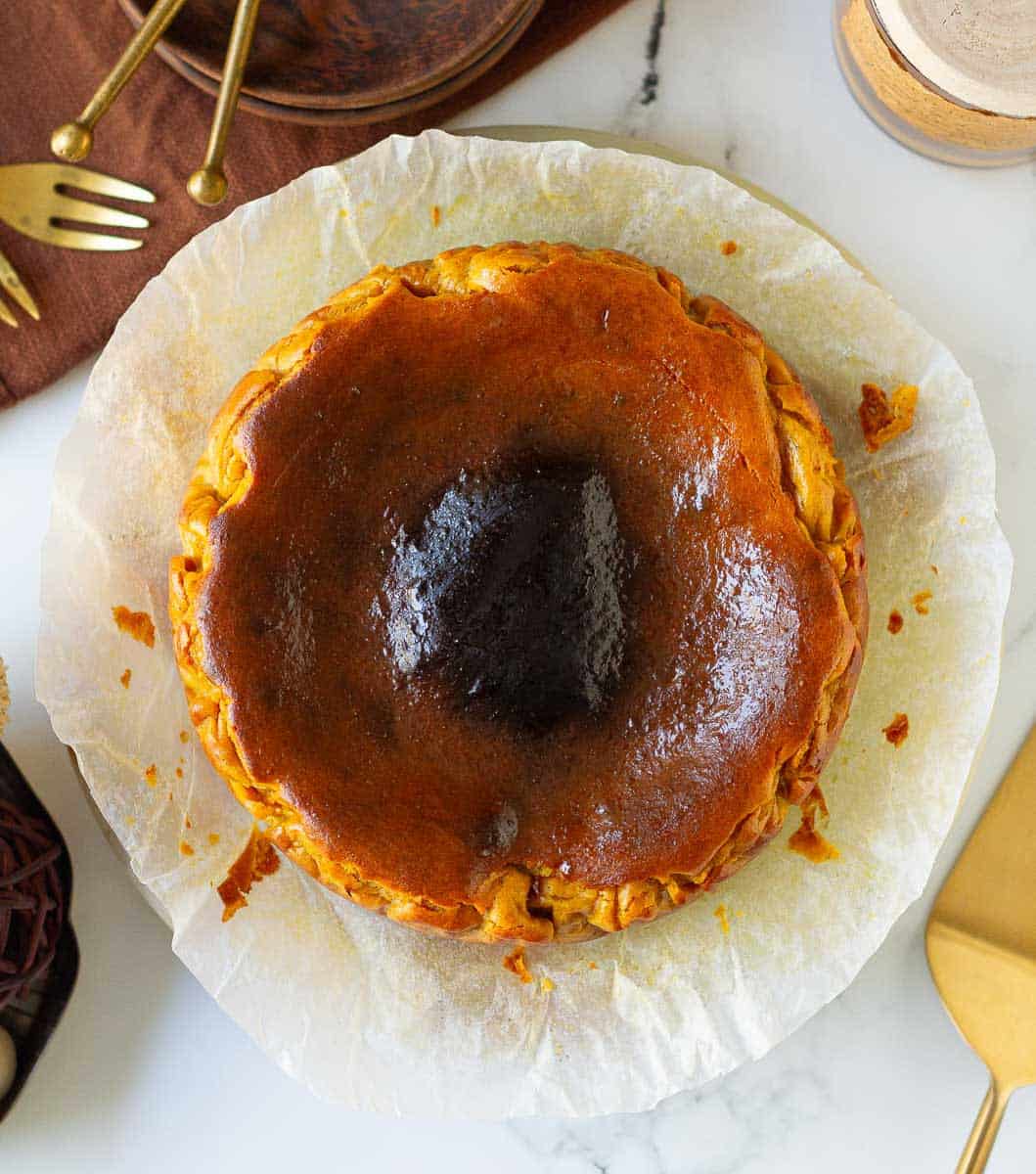 HOW TO STOP THE BASQUE CHEESECAKE FROM CRACKING?
Cheesecake rises in the oven and falls after cooling. That's par for the course. Don't panic when it collapses and cracks a bit. That rustic look is what makes pumpkin cheesecakes so charming.
However, you can stop it from cracking too much. The secret is not to overmix the batter. The more you whip and beat, the more air bubbles it has, and those lead to cracks the size of the Grand Canyon.
HOW TO MAKE SURE THE PUMPKIN SPICE CHEESECAKE IS NOT DRY?
An overbaked pumpkin Basque cheesecake is dry and crumbly. Since all ovens are different, I advise keeping an eye on the cake after the 45-minute mark to get that creamy texture.
HOW TO CHECK IF THE BURNT PUMPKIN CHEESECAKE IS DONE?
When the top is gorgeously burnt brown, the edges have set, but the center still has some wiggle to it, the Basque pumpkin cheesecake cake is ready. Don't be in a hurry to open the oven door. This easy Thanksgiving dessert is supposed to have a burnt top!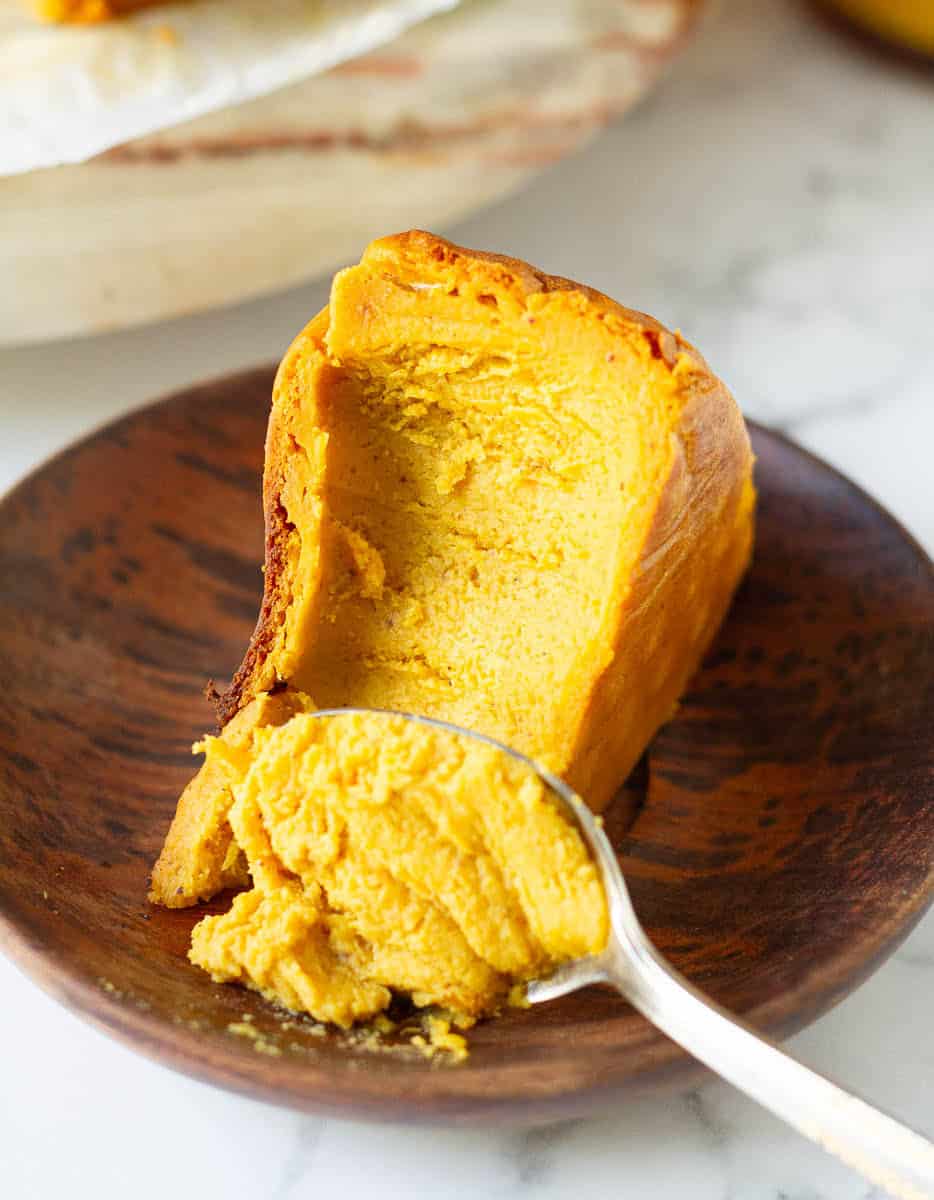 HOW TO SERVE THE PUMPKIN PIE CHEESECAKE?
Each velvety bite of this holiday cheesecake recipe is indolent with cinnamon, cloves, nutmeg, and ginger. It's a decadent pumpkin spice dessert with intense fall flavors perfectly harmonized with the caramelized, burnt exterior.
When I say that it can be served as is, trust me on it. It needs nothing. Just slice and serve, but make sure it's at room temperature (leaving it on the countertop for 15 minutes) and not chilled because that's when the creamy decadence shines.
For an extra layer of indulgence, try:
A dusting of icing sugar
A drizzle of dark chocolate
A dollop of soft whipped cream flavored with a pinch of cinnamon
Or melted Biscoff spread. The spiced cookie butter is a winner because it goes well with anything pumpkin. This is what I did!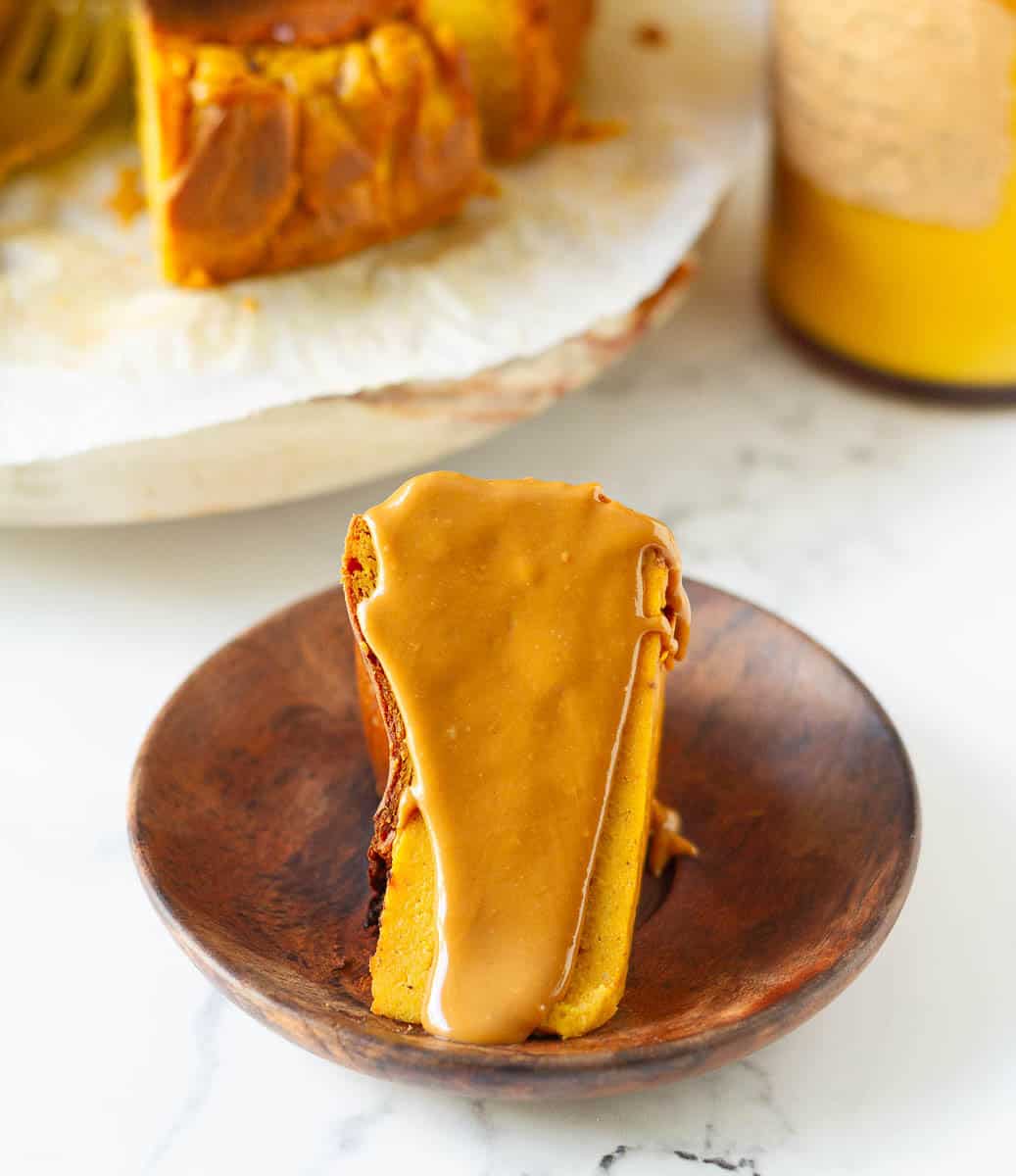 MORE EASY CHEESECAKE RECIPES
MORE PUMPKIN DESSERT RECIPES
Chocolate Pumpkin Swirl Muffins
Butternut Squash Flatbread Pizza
Half the joy of cooking is sharing it with others. That's why I'm always eager to hear from you. So go right ahead and drop a comment or reach out on Instagram, Pinterest, YouTube, or Facebook. I hope you love this Pumpkin Basque Cheesecake as much as we do!
📖 Recipe
Print Recipe
Easiest Pumpkin Burnt Basque Cheesecake
Pumpkin Basque cheesecake is a one-bowl, 7 ingredient recipe. The perfect cheesecake for Thanksgiving, rich with warm autumn flavors. It's very basic, and because it's a crustless cheesecake, it's super easy to make.
Ingredients
2

cups / 500 gms

Cream cheese

1

cup / 200 gms

Caster sugar

2

Eggs

1/3

cup / 75 gms

Cream

1/4

cup / 31.25 gms

All-purpose flour

1 1/4

cup / 280 gms

Pumpkin puree

Homemade or store-bought

2

tsp

Pumpkin pie spice

1

tsp

Vanilla extract
Instructions
Preheat your oven to 200C.

Line your baking pan with parchment paper. Make sure the paper comes at least 2" above the sides of the pan.

I used an 8" cake tin.

In a large bowl, beat together the cream cheese and sugar, until the cream cheese is creamy and sugar is dissolved.

Add the eggs, cream, all-purpose flour, vanilla extract, pumpkin puree, and pumpkin pie spice to the cream cheese mixture.

Mix well until a smooth batter is formed.

If your batter is lumpy, you can sieve it to make it smooth.

Pour into the prepared pan and bake at 200 C for 50-55 minutes, until the cake is browned on top, but still jiggly in the center.

Let the cake cool in the partially open oven for 30-40 minutes, then transfer to the refrigerator for it to set completely, for about 8-10 hours.

Gently remove the cake from the pan and peel the parchment paper away from the cake. Serve cold or at room temperature. Enjoy!