The easy pumpkin bread has got character. One that tested my willpower mercilessly. I've never had trouble with portion control but with this one, I kept on tugging on the bread for one more bite.
I guess that's the joy of embracing seasonal produce. You end up baking a tender, moist bread with pumpkin pie spice accenting the flavors and cinnamon sugar crowning it with a hint of crunch. (Let's not even mention the insane cinnamon blended pumpkin aroma that fills up the home.)
Jump to:
How to make easy pumpkin bread?
Start with sifting whole wheat flour with salt, baking powder, baking soda, and pumpkin pie spice.
Whisk in raw sugar.
Separately, mix fresh pumpkin puree with olive oil, 2 eggs, and vanilla extract.
Pour the wet ingredients over the dry and mix well till there are no visible dry streaks. (Don't overmix.)
Baking the healthy pumpkin bread
Fold in chopped walnuts and some pumpkin seeds (because I love the texture of nuts in my tea breads).
Pour the batter in an 8 by 4 loaf pan and top with some more pumpkin seeds and walnuts.
Finally, crown it with some cinnamon sugar for that extra crunch and flavor. To make, mix raw sugar with cinnamon powder.
Bake in a preheated oven for 40 to 45 minutes.
How to make pumpkin puree?
We don't get canned pumpkins here ( to the best of my knowledge) but have an overabundance of excellent pumpkins. So, I made the pumpkin bread with fresh pumpkin puree.
Barring a subtle earthiness and natural sweetness, pumpkin doesn't taste of anything. But it paints the bread a phenomenal color, adds a dose of fiber and vitamin A, and a ton load of moisture. Since the flavor is so delicate, using fresh pumpkins makes all the difference.
There are many ways to make it, but I prefer the steaming method:
Peel and cube the pumpkin.
Put it in a steamer for 15 minutes.
With a fork, mash the steamed pumpkin. You can also use a stick blender or regular blender.
Store the puree in a jar and use it in any recipe. Whisk it in pasta, rice pulao, or the dough you knead for everyday rotis and parathans as a fun addition.
You can also roast the pumpkin cubes or cook them in a microwave.
Quick note on pumpkin puree
The time it takes to steam a pumpkin will vary. With a fresh and new pumpkin, the process is faster. For older ones, it may take more time.
More pumpkin puree recipes
My tips for baking the best pumpkin bread
Baking times differ from oven to oven. To check if your bread is done, insert a skewer in the center. If it comes out clean, the pumpkin bread is ready.
Always, always, always let pumpkin bread cool completely because the bread is incredibly soft and moist. First, leave it in the tin for 15 minutes. Then turn it out on your cooling rack for a good 30 minutes to 1 hour.
How do you keep pumpkin bread moist?
The eggs, the olive oil, and the fresh pumpkin puree keep the bread moist.
Why is my pumpkin bread so dense?
I highly advise sticking to the recipe to get fluffy and moist bread because if you add too much liquid, it will get gummy. On the other hand, if the batter feels too dense, incorporate more of the puree or add a tablespoon or two of milk.
Do you refrigerate pumpkin bread after baking?
It's a little warm here, so I did refrigerate the bread. For those enjoying cooler weather, store it as-is.
What else can you use to make pumpkin bread?
Flour: instead of whole wheat, you can use all-purpose flour for the recipe or even a mix of the two.
Egg: for eggless pumpkin bread, replace the eggs with a flax egg.
Nuts: walnut grants a gorgeous texture to the delicious, moist, and healthy bread. You can swap them for any nuts you prefer. Or if you don't like the mouthfeel, omit them.
Sugar: It's a simple pumpkin bread recipe, not like cake. That's why it's mildly sweet with a solid punch of flavors. You can, of course, give it a more dessert-like feel by upping the amount of sugar. As a substitute for raw sugar, you can use brown sugar or coconut sugar.
Olive oil: I find it hard to resist the fruitiness of olive oil and the umami edge it gives to bakes. In quick breads, it also lends a density to the crumb. But, by all means, you can use any oil or even melted butter in the bread recipe.
Pumpkin pie spice: it takes all five minutes to make pumpkin pie spice at home. You simply ground cinnamon, cloves, nutmeg, and ginger and mix the powders. Can't get the pumpkin spice or don't have all 4 spices at home? Stick to just cinnamon.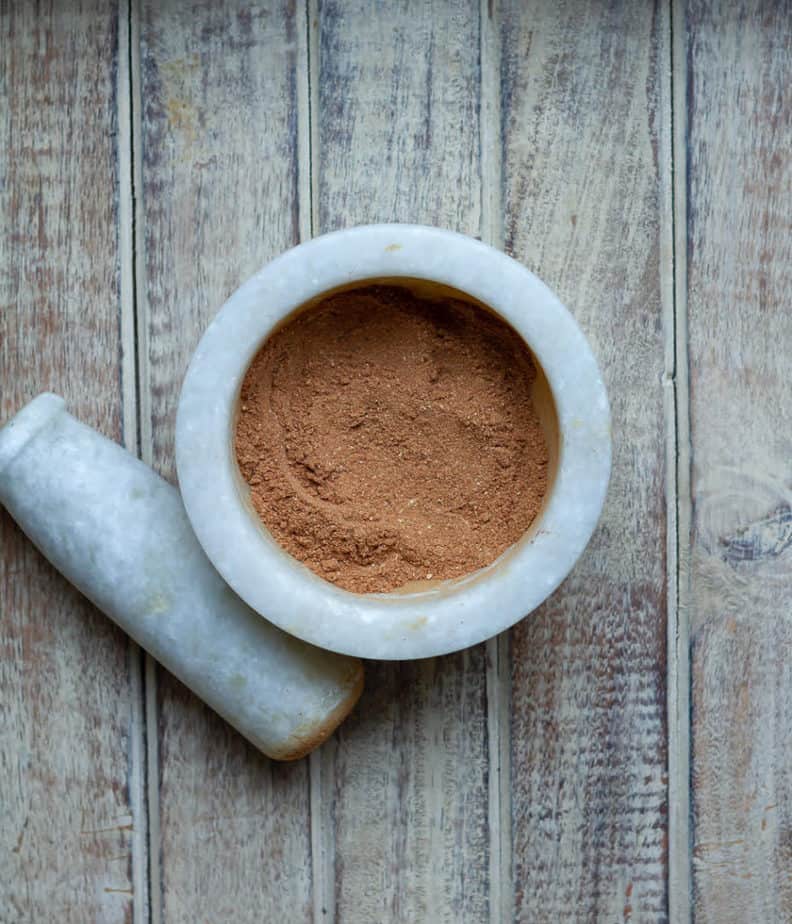 Serving ideas for pumpkin bread
I wouldn't even think twice about serving this pumpkin bread for breakfast. It's that healthy. A take on my pumpkin banana bread, you can have it any which ways:
As is for a mid-day snack.
Toasted with a thick slab of butter.
A piece with a cup of tea or mug of coffee.
Amp it up with cream cheese frosting as I did with my pumpkin chocolate swirl cake.
Or warm up a slice and serve it with a scoop of vanilla ice cream or whipped cream as dessert. There's no judgment here.
Give this easy pumpkin bread a shot. It's:
Soft
Moist
Tender
Healthy
Unbelievably aromatic
Its perfect for the season
Recipe ideas for leftover pumpkin
Chocolate Pumpkin Swirl Muffins
Buckwheat Pilaf w/ Pumpkin & Mushrooms
A few more quick bread recipes
Cream cheese swirl banana bread
Easy olive bread with sun-dried tomato & garlic
---
📖 Recipe
Print Recipe
Easy Pumpkin Bread
Easy Pumpkin Bread - a tender, moist bread with pumpkin pie spice accenting the flavors and cinnamon sugar crowning it with a hint of crunch.
Ingredients
1.5

cups

Wholewheat flour

1.5

tsp

Baking powder

1/2

tsp

Baking soda

1/4

tsp

Salt

1.5

tsp

Pumpkin pie spice

1/2

cup

Raw sugar

2

Eggs

1

cup

Pumpkin puree

1/3

cup

Olive oil

1

tsp

Vanilla extract

1/3

cup

Walnuts, roughly chopped

1/4

cup

Pumpkin seeds

1

tbsp

Cinnamon sugar ( Optional)

Combine 1 tbsp sugar and 1/2 tsp cinnamon powder.
Instructions
Preheat your oven to 180C. Grease a loaf pan 8" * 4".

Sift together flour, baking powder, baking soda, salt, and pumpkin pie spice.

In another bowl, whisk together the eggs, pumpkin puree, olive oil, and vanilla extract.

Pour into the dry ingredients and mix well, until no white streaks remain.

Fold in the walnuts and pumpkin seeds. Pour the batter into your prepared pan.

Top with extra walnuts and pumpkin seeds. Sprinkle over the cinnamon sugar, if using.

Bake at 180C for 40-45 minutes, until the top is springy to touch and a skewer inserted in the center comes out clean.

Cool the cake in the pan for 10-15 minutes before turning it out on a cooling rack.

Cool completely, slice, and enjoy!
Notes
*Pumpkin puree - 
Peel and cube pumpkin.
Steam for 15-20 minutes in a steamer or microwave.
Mash with a fork or puree using a blender.