Imagine the feel of a knife sinking into a crusty loaf accompanied by a shower of golden, crispy crumbs right before you sink your teeth into a gloriously dense, tender and buttered slice. That's what the Irish soda bread gives you!
Since I shut down my business, I haven't been baking bread as much. But then three or four days ago, my kiddies refused to have the store-bought bread. So, it was time for Tasha the Baker redux!
I quickly baked an #EverydayBread and posted the short tutorial on my Instagram Stories (you can find it on my highlights). The bread got a great response. With free time at hand, people are taking to baking like a duck to water.
But a few of my followers asked for a recipe without yeast – because that's not available easily with lockdown going full throttle. The obvious answer was the Irish Soda Bread.
It is a four-ingredient bread that takes just 1-hour counting from the minute you start gathering the ingredients to the minute you're scarfing down a still hot slice.
How to Make Irish Soda Bread?
What I love about Irish soda bread is that it satisfies the instant gratification monkey inside of everyone. The dense yet soft bread, which FYI is called cake-bread in Ireland, is not only simple to make but also remarkably quick.
Begin with whisking by hand all-purpose flour and whole wheat flour with baking soda and salt. Pour in buttermilk and mix it in the dough using a fork, lightly.
To bring the dough together, turn it out on a floured surface and knead with your palms. The trick is to use a mild touch. Be gentle, don't go to town with it. You just need to knead it for 4-5 minutes, until you get a smooth dough.
Baking the quick Irish soda bread
Within 5 minutes tops the scraggly dough will be ready for the baking tray. Line it with parchment, place the rounded dough on it, create the traditional X on the loaf using a knife and then slide it in the oven.
In about 35 to 45 minutes, you'll have a loaf of bread with a tempting golden-brown, incredibly crusty exterior and soft center. If you want to check whether the bread is done or not, simply tap on the bottom. If you hear a hollow sound, you're golden!
Quick notes…
The cross you style right at the loaf's centre has to be an inch deep. The cut makes sure that the heat reaches every crumb of the loaf, giving it a soft and tender inside.
While I baked the bread, the top was browning too quickly. So, to prevent it from charring too much, I covered it loosely with foil.
This is a super quick bread because it uses baking soda instead of yeast as a leavening agent, which is how the recipe got its name.
What makes the dense and tight loaf rise is the reaction between baking soda and buttermilk. Together, they produce carbon dioxide turning the craggy bread utterly crunchy.
What's buttermilk?
It's the reason Irish soda bread is a culinary journey worth taking. It imparts a lovely, slight tang to the bread. Definition-wise, buttermilk is the residue that is left after you churn butter.
That's the conventional way of making it. You can also create buttermilk at home by adding regular, white vinegar into milk.
Let the mixture stand for a few minutes at room temperature till it curdles and then add it to the dry ingredients.
Serving the Irish soda bread
Envy is not green but buttery yellow. Trust me, when you see your entire family gobbling up slices of Irish soda bread heaped with butter, you'll feel me.
While my kids enjoyed warm-out-of-the-oven slices of it, I broke the rustic bread by hand, toasted it and then slathered a bit of jam for a scrumptious breakfast.
Honey is another yummy accompaniment to this delicious bread. But if savory is more to your palate, then the hearty and hefty bread is a wonderful side for lunch and dinner.
Variations of the traditional Irish soda bread recipe
The 4-ingredient recipe I use is the customary one that began in Ireland. Once you have the basic recipe mastered, go ahead and play around with it.
You can add cheese, dried herbs, fresh herbs or go old-style with raisins. The bread is excellent with walnut and cranberry too!
Dress it up or dress it down, the Irish soda bread doesn't skimp on flavor. At all. Plus, it is done in a hop, skip and jump. What more can you ask for these days?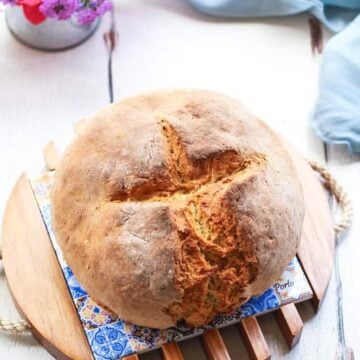 Print Recipe
Irish Soda Bread
Imagine the feel of a knife sinking into a crusty loaf accompanied by a shower of golden, crispy crumbs right before you sink your teeth into a gloriously dense, tender and buttered slice. That's what the Irish soda bread gives you!
Ingredients
2

cups

Wholewheat flour

1.5

cups

All purpose flour

1

tsp

Baking soda

1.5

tsp

Salt

1.5

cup

Buttermilk
Instructions
Buttermilk
Mix 1.5 tbsp vinegar and 1.5 cups of milk. Let this mixture sit for 5-10 minutes until the milk curdles. You can use regular white vinegar or Apple cider vinegar for this. Please make sure your milk is at room temperature.
Bread
Preheat your oven to 225C. Line a baking tray with parchment or baking paper.

In a large bowl, whisk together both the flours, baking soda, and salt.

Add the buttermilk and bring the ingredients together using a fork.

Turn out the rough dough onto a floured surface and knead for 4-5 minutes until a smooth dough is formed.

Place on the baking tray. Make a 1" deep cross on top of the dough ball.

Bake for 40-45 minutes or until the top is golden brown and the bread sounds hollow when tapped at the bottom.

Cool for at least an hour before slicing. Enjoy warm with butter and jam!