This orange Basque cheesecake is a riff on my burnt Basque cheesecake. Made with caramelized oranges, it has a fresh, beautiful flavor, with the nearly burnt top matching rhythm to rhythm with orange zest and the velvety crumb.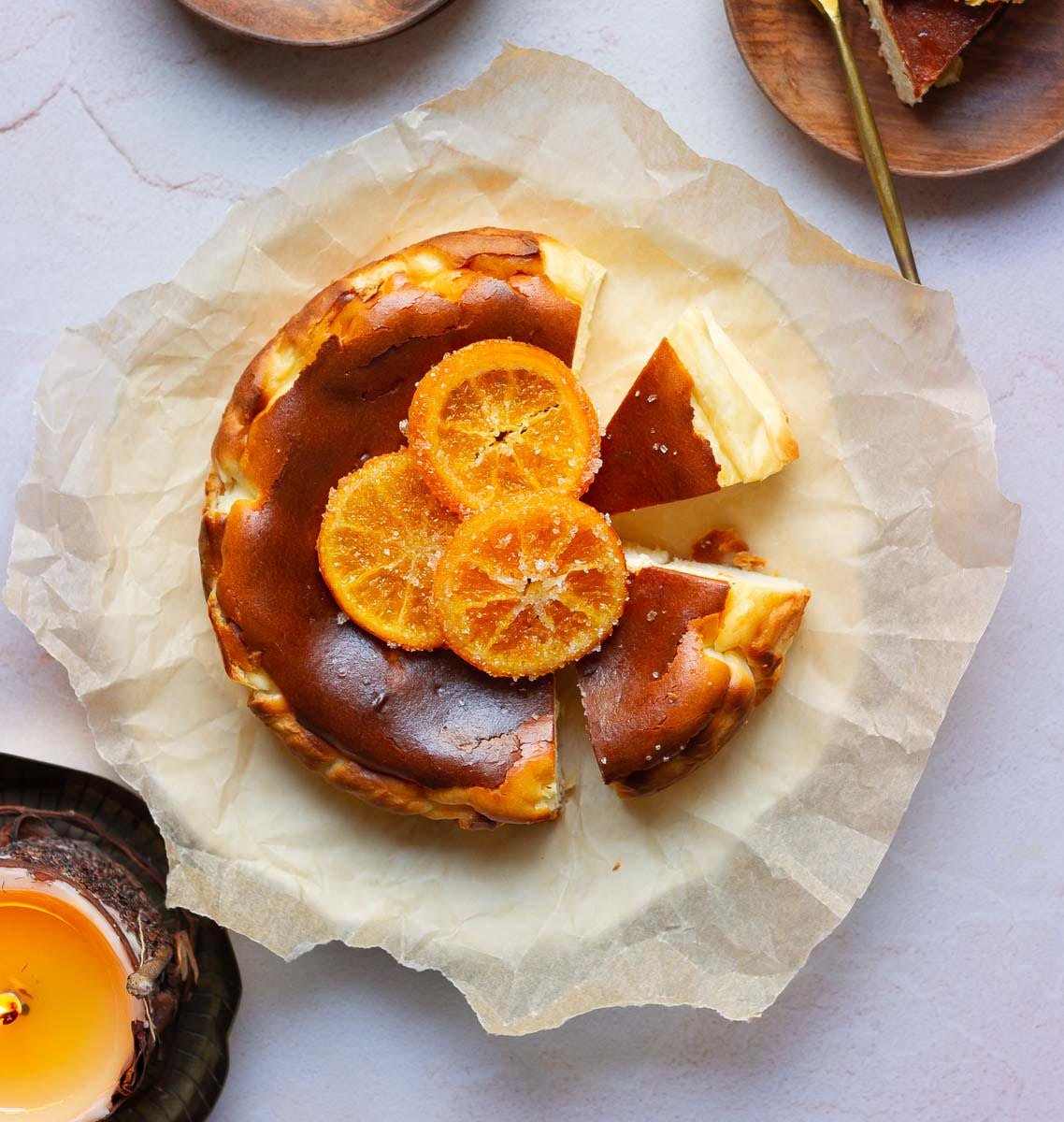 No cheesecake can be rushed. A Spanish Basque cheesecake, even more so. The actual making of the caramelized orange cake is quick and easy. The exercise in mouthwatering patience begins once it's out of the oven.
So, make it a day ahead, and as I always say, womanfully resist the temptation to slice and dig into the charred, creamy, and citrusy paradise!
Jump to: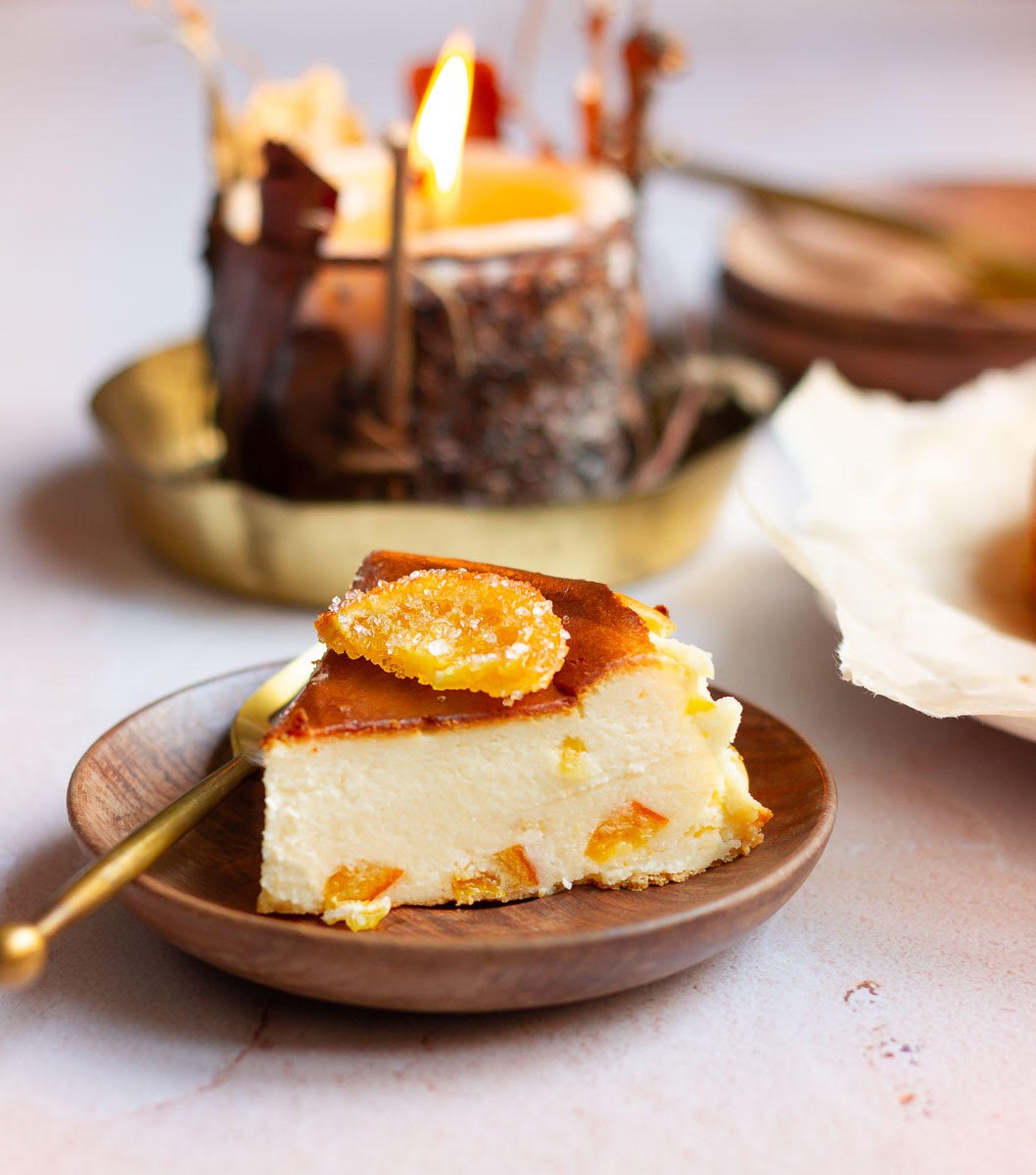 WHY TRY BASQUE CHEESECAKE WITH ORANGE?
This is not your average cheesecake.
It's a one-bowl cake recipe that requires literally no clean-up.
It asks for basic ingredients that you can get your hands on quickly.
It's a simple, decadent recipe that's worth every second and calories.
WHAT IS BASQUE CHEESECAKE?
It's a crustless cheesecake baked at high temperatures, caramelizing the top while keeping the interior rich, gooey, and creamy. I wrote about the Basque cheesecake origin in my burnt cheesecake recipe, but here's the gist:
The wondrous cheesecake that casually defies rules was made by Santiago Rivera, the owner of the restaurant La Viña in San Sebastián, Spain. For years, it has enamored bakers everywhere, inspiring many versions, mine included.
HOW TO MAKE ORANGE BASQUE CHEESECAKE?
Step 1: In a large bowl, beat softened cream cheese with caster sugar until smooth and creamy.
Step 2: Add eggs.
Step 3: Mix in vanilla extract and Greek yogurt, and all-purpose flour.
Step 4: To this very smooth batter, fold in orange zest and diced candied oranges.
Step 5: Pour the batter into a lined springform pan, gently thump the tin on your countertop to get rid of air bubbles, and then bake for a good 60 minutes.
COOL THE BASQUE CHEESECAKE WITH PATIENCE
Step 6: Let the cake cool in the oven for 30 to 40 minutes. Your cake will fall and crack, losing its scrumptious puffiness. Don't worry about it; it's par for the course and the beauty of burnt cheesecakes!
Step 7: Cool it on the counter while still in the pan.
Step 8: Chill overnight in the refrigerator.
Final step: Bring to room temperature the next day for that ultra-velvety texture and serve!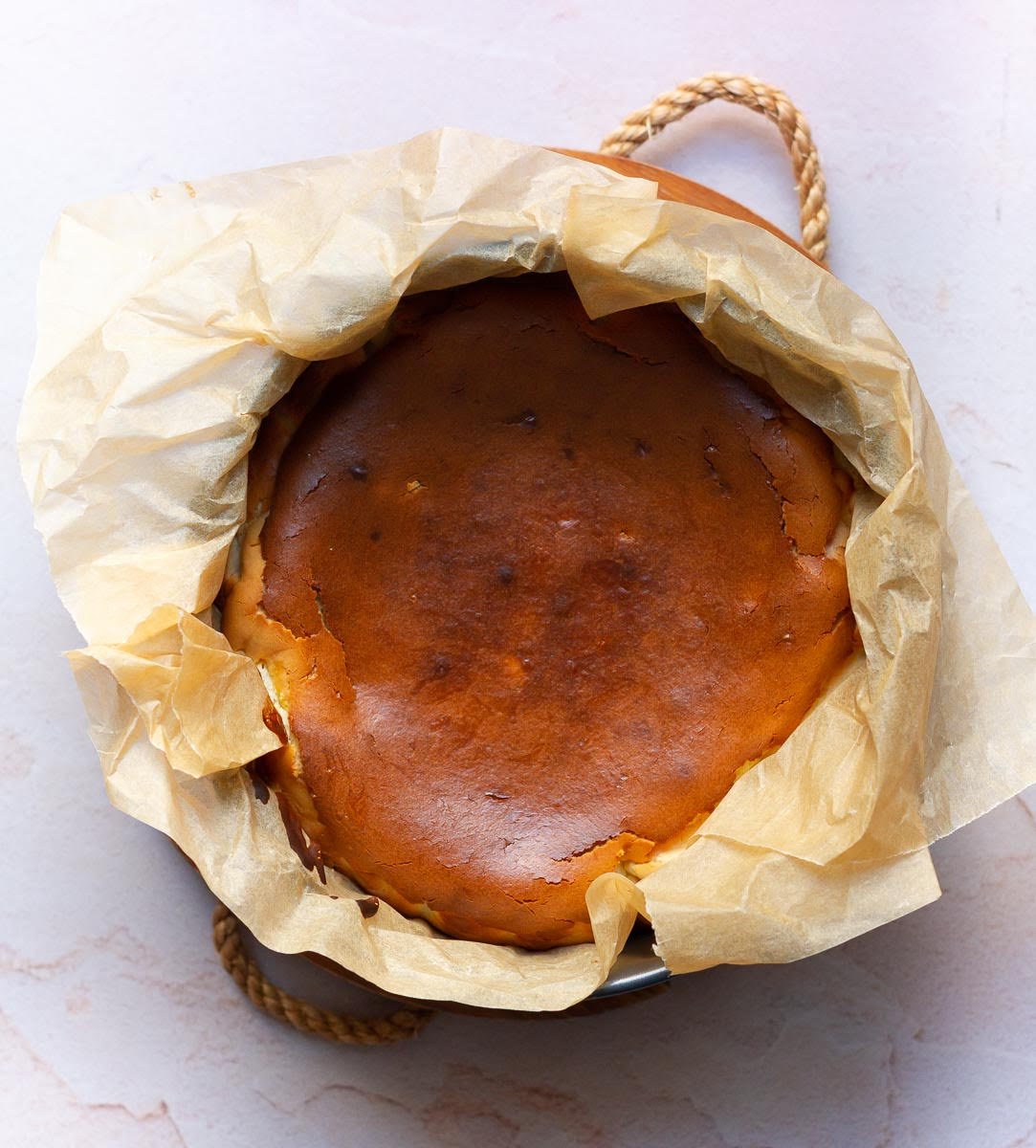 RECIPE NOTES
Bake a 6-inch springform pan instead of an 8-inch one for a taller Basque cheesecake with oranges.
Use the mixer on low speed when blending cream cheese and sugar. It'll take 2–3 minutes for the sugar to completely dissolve. You're looking for a silky consistency.
Basque-style cheesecake doesn't use baking soda or powder as leaveners, which makes beating in eggs important to get a gorgeous lift and fluffy crumbs.
Always toss the candied oranges in a little bit of flour, so they don't sink to the bottom.
The batter consistency you're looking for in Basque cheesecake recipes is nice, smooth, and slightly runny.
This recipe does use a slightly higher temperature than usual, but it doesn't give you an over-baked cheesecake, simply a delicious burnt one!
I prefer a firmer Basque cheesecake, which is why I chill them overnight. For a softer texture, 3 to 4 hours in the fridge are enough. The cake is creamy either way.
HOW TO PREPARE YOUR PAN FOR SPANISH BASQUE CHEESECAKE?
Snip a large sheet of parchment paper and arrange it on your springform pan. Since orange Basque cheesecake rises a good bit, leave about 2 inches of overhang. Never use separate papers to line the bottom and sides, or else the batter will seep through the thin space between the two.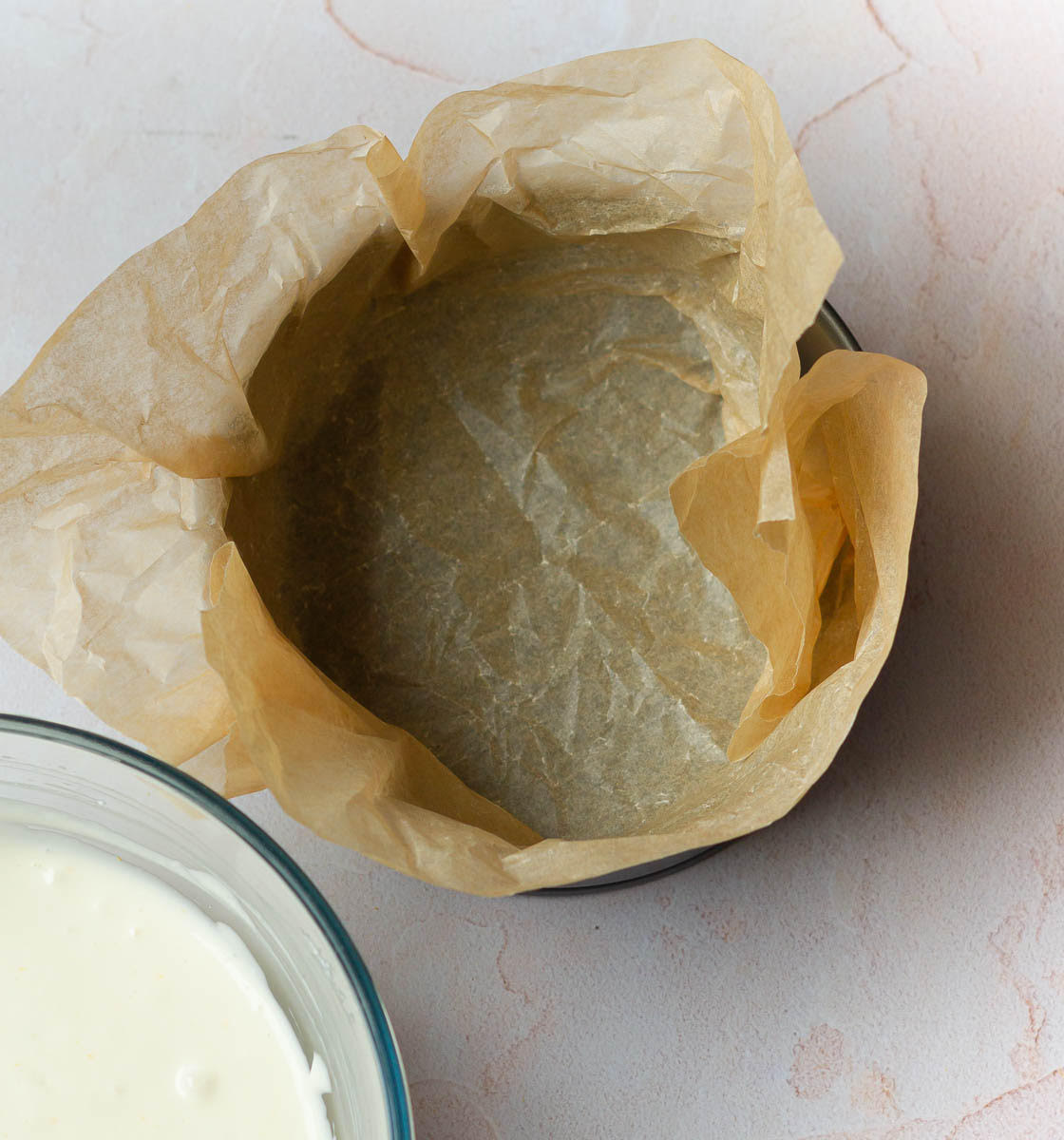 HOW TO TEST FOR CHEESECAKE DONENESS?
The right baking time to make a perfect caramelized orange cheesecake will depend on your oven. You want the middle to be soft and creamy but the top to be caramelized, so play around with it and keep an eye towards the 50-minute mark to check for doneness.
A perfectly baked Basque-style cheesecake with oranges is a deep, burnished brown on top. It rises high and has a little wobble right in the middle. I suggest pulling it out when you notice the sides have set and giving it a jiggle.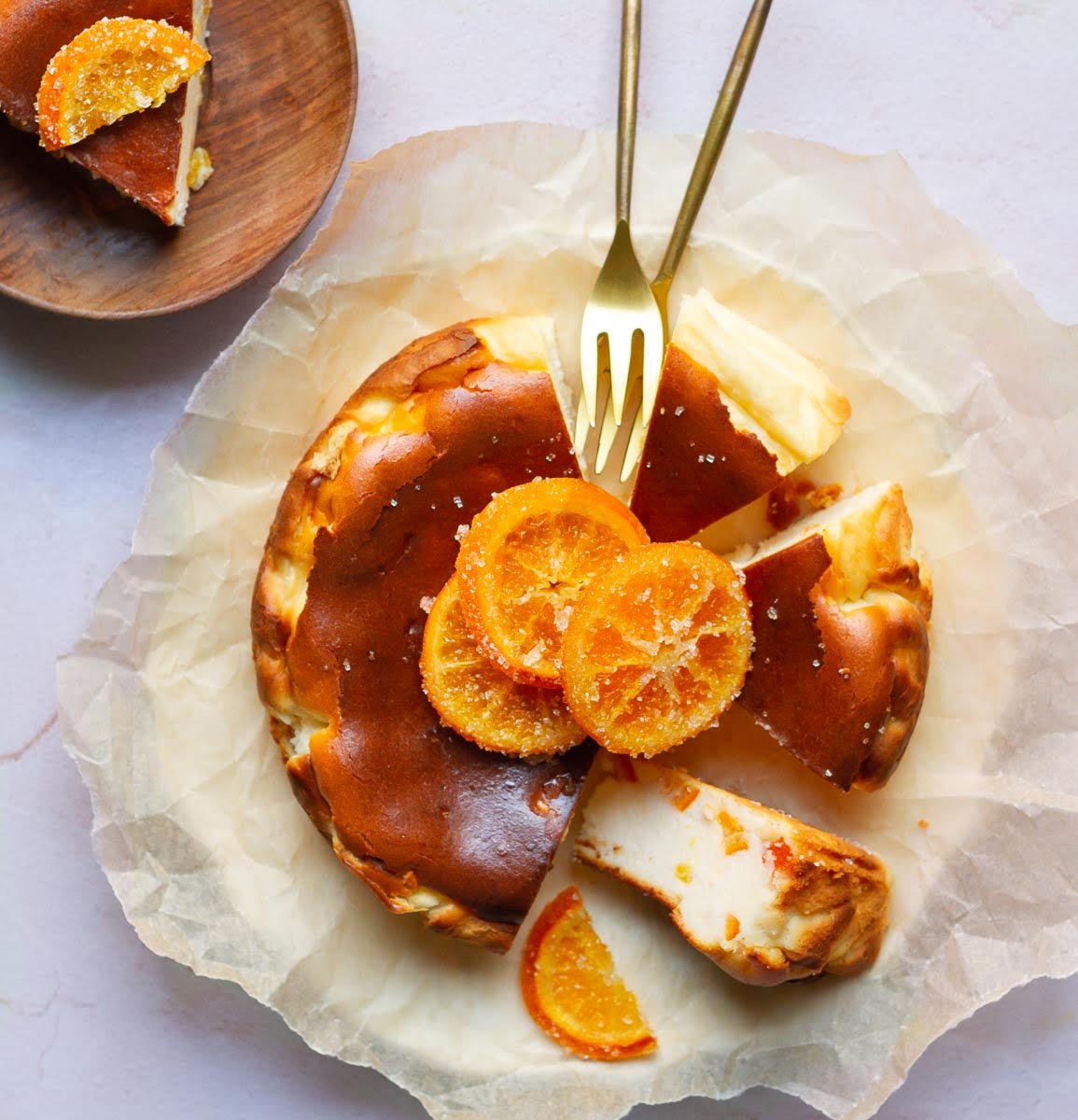 BASQUE CHEESECAKE RECIPES VARIATIONS
Orange zest: I would highly recommend taking liberties with this recipe. You can increase or decrease the amount of orange zest. Have orange blossom water? Throw in a teaspoon for that floral note.
Got pure orange oil? Go ahead and stir it in for an additional punch, but make sure it really is pure. I didn't feel the need for add-ons because fresh orange zest is enough to flavor the cheesecake beautifully!
To make it boozy, orange liqueur like triple sec or Cointreau are safe bets, just pour in a couple of spoonful.
Candied oranges: This is what adds a lot of character to the cake, so feel free to up the amount in the batter. You can also garnish the cake with caramelized orange slices right before you serve it for that extra mouthfeel.
Honestly, though, a dusting of icing sugar is sufficient for Basque cheesecake. Even served as-is, it is a toasty, crusty, creamy heaven!
You can buy candied oranges or make them at home using the caramelized orange recipe I share in this semolina orange cake blog.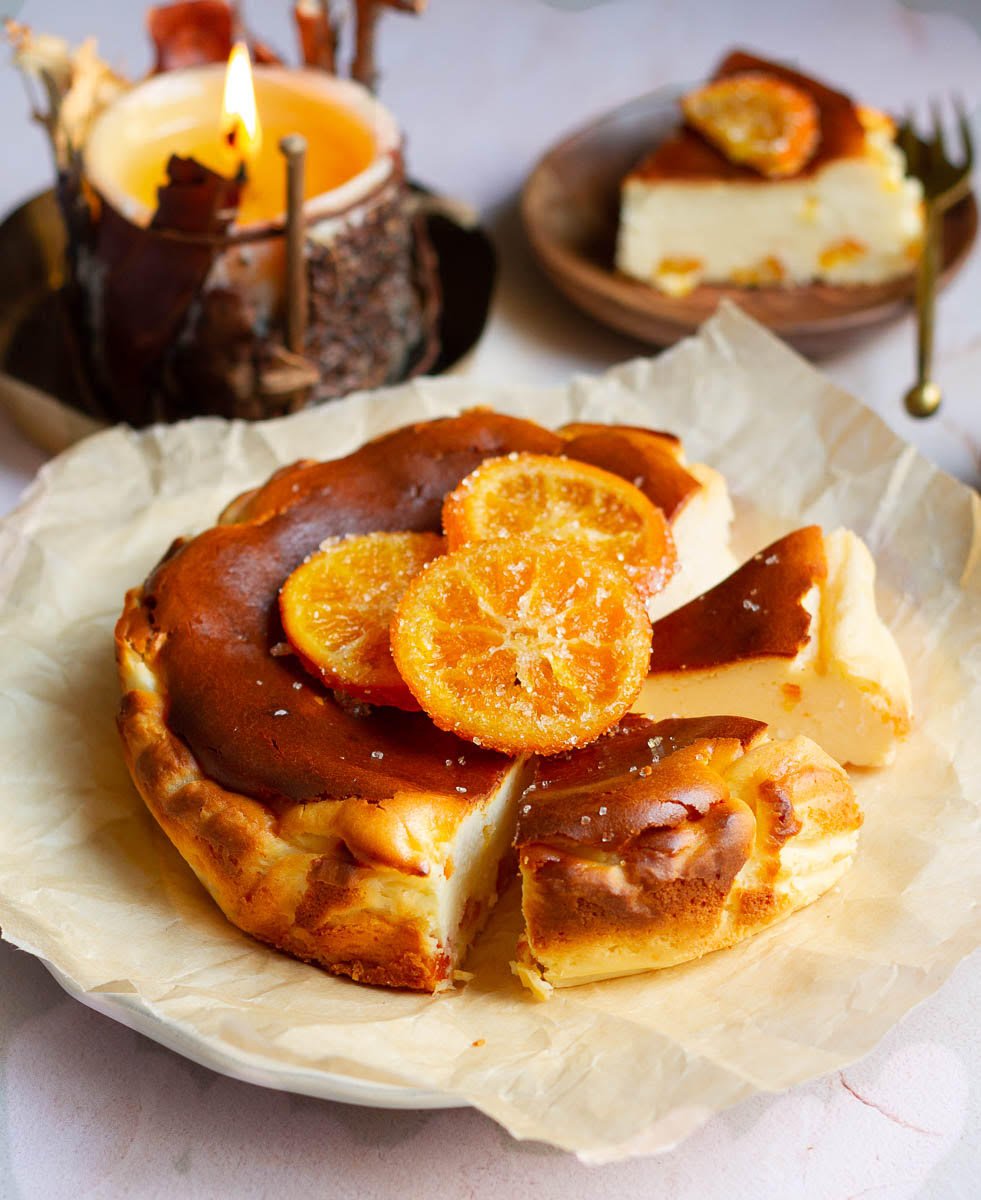 YOU MAKE ALSO LIKE THESE CAKE RECIPES
Half the joy of cooking is sharing it with others, which is why I'm always eager to hear from you. So go right ahead and drop a comment or reach out on Instagram, Pinterest, YouTube, or Facebook. I hope you love this Basque cheesecake with oranges as much as we do!
📖 Recipe
Print Recipe
Orange Basque Cheesecake
This orange Basque cheesecake is a riff on my burnt Basque cheesecake. Made with caramelized oranges, it has a fresh, beautiful flavor, with the nearly burnt top matching rhythm to rhythm with orange zest and the velvety crumb.
Ingredients
400

gms

Cream cheese softened

3/4

cup / 170 gms

Caster sugar

2

Eggs

1

tsp

Vanilla extract

1/3

cup/ 90 gms

Greek yogurt

1/4

cup/ 31 gms

All-purpose flour

4-5

tbsp

Candied oranges diced

1

tsp

All-purpose flour

Zest of 1 orange
Instructions
Preheat your oven to 200C.

Line your baking pan with parchment paper. Make sure the paper comes at least 2" above the sides of the pan.

In a large bowl, beat together the cream cheese and sugar, until the cream cheese is creamy and sugar is dissolved.

Add the eggs, Greek yogurt, vanilla extract, and flour.

Whisk until smooth. Add orange zest.

Toss the candied oranges with 1 tsp of flour and add to the batter.

Mix well and pour into the prepared pan and bake for 55-60 minutes at 200 C, until the cake is browned on top, but still jiggly in the center.

Let the cake cool in the partially open oven for 30-40 minutes, then transfer to the refrigerator for it to set completely, for about 8-10 hours.

Gently remove the cake from the pan and peel the parchment paper away from the cake. Serve cold or at room temperature. Enjoy!
Notes
Note:
You can find the recipe for candied oranges here.