This 5 ingredient Vegan Caramel Sauce is rich, decadent and so easy to make! You can use it to elevate any dessert - cakes, brownies, donuts, and more. Made with healthy alternatives and a touch of sea salt, this caramel is so delicious that you can happily eat it straight from the jar.
At least once a month, I am hit with a caramel craving. Whether it's paired with chocolate or in my favorite pudding, caramel is the perfect ingredient to upgrade any recipe. When it comes to getting a caramel fix, there is nothing better than homemade! Not only is it easy to make, but having a jar of this caramel in your fridge can be a dessert savior. Made a cake that cracked? Caramel can cover it up. Brownies too dry? Caramel can make it better. It's a gooey, glossy, scrumptious miracle.
When I tell you this is an easy recipe, I mean it. No fancy candy thermometer needed - just five ingredients and a saucepan.
Vegan Caramel vs Traditional Caramel Sauce
While this is a fantastic sauce, it does differ slightly from the traditional caramel many of us have grown up with.
It is not as sweet. This is something I wanted to ensure when making the recipe because my only reservation with pouring caramel all over everything is that it can be sugary to the point where you can't eat much.
It has a deeper flavor profile. Coconut sugar is not as refined as white sugar, which gives it a bit more of a complex flavoring. Don't worry, it tastes nothing like coconut - it's just more full with a light toastiness. Very similar to brown sugar. What I love about using it in this recipe is that with just the handful of simple ingredients, you get such a well-rounded result!
Finally, it is healthier. As much as I adore the occasional indulgence when you plan on using caramel frequently (as the fall season calls for), it can be a gut bomb. With wholesome alternatives, the same sauce can be used with less guilt and more satisfaction!
How to Make Vegan Caramel
This process is simple, but following the steps is key. Making the vegan caramel is a fine science that can lead to a gorgeous mixture or burnt tragedy. I learned this the hard way!
On Heat
In a small saucepan, melt together coconut sugar, coconut milk, and coconut butter. I used full-fat coconut milk to get a rich, creamy caramel sauce, but if you prefer coconut cream, then that works well too. Add in corn-starch to thicken the sauce. And a vanilla bean for the flavor.
Heat over medium low heat, constantly stirring the mixture for about 15- 20 minutes. It is important to keep stirring, otherwise the mixture may burn. Do this till you reach a bubbling boil.
It may sound like a tedious wait to some, but I personally love this process. Watching the ingredients caramelize, darken in color, seeing the mixture rise and fall. It's surprisingly therapeutic and even captivating! Each whisk of the glossy mixture is so beautiful. For me and hopefully anyone trying this, those minutes fly by.
Let the caramel cook, cook, cook till it is nice and thick and evenly coats the back of your spoon.
When it gets to the bubbling, slightly foaming stage, lower the heat and let it simmer. At this point, stir the sauce for a few minutes and take it off the heat. What you'll have now is a creamy, smooth consistency with a silken shine!
Off Heat
The next ingredients are optional but add a delicious touch - sea salt and vanilla. When the sauce is off the heat, stir in a touch of sea salt.
Scrape the vanilla beans off the pod, using a small knife. Put that beautiful black cavier back in the sauce and discard the pod.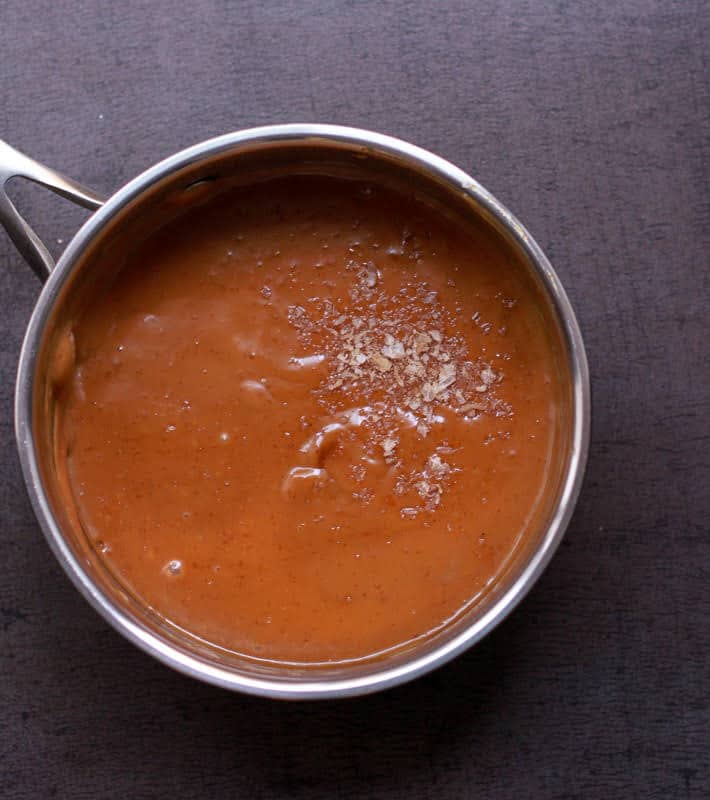 The salt helps create a well balanced flavour and accompanies other ingredients so well. Caramel + salt = magic.
As for vanilla, I recommend one vanilla pod for this recipe. Split the pod lengthwise to release a divine fragrance and flavor into the sauce.
Let the caramel cool for a few minutes, before transferring it into a glass jar.
Storing & Serving
You can serve it warm right after it is made or store it in the fridge for up to two weeks.
Before transferring it into the fridge, let the caramel cool further and then cover it.
The vegan caramel will thicken in consistency as it cools and deepen in color slightly. After it has been refrigerated, you may need to reheat it on the pan or for a few seconds in the microwave and give it a few stirs before using. This caramel is super convenient to have on hand for all your cake, brownie, ice cream needs!
Variations
Other than being used for toppings, this sauce is also great as the star of recipes like a tart or no bake bars.
I know not everyone wants a vegan caramel or can get their hands on coconut cream + butter. In this blog, you can find my alternative caramel made with regular sugar, butter and cream. It is as easy and delicious as the vegan version I've talked about here!
Making Decadent Treats with Vegan Caramel Sauce
Now that we've covered how to make it, here are some of my favorite ways to use this magic sauce!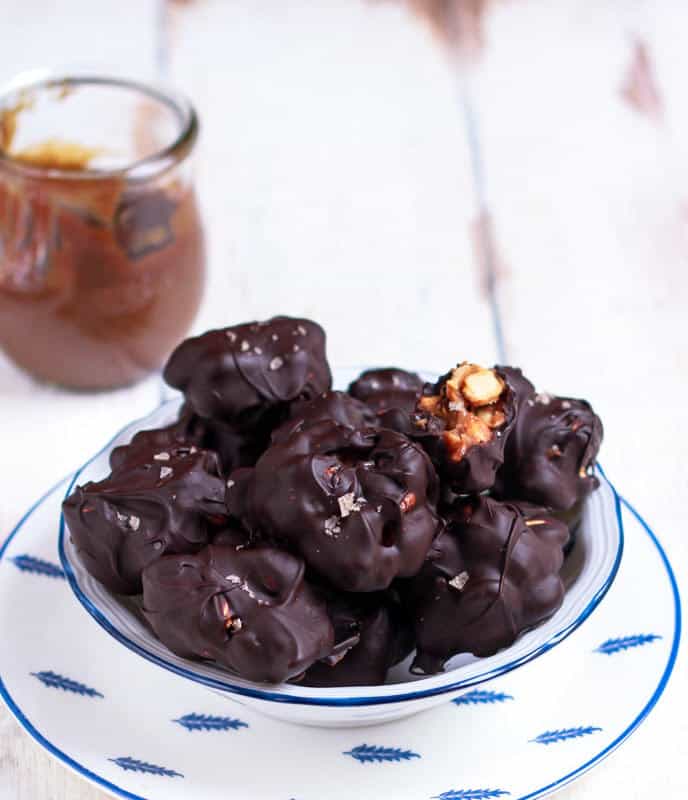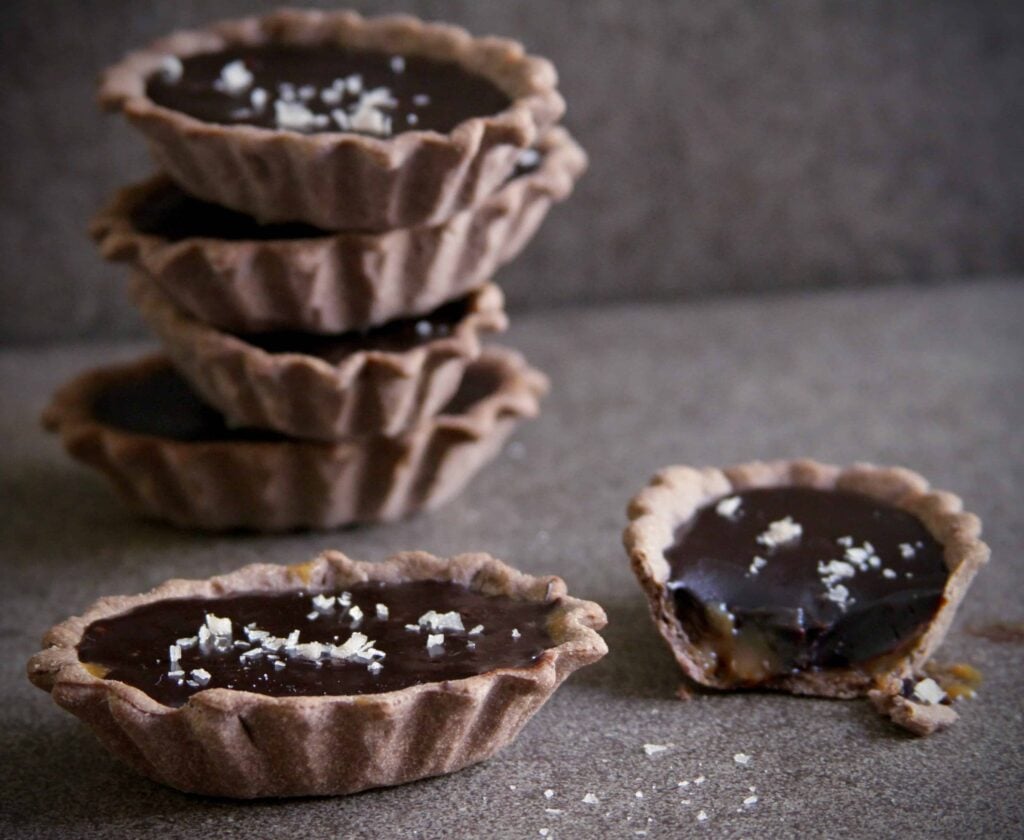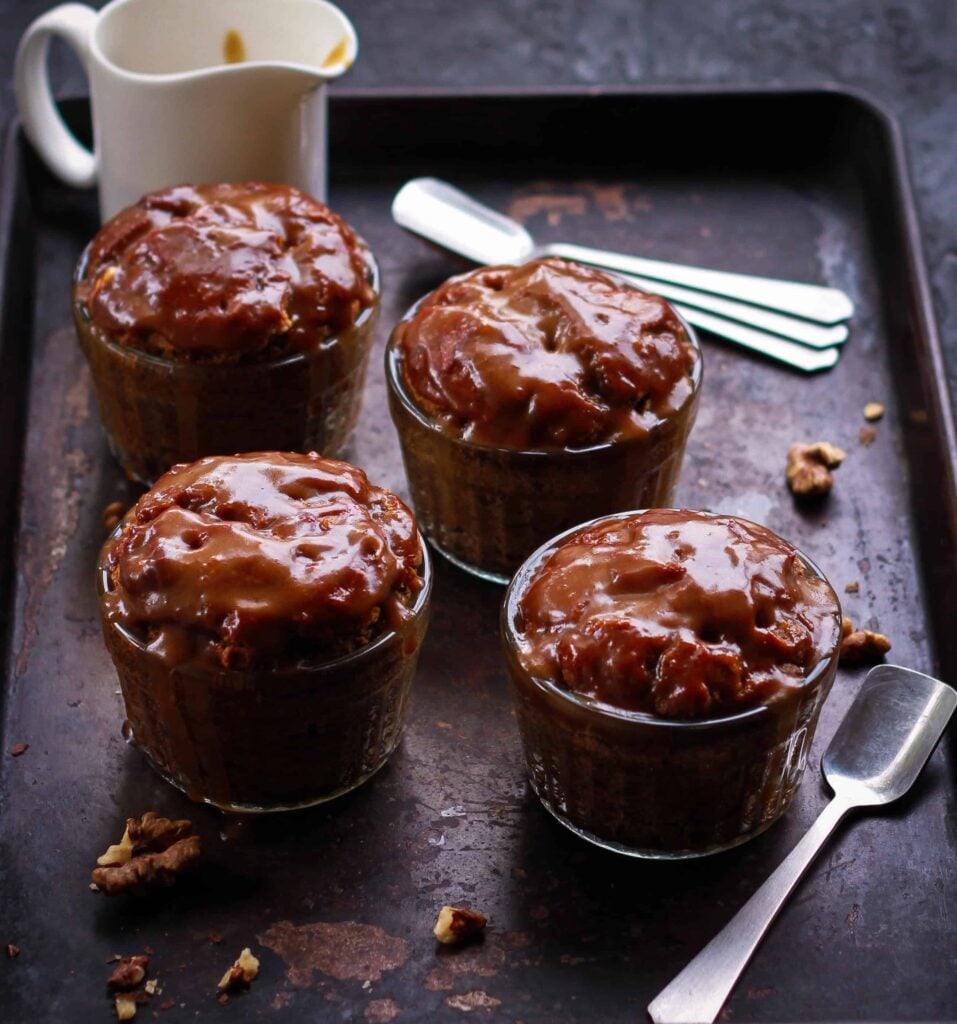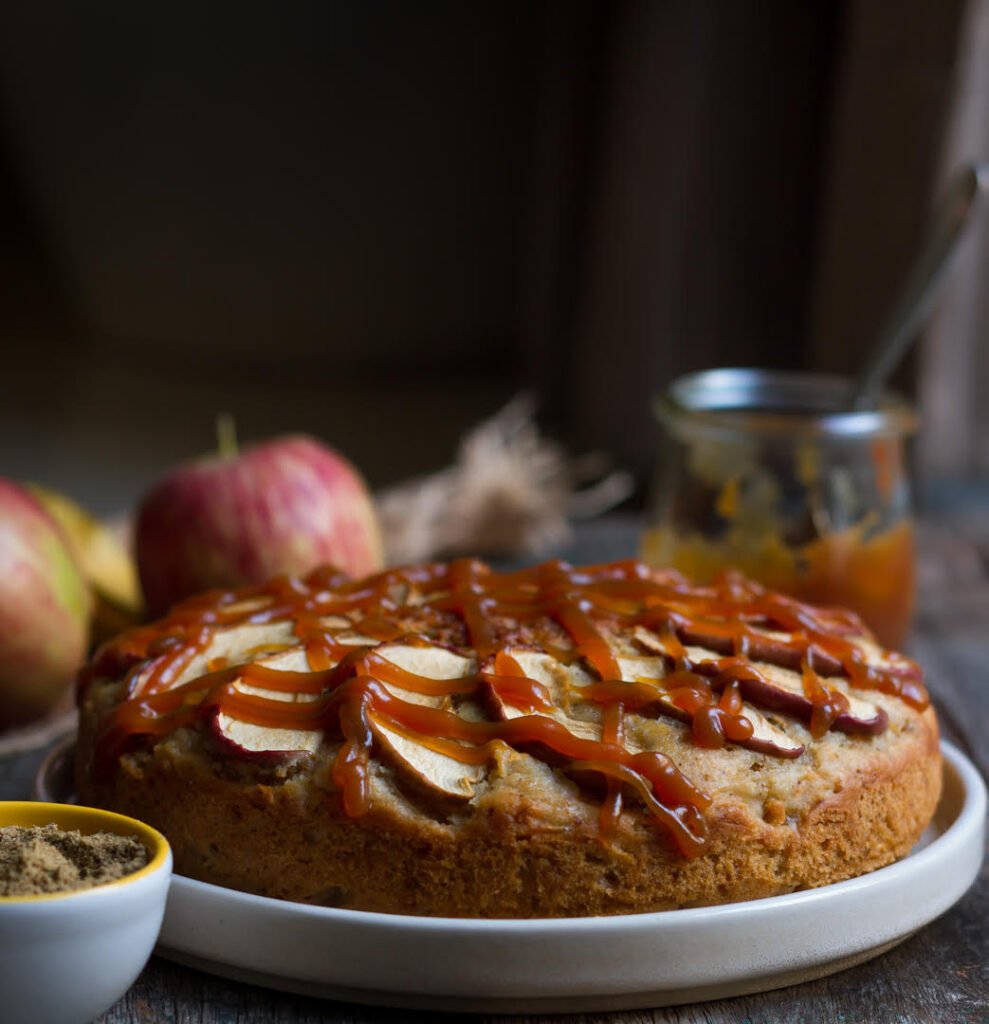 Walnut & Fig Banana Bread with Caramel Sauce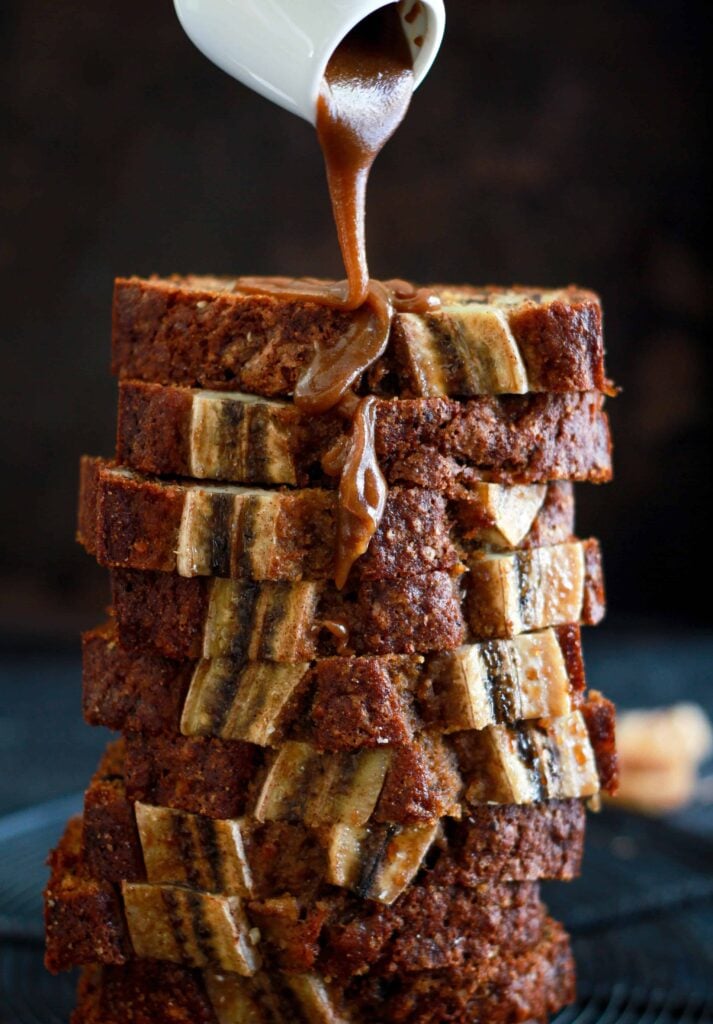 I'd love to hear from you! Please tag me on Instagram @tashasartisanfoods, using the hashtag #tashasartisanfoods. You can also FOLLOW ME on INSTAGRAM, PINTEREST for more fabulous recipes! Do subscribe to Tasha's Artisan Foods so you'll never miss a recipe!
📖 Recipe
Print Recipe
Vegan Caramel Sauce
This 5 ingredient Vegan Caramel Sauce is rich, decadent and so easy to make! You can use it to elevate any dessert - cakes, brownies, donuts, and more. Made with healthy alternatives and a touch of sea salt, this caramel is so delicious that you can happily eat it straight from the jar.
Ingredients
400

ml

Coconut milk, full-fat

3/4

cup

Coconut sugar

1

tbsp

Coconut Butter

You can also use coconut oil

1

tbsp

Cornstarch

1

Vanilla bean, split lengthways

1

tsp

Sea salt
Instructions
Combine the coconut milk, coconut sugar, cornstarch, coconut butter in a thick-bottomed saucepan. Add the vanilla bean.

Whisk the mixture well and cook in medium-low heat for 20-25 minutes until the sauce thickens. It should coat the back of a spoon. You will need to keep whisking the sauce while it is cooking so it doesn't burn.

Take it off the heat, scrape the beans off the vanilla pod and discard the pod. Stir in the sea salt. Taste ( carefully!) and add more salt if you like.

Let the sauce cool completely and transfer to a jar. Store in the refrigerator.