Jump to Recipe
These Chocolate Caramel Peanut Clusters are an easy no-bake dessert perfect for the holidays or just a quick post-dinner sweet treat! Plus, these peanut clusters are vegan and gluten-free; a wonderful yet simple Christmas recipe.
If you're ever in a bind and in need of a quick, low-effort sweet treat, these vegan caramel peanut clusters will become your go to! Learn how to make one of my favorite no-bake holiday treats.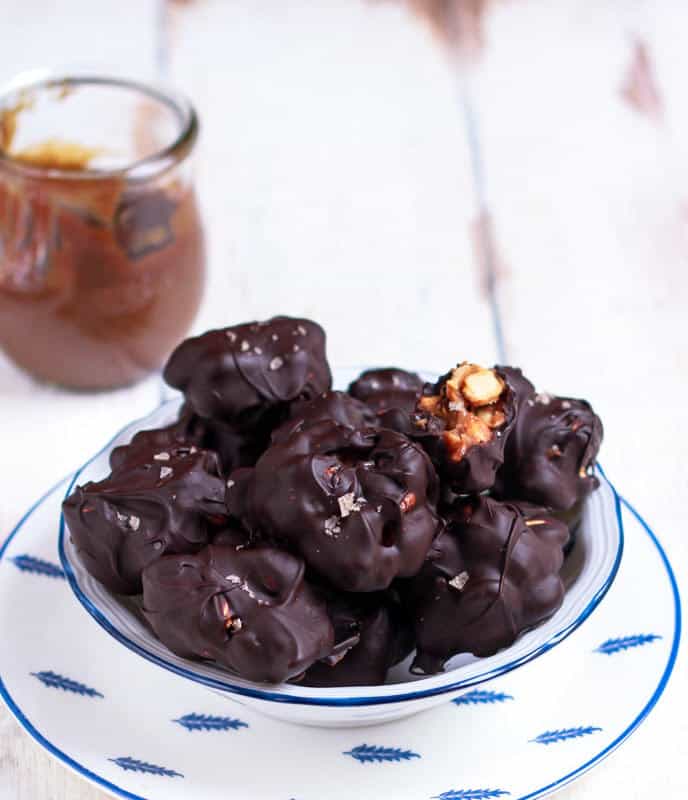 How to Make Vegan Caramel Peanut Clusters?
You'll be happily surprised at how simple and inexpensive it is to make homemade candy with peanuts and caramel!
You don't need fancy tools or Michelin star fixings to make these sinful, yet healthy clusters. Quick and easy, the recipe has two parts each more mouth-watering than the other.
Step 1 - make the vegan caramel sauce
In a small saucepan blend coconut sugar, coconut butter, and coconut milk. I used full-fat coconut milk to get a rich, creamy caramel sauce, but if you prefer coconut cream, then that works well too. 
Add in touch of corn-starch to thicken the sauce and then a pod of vanilla bean. Wish to see even the most manful resistance crumble like an apple-pie? Split the pod lengthwise to release a divine fragrance and flavor into the sauce.
Let the caramel cook, cook, cook till it is nice and thick and evenly coats the back of your spoon. Whisk in a bit of sea salt and then let it cool. As the caramel sauce simmers down, it will thicken into a gooey beauty. 



Note: detailed recipe on how to make homemade vegan caramel here!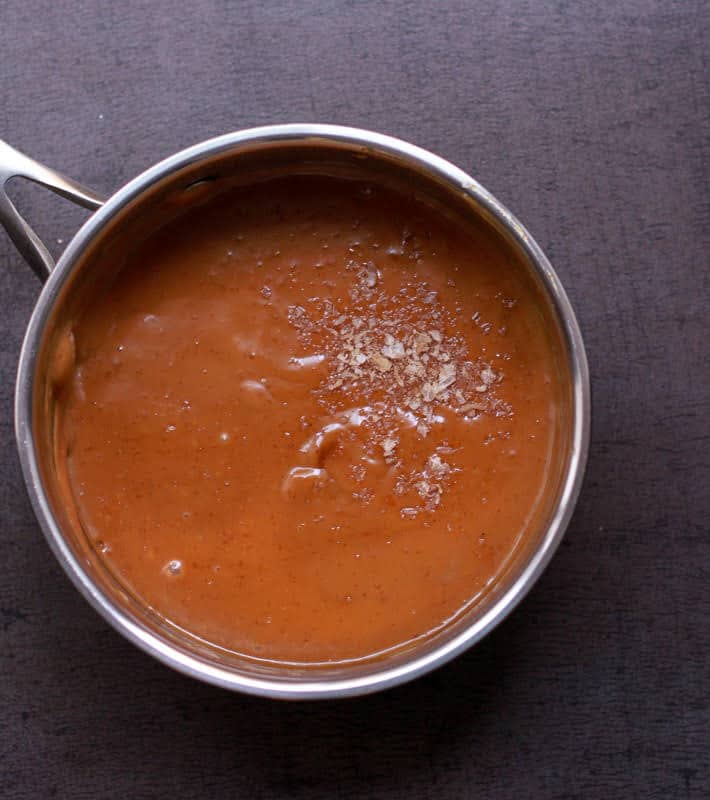 Step 2 - form the peanut clusters
While the sauce is cooling, roast some peanuts. Store-bought roasted peanut will do excellently. Just make sure they are unsalted!

Mix the roasted peanuts in the caramel sauce. Use a measuring spoon (or even a lemon baller) to scoop out clusters on a tray. The candy is now ready for a quick trip to the fridge, leaving you free to melt a bar or two of dark chocolate.
Somehow, I favour all dairy-free chocolate; but if you can't find a vegan option near your home simply choose 70% dark chocolate.
Last but definitely not the least, dunk the hardened caramel peanut clusters in the melted chocolate. Dust a hint of additional sea salt and then give the clusters a second, shorter stay in the fridge.
Serve the Chocolate Caramel Peanut Clusters!
A slight crunch, a tab bit creamy, and a whole lot addictive, these peanut caramel clusters or peanut turtles are such a simple recipe to make.
Plus, they're refined sugar-free and gluten-free (think: healthier and much tastier version of Snickers).
This turtle candy with peanuts is so intensely satisfying that once you have them, I bet you won't stop at one!
I blame the caramel sauce. Its flecks of vanilla add a wonderfully sweet touch, and the sea salt perfectly balances it out to make one scrumptious yet easy xmas treat.
More Easy No Bake Christmas Treats!
📖 Recipe
Print Recipe
Easy Chocolate Caramel Peanut Clusters
These Chocolate Caramel Peanut Clusters are an easy no-bake dessert perfect for the holidays or just a quick post-dinner sweet treat! Plus, these peanut clusters are vegan and gluten-free; a wonderful yet simple Christmas recipe. 
Servings:
23
chocolate clusters
Ingredients
Caramel Peanut Clusters
2

cups

Peanuts, roasted and unsalted

1/3

cup

Vegan salted caramel

Yo can use regular caramel sauce too.

1

cup

Dairy free chocolate or Dark chocolate (70%)

1-2

tsp

Sea salt
Vegan Salted Caramel Sauce
400

ml

Coconut milk, full fat

3/4

cup

Coconut sugar

1

tbsp

Coconut butter

You can use coconut oil too, or leave it out altogether

1

tbsp

Cornstarch

1

Vanilla bean, split lengthways.

1 1/2

tsp

Sea salt
Instructions
Keep a tray lined with baking paper or silpat ready.

Warm the caramel sauce slightly.

In a large bowl, combine the peanuts with the caramel sauce. The nuts should be well coated. Add more sauce if you need to.

Drop by teaspoonfuls onto the prepared tray. Place the tray in the freezer for 10-15 minutes to allow the nut clusters to firm up well.

In the meanwhile, melt the chocolate till smooth and shiny.

Dip each cluster into the melted chocolate, making sure all sides are completely covered in chocolate. Gently place on the tray. Sprinkle with sea salt and place the tray in the refrigerator to allow the clusters to set. Enjoy!
Vegan Salted Caramel Sauce
Combine the coconut milk, coconut sugar, cornstarch, coconut butter in a thick-bottomed saucepan. Add the vanilla bean.

Whisk the mixture well and cook in medium-low heat for 20-25 minutes until the sauce thickens. It should coat the back of a spoon. You will need to keep whisking the sauce while it is cooking so it doesn't burn.

Take it off the heat, discard the vanilla bean and stir in the sea salt. Taste ( carefully!) and add more salt if you like.

Let the sauce cool completely and transfer to a jar. Store in the refrigerator.