There is something in the air when autumn slowly rolls in. Or maybe it is the abundance of apples that makes the season special. Whatever it may be, I've been on a spree transforming everyday things just a trifle indulgent. 
This time it is an easy apple cake that you can eat any day and anytime made a touch extravagant with chai masala. The spice mixture enlivens the flavors of the cake and turns it delightfully aromatic. The thick caramel sauce drizzled on top takes the decadence up a notch.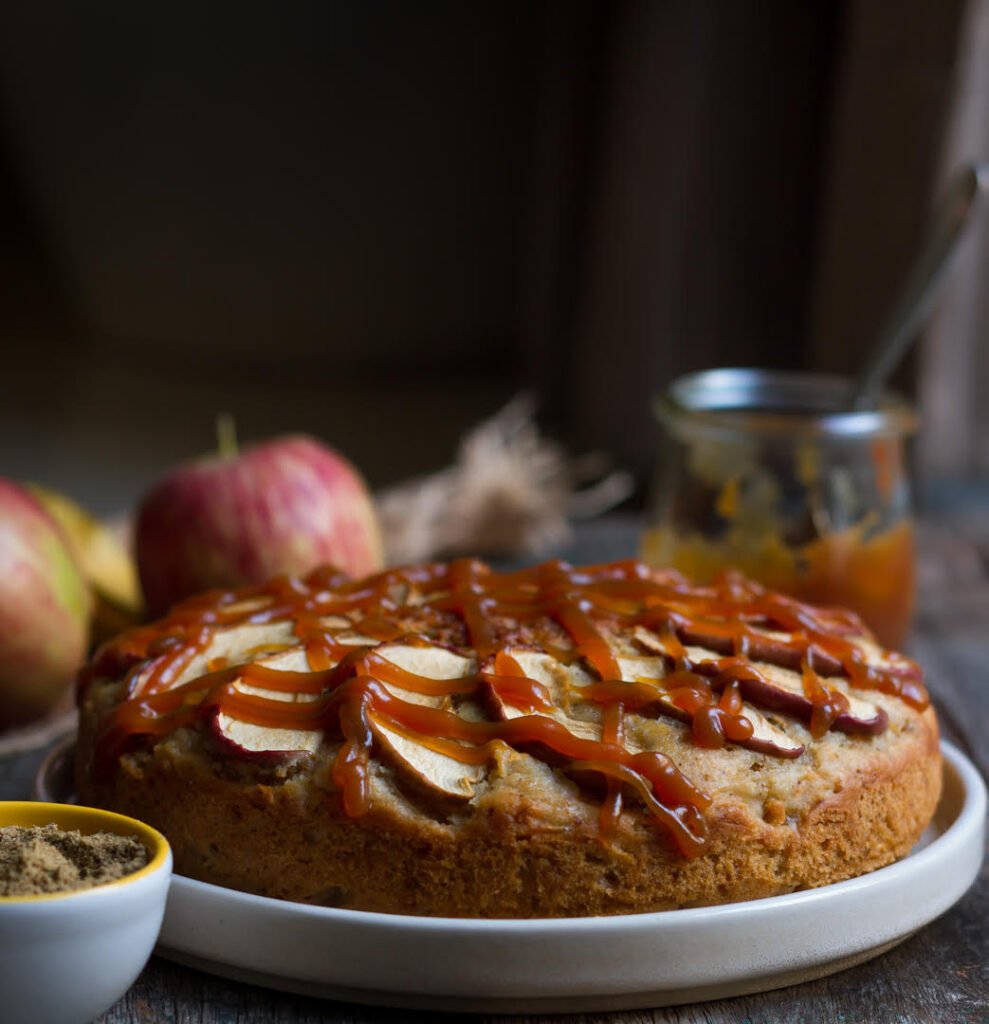 How to Make Chai-Spiced Apple Cake?
Like every other #TAFEverydayCake, this apple cake has the easiest recipe.
You sift all-purpose and wholewheat flours, baking powder, baking soda, salt, and fragrant chai masala in one bowl.
In another, you whisk coconut oil, raw sugar, vanilla extract, and coconut yogurt.
Stir the dry ingredients in the wet till everything is well moistened. You don't want to overmix. Now, add in the grated apples.
Baking the apple cake
This batter is remarkably thick, unlike usual soft-dropping cake batters. So, don't be tempted to up the wet ingredients. Remember, the grated apples will shed water as they bake, turning the thick batter into a superbly moist cake.
Scrape the batter into a greased pan. I used an 8-inch round one. Grace the top with thin apple slices and then bake. It'll take 40 to 45 minutes. When you do a skewer test, it should come out clean.
While the cake is baking, take a minute to enjoy the beautiful fragrance of apples and spices permeating your home!
Garnishing the apple cake
Let the chai-spiced apple cake cool, then garnish as per preference. I drizzled it with caramel sauce to make the simple cake a tad indulgent, special and memorable.
While I used the regular caramel sauce, you can use a vegan alternative since the cake is vegan too.
Or you can quietly dust it with icing sugar and call it a day.
The cake stays well in the refrigerator because of all the apples. If it's hot and humid where you are, like here, I honestly recommend not keeping the cake out.
What apples to use
I used Kinnaur apples from Himachal Pradesh because I had them at hand. They're juicy, and sweet with a sharp bite.
I genuinely savor Granny Smith apples, but it's rare to find them here. Luckily, I could get my hands on a couple, so a bit of those went in the cake too. Their crunchy flesh with a tarty-acidic taste made an excellent choice for the cake.
That said, there is no hard and fast rule on the kind of apples you should put in the cake. I urge you to please support your local farmers and use any apple variety they sell. You can even use an assortment of varieties.
Variations of the cake
I used a mix of whole-wheat flour and all-purpose flour. You can use just one of them. To bring more depth of flavor, try amaranth flour. Oat flour and quinoa flour are also great choices.
Instead of grating the apples, you can dice them finely to add more texture to the cake. If you don't have chai-masala handy, use my recipe to make it.
In case you're short on time and spices, replace it with nutmeg and cinnamon powder. Both spices pair with apples exceptionally well. So, without any effort, you get some incredibly delicious cake!
As always, you can switch coconut oil with any neutral-tasting oil. Even olive oil will work like a charm as it did for my apple crumble cake. Melted butter will do well here too.
You can replace the coconut yogurt with plain Greek yogurt or a homemade option. When using the latter, remember to drain all excess moisture.
For the sugar, I used raw, but simple white sugar goes well too.
All the texture I needed from the cake came from the apples. For those looking for some extra crunch, add chopped walnuts or almonds to the batter.
Serving the Chai-Spiced Apple Cake
The smallest of bites will bring a smile to your face. The chai-spiced apple cake is that good. The mixture of spices ties together all the flavors so well that a basic cake transforms into sophisticated one. Surprisingly, it's the best way to celebrate apples and the start of autumn!
I'd love to hear from you! Please tag me on Instagram @tashasartisanfoods, using the hashtag #tashasartisanfoods. You can also FOLLOW ME on INSTAGRAM, PINTEREST for more fabulous recipes! Do subscribe to Tasha's Artisan Foods so you'll never miss a recipe!
📖 Recipe
Print Recipe
Chai-Spiced Apple Cake
The smallest of the bites will bring a smile to your face. The chai-spiced apple cake is that good. The mixture of spices ties together all the flavors so well that a basic cake transforms into sophisticated.
Ingredients
1

cup

Wholewheat flour

1/2

cup

All-purpose flour

1.5

tsp

Baking powder

1/2

tsp

Baking Soda

1/4

tsp

Salt

1.5

tsp

Chai masala / Chai spice powder

Homemade/ Store-bought

1/2

cup

Raw sugar

1

cup

Coconut yogurt

1/3

cup

Coconut oil

1

tsp

Vanilla extract

1

cup

Grated apple

Apple, thinly sliced for topping

Caramel sauce for drizzling

Optional
Instructions
Preheat your oven to 180C. Grease an 8" cake tin well.

In a large bowl, sift together the wholewheat and all-purpose flours, baking powder, baking soda, chai masala, and salt.

In another small bowl, whisk together the yogurt, coconut oil, vanilla extract, and sugar.

Combine the wet and dry ingredients. Don't over mix the batter.

Fold in the grated apple.

Pour into the prepared pan. Level the top and arrange the apple slices on top.

Bake for 45-50 minutes or until a skewer inserted in the center comes out clean and the top is lightly browned and springy to touch.

Let the cake cool in the pan for a few minutes before turning out on a cooling rack.

Let the cake cool completely before drizzling over the caramel sauce, if using.

Cut into slices and serve. Enjoy!

This cake will keep well for 3-4 days in the refrigerator, stored in an air-tight container.