Chai-spiced chocolate truffles are the perfect mix between fudge and soft caramel. Rich and decadent with dark chocolate and intensely fragrant from the sharp notes of warm spices, these bite-sized delicacies are fabulous for gifting.
Truffles are the epitome of minimum effort and maximum reward treats. With 2 basic ingredients, you can play around with flavors to produce endless variations.
I've tried them with lovely lavender and with boozy Baileys. But because Diwali is in the air, I wanted to make them extra special. So, I used my homemade chai spice to steep the truffles with a deep, warming aroma and earthiness.
The mouthful of sharp cardamon, fiery ginger, bossy cloves, bold pepper, and piquant cinnamon truly enliven the truffles with a bouquet of flavors and aroma.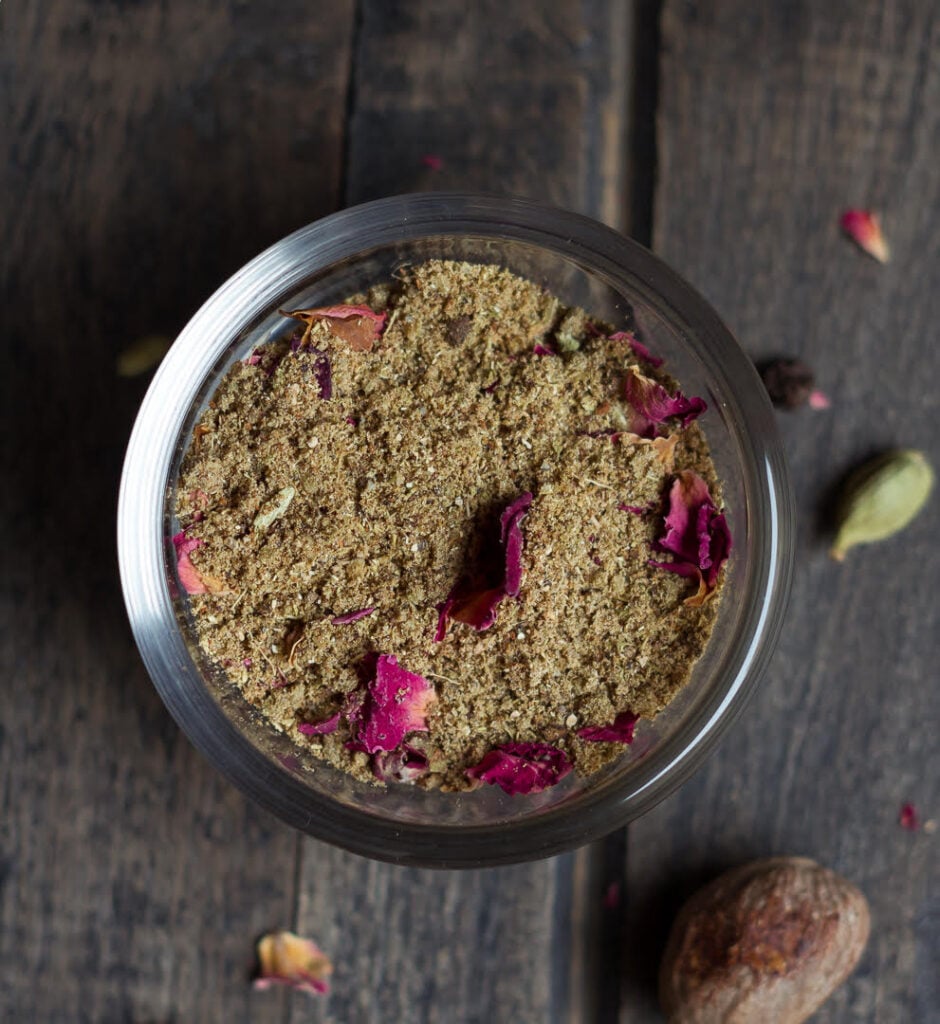 I sprinkled a few dried rose petals in the chai masala to make the chocolate truffles extra special. But that's an entirely optional step. The truffles will remain bites of fudgy wonder all on their own.
How Can I Make Chai Spiced Chocolate Truffles?
It's the most basic recipe. You make a ganache from cream and chocolate. Let it set, roll the ganache in balls and wrap it up with dusting of cocoa.
To start, in barely warm coconut cream, add the chai spice.
Let the cream and spice steep for 15 minutes. If you fancy a more potent flavor profile, let the cream infuse for 30 minutes to 1 hour.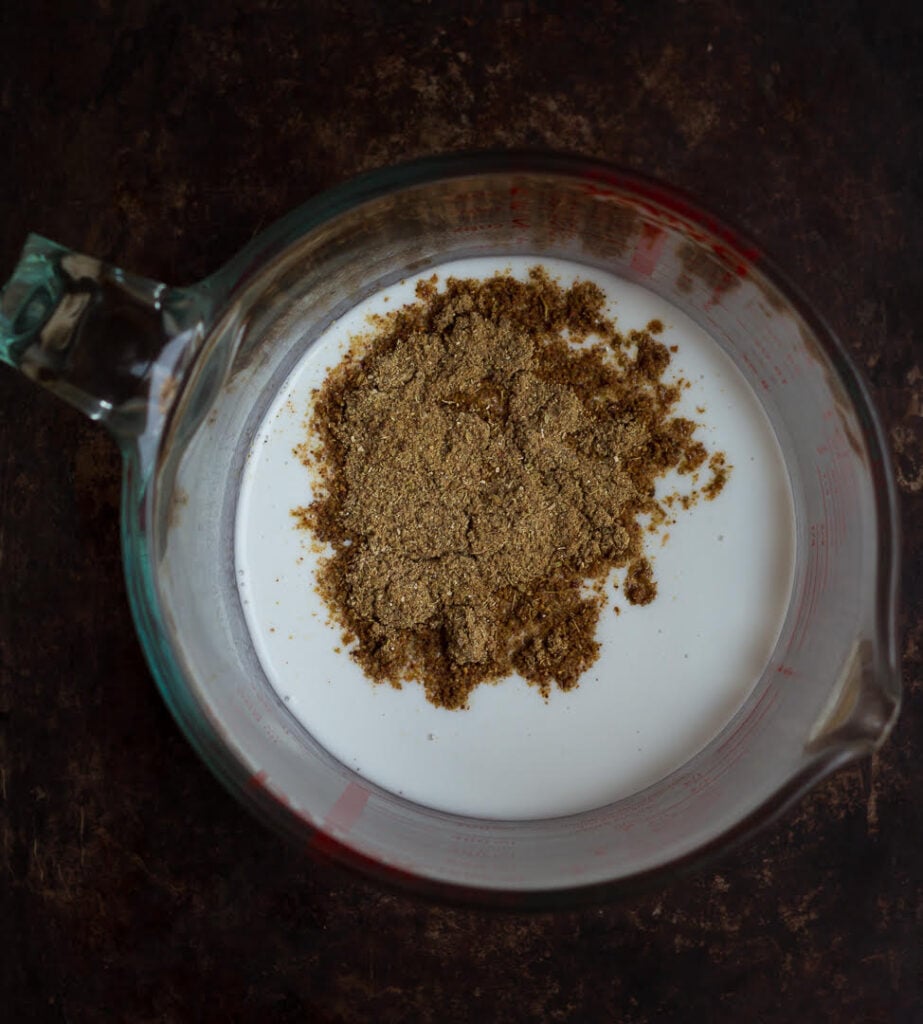 You can either strain the cream to remove all the spice bits from it.
Or you can use it as-is.
I prefer the latter because I don't mind feeling bits of chai masala with each nibble of the truffle.
You now heat the infused cream till it comes to a bare simmer.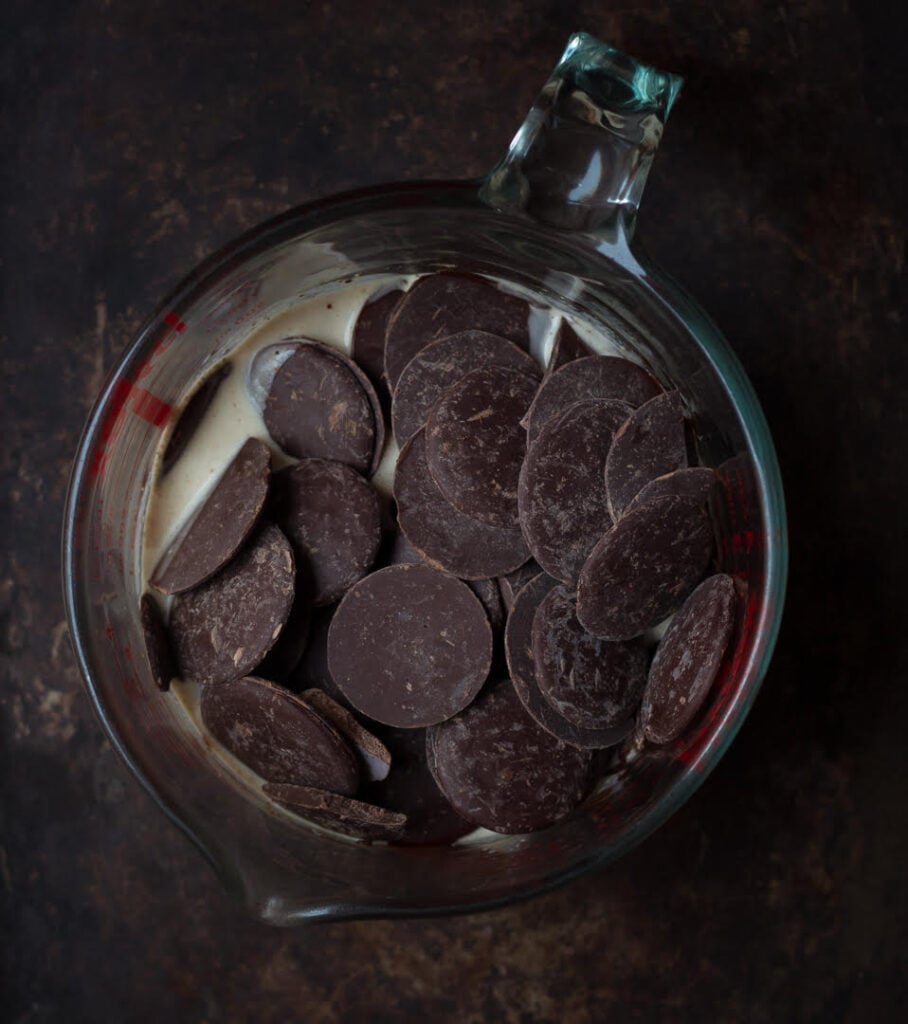 Add in the room temperature chocolate and gently stir till you have the ganache. You're gunning for something that looks very much like chocolate pudding. Think smooth, thick, and glossy.
Pour the ganache into a flat dish. I always use a pie dish.
Slide it in the refrigerator for at least 30 minutes or till the ganache firms up.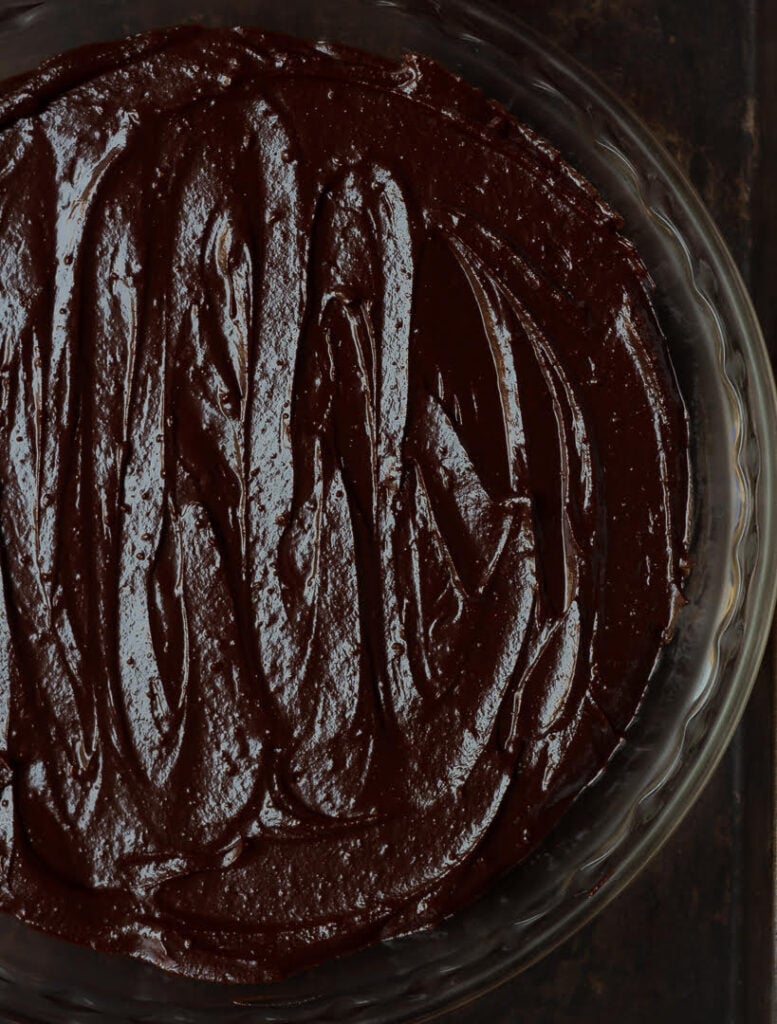 Making perfect chai spiced chocolate truffle balls
Truffles are low-effort desserts. The refrigerator does most of the work for you. And it's the key to making the perfect truffle balls.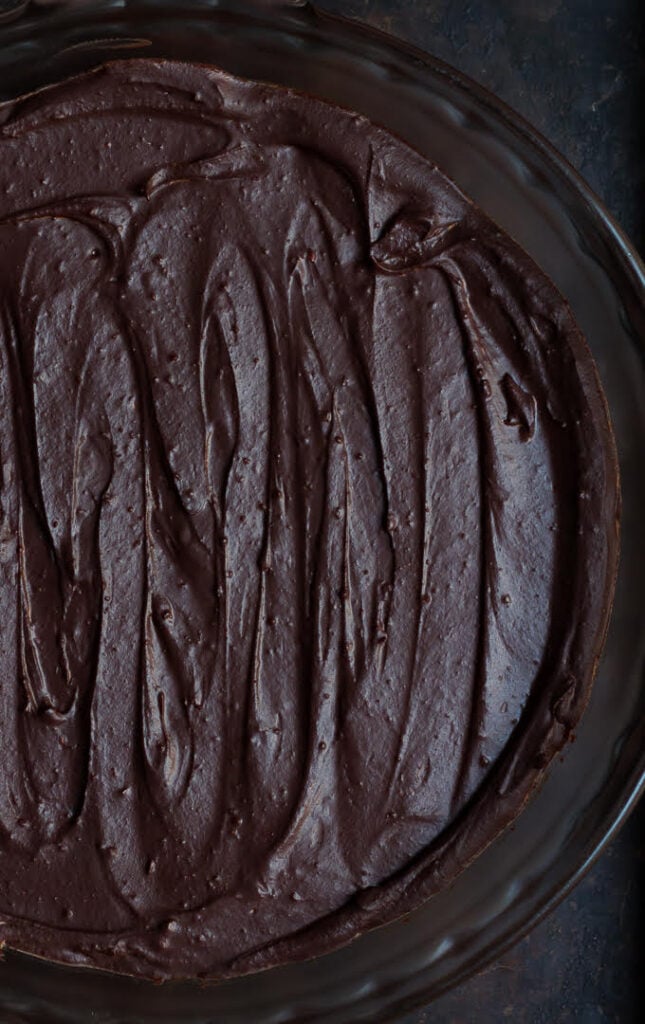 Let the ganache cool completely, till it hardens. Using a cookie scoop (or two small spoons), scoop out tiny portions of the ganache.
Slide the scooped-out truffle balls back into the fridge. Wait for them to harden again, and then as the final step, roll the truffles in cocoa powder.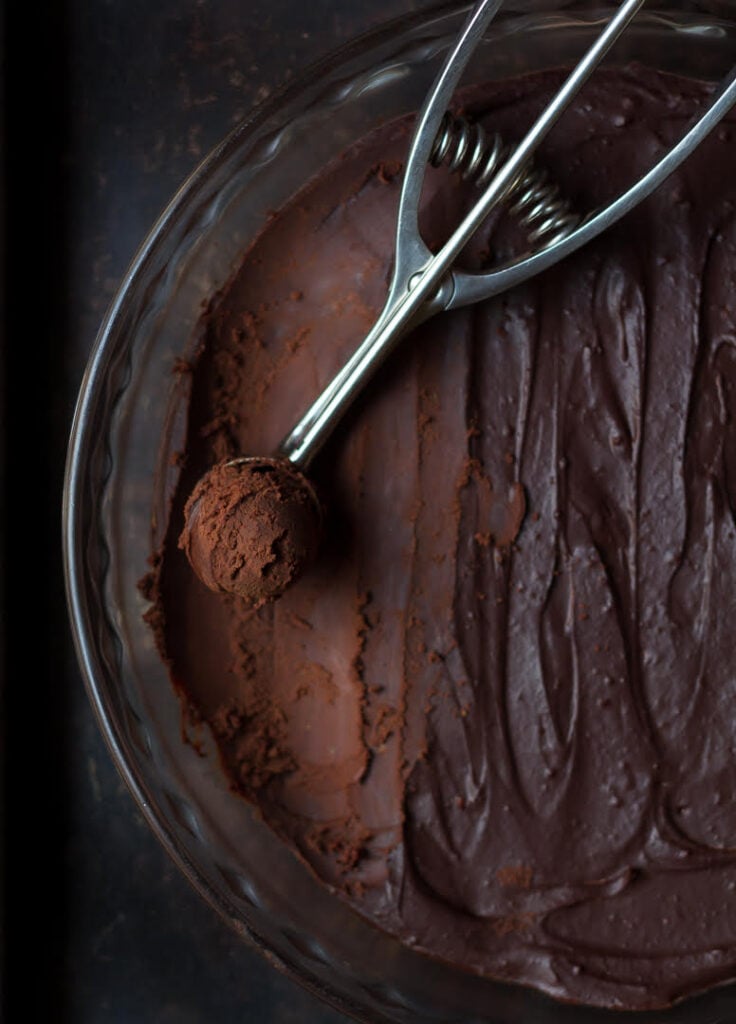 Tips for making great chocolate truffle
A cook's job is made ten times easier with decent ingredients. And when a recipe is as basic as chocolate truffles, choicest quality ingredients become a must. Besides that, keep the following in mind:
The cream to chocolate ratio always remains 1:2. As long as you stick to 1 cup cream for every 2 cups of chocolate, your truffles will come out perfectly.
If you need to weigh the ingredients to make quantities precise, do so.
Do not overheat the cream. You don't want it to split.
The stovetop is most reliable, but in case you use the microwave to heat your cream. Do it in 1-minute spurts. It'll keep the temperature under control.
At times, the chocolate doesn't melt completely when you mix it with infused cream. You can reheat the entire thing. But again, do it gently. Overheating will spoil the chocolate.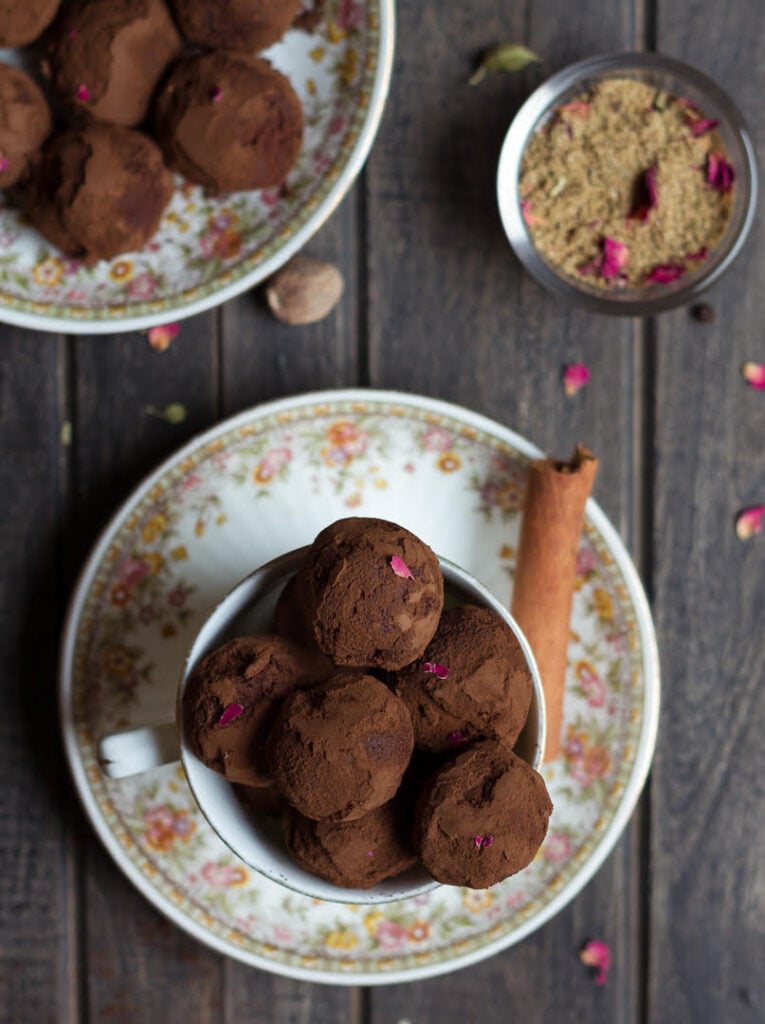 Variations of chai-spiced chocolate truffles
I always have a jar of chai masala in the pantry, especially as the winters roll in. I use it not just for my tea but also for cakes, cookies, and galettes.
So, adding it to truffles just made sense. You can always switch it up with another flavor. Try Baileys Chocolate Truffles or even Lavender Chocolate Truffles.
Can you make vegan chocolate truffles?
Yes, of course. I generally use dairy-free dark chocolate, but this time I ran out of it. To make the truffles vegan, simply use any chocolate that doesn't have dairy.
What cream to use for chocolate truffles?
If you don't have coconut cream, use regular cream. For those making vegan truffles, you can even try full-fat coconut milk. Just make sure that you use the thick layer that floats on top of the tin.
What other flavors can you add?
Whatever strikes your fancy – from coffee to pumpkin spice, from peanut butter to almond butter, everything works.
Is rolling in cocoa powder necessary?
Of course not. You can roll them in chopped nuts – almonds, hazelnuts, or pistachios. Enrobe them in colorful sprinkles or Matcha powder. You can even dip them in melted chocolate.
What kind of chocolate is best for truffles?
Dark chocolate is the best and the most premium quality you can get.
I used 65% couverture this time, but anything above 50% would do well too. You can even utilize milk chocolate if that's where your taste buds lie.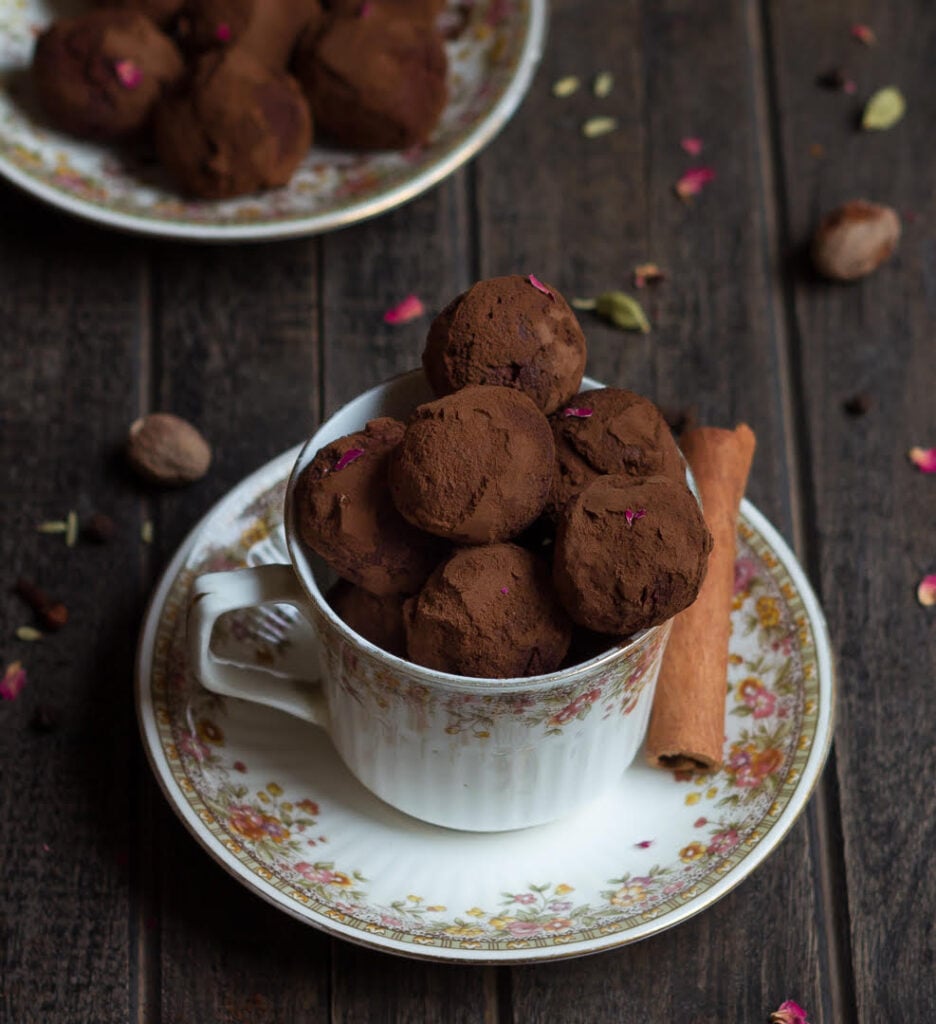 Serving the chai spiced chocolate truffles
Richly decadent and absolutely addictive, you get a kick at the back of your throat with every morsel of these truffles. Just perfect for the rapidly cooling weather.
We enjoyed them post-dinner with a cup of coffee. With no added sugar and lots of dark chocolate, the chai spiced chocolate truffles were the consummate treats to end the day. They pair fantastically with a glass of wine, too. Yes, they do have a touch of adult flavor but that didn't stop my kids from relishing them. For the same reasons, they make a great Diwali gift. Who doesn't love some sumptuous homemade chocolates?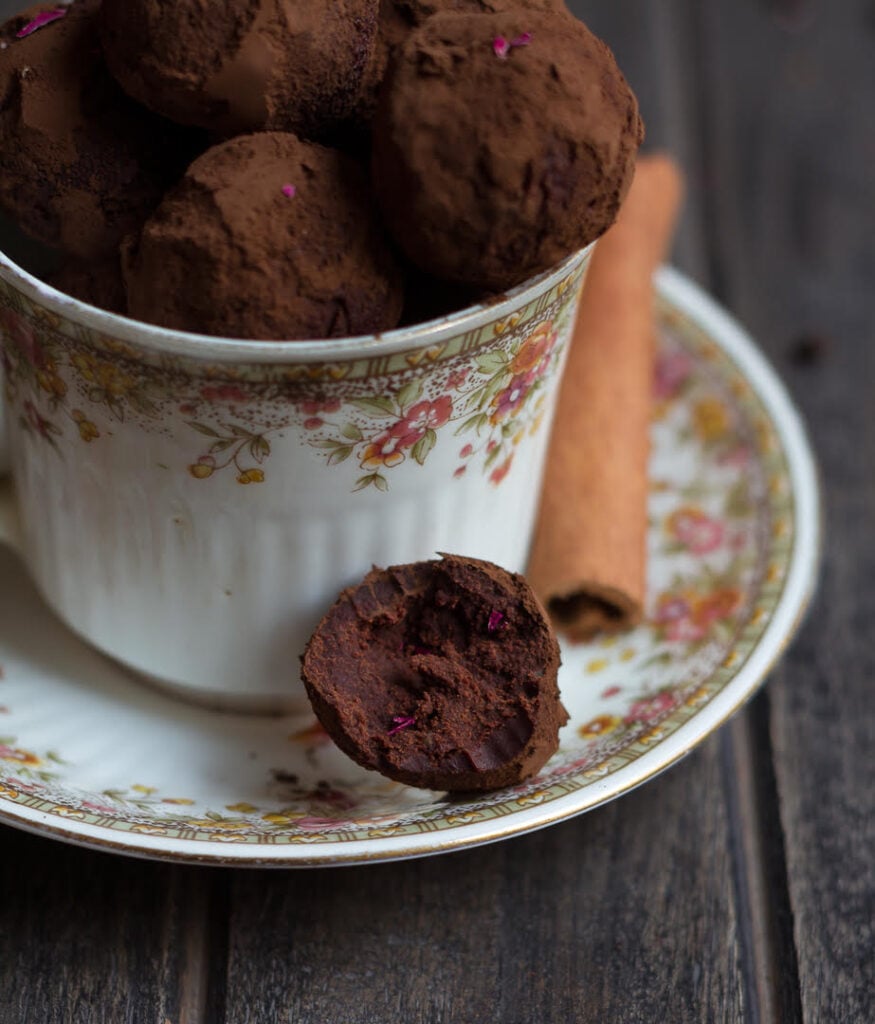 📖 Recipe
Print Recipe
Chai- Spiced Chocolate Truffles
Chai-spiced chocolate truffles are the perfect mix between fudge and soft caramel. Rich and decadent with dark chocolate and intensely fragrant from the sharp notes of warm spices, these bite-sized delicacies are fabulous for gifting.
Ingredients
200

gms

Coconut cream

You can use regular cream too.

2

tsp

Chai Masala/ Chai Spice Powder*

400

gms

Dark chocolate

Make sure the chocolate is at room temperature.

2

tbsp

Cocoa powder, for rolling the truffles
Instructions
In a small saucepan, barely warm the cream. Add the chai spice.

Let the cream and spice infuse for 15 minutes. For a more potent flavor, let the cream infuse for 30-60 minutes.

Now you can strain the cream or use it as is. I chose to use it unstrained.

Reheat the cream to a bare warm again and add in the chocolate. Gently stir till all chocolate is melted and is smooth and shiny.

Transfer to a shallow bowl and refrigerate for 30-40 minutes. Using a small cookie scoop or a tablespoon, scoop out small balls.

I like to refrigerate these for 10-15 minutes. Roll into smooth balls and refrigerate again for a few minutes.

Roll the truffles in cocoa powder, serve immediately and enjoy!

These truffles store well in the refrigerator.
Notes
* You can find the recipe for chai masala here