Candied oranges lend an absolutely delicious dimension to anything you add them to. Orange and sugar mix in a magical alchemy to create a tart, sweet, chewy, and tender caramelized orange treat. They are fantastic as snacks, cake toppings, drink garnishes, or desserts!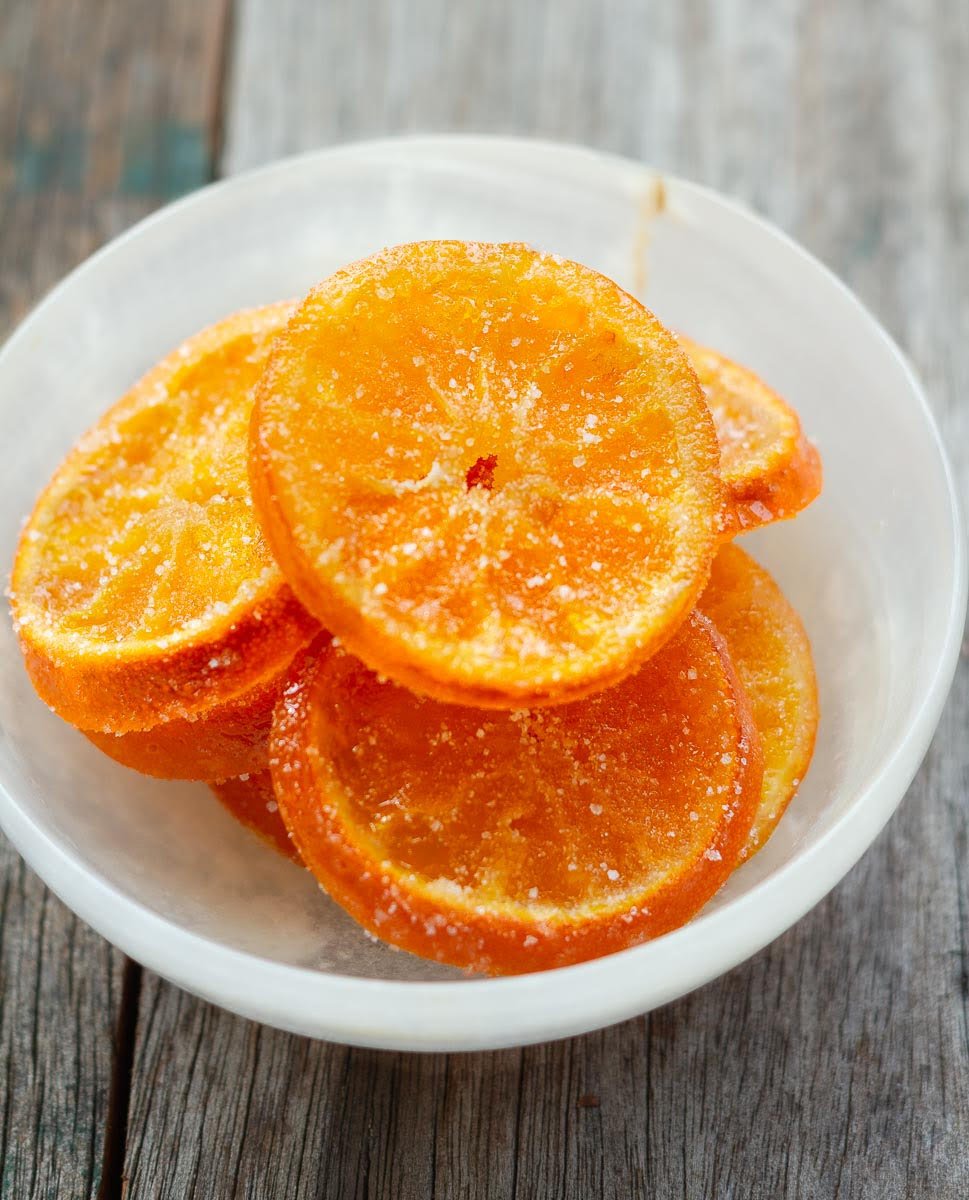 At first, candying oranges may seem intimidating but it is a fun and easy recipe that makes a treat as beautiful as a late summer sunset. With a little bit of sugar and a whole lot of love, you get scrumptious candied orange slices in no time. They pair flawlessly with creamy cakes and are a gorgeous addition to any dessert or gift basket.
Happy candying!
Jump to:
WHY YOU'LL LOVE CANDIED ORANGES
They are surprisingly easy to make, even for beginners.
Chocolate-dipped candy orange slices are a fancy edible gift.
A good recipe to have on hand for other dishes and occasions.
No, you do not need a thermometer to make them. Just slice, boil, dip, and dry.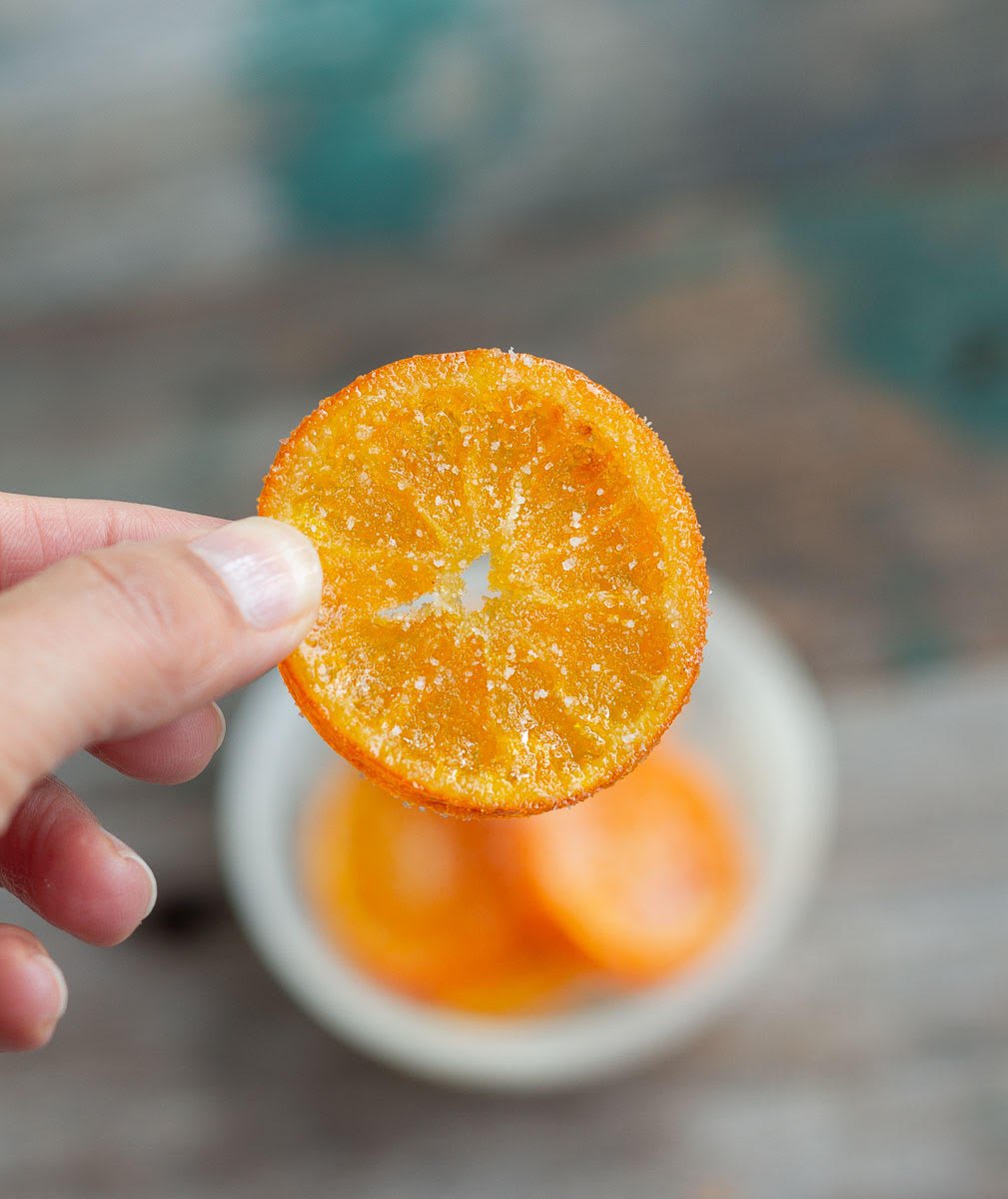 HOW TO CANDY ORANGES?
Step 1: Gather your oranges and scrub them thoroughly.
Step 2: Slice the oranges into rounds. Make sure to remove any seeds, as they can make the candied fruit slices bitter.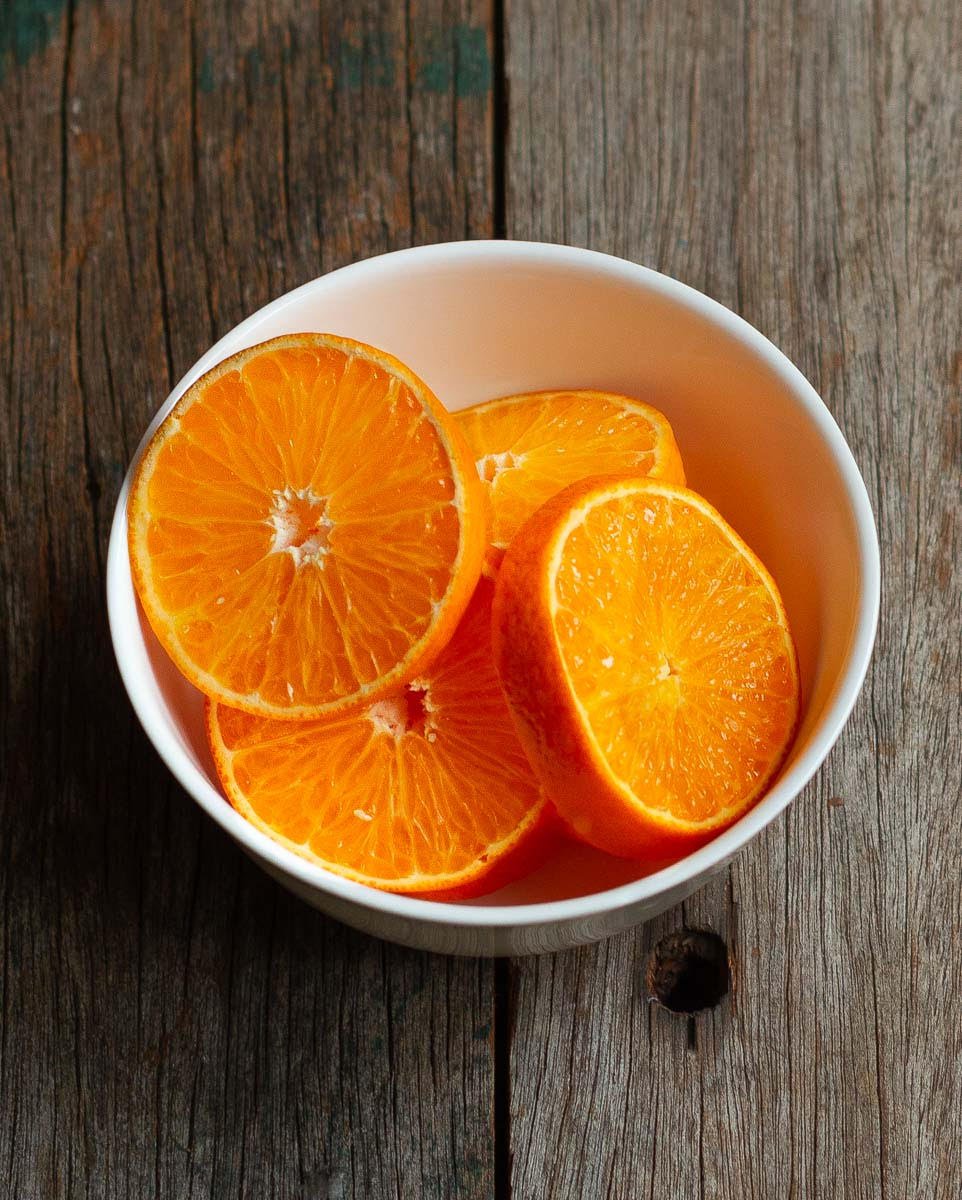 Step 3: Blanch the slices by dunking them into boiling water for about 60 seconds to get rid of their bitterness.
Step 4: Shock the orange slices by dipping them into a waiting ice bath (a bowl of water and ice sitting right next to your stove).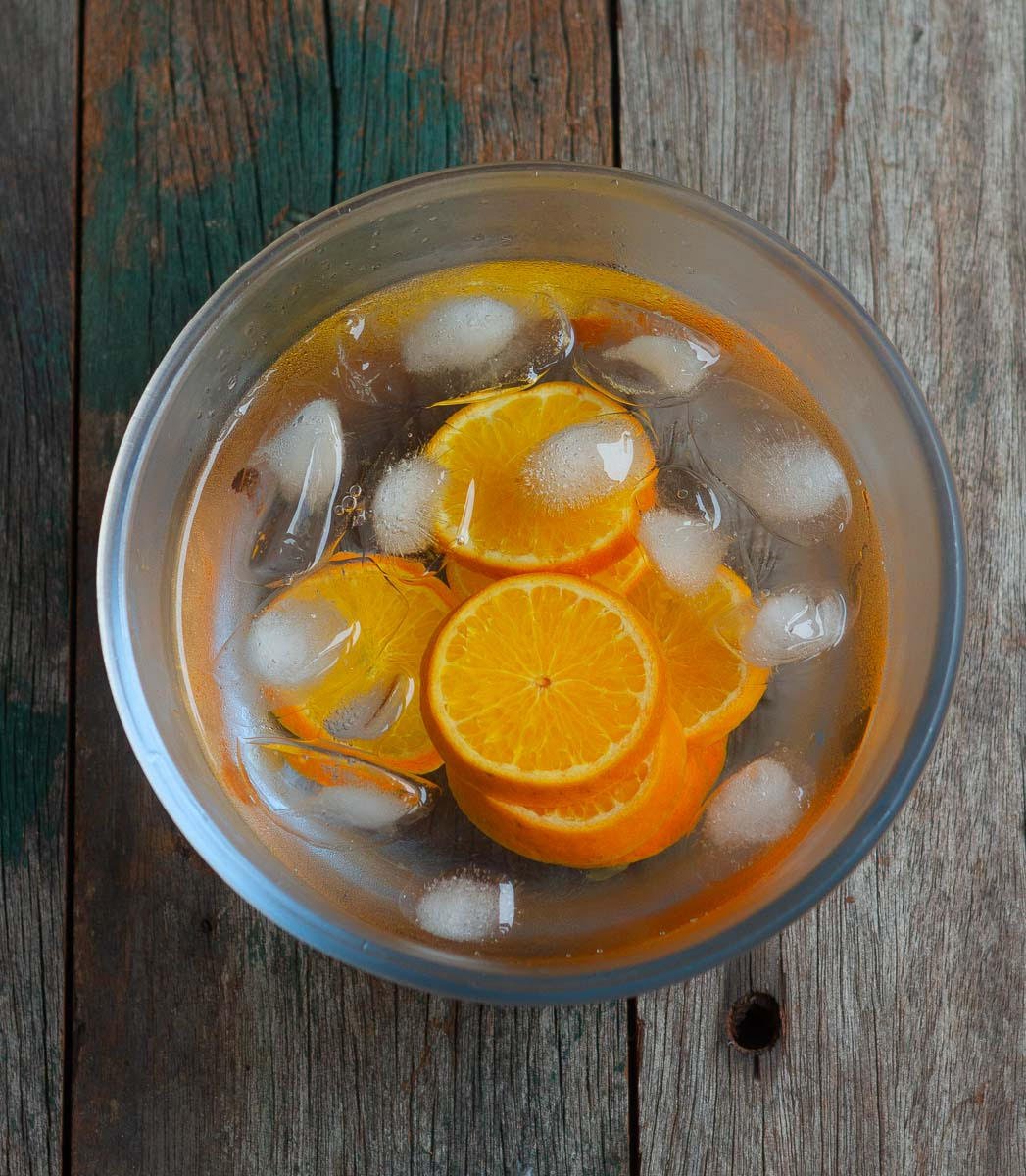 Step 5: Make a simple sugar syrup by combining a cup of water with a half cup of sugar in a saucepan. Bring the mixture to a boil. Stir occasionally to make sure the sugar dissolves. The second the syrup is boiling, reduce the heat to low.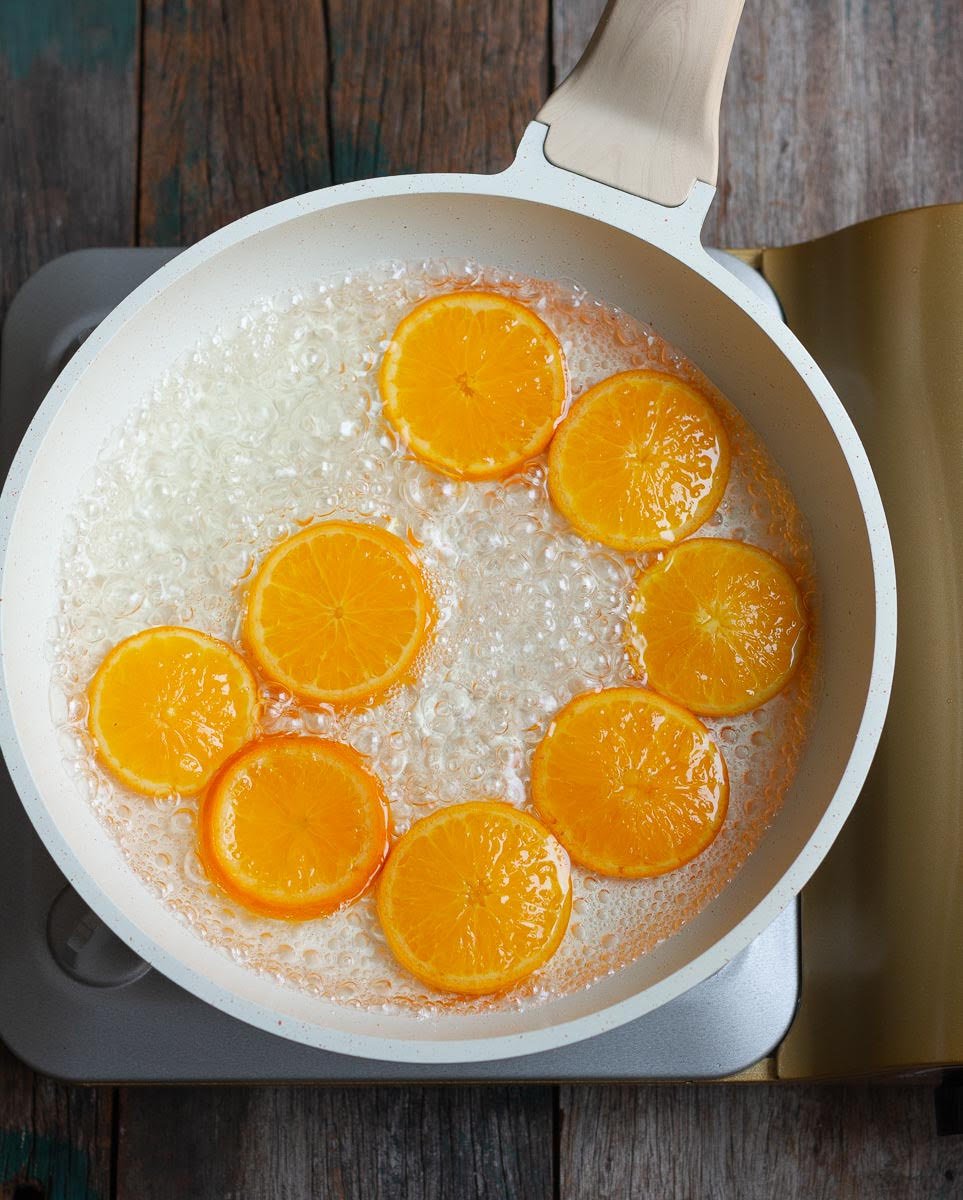 Step 6: Add the orange slices to the syrup one by one so they don't stick together. Let them simmer in the syrup for about 35 to 40 minutes until they are translucent and the syrup has thickened.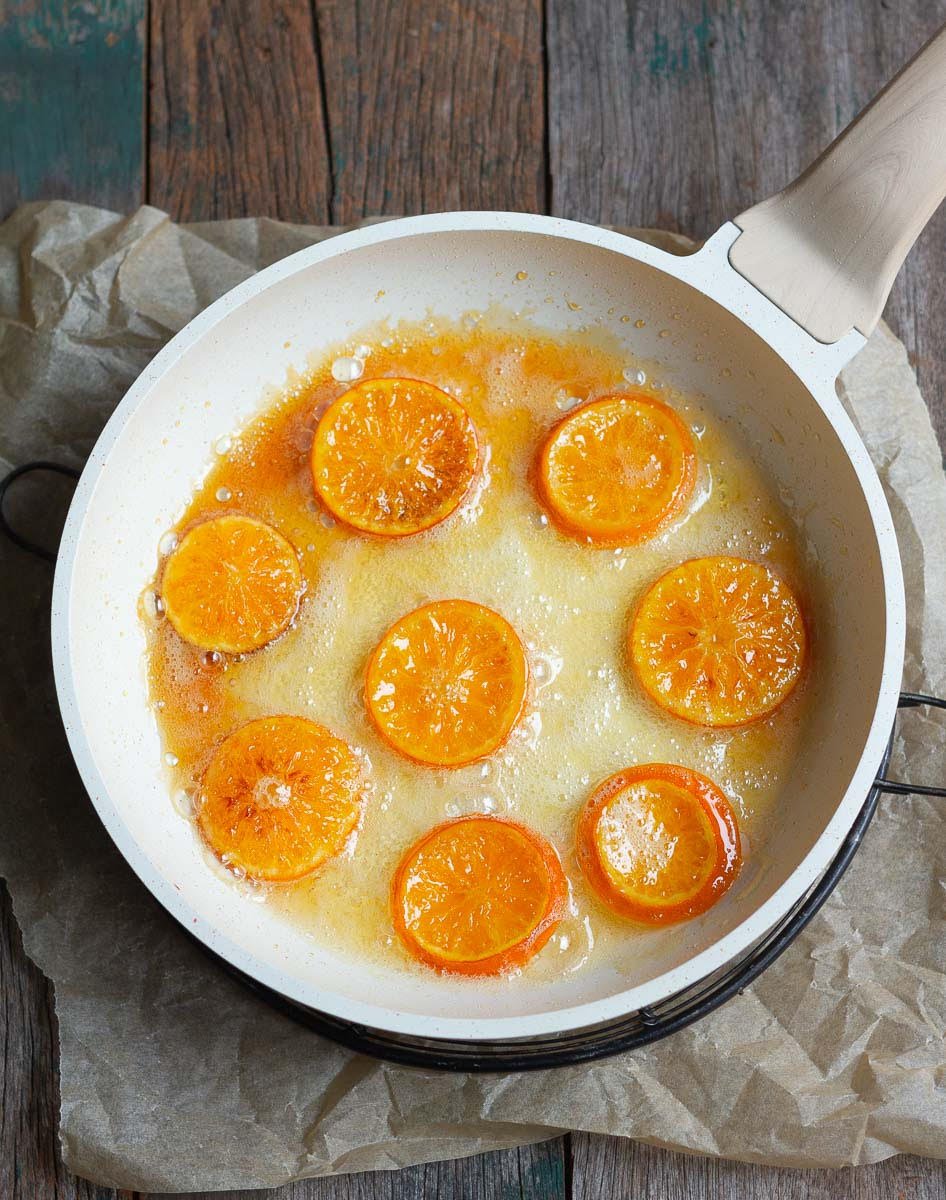 Step 7: Using a slotted spoon or tongs, remove the orange slices from the syrup and spread them out on a wire rack or parchment paper to dry. This is the longest step of the recipe and typically takes a day or overnight.
Step 8: As they cool, the syrup will harden and create a deliciously sticky coating on the dried candied orange slices.
Final step: And that's it! Serve the delicious, homemade candied orange slices.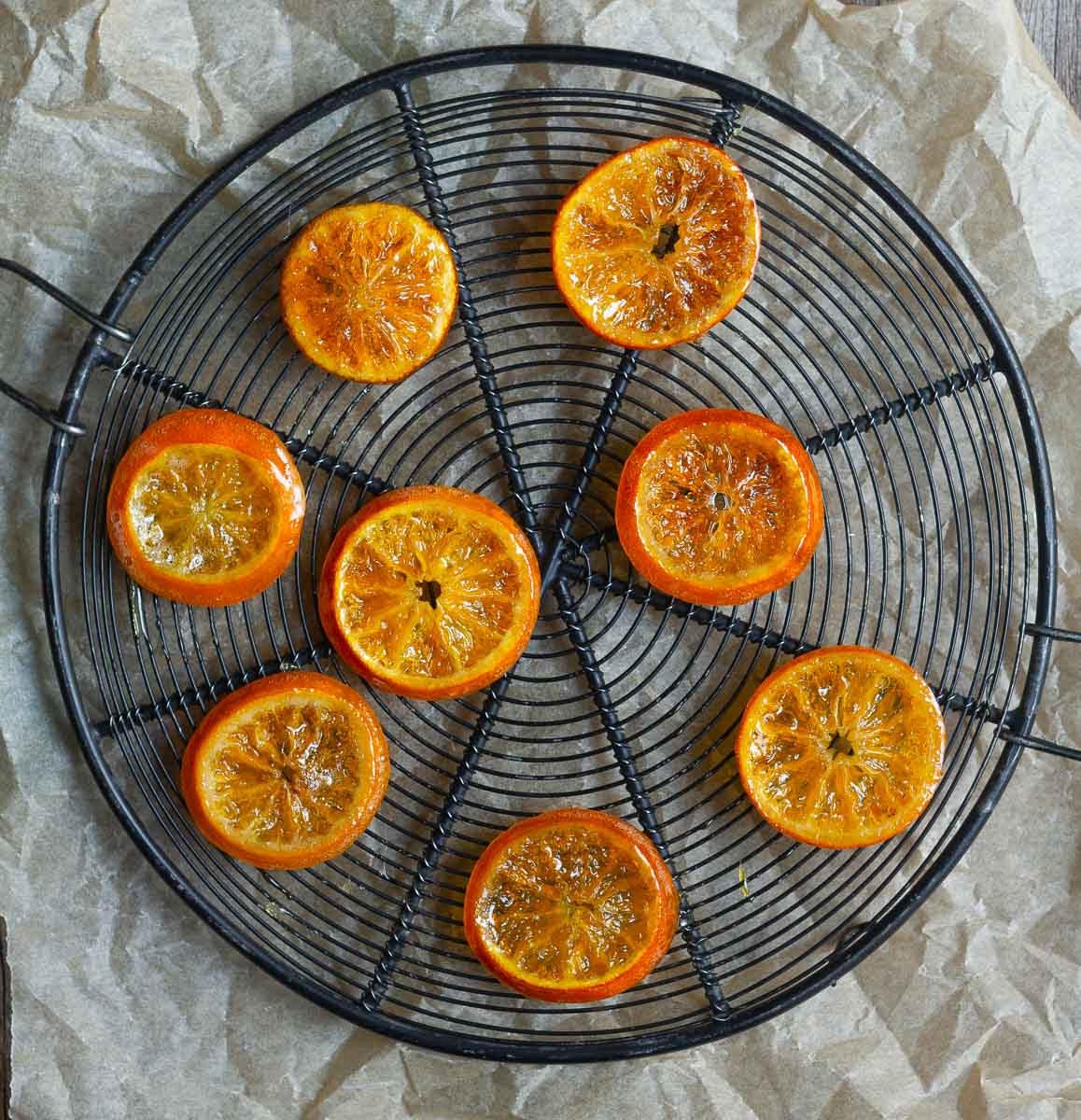 TIPS ON BEST CANDIED FRUIT
You can use a mandoline slicer to make even orange slices. I find that a sharp or serrated knife works just as well.
The thickness of your slices is essential from a structural perspective. Too thin, and they will shred during boiling. Too thick slices will hold their shape but take forever to dry. Most recipes call for 1/4-inch slices, so that's what I go for.
Use a large sieve to remove the slices from boiling water and dunk them in ice water. It is a one-minute step, but it is crucial because it prevents the orange slices from cooking further.
Swirl the orange slices in the sugar syrup periodically to evenly and fully coat them.
Drying on a wire rack gives you glass-like, caramelized oranges. Drying on parchment paper gives them a more matte finish on the side touching the paper.
NOTES
Don't throw away your leftover sugar syrup. If it hasn't crystallized or thickened too much, you can use it for cocktails, lemonades, and even hot coffee, so nothing goes to waste.
Candied oranges store well in an airtight container for up to a month.
Cleaning up after this recipe is easy. Soak all the utensils in hot water, and the sticky sugar coating dissolves right away.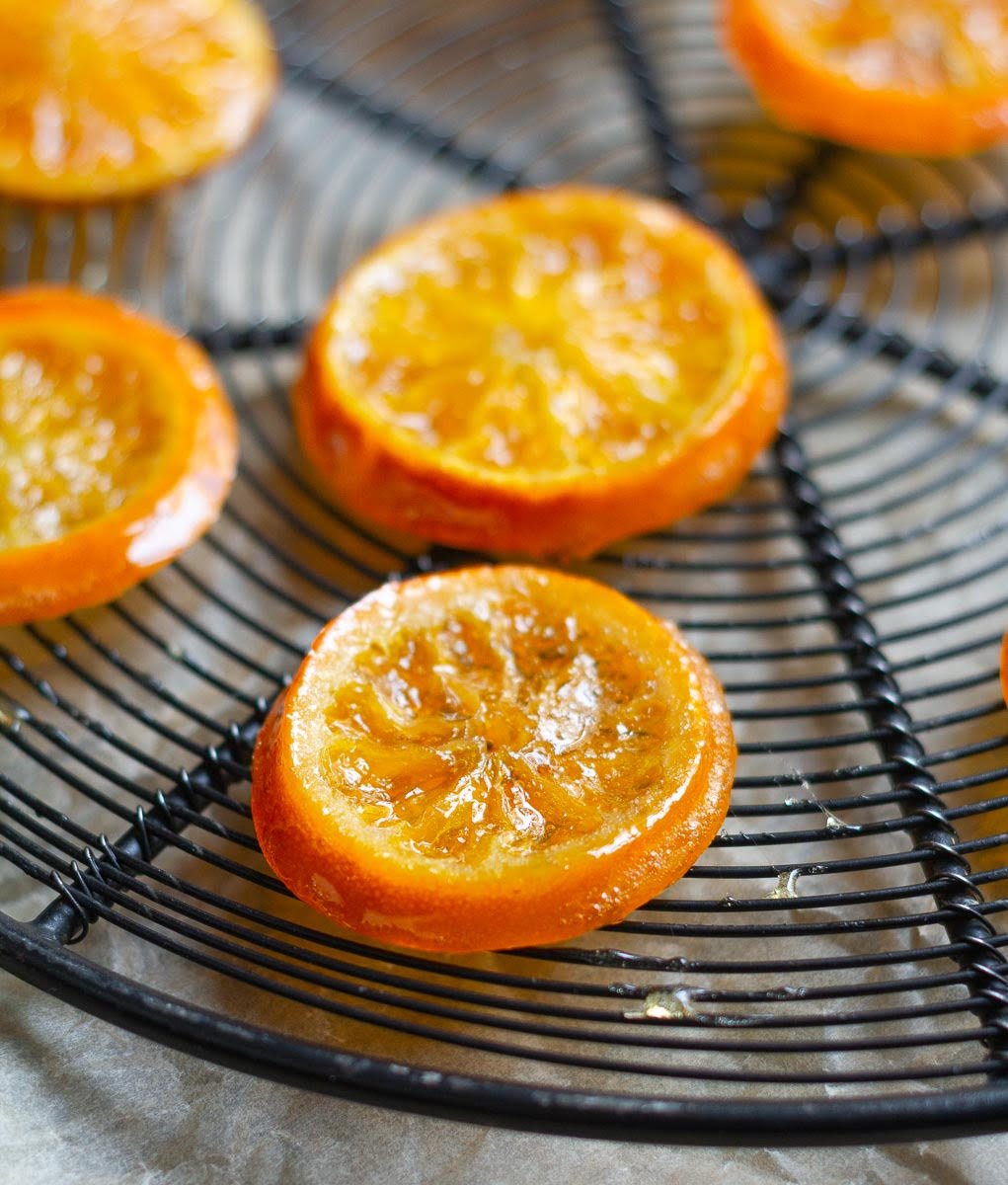 VARIATIONS ON HOW TO MAKE GLAZED FRUITS
Kind of oranges: I say go for what's locally available to you. As long as they have a thin peel, any kind of orange will do here—Mandarins, Malta, Kinnow, or even tangerines.
To make candied lemon or lime slices, simply substitute those fruits for the oranges.
Add-ins: You can add cinnamon, vanilla extract, or even pepper for a kick of heat in the syrup. This is completely optional.
Sugar: Use brown sugar for a deeper, more complex flavor. Again, an optional step. Regular sugar works like a charm.
Dips: Chocolate is a knockout just as it is, but pair it with orange, and you have a paradox: perfection magnified. So, feel free to dip each candied orange slice in melted chocolate or in granulated sugar.
CANDY FRUIT SERVING IDEAS
Candied orange slices are a great addition to any dessert platter, as they're tasty treats by themselves and particularly refreshing after a heavy meal. What I adore about them is that there are plenty of recipes using candied fruit:
For breakfast, combine them with thick Greek yogurt.
Chop into small pieces and mix into the chocolate bark.
Decorate your cakes with them, as I did my mulled wine cake.
Piquant little something to serve with an after-dinner drink or coffee.
Dip half a slice in warm water or even tea to give it a comforting flavor.
Top a piece of cheesecake with a few candy oranges for a beautiful and delicious garnish.
Serve orange slice candy alongside a platter of chocolate-covered strawberries for a fun and fancy dessert.
Package candied oranges in a gift box or basket for a unique and thoughtful homemade gift.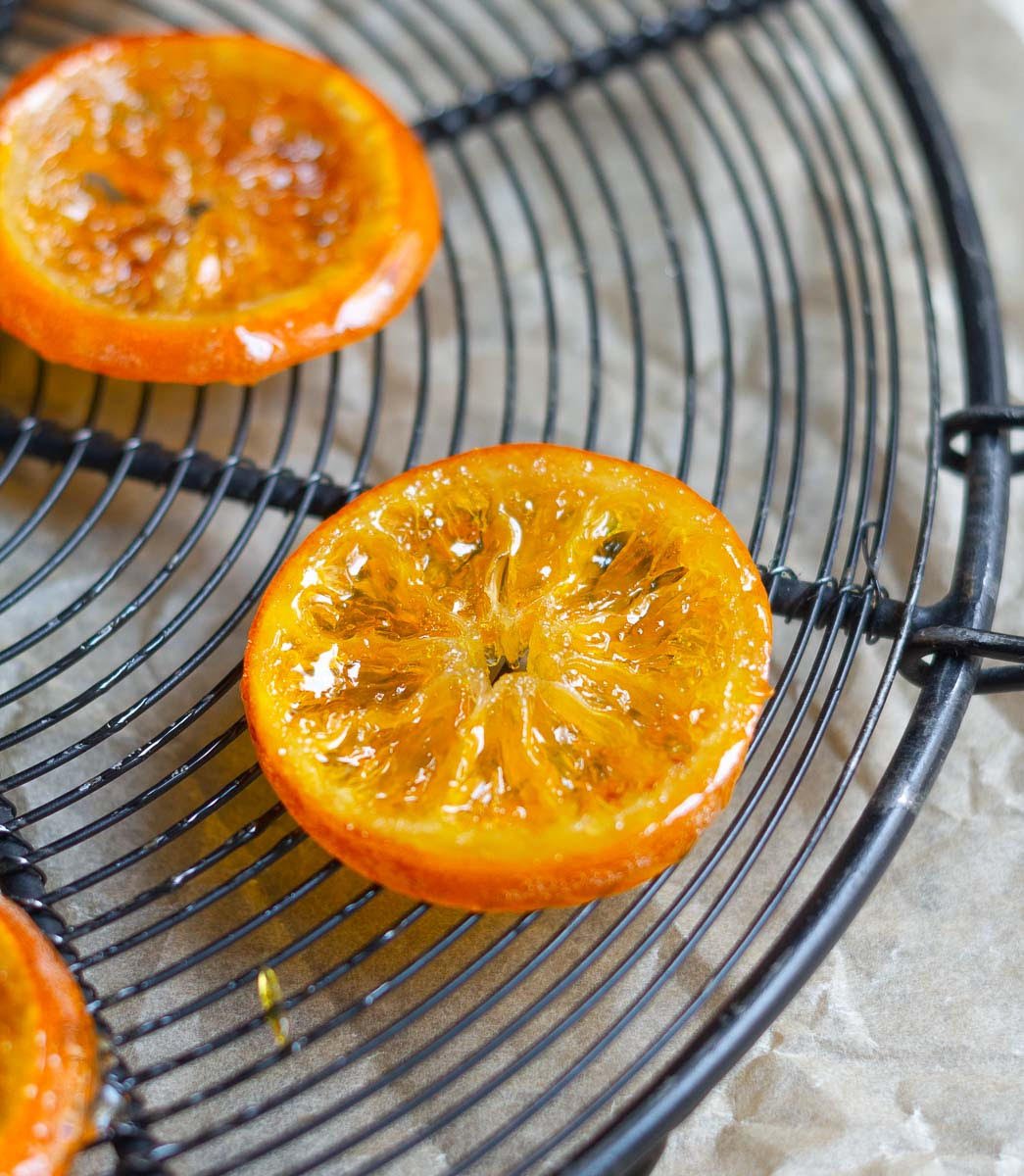 RECIPES USING CANDIED ORANGE SLICES
Half the joy of cooking is sharing it with others, which is why I'm always eager to hear from you. So go right ahead and drop a comment or reach out on Instagram, Pinterest, YouTube, or Facebook. I hope you love these candied orange slices as much as we do!
📖 Recipe
Print Recipe
Candied Orange Slices Recipe
Candied oranges lend an absolutely delicious dimension to anything you add them to. Orange and sugar mix in a magical alchemy to create tart, sweet, chewy, and tender caramelized orange treats. They are fantastic as snacks, cake toppings, drink garnishes, or desserts!
Ingredients
2-3

Oranges

I used Mandarin oranges

1/2

cup ( 100 gms)

Sugar

1

cup (240 ml)

Water

2-3

tbsp

Caster sugar for coating

Optional
Instructions
Blanch the Orange Slices
Keep a bowl of iced water handy.

Bring 2-3 cups of water to a boil in a saucepan.

Slice the oranges, remove seeds, if any, and carefully add to the boiling water.

Boil for 1 minute and place them in the bowl of iced water.
Sugar Syrup
Combine sugar and water in a saucepan and bring to a boil. Stir until the sugar is dissolved.

Add the orange slices and cook on low heat for 35-40 minutes, until the rinds are slightly translucent and the syrup is thick and sticky. Flip the slices every 10-15 minutes to ensure they are properly coated in the syrup.

Transfer the slices onto a cooling rack and let them dry for 24 hours.

You can also toss them in caster sugar if you wish.

Store in an air-tight container in the refrigerator, for 2-3 weeks. Enjoy!