You know how we're always looking for snack recipes that are easy and quick to make and everyone loves them? That's pumpkin pie spiced almonds.
Sweet and salty, aromatic and flavorful, toasting the almonds transforms their muted flavor and texture into fragrant, crunchy morsels that are impossible to resist. While the aroma of pumpkin pie spice fills you with anticipation of winter, a subtle reminder that the season is changing.
Jump to:
Pumpkin pie spiced almond recipe
That it takes 5 minutes of prep and 20 minutes of baking to make pumpkin pie spiced almonds and gives you complete control over the sodium and sugar levels (definitely healthier than store-bought ones) is just a side benefit.
I always make more than I think we'll need. Why? Because the first batch is finished straight up, tray-to-mouth, long before I can jar them! If, and that's a big if, you have some extra, I recommend packing them in mason jars. They make for a wonderful, homemade gift for festivities.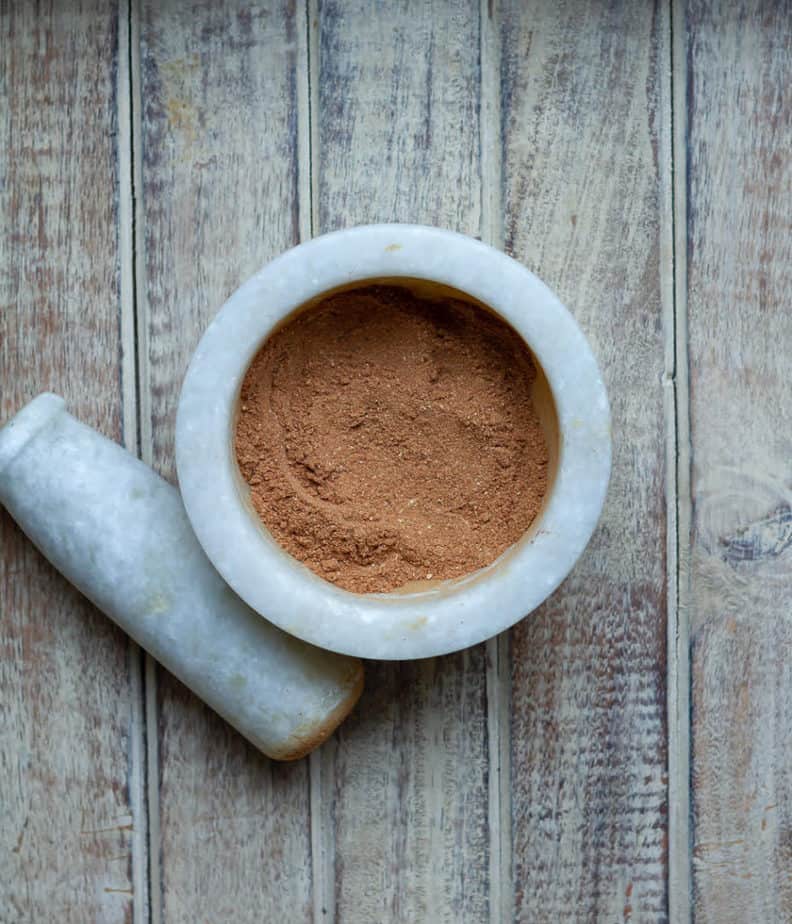 What is pumpkin pie spice made of?
Pumpkin pie spice is made of a blend of warm, healthy spices that add a little pick-me-up to any autumnal or winter bakes. To make it, mix in a small bowl:
A lot of pumpkin pie spice recipes use allspice. Unlike the name hints, allspice consists of a single spice – the dried berries of the Pimenta dioica tree found in Jamaica, which is why it is also known as Jamaica pepper.
I couldn't get my hands on it, so I made the pumpkin pie spice without it. But if you have allspice lying around, by all means, please include it.
Of course, you'll make more of the spice than needed for pumpkin pie spiced almonds. But now is the perfect time to start using it in various recipes to take the cozy level up! Store it close at hand so that you can easily reach for it for:
A warm bowl of oatmeal
A cup of coffee
A sprinkle on soups
Any of your bakes, from cakes to pies
Maybe in your pancakes
Other ways to use pumpkin pie spice: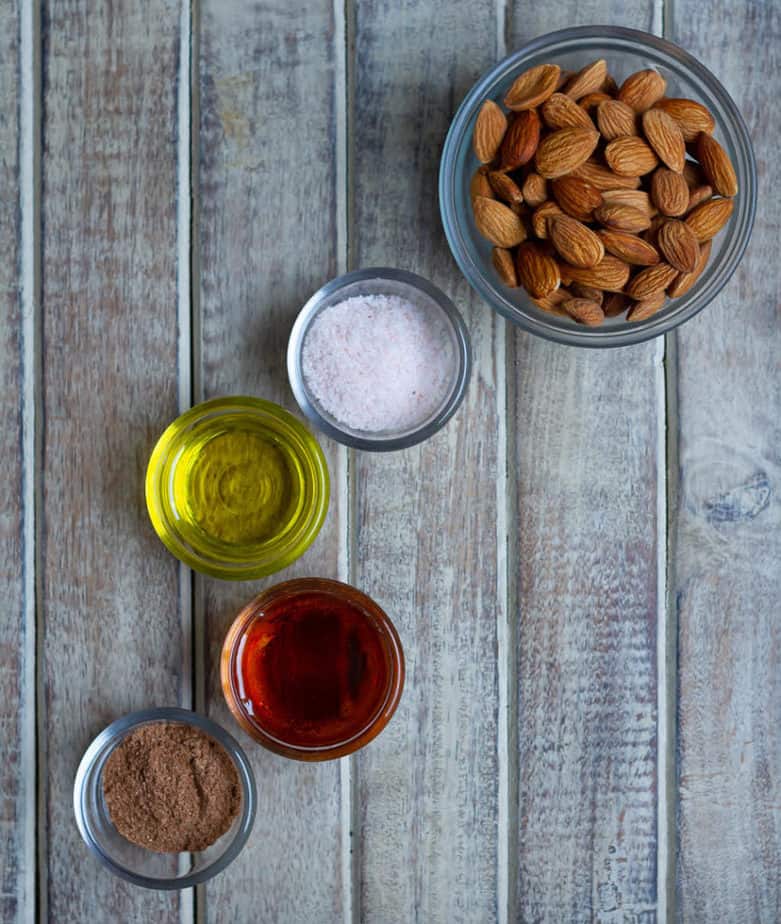 How to make pumpkin pie spiced almonds?
While your oven preheats, combine whole almonds with olive oil, maple syrup, pumpkin pie spice, and sea salt.
Mix and toss well till the nuts are nicely coated and shiny.
Spread them in an even, single layer on a parchment or aluminum foil-lined tray.
At low temperatures, bake them. Stir every five minutes till the skin of the almonds takes on a warmer hue (about 15 minutes).
How do you know when roasted almonds are done?
The fragrant aroma will be your first cue. Another way to know that the almonds are roasted is the skin. It turns a few shades darker and cracks in places.
How to store pumpkin pie almonds?
The reason why people can't resist pumpkin pie spiced almonds is the crunchy texture. And the trick to preserving that crispness is to let them cool completely before storing.
If you store almonds that are even a touch warm, they'll become soggy and lose that satisfying bite. Once the almonds are toasted and reach room temperature, transfer to an air-tight jar – perfect for any time snacking.
Tips for roasting nuts, any nuts, not just pumpkin spice almonds
Make sure the nuts don't crowd each other; spread them apart.
It takes more time, but low heat is essential to keep the nuts from burning.
So is constant stirring. If you don't move the almonds around, they won't toast evenly.
What else can I use in pumpkin pie spice almonds?
Maple syrup: No maple syrup? Don't fret. Substitute it with honey or agave syrup.
Salt: I prefer sea salt or even Himalayan pink salt because they are so much more flavorful and add a lot more oomph to the almonds. But regular table salt works just as well.
Nuts: Pecans, walnuts, cashews – switch almonds with any nuts you're partial to. Keep in mind, the toasting time will differ for each of them.
Oil: Any vegetable oil of your choice will do in a cinch in this recipe.
Skillet: Just in case you're not in the mood to turn on the oven, roast the almonds in a skillet. Cast iron or a non-stick, both will work. It takes more time and some constant stirring, but it does the job.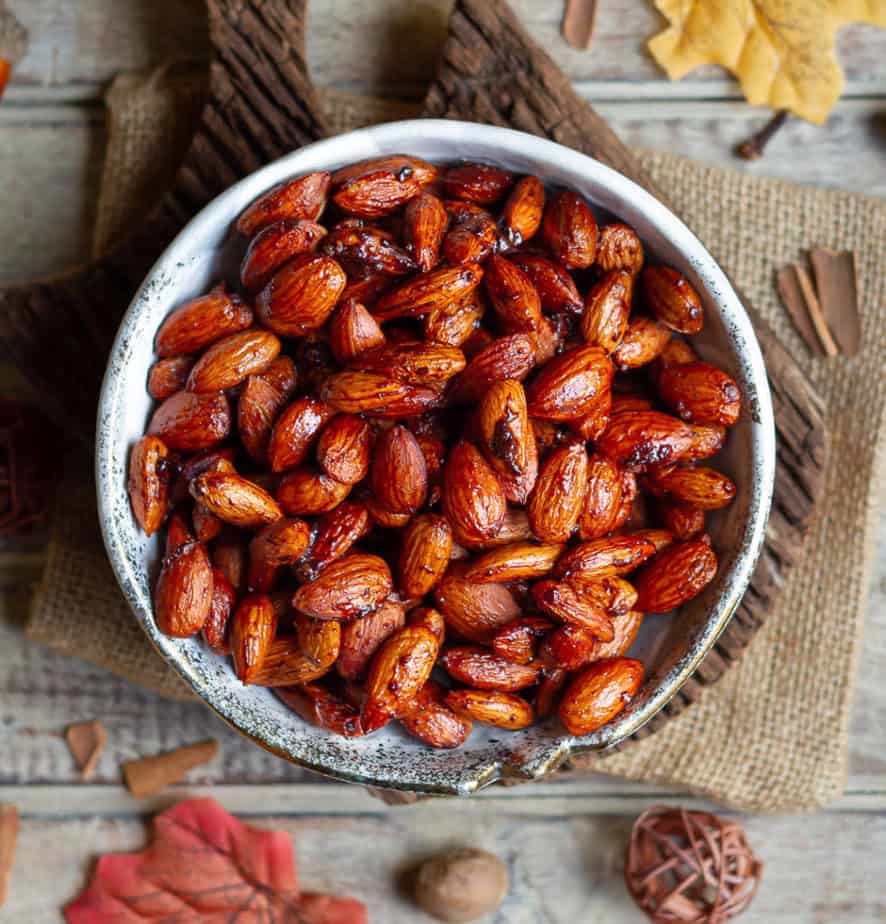 Two more quick snack recipes:
📖 Recipe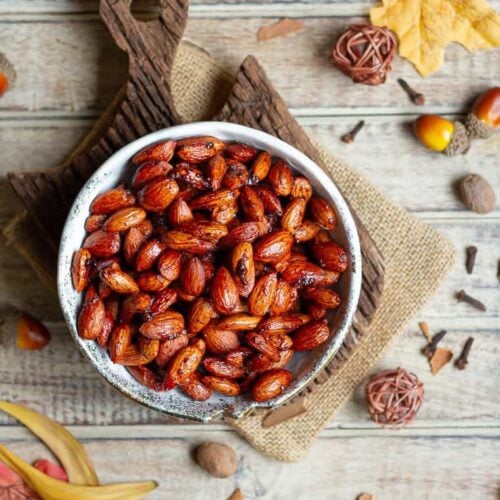 Print Recipe
Pumpkin Pie Spiced Almonds
Sweet and salty, aromatic and flavorful, these Pumpkin Pie Spiced Almonds are fragrant, crunchy morsels that are impossible to resist.
Ingredients
1.5

cup

Whole almonds

1.5

tsp

Olive oil

2

tsp

Maple syrup

3/4

tsp

Sea salt

1.5

tsp

Pumpkin pie spice
Pumpkin Pie Spice
2

tbsp

Cinnamon powder

2

tsp

Ginger powder

1

tsp

Freshly ground cloves

3/4

tsp

Nutmeg
Instructions
Preheat your oven to 160C. Line a baking tray with parchment paper or aluminum foil.

Combine the almonds, maple syrup, olive oil, pumpkin spice, and salt in a bowl and mix well until all almonds are nicely coated.

Spread out the almonds on the prepared tray evenly.

Bake for 15-20 minutes at 160C, stirring the almonds every 5 minutes, until lightly browned and toasted.

Take the tray out of the oven and let the nuts cool completely. Store in an air-tight jar and enjoy!
Pumpkin Pie Spice
Combine all the spices - cinnamon powder, ginger powder, ground cloves, and nutmeg powder in a small bowl.

Store the spice mixture in a jar and use as needed.