Vegan mango curd puts every other mango recipe I've tried to weepy shame. The jazzy interplay of sweet and tart make the creamy curd tempting. But it's the gorgeous buttery texture that makes it one hundred percent irresistible.
And for those wondering, the mango curd recipe is nothing like my mango coconut panna cotta or mango cherry frozen yogurt. Rather it's inspired by the filling of my vegan lemon tarts.
Super easy to make, it is the first of a whole bunch of mango recipes that I'm whipping up this month. So be ready for more. So much more, because there's a place called paradise, and it's filled with mangoes.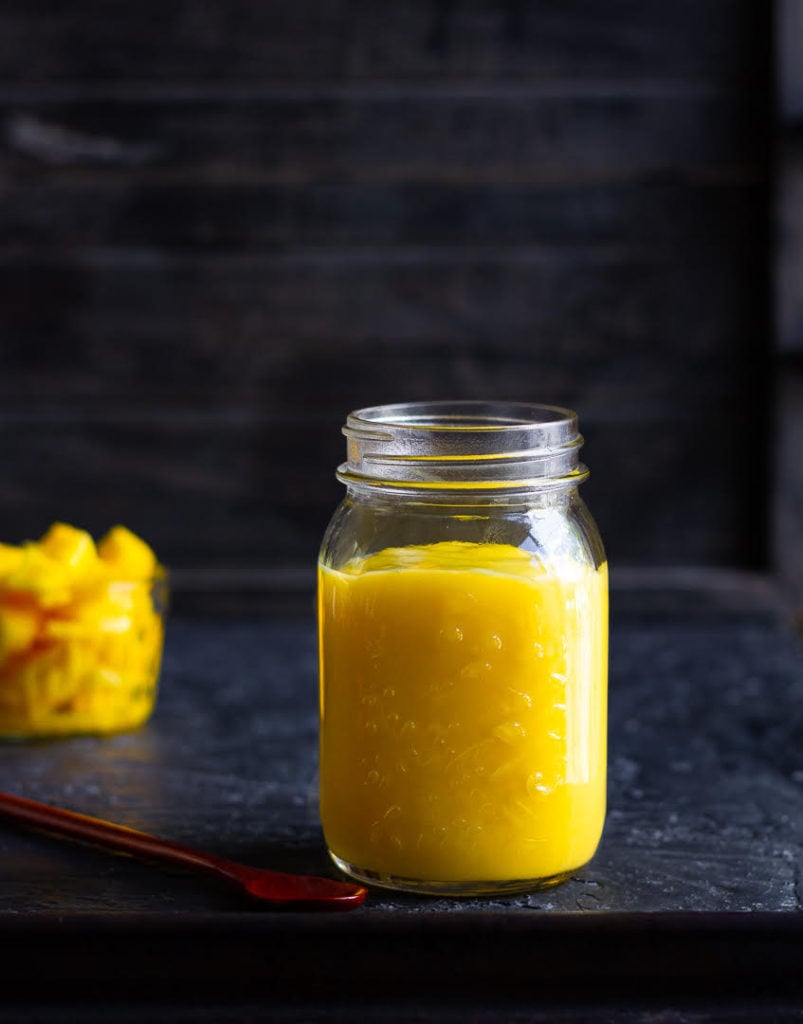 What's vegan fruit curd?
Fruit curd originated in England way back in the late 19th century when it was served during tea time as a spread for scones. Think of it as a jam substitute that wears a dozen other hats too, like filling for cakes or tarts.
Typically, it uses citrus fruits like lemon. Nevertheless, I wanted to make it with what I consider a national treasure – mangoes. Eggs and sugar are added to make the curd shine, but vegan fruit curd is eggless.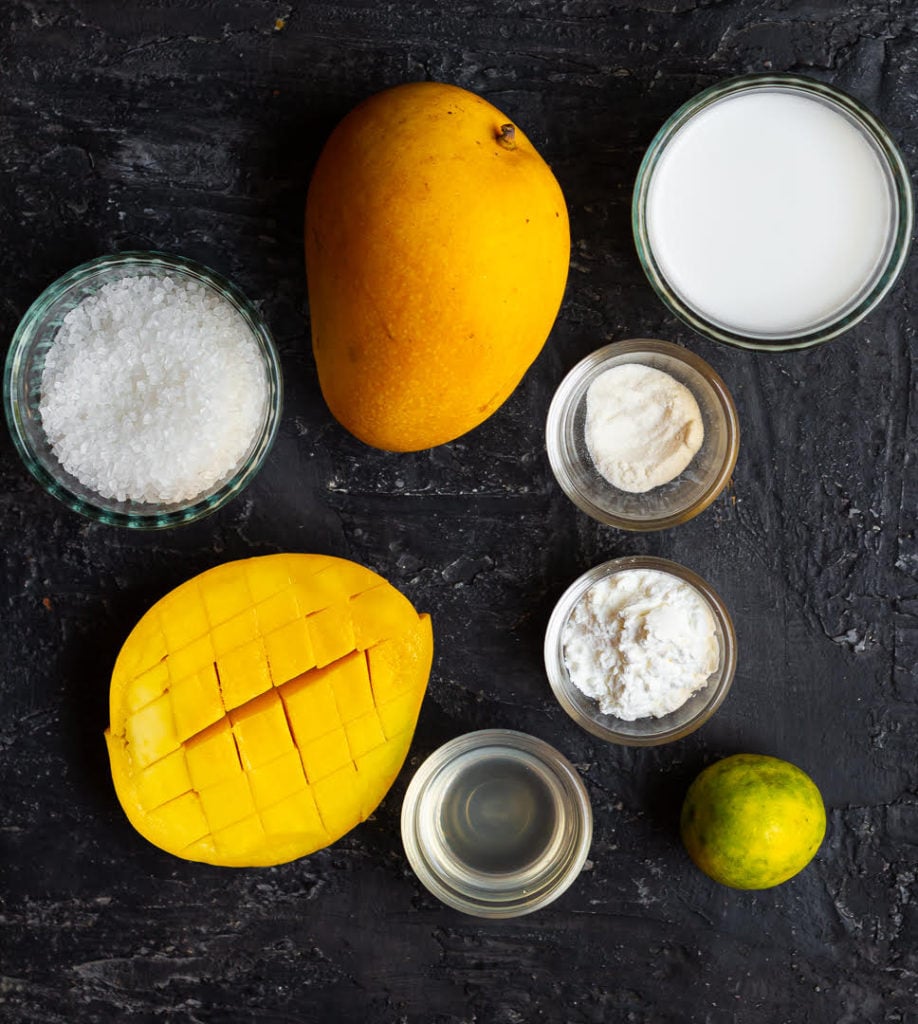 How to make vegan mango curd?
It's a great irony of my life that summer offers a bounty of fruits whose bright floral notes are a perfect foil for so many recipes. It's also the only time of the year when I quake to turn on the oven.
This is why I loved making the homemade mango curd, a recipe that I adapted from Domestic Gothess. I didn't need to crank up the oven in this combusting heat, and the cooking time was less than 4 minutes!
Step 1: Blitz chopped mangoes with coconut milk, sugar, cornstarch, and agar-agar in your blender till smooth. If you want, up the ante in the mango curd recipe by adding lemon juice.
Step 2: Pour the mixture into a saucepan placed over low heat. Cook for 3 to 4 minutes while continuously stirring.
Step 3: When the mixture reaches a simmer and bubbles appear around the edges, remove the pan from the heat.
Step 4: Allow it to cool slightly before whisking in the coconut oil.
Step 5: Cool to room temperature, transfer to a jar and then refrigerate.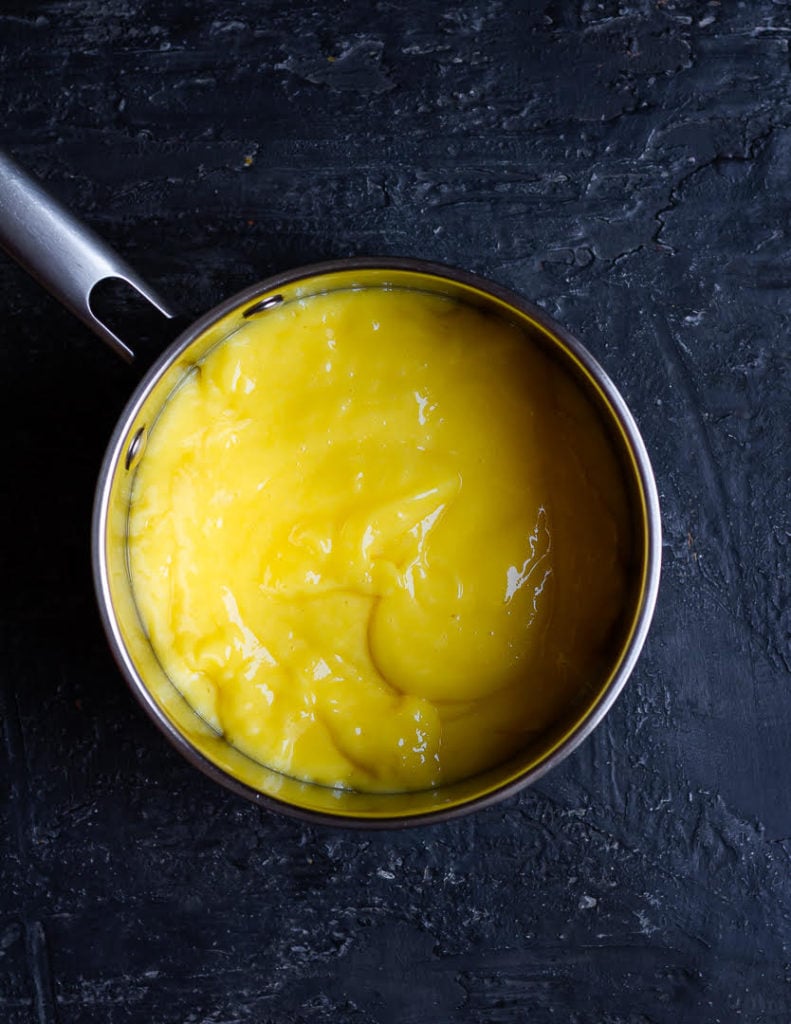 My tips for the best mango curd
Any mangoes you can get your hands-on work for this eggless mango curd recipe. Just make sure they're ripe.
There is no dearth of fresh mangoes here, but if they're unavailable in your corner of the world, puréed mangoes will do in a pinch.
Also, taste test your fruit before blending to see how tart or sweet they are, and then adjust the amount of sugar accordingly. Keep in mind, that you can always add more sugar after blending.
You can't taste the lemon juice in the creamy mango curd. It's acidity merely brightens the flavor. Omit it, if your mangoes have more notes of sour than sweet.
For that silky, ultra-smooth texture, sieve the mixture.
You don't want the curd to be undercooked, overcooked, or plain burnt. So, utilize a heavy-bottom pan and whisk, whisk, whisk. It's barely for a few minutes, so don't take your eyes off it. The moment it begins to boil, remove it from the heat.
The homemade mango curd is good for a week, but if you want to make it last longer, store it in sterilized jars.
How to sterilize jars to store fresh mango curd?
Option 1: Boil your glass jars in water for 10 minutes. Let them dry and cool, and then transfer the eggless mango curd into them.
Option 2: Use soap and water to clean your jars. Rinse and then let them dry thoroughly in an oven heated to 120°C. Place them in your oven tray, with the lids kept separately, for about 10 to 15 minutes.
Cool the jars before you add the vegan fruit curd. The glass may crack if the jar is hot and the curd is cold, or vice versa.
What to do with vegan mango curd?
As the fresh mango curd cooked, it looked so much like my seasonal favorite mango shrikhand (it's not) that I was tempted to finish it straight out of the jar. But trust me, it's even better when:
Topped on pavlova
Blended in smoothies
Spread on toasts, crêpes, and pancakes
Spooned on vegan muffins, and scones
Scooped on ice cream or even oatmeal
Swirled into a regular bowl of yogurt for instant dessert
Slathered between layers of Victoria sponge cake. Use it as a filling, topping, or mix a couple of tablespoons into your whipped cream.
Stuffed in tarts, as I did with lemon curd in my vegan lemon tarts. Go ahead and try the tart recipe with my homemade mango curd as a substitute.
Why do you absolutely have to try the mango curd recipe!
It's short and sweet.
It's absurdly rich, almost buttery, but bursting with fresh flavor.
You can serve mango curd in dozens of ways. The only limit is your imagination.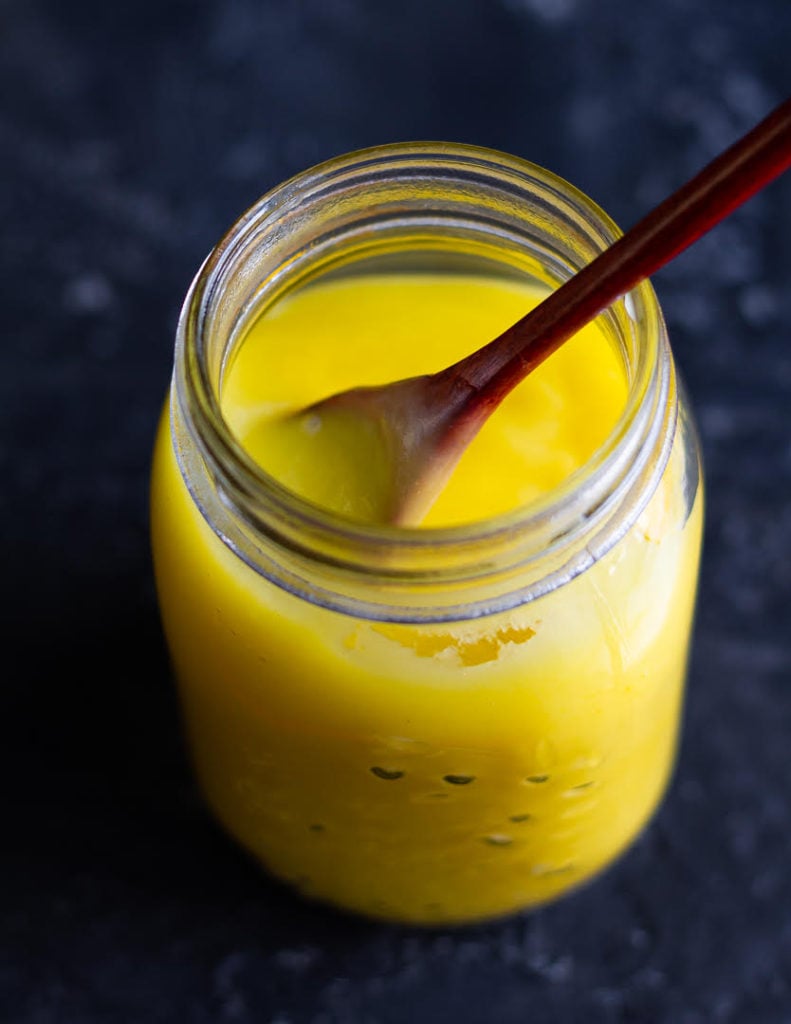 More mango recipes to binge on this summer:
Red Rice & Mango Salad with Sriracha Vinaigrette
📖 Recipe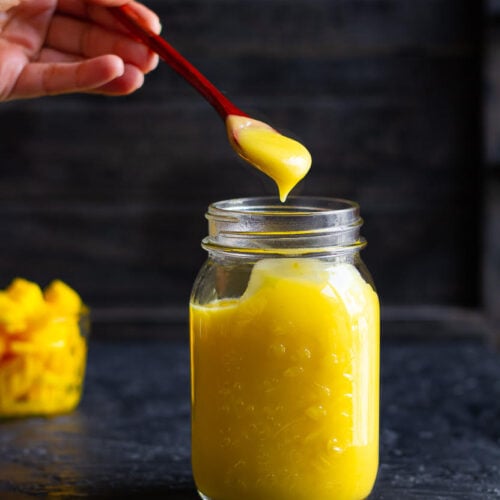 Print Recipe
Vegan Mango Curd
Ingredients
300

gms

Mango, peeled and chopped

250

ml

Coconut milk

75

gms

Sugar

20

gms

Cornstarch

1

tsp

Agar-agar

1

tsp

Lemon juice

2

tbsp

Coconut oil
Instructions
Combine the mango, coconut milk, sugar, cornstarch, agar-agar, and lemon juice in a blender.

Pour into a saucepan and cook the mixture on low heat for 4-5 minutes just until it thickens and starts to come to a gentle simmer.

Take it off the heat and whisk in the coconut oil.

Strain the curd to make sure there are no lumps remaining.

Cool and pour into a jar. Refrigerate for a week. Use a sterilized jar in case you want to store for a longer time. Enjoy!