Mango Coconut Panna Cotta -  A simple, elegant, uncomplicated dessert with a velvety creamy texture that just melts in the mouth!
It was a call from Foodhall India a couple of weeks ago, inviting me to hold a workshop in their beautiful store. And the theme was Mango Mania! Mango Coconut Panna Cotta is what I zeroed in on. It's a no-fuss, simple recipe. There is no baking, rolling, kneading, nothing really! And the result is a superb looking, insanely creamy, delicious, and refreshing summer dessert.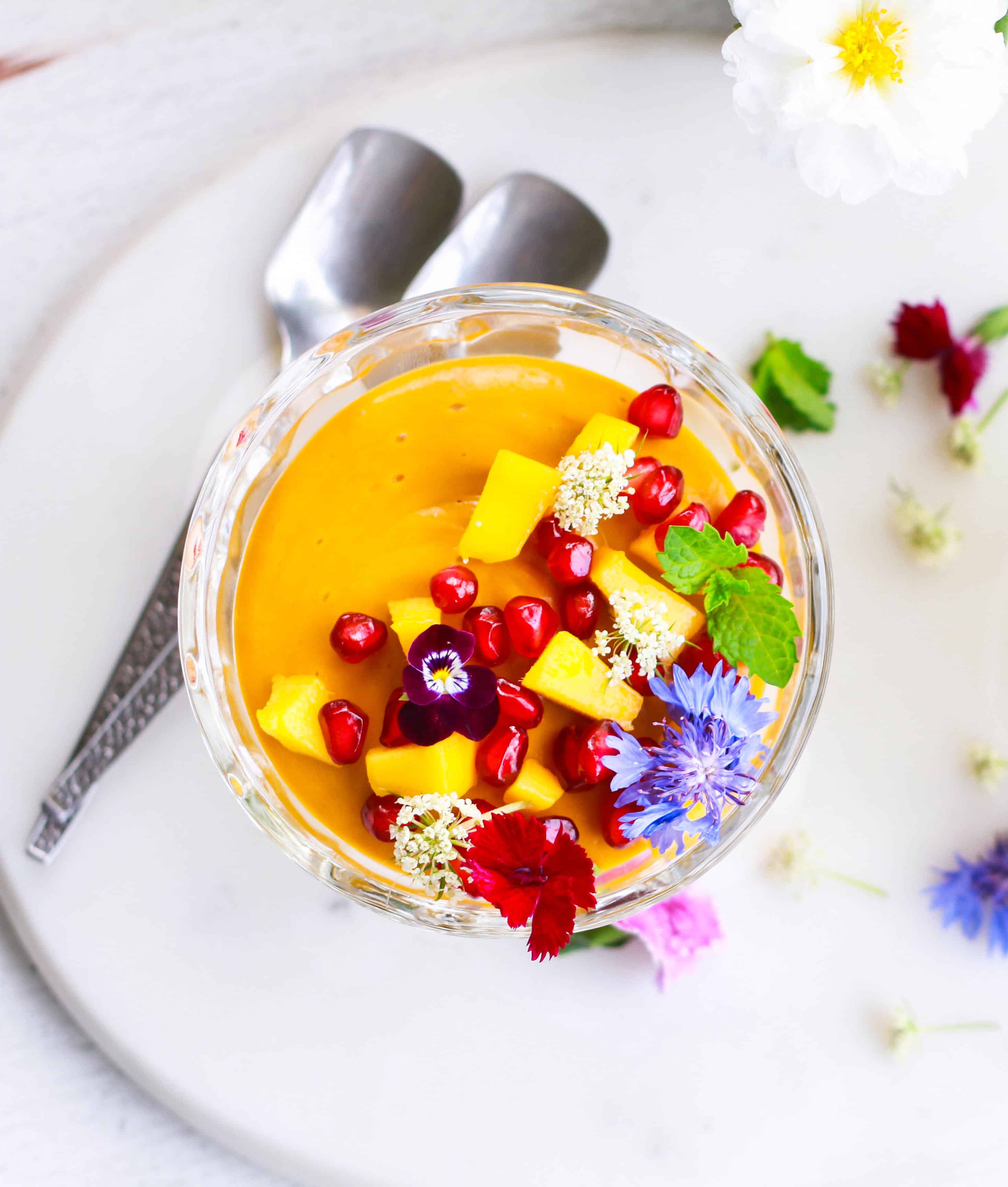 Panna Cotta is an Italian dessert, that really just means" cooked cream". Think of creamy jelly, flavored with the King of all fruits - mangoes! Its usually served in little plates, unmoulded from its cup. I prefer to serve in pretty glass dishes, garnished with fruits, and edible flowers.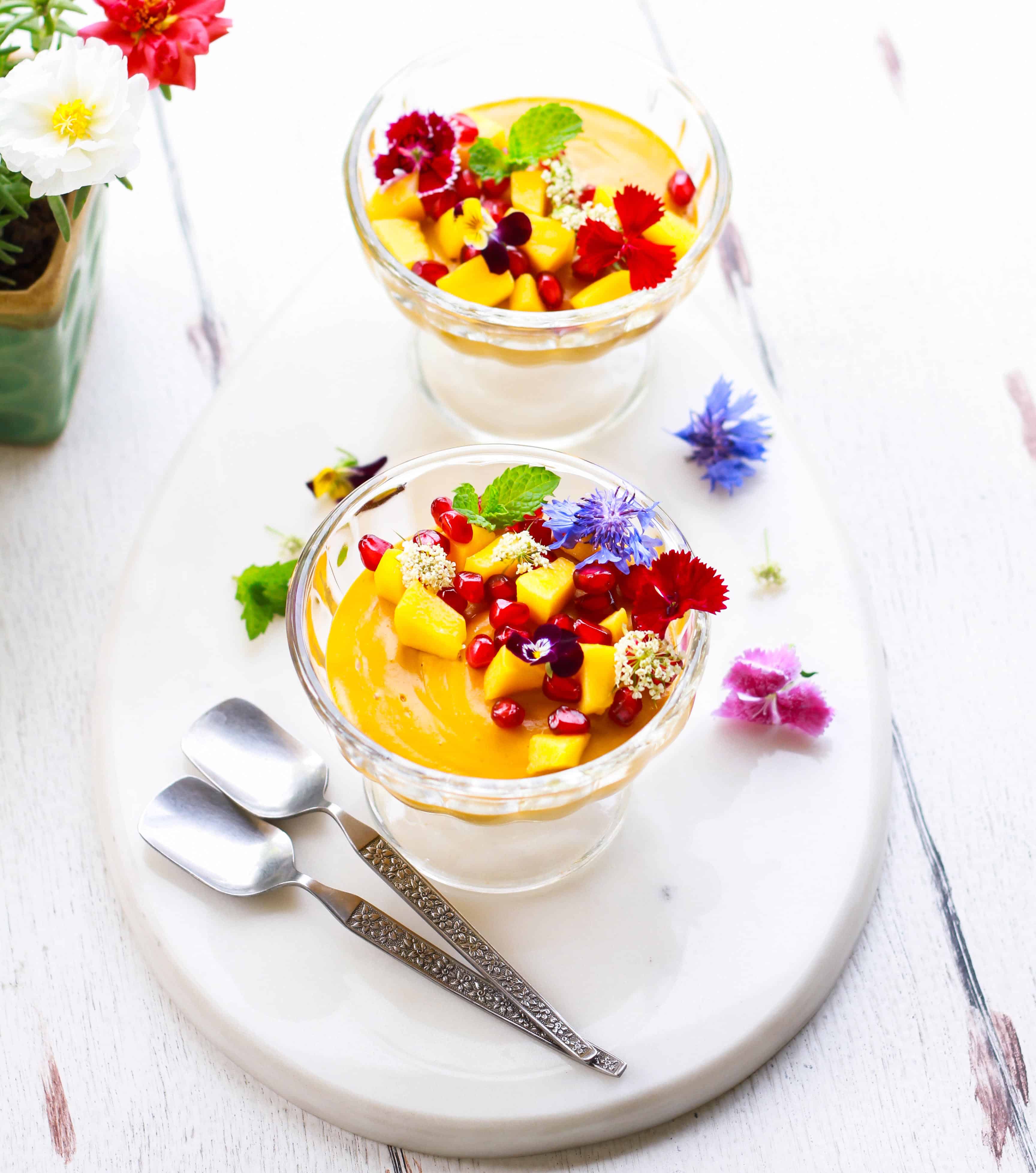 I wanted to make a vegan version of panna cotta, hence used coconut milk and agar - agar, also known as China Grass. Derived from red algae, agar is a common alternative to gelatin for vegetarians and vegans. It doesn't melt in warm temperature unlike gelatin and doesn't require refrigeration for the setting. Though, for this recipe, I highly recommend refrigeration!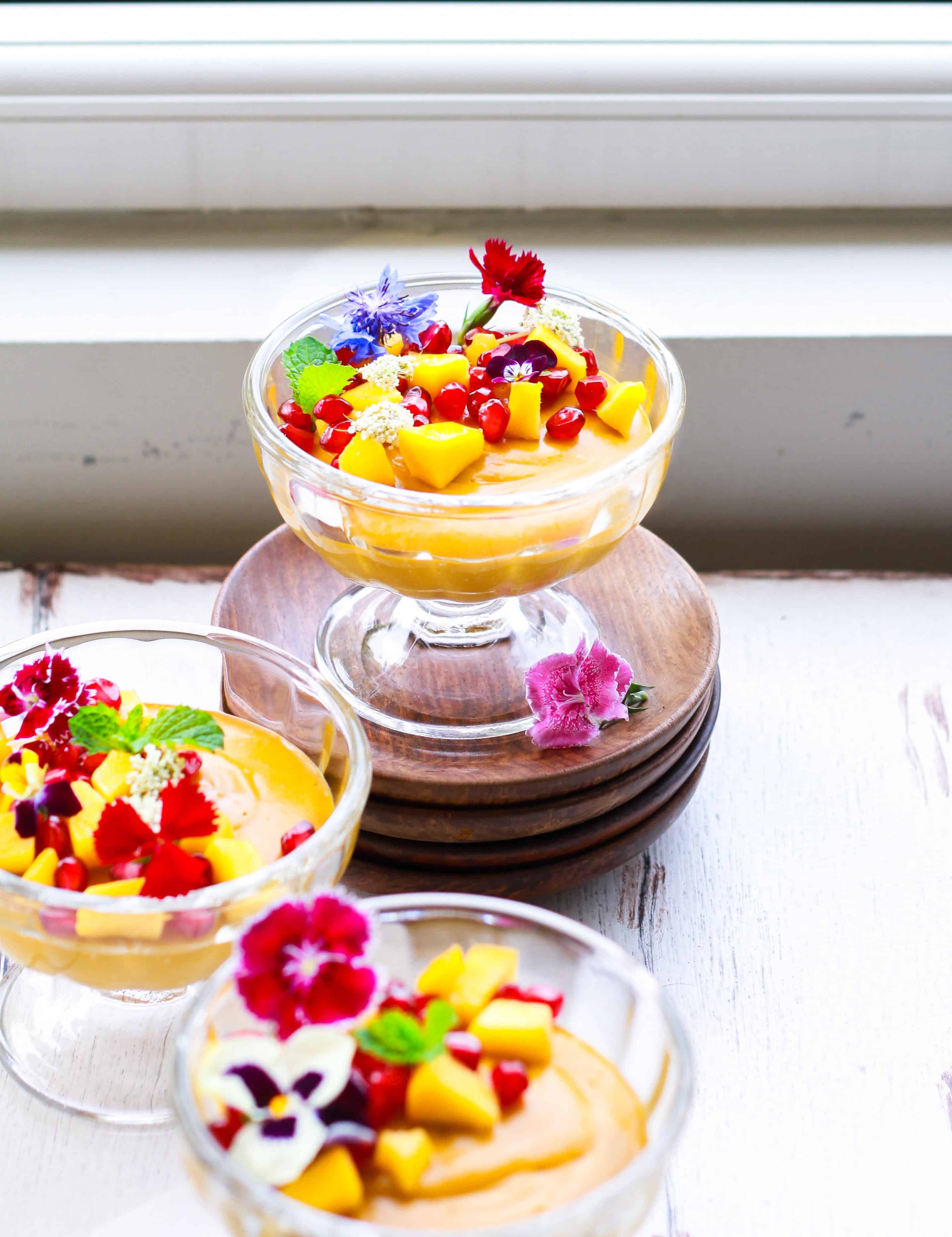 Now to everyone's favorite- Mangoes!  They are one of the most delightful and healthful elements of the Ayurvedic diet. This fruit is rich in vitamins such as vitamin A, vitamin B6, vitamin C, and vitamin E. It thus has antioxidant properties, is good for vision; also helps the body in developing good resistance power and is good for the heart. It is rich in pre-biotic dietary fiber that aids in digestion. All the reasons to dig into this sweet juicy fruit!
NOTE:
I used Pairi mangoes for this recipe. They are very sweet, with a tinge of sour, and have a wonderful aroma and flavor. It's best to use them quickly as they don't keep very well.
I hope this sublime Mango Coconut Panna Cotta makes it to your dessert table this summer! It's a great make-ahead dessert that's sure to please everyone!
I'd love to hear from you! Please tag me on Instagram @tashasartisanfoods, using the hashtag #tashasartisanfoods. You can also FOLLOW ME on INSTAGRAM, PINTEREST for more fabulous recipes!
Mango Coconut PannaCotta
Mango Coconut PannaCotta -  A simple, elegant, uncomplicated dessert with a velvety creamy texture that just melts in the mouth!
Ingredients
400

ml

Coconut milk, full fat

I used "Real Thai" brand

1/3

cup

Sugar

You may need to adjust the sugar if your mangoes aren't sweet enough.

2

tsp

Agar Agar

4 gms

300

gms

Fresh Mango Puree

2 mangoes

1

tsp

Vanilla extract

Pomegranates, mango, edible flowers for topping
Instructions
In a medium-sized saucepan, bring the coconut milk and sugar to a gentle boil.

Take off the heat. Whisk in the agar agar.

Bring back to a gentle simmer. Pour the mixture through a sieve to ensure there are no lumps.

Let the mixture cool for 4-5 minutes and then add mango puree and vanilla extract.

Pour into serving bowls and refrigerate to set for 4-5 hours. You can even let it set overnight.

Top with fruits, edible flowers, and basil/ mint and serve cold. Enjoy!