It's literally raining mangoes! Sweet, juicy and so luscious. No meal is complete without this fruit, it seems. All kinds of mango desserts abound in every home. And I'm bringing my Mango Cherry Frozen Yogurt to this mango party!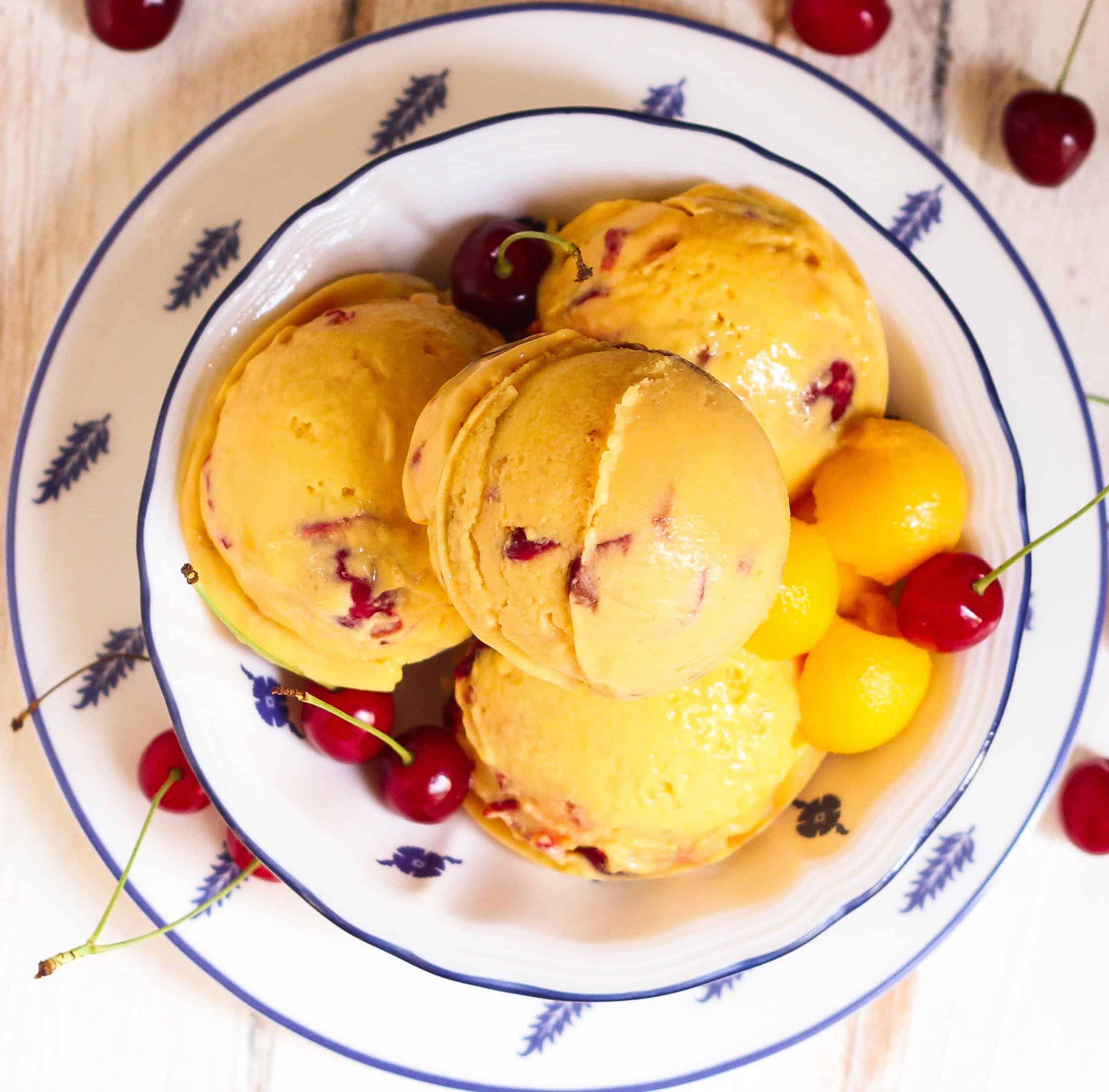 Summer is really all about icecreams isn't it? Its one of my favourite foods, but then the lactose intolerance stops me from eating it. A scoop, once in a while, is the most I can handle, sadly. Not that it stops me from making icecream for the fam. But the good news is that yogurt agrees with me, and so enter Mango Cherry Frozen Yogurt. A treat I can eat heaps of!
Frozen yogurts are the easiest to whip up. There is no custard base to make, no heating of milk/ cream. The simple mixture of fruits, yogurt and sugar can be frozen in the freezer and churned a couple of times before letting it freeze for 6-8 hours. But a good icecream maker like this one from KITCHENIF INDIA does all the work for you. Once you've chilled the icecream/ frozen yogurt mixture, this machine churns it for you and in twenty minutes, you have an icecream or frozen yogurt ready to eat! My mango cherry frozen yogurt was ready in a soft serve form in less than twenty! If you want a slightly harder / scoopable consistency, it's better to freeze the frozen yogurt for a few hours.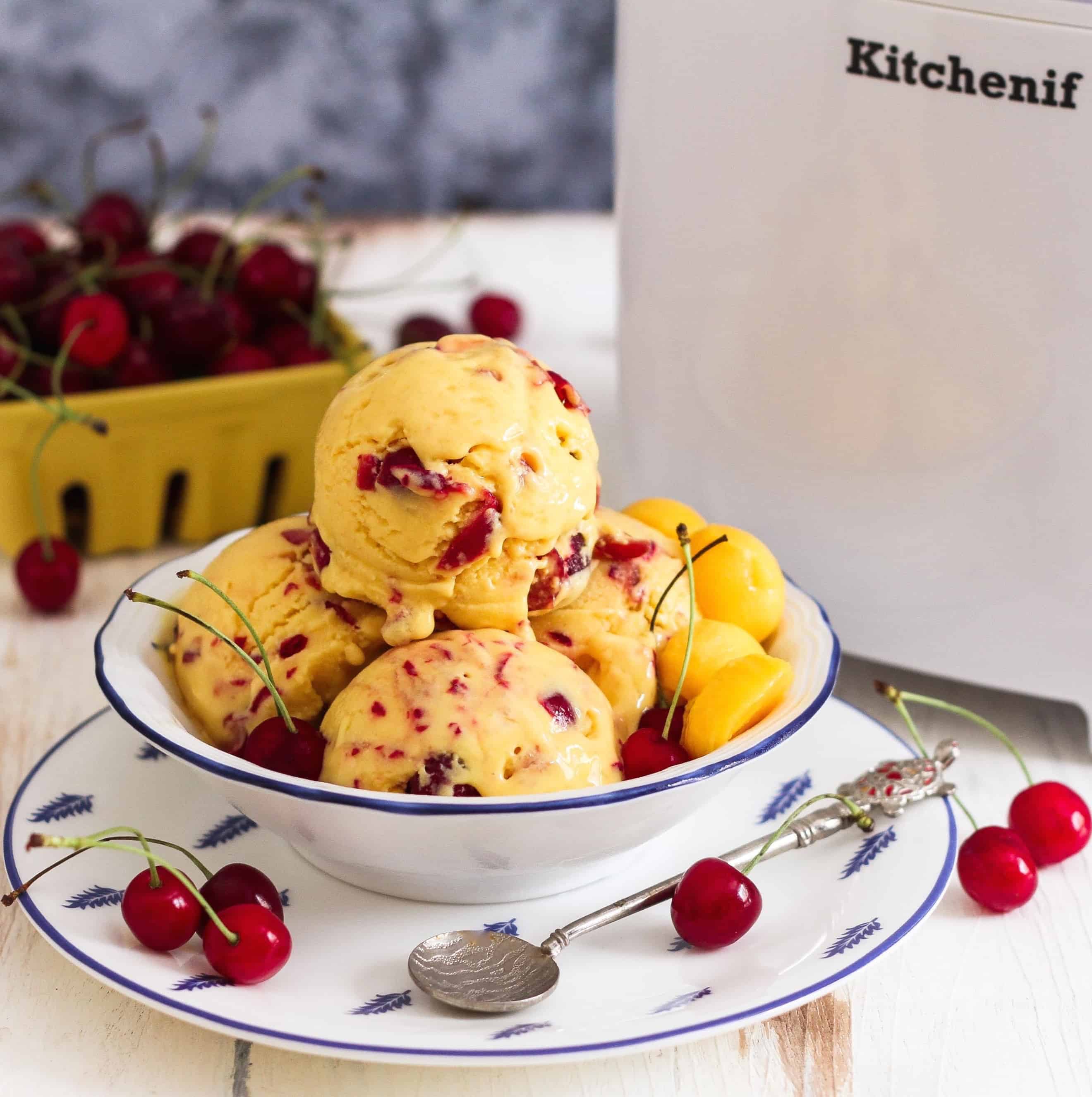 This wonderful recipe has been adapted from DAVID LEBOVITZ 'S THE PERFECT SCOOP . For all icecream lovers, I can't recommend this book enough. Its got a plethora of recipes to satisfy every icecream craving of yours!
As recommended, please use Greek yogurt ( plain) or homemade full fat yogurt that's been strained for really creamy results. The amount of sugar you use depends on the sweetness of the mangoes. The ones I used were very sweet and so were the cherries that went in here. And so I cut down on the amount of sugar I used. A little bit of fresh lemon juice balanced the taste and we got a gorgeous, creamy, lush treat so flavoursome and far superior in quality compared to the commercially made frozen yogurts. Healthy foods don't have to be boring. Real ingredients, without any help of artificial flavourings, colours and trans fats, are enough to make our food delicious!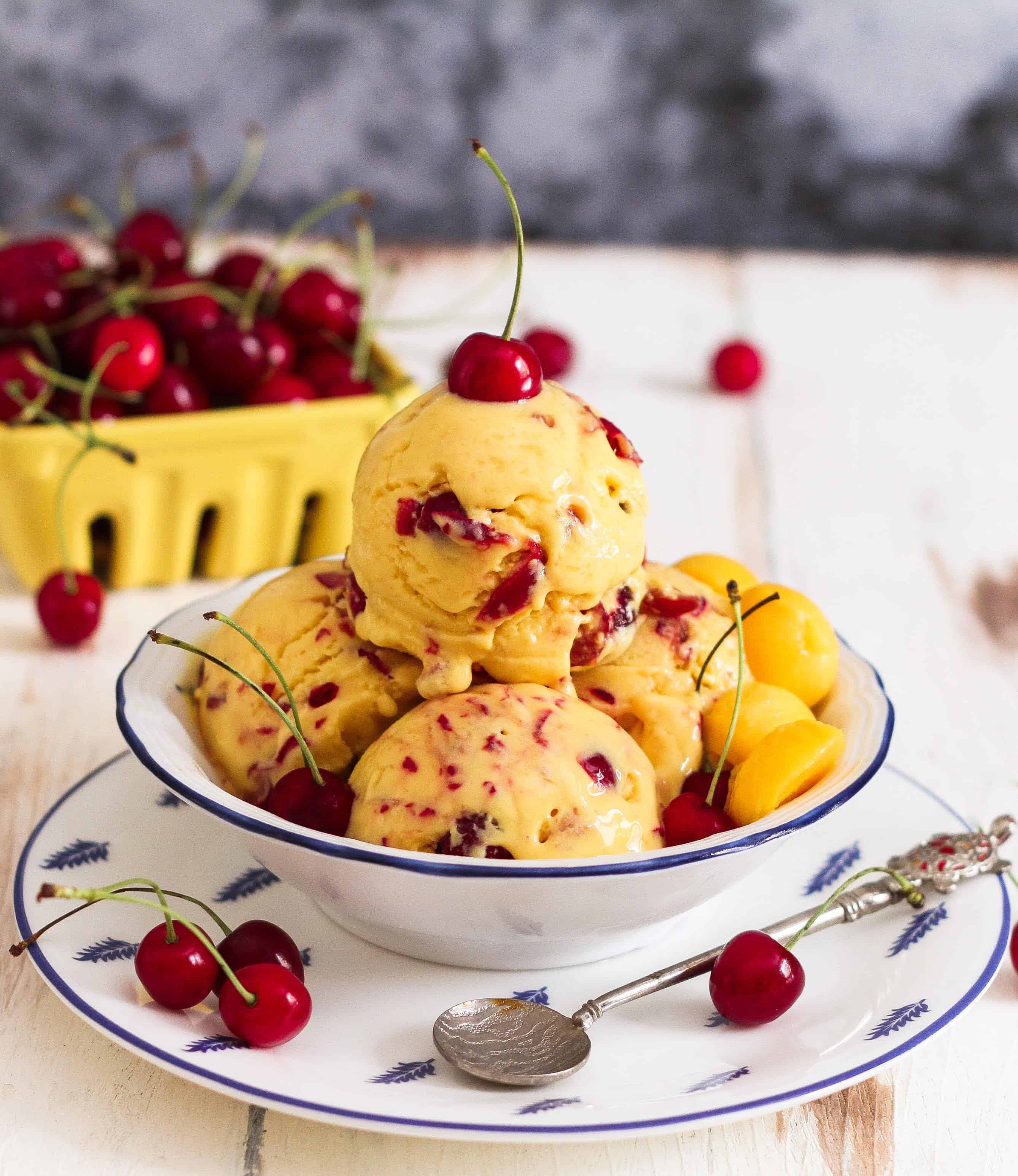 Armed with this fabulous icecream maker from KITCHENIF INDIA, this summer promises a lot of frozen yogurts, icecreams and sorbets. Can't wait to make more of these frozen treats and share them with you!
#GIVEAWAY ALERT!
The wonderful team at KITCHENIF_INDIA have generously offered to send one of this Icecream Maker to one lucky reader for free!! I'm running this giveaway on the blog and on INSTAGRAM. All you have to do is follow @tashasartisanfoods and @kitchenif_india on Instagram. Leave a comment here telling me which is your favourite summer treat. If you leave a comment here and on Instagram, it will be counted as two entries! This giveaway is open to residents of India only. and will close on June 19th, 12 noon.The winner will be randomly selected and contacted via the email address given. The winner will have 24 hours to claim their prize. Results will be announced on June 22nd.
Mango Cherry Frozen Yogurt
Celebrating mangoes with my luscious Mango Cherry Frozen Yogurt! This 5 ingredient recipe is a cinch to make and the flavours can't be beat!
Ingredients
400

ml

Greek yogurt, plain

2

Mangoes, peeled and roughly chopped

1/2

cup

sugar

2

tsp

Fresh lemon juice

3/4

cup

Cherries, pitted and chopped
Instructions
Blend the mangoes, yogurt, lemon juice and sugar in a blender until completely smooth. Taste and adjust for sweetness. Chill the mixture thoroughly ( I recommend overnight) and add it to the icecream maker according to the manufacturer's instruction.

Add in the cherries to the churning mixture in about ten minutes. Continue with the icecream makers instructions.

Once the icecream is ready, in about 20 minutes, you can serve it immediately or turn it out in a pan and freeze it for 6- 8 hours to get a slightly harder/ scoopable consistency. Scoop into bowls/ cones, serve immediately. Enjoy!