The no-churn thandai ice cream is mouthwatering, luxurious with ribbons of creamy texture and rich taste. And here's the scoop – making it at home is fuss-free.
Really fuss-free.
You don't even need an ice cream maker and just four ingredients (five if I get too technical about it). And the result is heaven manifested in a bouquet of nutty, spicy flavors.
So, are you honestly surprised I made the ice cream as a Holi special recipe?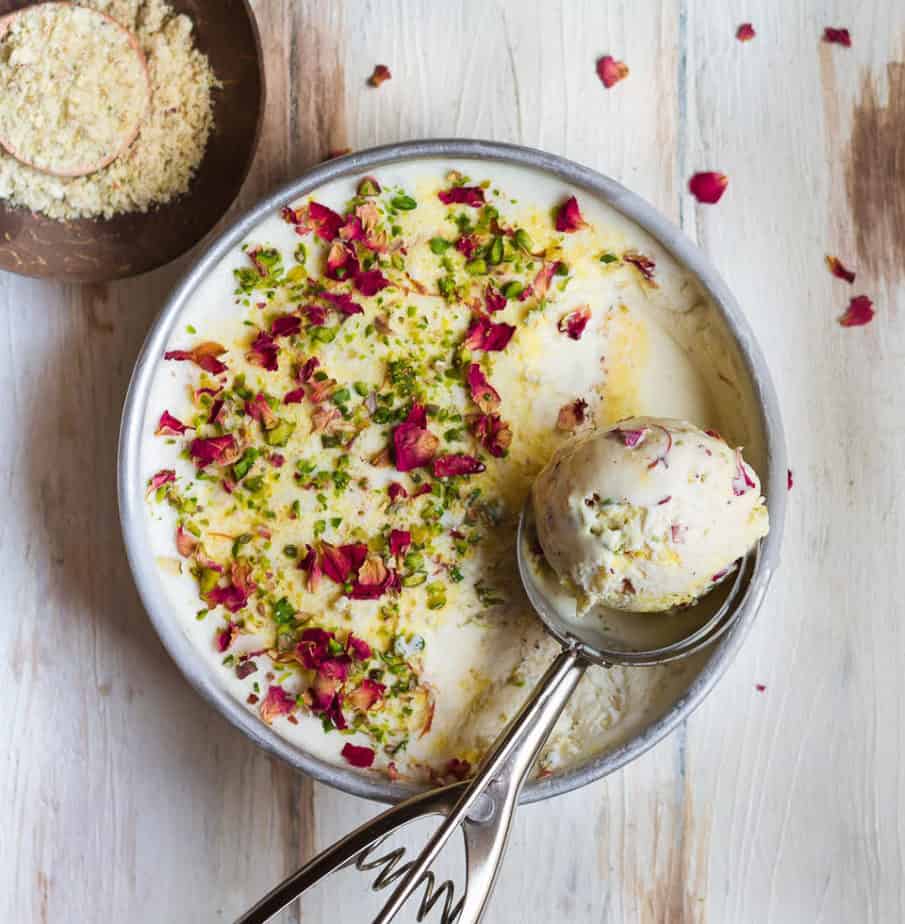 What is thandai?
If you're uninitiated in all-things-thandai, then you're missing out on some serious deliciousness.
It is a North Indian drink made with milk mixed with ground spices, seeds, and nuts like saffron, fennel, and cashews. Around Holi, every Indian household makes copious amounts of the drink that translates into "something that cools."
While thandai powder is easily available in stores, I've always made it at home because the recipe is absurdly simple
All you have to do is blend almonds, pistachios, cashews, poppy seeds, melon seeds, black pepper, fennel seeds, cardamom seeds, nutmeg, dried rose petals and saffron together. (Here's the step-by-step recipe of instant thandai powder.)
Store the thandai mixture in a jar and use it as and when needed and not just to make the drink but also eggless thandai cookies or ice cream!
How to make no-churn thandai ice cream?
Infuse a few strands of saffron in warm, full-fat milk.
Dump cream, condensed milk, and saffron-infused milk in a blender.
Pulse till you have a smooth mixture.
Stir in the thandai powder.
Pour it into a freezer-safe tin (I used my regular cake tin).
Let the ice cream chill, and then serve!
Yes, indeed the recipe is that easy.
In case you want to make the recipe even easier, dump all the ingredients into your mixer, including the thandai powder and blend. The process will go faster, and you'll have ice cream with a smoother texture.
But if you're like me and enjoy those bits and pockets of texture, stir it in separately.
The additional touch
Just before the ice cream was starting to freeze, I swirled in a hint of saffron-infused milk. About half teaspoon of the spice in a tablespoon of milk.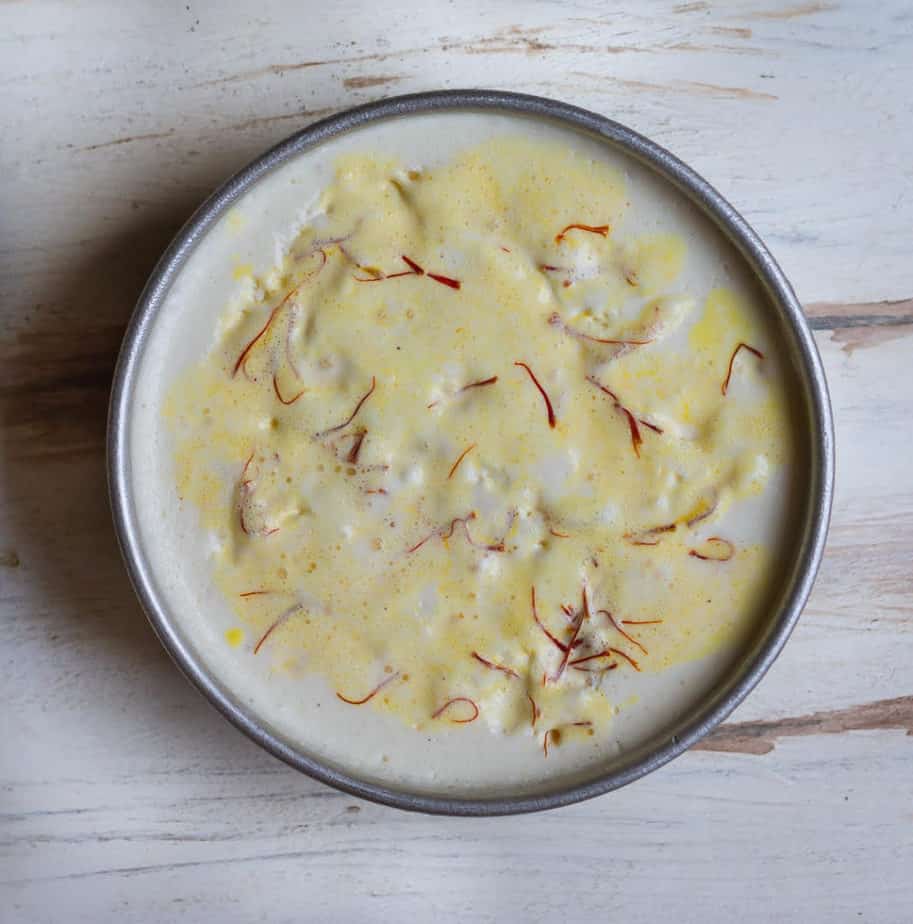 This step is entirely optional, and you can skip it. The taste remains just as yummilicious and flavorful because the thandai powder already has saffron in it. That said, it does lend a more luxurious feel to the ice cream, giving it a richer hue.
I also sprinkled chopped pistachios and dried rose petals on the top after swirling in the extra safron. We are making it for Holi, so a bit of extra touch never hurts.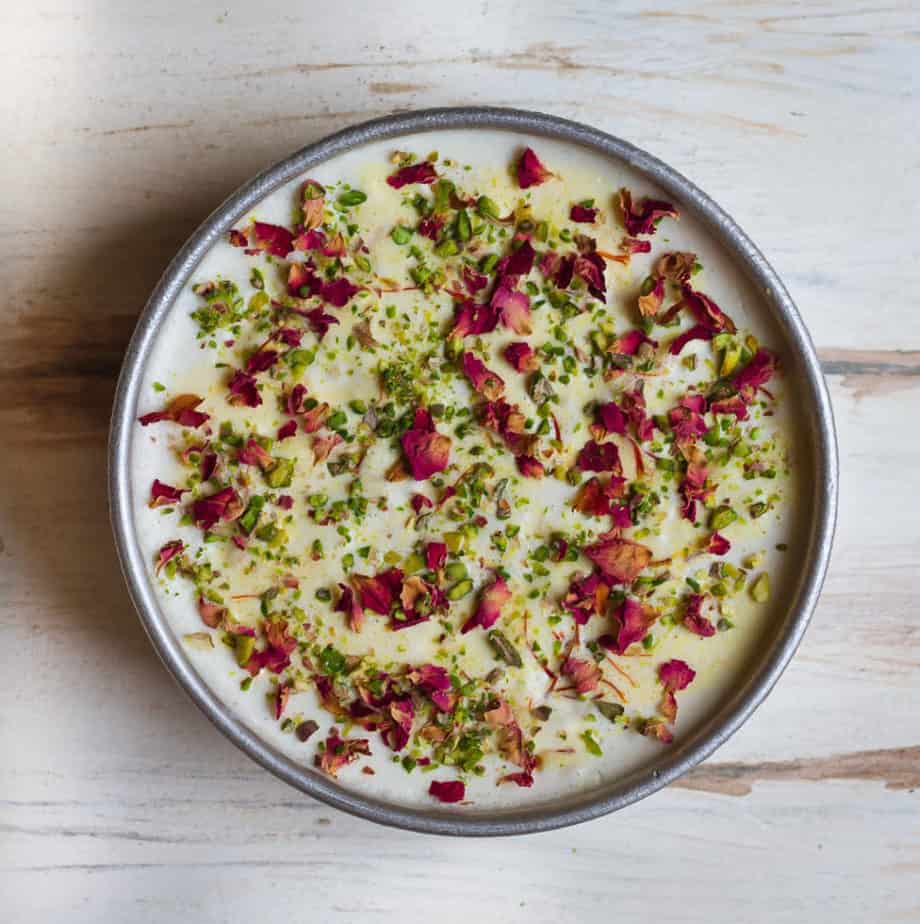 Variations of the no-churn ice cream recipe
You don't need an ice cream maker for this recipe, but if you have one and go ahead and use it. Remember to thoroughly chill the mixture before you churn. Then freeze for a good 6 to 8 hours.
Can you make it with store-bought thandai powder?
The only effort the recipe asks is the thandai powder, and that too is nothing to write home about. But you can do away with it, use commercial thandai powder and make it the easiest ice cream recipe ever.
How to make vegan ice cream?
Swap regular cream with coconut cream. Use my vegan coffee ice cream for the recipe. Also, if you have access to it, substitute the condensed milk with a plant-based option.
I haven't gotten my hands on it as of yet, but I have seen recipes for vegan condensed milk, which I will try soon (ish).
What toppings can you use for the ice cream?
Toppings are not necessary for the thandai ice cream. Leave them out, and people will still make appreciative noises. The flavors are so reminiscent of kulfi that you don't need anything additional.
You can even omit the saffron-infused milk I swirled in before freezing. But if you're feeling inspired, garnish with any nuts, not just pistachios.
Can you freeze the ice cream in molds?
Absolutely! Try popsicle molds or kulfi molds.
For such little effort, you get a decent quantity of ice-cream. I had almost one and a half liters of it. So please experiment with all sorts of molds.
Given that summer decided to pounce on us in 5 seconds flat, most of the ice cream will disappear before you know it. My kids have constantly been declaring "I can't eat another bite" and then promptly relishing more of it!
Well, I can't blame them. The no-churn thandai ice cream is so smooth and creamy that it falls apart under the slightest pressure, completely quenching the thirst for something cool during warm days.
Please tag me on Instagram @tashasartisanfoods, using the hashtag #tashasartisanfoods. You can also FOLLOW ME on INSTAGRAM, PINTEREST for more fabulous recipes! Subscribe to Tasha's Artisan Foods so you'll never miss a recipe!
📖 Recipe
Print Recipe
No-Churn Thandai Ice Cream
The no-churn thandai ice cream is mouthwatering, luxurious with ribbons of creamy texture and rich taste. And here's the scoop – making it at home is fuss-free.
Ingredients
800

ml

Cream

I used Amul cream

1

can

Sweetened condensed milk

1

tsp

Saffron infused in 2 Tbsp warm milk

1/2

cup

Thandai powder*

You can add more if you like
Topping ( Optional)
1/2

tsp

Saffron infused in 1 tbsp warm milk

Chopped pistachios and dried rose petals
Instructions
Combine the cream, saffron-infused milk, and condensed milk in a blender.

Stir in the thandai powder.

Pour into an air-tight container and freeze.
If using the extra toppings
When the ice cream is semi-frozen, swirl in the saffron-infused milk and then top with the chopped pistachios and dried rose petals.

Return the container to the freezer for 8-10 hours or until frozen.

Scoop out into bowls and enjoy!
Notes
You can find the recipe for homemade thandai powder here.