The Victoria sponge cake looks more complicated than it is, and that's the beauty of it. It's the simplest cake recipe but gives you the prettiest results. Loaded with fresh strawberries and a hint of lemon that act as a naturally tart counterpoint to the sweetness of mascarpone, the sponge cake has the butteriest, tenderest character.
And, oh, did I mention you can use your own sponge cake recipe and any fruits that are threatening to die on you and mix it with my mascarpone filling?
Jump to:
Light and fluffy cake tips and FAQs
Why is it called Victoria sponge cake? How is it different from sponge cake?
What's in a name? A lot if the Victoria sponge cake is anything to go by. The name really says it all. It is called so because it was invented (in the 19th century) by the cooks of Queen Victoria as the centerpiece for tea parties.
Made with butter, eggs, sugar, flour, and baking powder, it differs from other sponge cakes in the filling. True Victoria sandwich (as it is also known) has two cake layers with a fruit jam filling and dusting of caster sugar.
Over the years, delicious variations have risen that include buttercream or whipped cream filling accompanied by fruits.
How to make Victoria sponge cake with mascarpone and strawberries?
As I said, the original recipe of Victoria sponge asks for jam sandwiched between two light and bubbly cake layers. The jam? Strawberry or raspberry. Apparently, that's how the Queen loved it.
But I can never resist adding Tasha Twists to recipes. So, this Victoria sponge cake has mascarpone cheese, of which I had boxes lying around dangerously close to the expiration date. I topped the cake with fresh strawberries that I ordered all the way from Mahabaleshwar!
How to bake a simple sponge cake?
Beat softened butter with sugar by hand until it is creamy, light, and fluffy. 
Now add your eggs, one at a time, beating thoroughly with each addition. 
Mix in vanilla extract.
In a separate bowl, sift flour and baking powder.
Gently fold the dry ingredients into the wet.
Grease two 8-inch cake pans and line the bottoms with parchment paper. Divide the cake batter equally into the pans.
Bake for 25 minutes till the sponges are golden. 
Let the cake cool in the pans for a bit. Then turn them out on your cooling rack. 
Making the mascarpone cream for sponge cake
While you wait for the sponge to cool completely, beat the mascarpone cheese, and cream with icing sugar till it's smooth with soft peaks.
Add lemon zest to the frosting. 
Now comes the fun part of assembling the sponge cake. 
Take one of the cakes and place it right side down. Scoop 3/4th of the filling on top of the layer and spread it. 
Take your strawberries (whole or halved, the choice is yours), and go to town with them on the mascarpone layer. 
Very carefully place the other cake on top, with the right side facing up, and press gently. Use just enough pressure that a little bit of the filling starts to peek out.
Spread the rest of the mascarpone filling and garnish with more strawberries.
Serve as dessert or with a pot of tea in the evening. 
My tips for making the lightest and fluffiest sponge cake
Always sift the dry ingredients because it aerates them, making the cake crumb full of bubbly holes.
If the batter feels too thick, add a tablespoon of lukewarm milk to loosen it.
Make sure the batter is thoroughly mixed and has a lot of air trapped inside. Undermixing will give you a dense sponge.
How to check for Victoria sponge cake doneness?
Insert a toothpick or skewer in the middle to check if the Victoria sponge is cooked through. The skewer should come out clean. Another method is to tap the center of the cake with two of your fingers. If it springs back, the cake is ready.
Can you make Victoria sponge ahead of time?
Yes, because the sponges have to be cool through and through before you can add the filling. So, my advice is to bake the cake a day ahead and fill them on the day of.
Can you bake a classic sponge cake in one tin?
Absolutely!
Using two tins, to begin with, merely makes it easier to assemble the sponge cake. However, you can bake the entire batter in one pan and then slice it into two layers.
Want a taller cake with thinner layers? Go ahead and divide the two layers into four.
How do you decorate a Victoria sponge cake?
Sponge cake needs no embellishment. A dusting of icing sugar is more than sufficient, but I wanted the simple tea cake to look like it got dressed up for a party.
That's why it was bursting with juicy red berries and crowned with finely chopped pistachios (for the pop of green) and a bit of lemon zest (to balance the luscious richness of mascarpone).
What else can you use in a Victoria sponge cake?
Eggless or vegan options: Use my vegan vanilla sponge cake recipe if you want an egg substitute. To make the filling vegan, try dairy-free mascarpone. Since it's not available in India ( to the best of my knowledge), and if you live here, use chilled coconut cream instead. Beat it with icing sugar and follow the rest of the recipe as-is.
Just make sure you chill the coconut cream can overnight. The next day, don't shake it. Scoop out only the thick part, and you'll get the loveliest, creamiest sponge filling.
Lemon zest: It's optional in both the cake batter and the filling. I adore the citrus taste counterbalancing the sweet-tart flavor of strawberries. So, choose to include it. Want to give the cake more of a bracing punch? Whisk in lemon juice in the batter.
Filling: Don't have mascarpone? Regular whipped cream will work gorgeously. Or you can go the easy route and spread any jam your taste buds desire, like mulberry, and orange.
Fruit: Strawberry is the traditional choice with Victoria sponge cake, but don't let that stop you. Whatever fruit is in season and catches your fancy, make use of it. Grapes, mangoes, raspberries, everything works like a charm.
More light, easy, every day cake recipes
📖 Recipe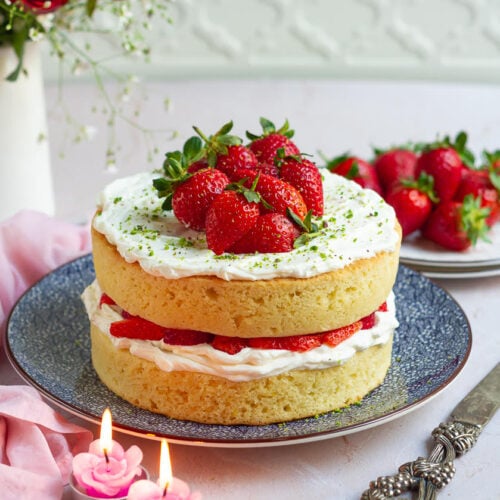 Print Recipe
Victoria Sponge Cake
Victoria Sponge Cake - It's the simplest cake recipe but gives you the prettiest results. Loaded with fresh strawberries and a hint of lemon that act as a naturally tart counterpoint to the sweetness of mascarpone, the sponge cake has the butteriest, tenderest character.
Ingredients
Victoria Sponge Cake
220

gms

Butter, softened

150

gms

Raw sugar

You can also use regular white sugar

3

Eggs

1.5

tsp

Vanilla extract

225

gms

All-purpose flour

2

tsp

Baking powder

1/4

tsp

Salt, if using unsalted butter

2-3

tbsp

Milk, warm

Zest of 1 lemon
Mascarpone Cheese Filling
250

gms

Mascarpone cheese

50

gms

Cream

50

gms

Icing sugar

2

tsp

Lemon zest

150

gms

Strawberries, chopped

Plus extra for decorating the top
Instructions
Preheat your oven to 180C. Grease 2 8" pans very well. Line the bottom of the cake tins with parchment paper.

Sift together the flour and baking powder in a bowl.

In another large bowl, beat together the butter and sugar until light and fluffy.

Add the eggs, one at a time, beating well after every addition.

Whisk in the vanilla extract and lemon zest.

Fold in the dry ingredients until no white streaks are visible.

If your batter is too thick, add warm milk, 1 tbsp at a time, until you get a thick, smooth batter.

Divide the batter equally between the 2 prepared pans.

Bake at 180C for 20-25 minutes or until a skewer inserted in the center comes out clean.

Let the cakes cool n the pans for a few minutes before turning them out on a cooling rack.
Mascarpone Cheese Filling
Beat together the mascarpone cheese, cream, and icing sugar in a medium - sized bowl until soft peaks form.

Taste and adjust for sweetness. Fold in lemon zest.
Cake Assembly
Once the cakes have cooled completely, place one cake right side down on a serving platter.

Spread about 3/4 of the filling on top of the cake. Arrange the chopped strawberries on top.

Place the second cake, right side up on top of the strawberries.

Spread the balance filling on top. Decorate with more strawberries.

Sprinkle some chopped pistachio and lemon zest. This is optional.