Strawberry jam cake is a bit of a revelation and a great way to celebrate the vibrant red berries before they leave the market.
I made it with the last of my strawberry chia jam batch, and the one punnet of berries mercifully left untouched by the kids after the strawberry crepe binge.
The cake is sweet but not overpowering. It's fresh yet soul-filling. It's drenched in fruit juices yet light. Pair it with a pot of hot, fragrant tea, and it is guaranteed to make you smile!
Why add chia seeds to cake?
I know the question will pop-up sooner than later. So, here's me explaining why chia makes an excellent ingredient for cakes.
For me, food is a feast for all senses - sight, scent, sound, and the feel of a morsel. And all of this should get you salivating before you even think about taste.
Cakes tick all the boxes. Incorporating chia to the batter lends even more texture. They're completely flavorless, so all you get is a bit crunch to the cake. (I count the power punch of health benefits as merely incidental.)
The cake also has more structure due to the seeds, making the refreshing and not too sweet crumb deliciously moist, fluffy, and so, so soft.
How to make strawberry jam cake?
The recipe is much on the lines of my easy Orange Marmalade Cake. It's eggless and results in a light crumble, not buttery or hefty like in a pound cake. So, I guess it's one for the #TAFEverydayCake book!
First, get the dry ingredients ready.
Sift whole wheat and all-purpose flour with baking powder, baking soda, and salt.
Add in raw sugar and a handful of chia seeds and whisk well.
In a separate bowl, put together the wet ingredients.
Mix plain Greek yogurt, strawberry chia jam, vanilla extract, and coconut oil (or you can use any other).
Incorporate the wet ingredients into the dry and combine well.
Baking the strawberry jam cake
The batter is very, very thick and lovely for folding in some fresh chopped strawberries and a fistful of almond flakes.
Take a 7-inch pan and grease it well. Line the bottom of the pan with parchment paper.
Spoon in the thick batter.
You'll have to level the top.
Finally, sprinkle some more of those chopped juicy berries and nutty flakes.
Bake for 40 to 45 minutes. I advise you to keep an eye after the 35-minute mark because all ovens are a tad different.
Variations of jam cake recipe
The cake is doable with any fruit because the recipe is extremely adaptable. Instead of strawberry and strawberry chia jam, you can give a whirl to:
Apricots and apricot jam
Peaches and peach jam
Plums and plum jam
Apples and apple jam
Can I use regular strawberry jam?
For sure.
If you don't have strawberry chia jam, try regular jam. It can be homemade or store-bought. In case you choose the latter, be careful with the amount of sugar in your cake batter.
Commercial jams are loaded with sweetness, unlike my homemade jam. You don't want the chia jam cake tasting like a coma-inducing sugar block.
Also, with regular jam you will have to double the amount of chia seeds.
How to make vegan jam cake?
Stick to coconut yogurt instead of Greek yogurt to make the cake vegan.
Can I use any other yogurt?
Yes.
Homemade yogurt will work like a charm. Remember to drain and hang it, so it's nice and thick.
What flour is best for the cake?
I prefer a blend of flours. But you can utilize only whole wheat or only all-purpose flour.
To add a nutty note to the cake, add almond meal as I did for my marmalade cake.
Can I use any other nut?
Leave the almonds flakes out and have fun with pistachio to bring delightful specks of green to the batter.
Serving the strawberry jam cake
As we move towards summer rather rapidly than usual, my teatimes demand something soothing and simple.
The strawberry jam cake rises on both counts. So, lingering on the idea of keeping it simple, I dredged it with icing sugar. I'll not be opposed to trying it with chocolate glaze the next time.
Serve with tea, coffee, or even lemonade, if the temperatures are soaring as high where you live as here. The juicy bits of fruit and the slight crunch from the flakes make the strawberry chia jam cake a fresh, wholesome treat for any evening.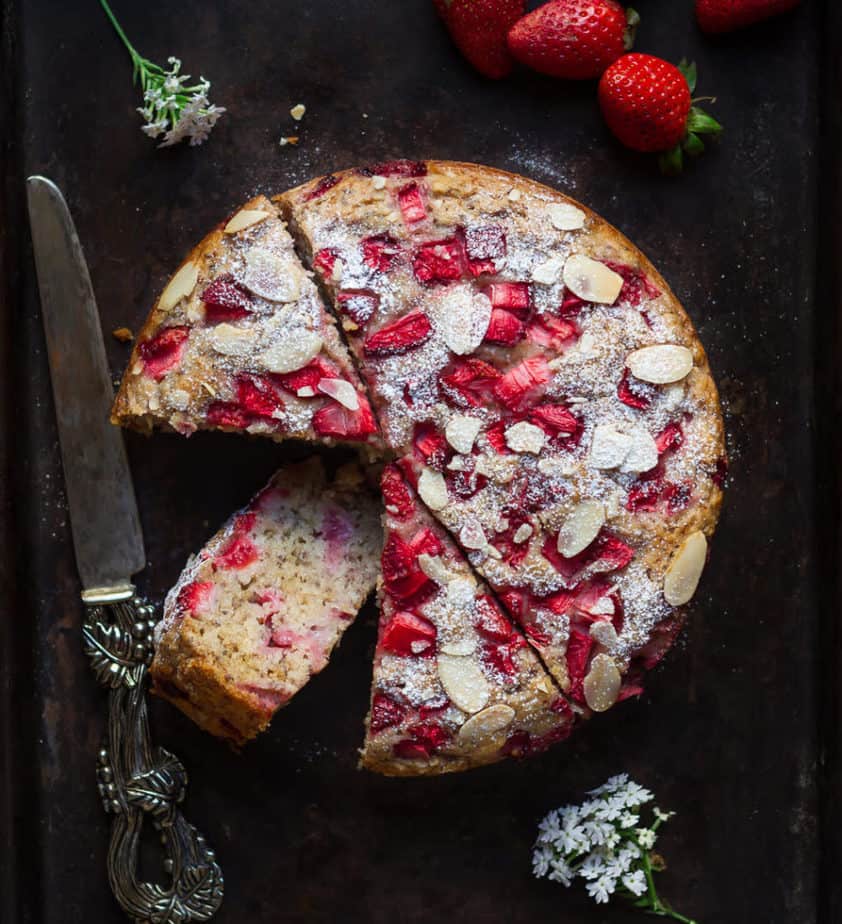 I'd love to hear from you! Please tag me on Instagram @tashasartisanfoods, using the hashtag #tashasartisanfoods. You can also FOLLOW ME on INSTAGRAM, PINTEREST for more fabulous recipes! Do subscribe to Tasha's Artisan Foods so you'll never miss a recipe!
📖 Recipe
Print Recipe
Strawberry Jam Cake
The juicy bits of fruit and the slight crunch from the flakes make the strawberry jam cake a fresh, wholesome treat for any evening.
Ingredients
1

cup

Wholewheat flour

1/2

cup

All-purpose flour

1 1/4

tsp

Baking powder

1/2

tsp

Baking soda

1/4

tsp

Salt

1/2

cup

Raw sugar

You can use white sugar or cane sugar too

2

tbsp

Chia seeds

1/3

cup

Coconut oil, melted and cooled

You can use any neutral tasting oil you prefer

1/2

cup

Greek yogurt

You can use plain thick yogurt too

1/3

cup

Strawberry chia jam

See notes for the recipe link

2

tsp

Vanilla extract

1/2

cup

Strawberries, chopped

Plus extra for topping

1/3

cup

Almond flakes

Plus extra for topping

Icing sugar, for dusting on top
Instructions
Preheat your oven to 180C. Grease a 7" cake tin well and line the bottom with parchment paper.

In a large bowl, sift together wholewheat and all-purpose flours, baking powder, baking soda, and salt.

Stir in raw sugar and chia seeds.

In another small bowl, whisk together the coconut oil, yogurt, strawberry chia jam, and vanilla extract.

Pour over the dry ingredients and combine well. Don't overmix.

Fold in the chopped strawberries and almond flakes. This is a thick batter.

Spoon into the prepared pan. Smoothen the top. Sprinkle some more chopped strawberries and almond flakes if you like.

Bake at 180C for 45 -50 minutes, or until the top is golden brown and a skewer inserted in the center comes out clean.

Let the cake cool in the pan for 10 minutes before turning it out on a cooling rack.

Dredge with icing sugar and serve warm. Enjoy!
Notes
You can find the recipe for Strawberry Chia Jam here.