What can I do with orange marmalade?
Well, there is the obvious - slather it on toast and scones and have it with evening tea. Then there is the Tash twist – bring all that irresistible citrus love into a cake.
So, that's what I did with my leftover jar of homemade marmalade. I baked it into a not-too-sweet, utterly moist orange marmalade cake.
The result was nothing less than an epicurean marvel. Each crumb was exploding with orange flavor with chunky bits of fruit rinds playing hide and seek in your mouth.
And did I mention the recipe was easy and quick? Thus making it a perfect #TAFEverydayCake!
How to make orange marmalade cake?
The cake has a melt-in-the-mouth texture. It is not heavy like a hefty pound cake. It's light and airy like a sponge cake.
Flour, almond meal, salt, baking soda, and baking powder get sifted well in one bowl.
The almond meal adds a nutty note to the cake and amplifies the cake's texture.
Whisk in raw sugar and set the dry ingredients aside.
In another bowl, mix well coconut oil, yogurt, vanilla extract, and homemade orange marmalade.
The yogurt gives it an unbelievably moist crumb, and the marmalade makes its bursts with sharp, citrus flavor.
With a spatula, lightly mix the wet ingredients into the dry.
Quick note:
Mix the ingredients so that everything is nicely moistened and you don't see any dry, white streaks. But do not overbeat the batter. In the end, you'll have a thickish consistency.
Serving the orange marmalade cake
Pour the cake into your prepared Bundt pan. (I talk tricks to getting a cake out of a Bundt without half of it sticking to the pan sides here.)
Bake for 30 to 35 minutes and then do a skewer test. When you insert it in the center of the cake, a few moist crumbs should be attached to it.
Let the cake cool completely, so it loosens from the pan sides. Take it out, and then serve:
As-is, Bundt pan cakes are a marvel all on their own and don't need any adornments.
With a dusting of icing sugar. The white snow looks pretty as a picture with orange specks visible in each slice.
Like I did, with a coating of chocolate glaze. It's ridiculously easy to make the glaze. Melt any dark chocolate you fancy with coconut milk till you have a thick, glossy mixture. Pour it on the orange marmalade cake, let it set, and then serve.
Both the glaze and the marmalade contribute an undertone of bitter flavor to the spongy cake, giving the citrusy base more dimension and body. And no, neither the orange flavor nor the bitterness is overwhelming.
Surprisingly, the airy cake has a very delicate savor. The orange peels balance the sweetness bringing a gorgeous brightness to every mouthful.
Variations of the marmalade cake recipe
I prefer to bake with raw sugar. But if all you have is regular, white sugar, please go ahead and utilize it.
In case you want to bump up the orangey essence of the cake, use:
A teaspoon of orange zest.
Or some pure orange extract.
I didn't feel the need to because my homemade marmalade packed enough of a citrus punch.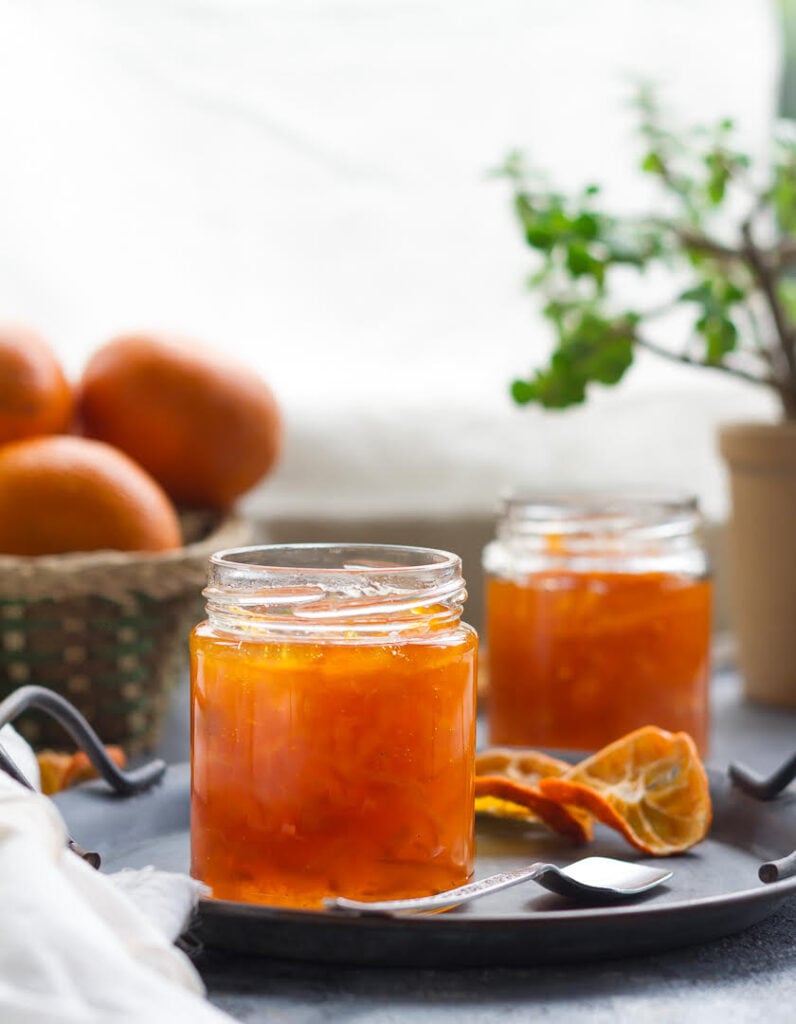 Can you use store-bought marmalade for the cake?
Of course, you can. A pot of store-bought marmalade will work fantastically for the cake. There is just one condition – find the right orange marmalade.
Which one is that? A thick-cut marmalade where you can see the orange peels and actually taste them.
Part of the magic of orange marmalade cake is the texture you get from the fruit's peel and rinds. You'll achieve it either with homemade marmalade or a thick-cut one.
How to make vegan orange marmalade cake?
The cake recipe is already eggless. To make it vegan, use coconut yogurt.
What oil can you use for the cake?
If you don't have coconut oil, use any neutral-tasting oil. I won't recommend olive oil because you want the marmalade to shine through. Olive oil has a strong flavor. You need something lighter.
My orange marmalade cake lasted three days and because it's so cold here I didn't even need to refrigerate it. And by the way, the very last piece remained just as soft as the first one!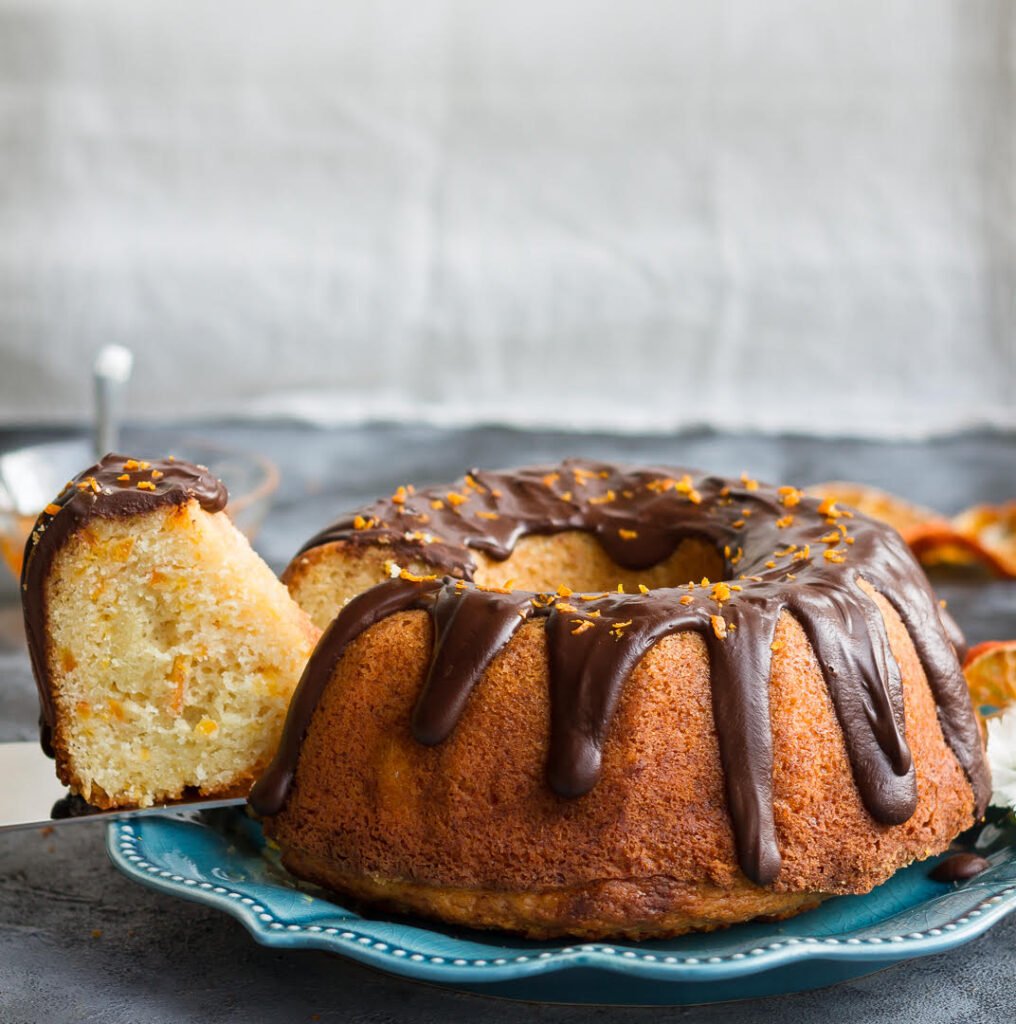 I'd love to hear from you! Please tag me on Instagram @tashasartisanfoods, using the hashtag #tashasartisanfoods. You can also FOLLOW ME on INSTAGRAM, PINTEREST for more fabulous recipes! Do subscribe to Tasha's Artisan Foods so you'll never miss a recipe!
📖 Recipe
Print Recipe
Orange Marmalade Cake
Easy eggless orange marmalade cake - exploding with orange flavor with chunky bits of fruit rinds playing hide and seek in your mouth.
Ingredients
1 3/4

cup / ( 235 gms)

Wholewheat flour

1/2

cup / (50 gms)

Almond meal

2

tsp

Baking powder

3/4

tsp

Baking soda

1/4

tsp

Salt

3/4

cup / (140 gms)

Raw sugar

You can use regular white sugar.

1/3

cup / (65 gms)

Coconut oil

You can use any neutral-tasting vegetable oil

1 1/2

cup/ (380 ml)

Plain yogurt

You can use Greek yogurt too.

1/2

cup / ( 155 gms)

Orange marmalade

2

tsp

Vanilla extract
Chocolate Glaze
1/3

cup

Coconut milk

You can use regular milk too.

1/4

cup

Dark chocolate 70%
Instructions
Preheat your oven to 180C. Grease a bundt pan or an 8" or 9" cake tin very well.

In a large bowl, sift together, flour, baking powder, baking soda, and salt.

Whisk in almond meal. You can make your own almond meal by grinding soaked, peeled almonds in a coffee grinder.

In another bowl, whisk the yogurt, oil, marmalade, and vanilla extract. Mix well.

Pour the wet ingredients into the dry ingredients. Mix well, but please don't overmix.

You will get a thick batter. Pour into the prepared pan.

Bake for 30-35 minutes, until the top is light golden brown and a skewer inserted in the center comes out with a few moist crumbs attached.

Let the cake rest for 15-20 minutes, before turning it out on a cooling rack.

Pour the chocolate glaze over the cooled cake. Let it set for a few minutes. Slice and serve. Enjoy!
Chocolate Glaze
Heat the coconut milk in a small saucepan. Once it comes to a gentle simmer. Take it off the heat. Add chocolate. Whisk well until you get a smooth, glossy mixture.