This is the best strawberry Bundt cake recipe to celebrate spring and the awakening of nature. Moist, light, and a true masterpiece of culinary art, the Bundt cake with strawberries and lemon make your taste buds go bananas.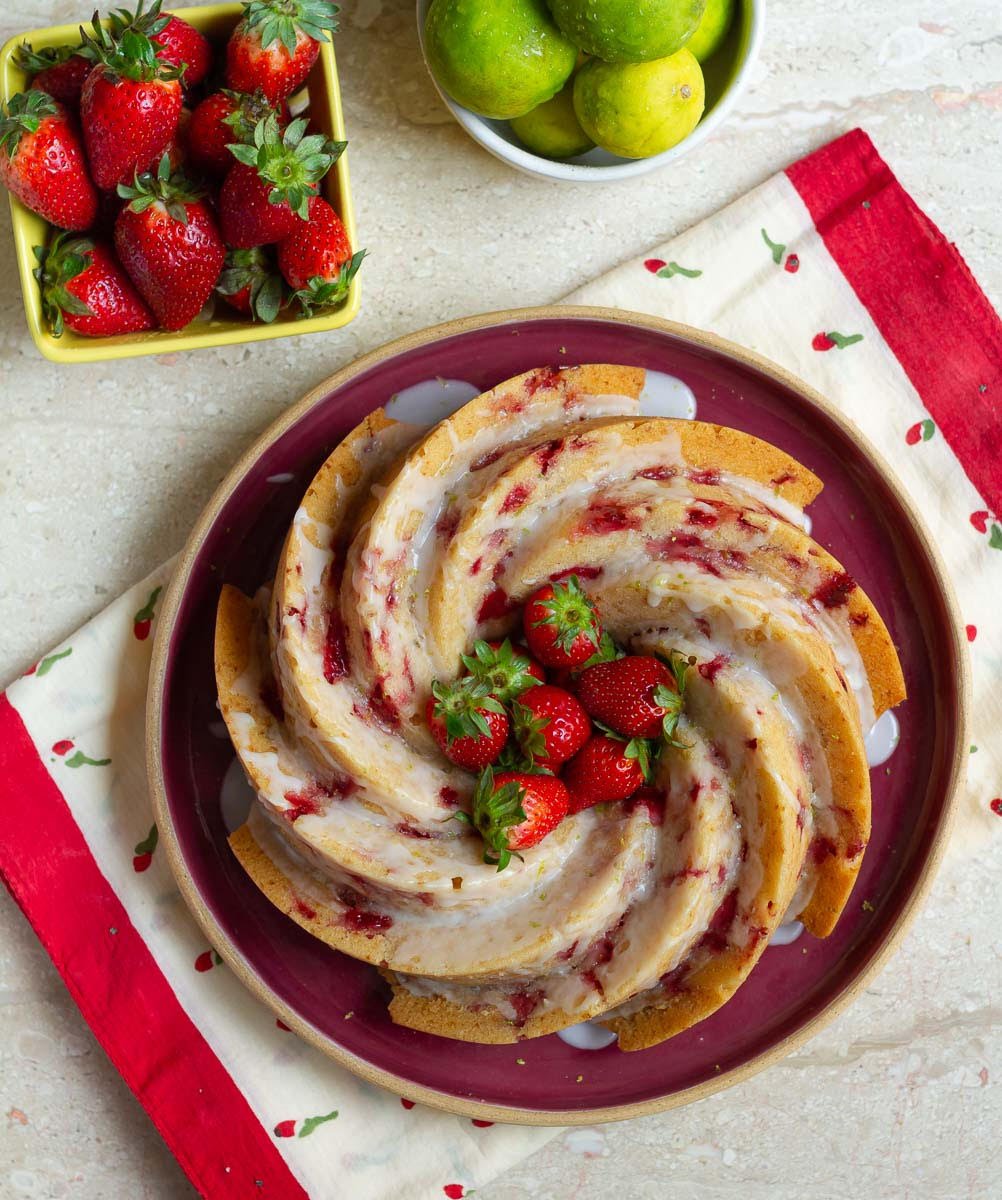 Life's funny sometimes. You're going about your day, and suddenly you're in the mood for an eggless cake recipe. So, with strawberries about to bid us adieu, I decided to bake a supremely moist spring Bundt cake that has a fresh vibe about it.
I am so pleased with how the fruity fusion turned out that I had to share the very easy and very delicious lemon strawberry Bundt cake recipe. The zesty lemon and sweet berries are a match made in dessert heaven. I hope it makes your mouth pucker with joy and lets you take a walk on the wild side.
Jump to:
WHY THE STRAWBERRY LEMON BUNDT CAKE IS A MUST?
A spring Bundt cake recipe that's great for Easter.
It's so stunning, you're absolutely smitten with it.
It's lightly sweet, with a very fresh taste.
HOW TO MAKE STRAWBERRY BUNDT CAKE?
Step 1: To start making the Bundt cake with strawberries, set your oven to preheat and then really, really grease the pan. I take my time, using my fingers to get every nook and cranny, and if need be, I go in again with a brush. Never rush greasing. It's the most important step of the Bundt cake recipe.
Step 2: Since it's an eggless Bundt cake, make the buttermilk by mixing 3/4th cup of milk with a tablespoon of vinegar. Set it aside.
Step 3: Meanwhile, sift together all-purpose flour with baking powder and baking soda.
Step 4: In a separate bowl, cream softened butter with caster sugar until smooth and fluffy. Add vanilla extract and either pure lemon oil or lemon extract (absolutely optional).
Step 5: To this creamed butter, we add the dry ingredients and buttermilk in stages, starting and ending with flour.
So, you go like this: take 1/3 of the dry ingredients, mix, pour part of the buttermilk, mix again, follow with another 1/3 of the dry ingredients, mix, add the leftover buttermilk, mix again, and finally take the last of the dry ingredients and do one final mix to form a thick, smooth batter with no visible dry streaks.
Step 6: Fold in lemon zest, lemon juice, and chopped strawberries (that I tossed in a little flour, so they don't sink to the bottom) into the lemon strawberry Bundt cake batter.
Step 7: Transfer the batter to a greased pan, and then bake until a skewer inserted comes out clean (or with a few moist crumbs attached).
Step 8: Let the cake cool before you turn it over on a serving platter.
Final step: Dig in as-is (or oomph it up with lemon glaze).
NOTES ON LEMON STRAWBERRY BUNDT CAKE
It took me years to be comfortable baking with Bundt pans. My early experiments were disasters, and then I learned 2 tricks for handling this curvy baking dish.
The first is greasing. Grease, grease, and grease.
The next step is pouring the batter. Start around the flute, making sure it's even. Then fill the rest of the pan. Level the batter with a knife right before you slide it into the oven, so the base doesn't have bumps.
Glaze the cake only after it has cooled completely.
In my neck of the woods, strawberry season is about to end. That means the berries are extra juicy and just the right amount of sweet. So, I picked up a few extra punnets, and I highly recommend you do so too.
Besides this eggless cake recipe, there are plenty of cakes with fresh strawberries you can make. Or you can try:
You can even freeze the strawberries and keep using them for smoothies, popsicles, tarts, or muffins.
HOW TO FREEZE STRAWBERRIES?
Strawberries freeze beautifully and easily. I wash them well, pat them dry, and then hull the tops or simply chop them off. Then I lay them in a single layer to freeze (so they don't stick together in unholy lumps). Once frozen, you can transfer them to airtight storage containers or Ziplock bags.
SERVING & STORING FRESH STRAWBERRY BUNDT CAKE
Bake a strawberry Bundt cake from scratch, and it's a thing of beauty. Light golden crumb studded with juicy red berries, it needs no adornment or ruffles.
But I love icing Bundt cakes.
So, here's the simplest recipe for lemon glaze. Combine lemon juice with icing sugar and then pour. Top with lemon zest, stick fresh strawberries to fill the gap in the center, and voilà.
Slice, serve, and enjoy!
If you're not too fond of lemon glaze for cake, you can easily dust it with caster sugar and call it a day.
The best part about strawberry Bundt cake recipes, for me at least, is that they are bound to stay nice and moist for 3 to 4 days thanks to the moisture content in strawberries.
Simply store it in an airtight container in the refrigerator.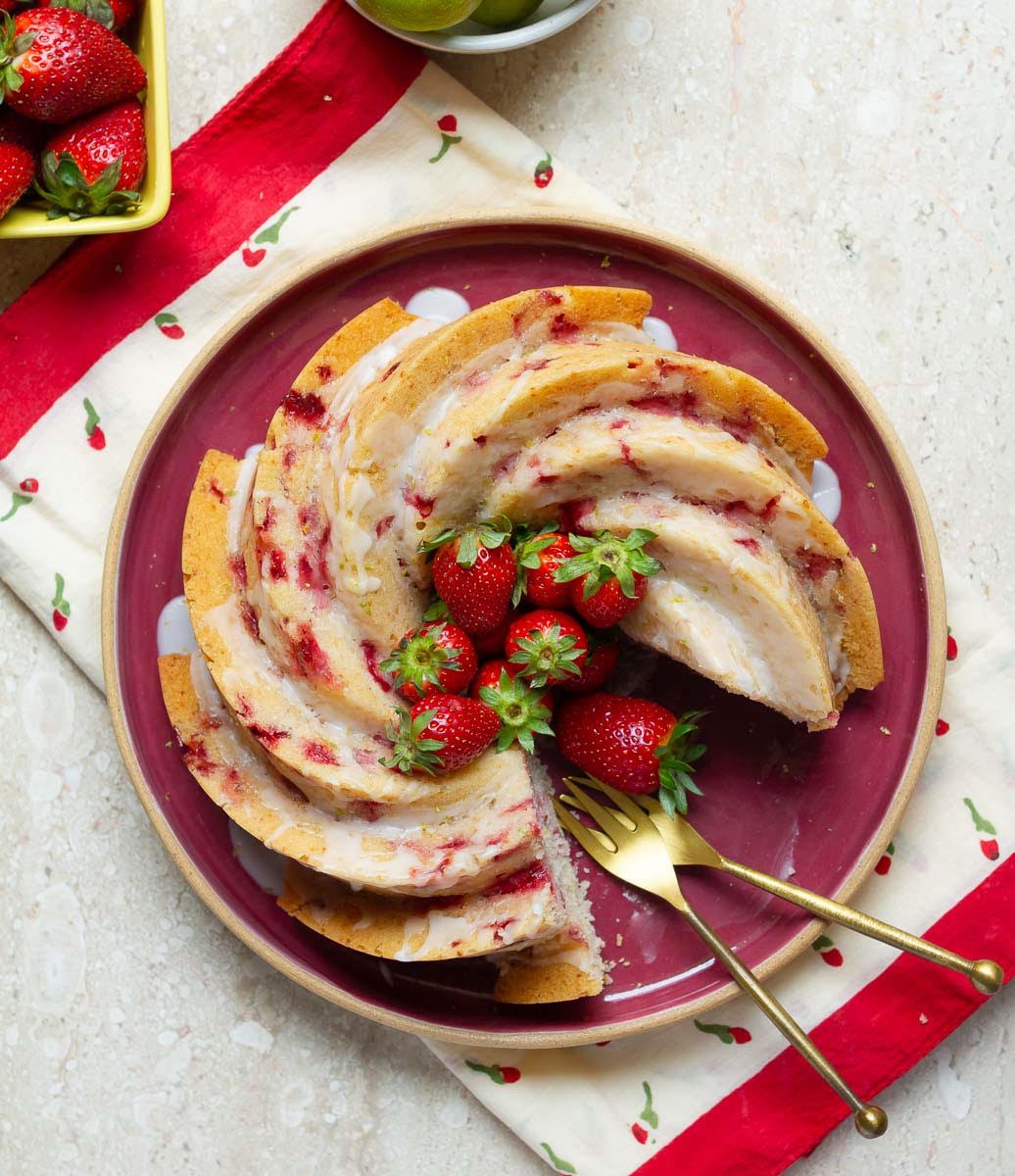 STRAWBERRY LEMON POUND CAKE VARIATIONS
Flour: There are quite a few variations you can try with lemon strawberry Bundt cake.
Switch to whole wheat flour
Go half-and-half with whole wheat and all-purpose flour
Use 50% buckwheat flour and 50% either whole wheat or all-purpose flour
Vegan: Replace the milk and butter with plant-based alternatives to make a vegan strawberry lemon Bundt cake. If coconut oil is more accessible, then use that.
Add-ins: In the mood to add a textural dimension and nutty depth to the eggless strawberry cake recipe? Throw in some chopped almonds; they'll pair deliciously with strawberries.
Now that I think of it, fresh rosemary is another way to jazz up the cake, just as it did my strawberry and rosemary scones.
MORE CAKE RECIPE WITH STRAWBERRIES
Strawberry Cream Cheese Pound Cake
No- Bake Strawberry Cheesecake Bites
Half the joy of cooking is sharing it with others, which is why I'm always eager to hear from you. So go right ahead and drop a comment or reach out on Instagram, Pinterest, YouTube, or Facebook. I hope you love the strawberry Bundt cake as much as we do!
📖 Recipe
Print Recipe
Strawberry Lemon Bundt Cake
This is the best Strawberry Bundt cake recipe to celebrate spring and the awakening of nature. Moist, light, and a true masterpiece of culinary art, the bundt cake with strawberries and lemon make your taste buds go bananas.
Ingredients
3/4

cup / 210 gms

Milk

1

tbsp

Vinegar

I used white vinegar

2

cups / 250 gms

All-purpose flour

2

tsp

Baking powder

1/2

tsp

Baking soda

1/2

cup /115 gms

Butter, softened

1/2

cup / 100 gms

Caster sugar

1

tsp

Vanilla extract

1/4

tsp

Pure lemon oil/extract

Optional

1

cup / 150 gms

Chopped strawberries

Zest of 1 lemon

Juice of 1 lemon
Lemon Glaze
1/3

cup / 35 gms

Icing sugar

2-3

tbsp

Lemon juice
Instructions
Preheat your oven to 180C. Grease your bundt pan very well.

Make the buttermilk- Combine the milk and vinegar in a small bowl and keep aside for 5 minutes.

Sift together the flour, baking powder, and baking soda.

In a large bowl, beat together the butter and caster sugar until light and fluffy.

Add the vanilla extract and lemon oil ( or extract) if using.

Now add the dry ingredients and buttermilk alternatingly in the butter mixture, starting and ending with flour.

So a 1/3 of the dry ingredients. Mix well. Add 1/2 of the buttermilk. Mix well.

Then 1/3 of dry ingredients again, followed by the remaining 1/2 of the buttermilk.

Lastly, add the remaining 1/3 of the dry ingredients.

Fold in the strawberries, lemon zest, and juice.

Transfer the batter into the prepared bundt cake tin and bake for 35-40 minutes or until a skewer inserted in the center comes out clean or with a few moist crumbs attached.

Let the cake cool in the pan for 15-20 minutes before turning it out on a serving platter.

Let the cake cool completely before spooning the lemon glaze on top.

Let the glaze set for a few minutes before slicing. Enjoy!
Lemon Glaze
Combine the lemon juice and icing sugar in a small bowl to make a smooth, thick glaze.