By some stroke of luck, I have managed not to kill the rosemary plant that I got way back last year. For a woman who sorely lacks a green thumb, that's an accomplishment of titanic proportions.
Since I planted it, I've been using rosemary for bread, pasta, and roasted potatoes. While savories are the natural option for the fresh herb, I love the idea of putting in my desserts too. That's why it's ended up in my orange upside-down cake and strawberry and rosemary scones.
This time I hoped to take my affinity for all things herbaceous and bake a cake that is a degree more moist, flavorful, and rich. Enter – the Rosemary Lemon Olive Oil Cake.
The cake puts the nuanced fragrance and bold flavor of olive oil front and center, while the floral note of rosemary and the subtle aroma of lemon add more dimension.
How to Make Rosemary Lemon Olive Oil Cake?
The cake has a consistency similar to pound cake, hefty and hearty, except that it's made in a fluted Bundt pan. To begin, I sifted all-purpose flour, salt, and baking powder.
To this, I added almond meal to ensure that the cake stays moist, gets a dash of exquisite nutty flavor, and, as always, a boost of nutrition. You can prepare the almond meal by grinding the nuts in a coffee grinder.
Separately, I beat eggs with raw sugar until the mixture doubled in volume. Then instead of the usual butter, I poured in olive oil.
If this is your maiden voyage to the stunning world of olive oil cakes, you're going to revel in it. Surprisingly, the oil lends a more luxurious texture to finished cakes, something I learned after baking a Chocolate Olive Oil Cake.
The oil is followed by soy milk, vanilla extract, and a few drops of pure lemon oil. Once the liquids ingredients are whisked, I mixed them with the dry. Right in the end, when the mixture is all set to go, I fold in chopped fresh rosemary and zest of lemon.
The batter has a lovely pale-yellow hue and a thick-ish consistency. After it is poured in the Bundt pan, I let the oven make magic for about 30 to 35 minutes.
Quick notes:
If you don't have pure lemon oil, you can leave it out or add extra lemon zest. You can even squeeze in some fresh lemon juice. Take the call as per your taste preference.
Instead of plant-based milk, you can use regular milk too. For those who want a gluten-free rosemary lemon olive oil cake, replace all-purpose flour with buckwheat flour.
The cake can be baked in a 9-inch tin if you don't have a Bundt pan.
3 Tips for baking in a Bundt Pan
Baking in a Bundt pan makes me nervous, even though I've been doing it for over five years now, starting with my Lemon Almond Polenta Tea Cakes.
Why do the fluted cake pans make me edgy? Because I can't seem to take them out of the pan without it sticking to the sides, as is evident from the photos of my whole wheat banana oat bread and vegan vanilla sponge cake.
If you've had similar problems with, then take these additional steps. Trust me; they'll be your saving grace eternally:
Grease the pan well. If you think you're done, do it one more time. Don't use a pastry brush. They fail to coat the nooks, crannies, and curves of a Bundt pan. Get your hands to do the work.
After greasing, you can sift the flour to coat the sides of the pan. I didn't take this step, so I made sure that the Bundt pan was double creamed.
Lastly, pour the batter evenly around the flute of the pan. Then fill up the rest of it. Right at the end, use a knife to level the batter gently. This guarantees that the cake doesn't get bumpy as it bakes and tipsy when you flip it.
If the baked cake still managed to break or crack, you can always hide them with a liberal dusting of sugar.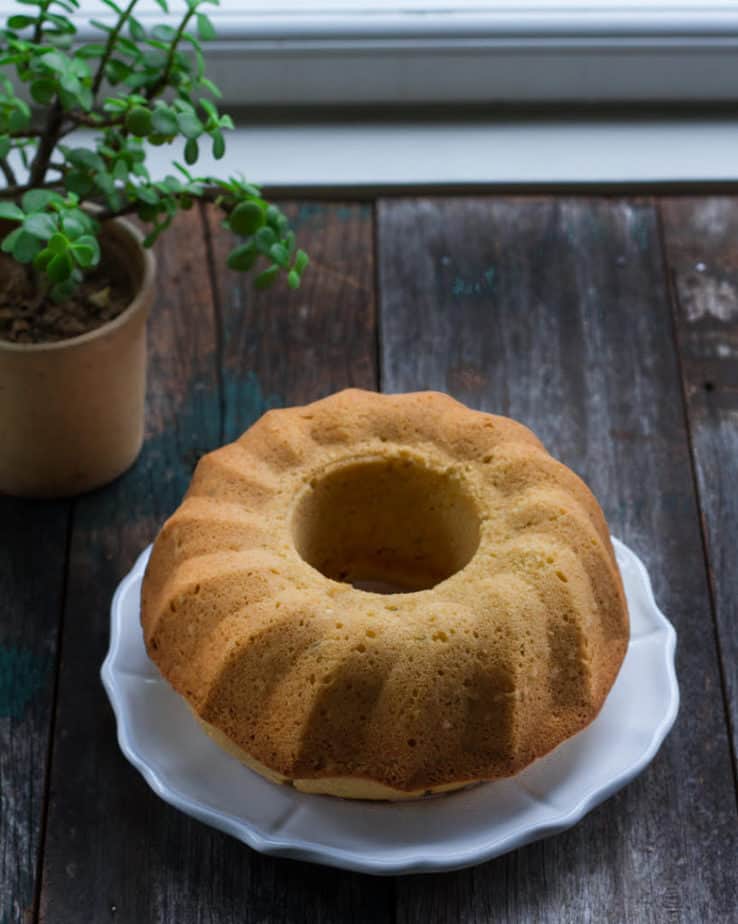 Adorning the Rosemary Lemon Olive Oil Cake
Once the cake is baked, let it sit in the Bundt pan for 20 to 25 minutes. I know the temptation to devour is strong but resist manfully. Once the cake has cooled down, it'll loosen from the sides automatically, allowing you to take it out easily. Use a butter knife to pry it loose from the edges of the tin.
All the effort a Bundt pan requires is entirely worth it with the end result – even unadorned, the cake is a masterpiece for the eyes. But if you still want little embellishment, then this sensation needs nothing beyond a light lemon glaze. I further topped it off with sprigs of rosemary and some zest.
Serving the Rosemary Lemon Olive Oil Cake
Olive oil and lemon are a match made in heaven. The citrus touch elevates the character of the oil and fresh rosemary rounds off its delicate grassy notes.
That's why I don't suggest using dried rosemary. If you don't have access to the fresh herb, leave it out, and the recipe will give you a fantastic lemon cake!
When it comes to serving, the rosemary lemon olive oil cake needs no accompaniment. Don't be fooled by its deceptively plain looks, the cake packs a beautiful punch. Each moist, soft, and crumbly morsel is an explosion of lemony hints married to earthy and fruity flavors. Its the perfect #TAFEverydayCake!
I'll bid you adieu with a request. I haven't tried the cake without eggs because the idea was to get the texture of a pound cake. If you decide to use flax eggs, do let me know how your rosemary lemon olive oil cake turns out!
I'd love to hear from you! Please tag me on Instagram @tashasartisanfoods, using the hashtag #tashasartisanfoods. You can also FOLLOW ME on INSTAGRAM, PINTEREST for more fabulous recipes!
📖 Recipe
Print Recipe
Rosemary Lemon Olive Oil Cake
Rosemary Lemon Olive Oil Cake packs a beautiful punch. Each moist and crumbly morsel is an explosion of lemony hints married to earthy and fruity flavors.
Ingredients
1 3/4

cups

All purpose flour

1/2

cup

Almond meal

1/4

tsp

Salt

2

tsp

Baking powder

1/2

cup + 2 tbsp

Raw sugar

You can use regular white sugar too.

3

Eggs

1/2

cup

Olive oil

1/4

cup

Soy Milk

You can use any milk.

1

tsp

Vanilla extract

1

tbsp

Lemon zest

1

tsp

Fresh rosemary, finely chopped

3-4

drops

Pure lemon oil

Optional
Lemon Glaze
1/2

cup

Icing sugar

3

tsp

Lemon juice
Instructions
Preheat your oven to 180C. Grease your bundt pan really well. You can also use a 9" cake tin.

Sift the flour, salt and baking powder.

In another large bowl, beat together the eggs and sugar until doubled in volume.

Pour in the olive oil, milk, vanilla extract and lemon oil ( if using) into the egg mixture.

Fold into the dry ingredients.

Fold in the chopped rosemary and lemon zest.

Pour the cake batter evenly into the prepared pan.

Bake for 30-35 minutes, or until a skewer inserted in the center comes out with just a few moist crumbs attached.

Allow to cool in the pan for 20-25 minutes before turning it out on a cooling rack.
Lemon glaze
Whisk together the lemon juice and icing sugar until thick and smooth.

Spoon the glaze over the cooled cake. Sprinkle some lemon zest and rosemary sprigs on top for garnish. Enjoy!