The fresh cherry cake, bursting with the sweetest, juiciest ruby-red cherries and dusted with the slightest amount of sugar is a true, true crowd-pleaser. And it's easy to bake to boot!
There isn't much to love about North Indian summers. You're sweating buckets in the sweltering heat all the time.
If there is a silver lining in the grey, grey cloud, then it is the abundance of fabulous fruits that bring an explosion of colour, taste and savour to the table.
The fruits also allow me to indulge my love for working with fresh ingredients. And I am starting with fresh cherry cake, and it is definitely a #TAFEverydayCake!
How to Make Fresh Cherry Cake?
2 bowls, one whisk and one spatula, are all I needed to make the fresh cherry cake. In 15 minutes of prep and 40 to 45 mins of baking, we tucked into some serious deliciousness! Needless to say, the cake was a breeze to put together.
Sieve all-purpose flour with the usual dry ingredients – salt, baking powder and soda – and throw in some raw sugar and almond meal.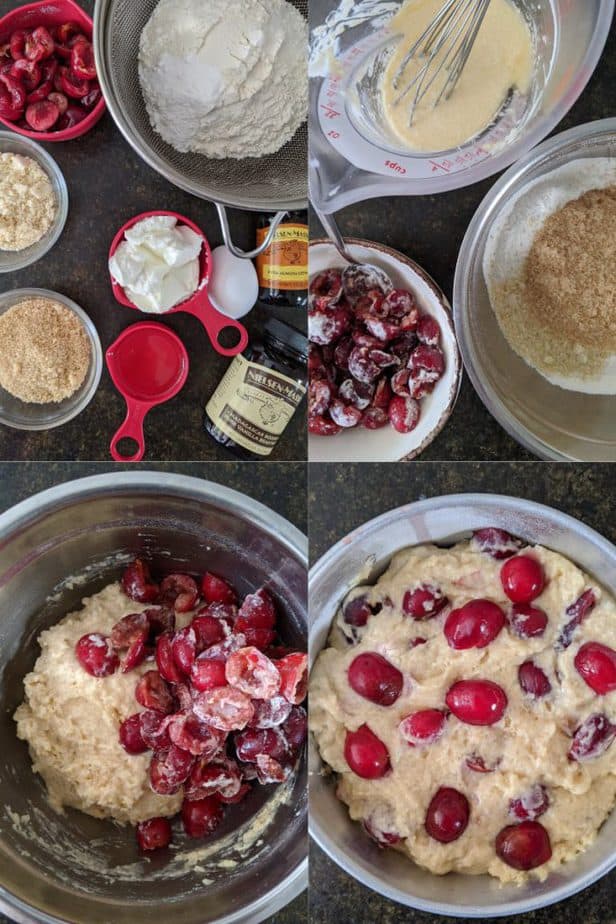 Quick Note:
Almond meal is blanched almonds that have been ground. You can make it at home using your coffee grinder quite easily.
Why do you need almond meal in the cake? Because it not only makes the crumb moist and tender but also gives the cake a subtly nutty note that makes people go "Ohhh! What sorcery was that?"
In the second bowl, mix yogurt, oil, egg, vanilla, and almond extract. Add the dry ingredients into this mixture to make a thick batter.
Fold in the cherries and bake!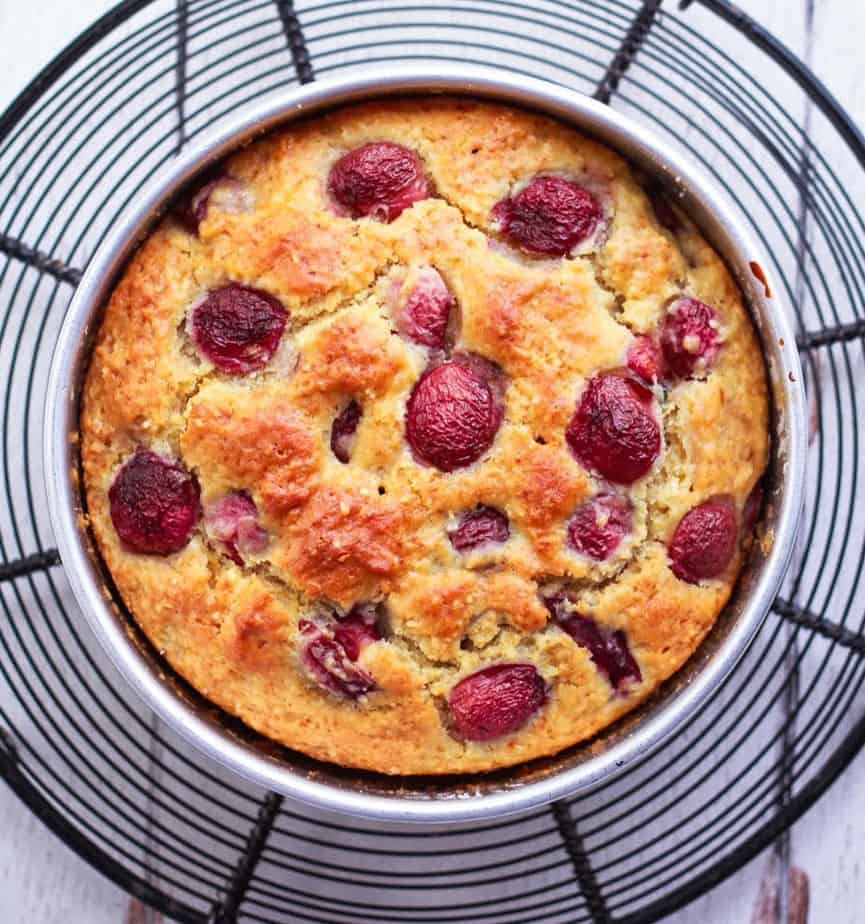 Quick notes:
When you work with fresh fruits, they tend to descend to the bottom of the cake. I wanted a chock-a-block effect. Every bite of the delightful cake you sink your teeth into should be stuffed with juicy, divine cherries.
The trick is to toss the cherries in a couple of teaspoons of flour before you fold them into the batter. This prevents them from falling to the base. FYI, you can use this technique with any fresh fruit. It works like magic.
Because I prefer a 6-inch pan, and the cake rose very well, it came out beautifully thick. You can as readily utilize a 7 or 8-inch pan, but the cake will be flatter.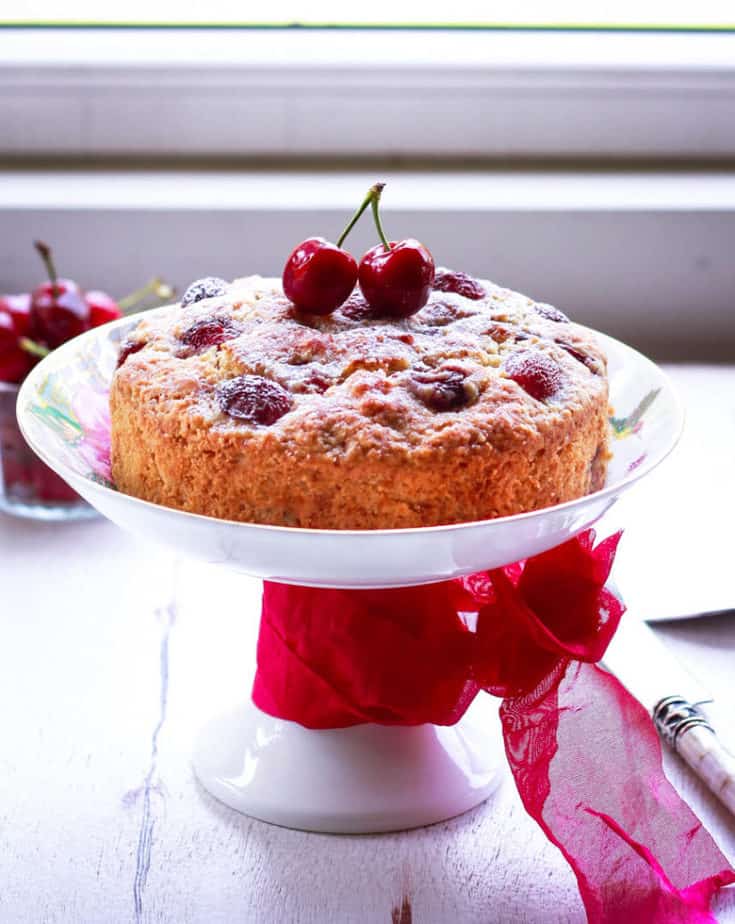 Variations of the cake
I would have loved to make the fresh cherry cake eggless, but that was an epic bake fail. I tried it and the cake crumbled into, well, crumbs. So, for now, sticking to adding one egg.
To give the sweetness of cherries a tangy counter bite, you can freshly grate some lemon zest into it.
Gluten-free fresh cherry cake:
Buckwheat is my trusted flour. It works gorgeously. I know I don't have to worry about any cake when using it. Go ahead and add it to make a gluten-free cherry cake.
Or you can experiment with quinoa flour too and bring some texture to the cake.
If you don't have cherries, use any other fresh fruit – plums, peaches, apricots – all of them accomplish wonders.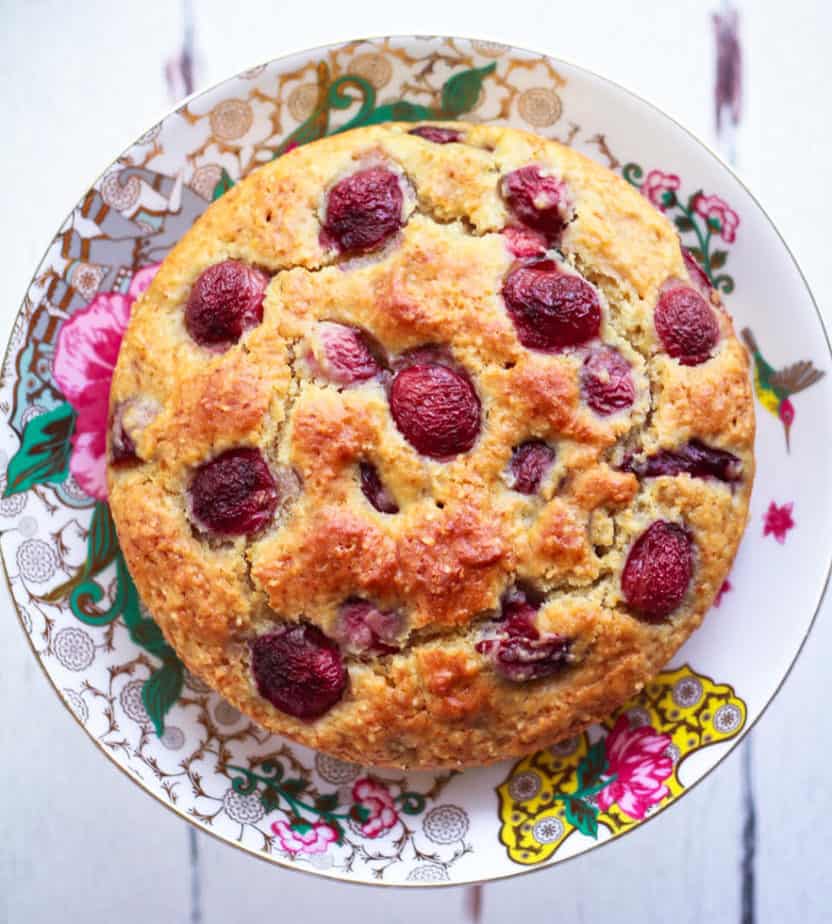 Serving the Fresh Cherry Cake
The spongy and moist cake studded with dark red, shiny, plump cherries is already a treat to the eyes. You don't need much to pretty it up. Once it is out of the oven, simply dust it with icing sugar.
The succulent cherries and the yogurt make the cake amazingly soft. It isn't overly sweet, which is always a win in my abode, and most of it comes from the lovely, luscious cherries.
Serve a slice of the fresh cherry cake with coffee or tea as is. As a dessert after a meal, add in a scoop of ice cream or a big dollop of whipped cream and dig in!
More cherry recipes:
Cherries fill me up with instant cheer! I still clap my hands with glee when I see them. Every time they are in season, I go overboard, or that's what fam thinks.
If you too turn into a child when you behold cherries, these recipes are a must try:
For frozen treats , check out:
I'd love to hear from you! Please tag me on Instagram @tashasartisanfoods, using the hashtag #tashasartisanfoods. You can also FOLLOW ME on INSTAGRAM, PINTEREST for more fabulous recipes! Do subscribe to Tasha's Artisan Foods so you'll never miss a recipe!
📖 Recipe
Print Recipe
Fresh Cherry Cake
Ingredients
1

cup

All purpose flour

1

tsp

baking powder

¼

tsp

baking soda

¼

tsp

salt

¼

cup

Almond Meal or Ground Almonds

½

cup

Raw sugar

1

egg

½

cup

Greek yogurt, plain

¼

cup

Coconut oil

You can use any oil you prefer

1

tsp

vanilla extract

½

tsp

Almond extarct

1

cup

Cherries, pitted and halved

Tossed in 2 tsp of flour
Instructions
Preheat your oven to 180C. Grease a 6" pan well.

In a large bowl, sift together the all-purpose flour, baking powder, baking soda, and salt.

Stir in the almond meal and raw sugar.

In another bowl, whisk together the egg, yogurt, oil, vanilla extract, and almond extract.

Pour the wet ingredients over the dry ingredients. Mix well, but gently. This is a thick batter.

Fold in the flour-coated cherries.

Spoon the batter into the prepared pan. Bake for 40 -45 minutes or until a skewer inserted in the center comes out clean.

Let the cake cool in the pan for 15-20 minutes before turning it out on a cooling rack.

Sprinkle some icing sugar on top, and serve. Enjoy!