Holi is as much about colors as it is about food. But who says it has to be all sweets? So, I'm taking a break from my thandai-palooza with theses easy baked mathris.
The recipe comes straight from my mum's kitchen. I just decided to bake them instead of frying. And I'm putting it out there - the texture of baked mathri is different from fried.
They are just as delicious as fried mathris – perfect crispy, flaky snacks to accompany your cuppa – but the mouthfeel is different. Mouth-watering different, but different.
And, seriously, nothing beats the convenience of simply sliding mathris in the oven as opposed to sweating near a hot stove and an even hotter frying pan. Plus, if you're counting calories, then baked mathris are a godsend epicurean pleasure.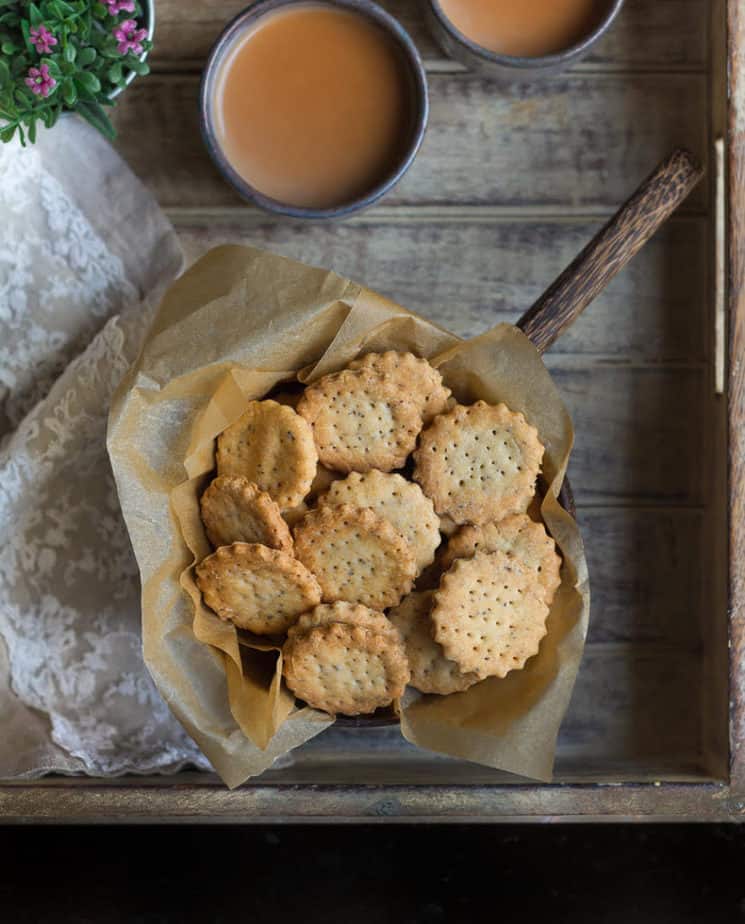 How to make easy baked mathri?
Mathi, mathiya, mathari, or mathhi, the savory delights that crumble in your mouth go by many names and have as many recipes as there are households in India.
Each person makes their own variation. That's why I kept it basic, leaving it up to you to add any ingredients.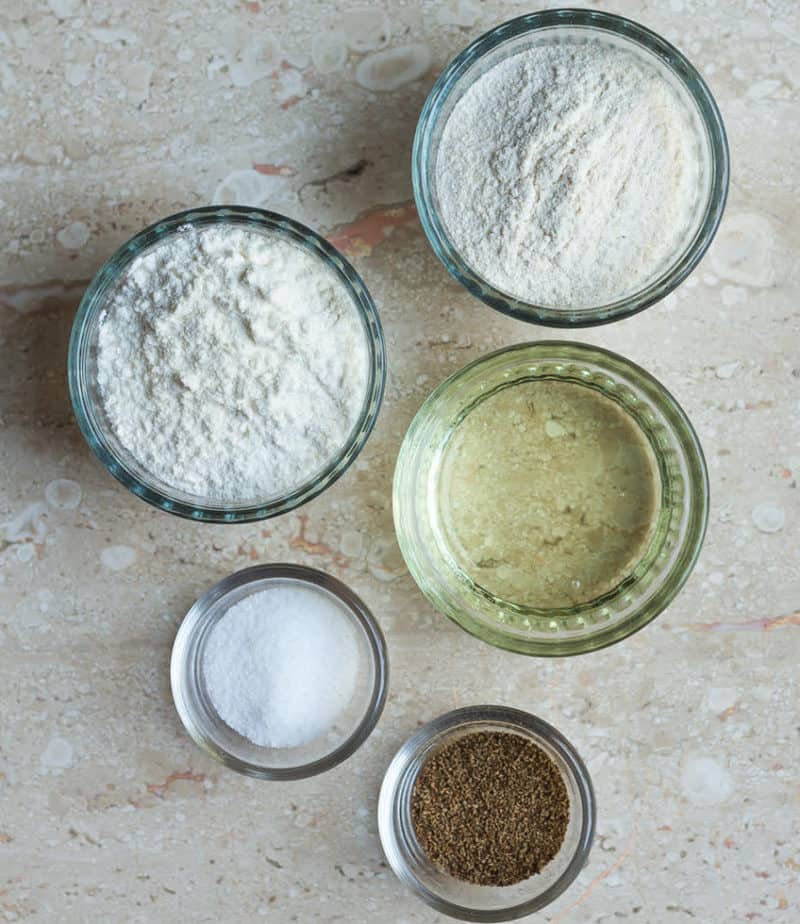 Begin with mixing the dry ingredients in a large bowl – all-purpose flour, whole wheat flour, semolina, salt, and some carom seeds.
Ajwain (carom seeds) is the only spice we love in our mathris. The taste is more-ish, and they rival turmeric when it comes to boosting digestion. FYI, they're not actually seeds.
Add a couple of tablespoons of oil and rub it into the dry ingredients until they resemble breadcrumbs and start clumping together.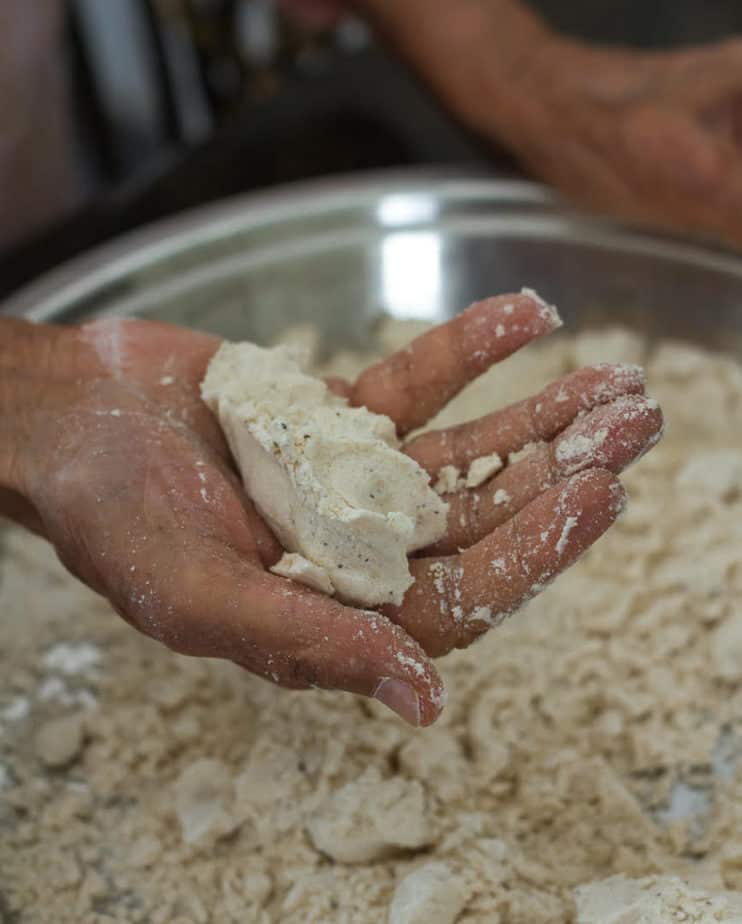 Now very slowly, just a tablespoon at a time, start adding water. At the most, you'll need a third or half a cup of water. Use more if required.
Get your hands in there and start bringing everything together to form the dough.
You're not kneading. Just mixing well so that there are no visible dry flour streaks left. The mathri dough is not soft. It has to be pliable but tight.
Baking the mathris
Cover the dough with a cloth and let it rest.
After half an hour, divide the dough into two.
Roll out each half to 1/4th of an inch thickness. Thinner if you want really crispy ones.
Prick the dough using a fork.
Piercing the mathri dough is crucial. The tiny holes make sure that your mathris don't puff up while baking!
With a knife, cut the dough in any shape you want. I really wanted to use my cookie cutter to make the mathris. So that's another option you have.
Place the mathris in a Silpat or parchment-lined tray and bake for 25 to 30 minutes till they are light golden brown.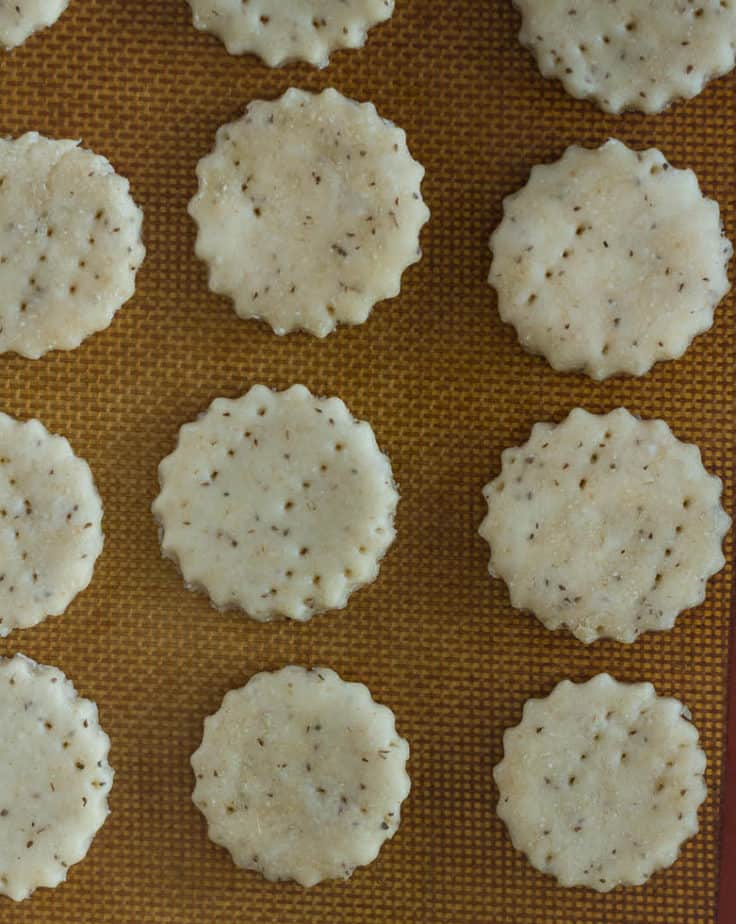 Quick note:
Because every oven is different, I've seen recipes with only 20-minute bake time and recipes baking for 40 minutes. Keep an eye on the oven after 15 minutes.
If the mathris are browning too fast, lower the temperature. Also, mathris harden as they cool, so please don't over bake them.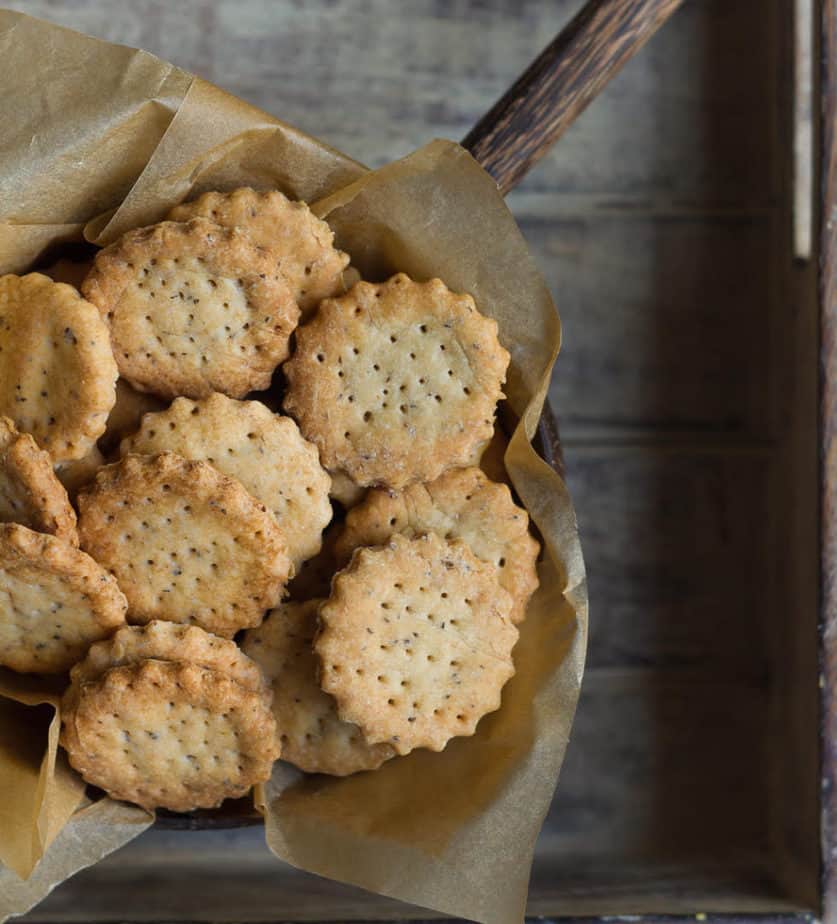 Variations of baked mathri recipe
The mathris are vegan. If that's not a factor for you, you can use ghee instead of oil for them. Just make sure it is melted.
As I said, we love our mathris basic and spiced simply with ajwain. You can, of course, turn up the heat or spice quotient by adding any one ( or all) of these:
Red chili powder
Cumin seeds or powder
Dried fenugreek leaves (Kasuri methi)
What flour is best for mathris?
You can use 100% all-purpose flour, 100% whole wheat flour, or a blend of both. I like to sneak in a little bit of semolina (suji) because it lends a wonderful texture, graininess, and crunch to the mathris.
Can you fry the mathris?
Yes, you can.
If you're in the mood for some traditional cooking, then skip the knife or cookie cutter and follow these steps:
Divide the rested dough into equal-sized balls.
Flatten each ball with your hands.
Prick them with a fork.
Then fry (or bake).
This is how mathris were typically made. The shape is a bit irregular and mathris a bit thicker, but that doesn't take anything away from their crisp flavor.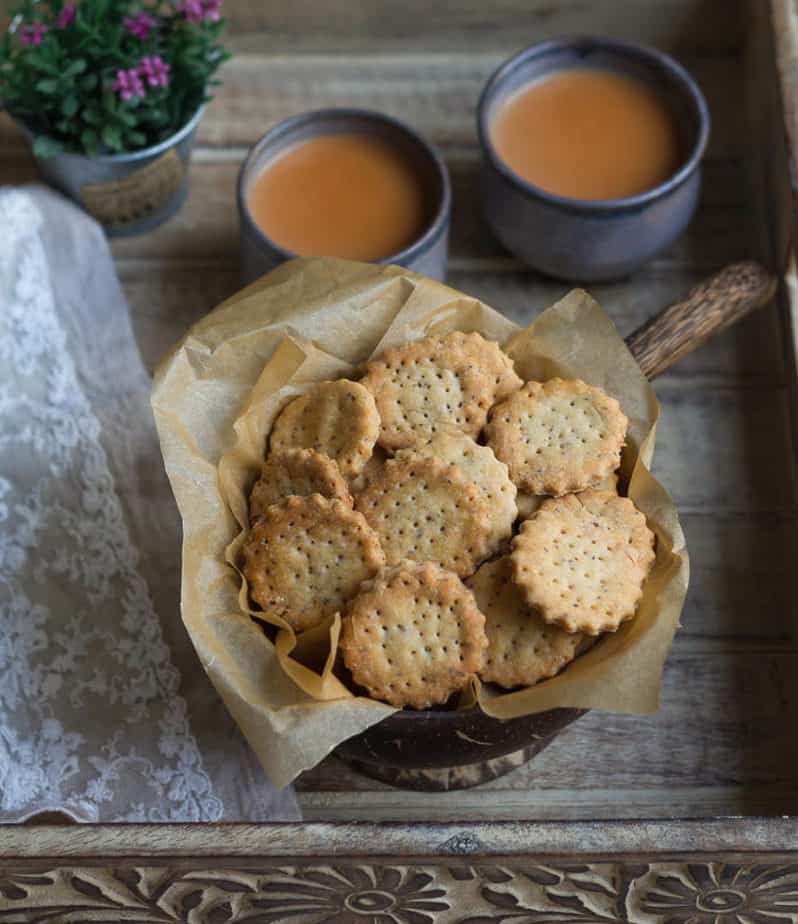 Serving the baked mathri
Mathris last a long time. So, make them in advance if you're planning to celebrate Holi within your safe bubble. Store them in an air-tight container, and they'll keep remarkably well.
My family loves to munch on these savory crackers, so this batch disappeared through the course of a day. We prefer baked mathris with our hot cups of tea, but you can serve them with any dip, pickle, or the ever-favorite - mint chutney.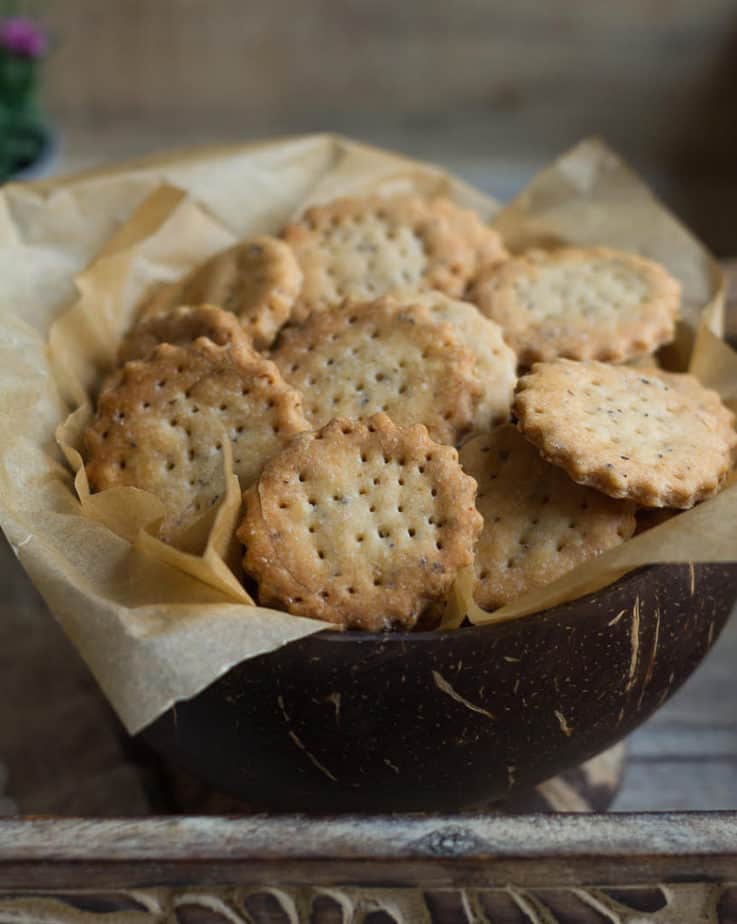 More Holi recipes
If you make this baked mathri, be sure to leave a comment and/or give this recipe a rating! I love getting to connect with you guys. You can also follow me on Instagram & Pinterest for more fabulous recipes.
📖 Recipe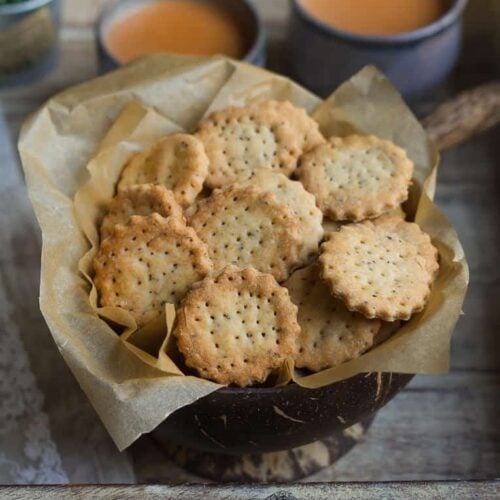 Print Recipe
Easy Baked Mathri
Easy baked mathri - flavored with ajwain (carom seeds) these crispy, flaky Indian snacks are very popular. This a healthier version of the traditional fried mathris, perfect with a cup of tea.
Ingredients
1

cup

Wholewheat flour

1

cup

All-purpose flour

2

Tbsp

Sooji ( semolina)

3/4

tsp

Salt

2

tsp

Ajwain ( Carom seeds)

3

tbsp

Oil

You can use ghee ( melted) if you prefer.

1/3-1/2

cup

Water

You may need more
Instructions
Combine the dry ingredients in a large bowl –all-purpose flour, whole wheat flour, semolina, salt, and carom seeds. 

Add the oil and rub it into the dry ingredients until the mixture resembles breadcrumbs and starts clumping together. 

Now very slowly, just a couple tablespoon at a time, start adding water.

Mix the dough with your hands until it starts coming together.

There is no need to knead it. The mathri dough is not soft. It has to be pliable but tight. 

Cover the dough with a cloth and let it rest for 30 minutes.

Preheat the oven to 180C. Line a baking tray with Silpat or parchment paper.

Divide the dough into two. Roll out each half to1/4th of an inch thickness.

 Prick the rolled-out dough using a fork. 

Cut into any shape you like using a knife or pizza-cutter or use a cookie-cutter.

Place on the prepared tray and bake for 25-30 minutes until light golden in color.

Cool completely and store in air-tight container. Enjoy!