What is any festival without an abundance of sweets and comfort food? This vegan phirni recipe is the perfect dessert to share with family and friends on this special occasion.
I'll admit, I have a love-hate relationship with Holi; I am not a fan of the playing with colors that leave me with pink residue in my hair for weeks, but I adore all the gujiyas and mithais that come along with it! After all, Holi ( like all other festivals) is all about celebrating happiness and love - what better way to do that than sharing comfort food with your loved ones?
My absolute favorite among them all? My mom's phirni. I could eat it by the gallon! So it's her recipe that I've shared here, with a little twist of my own.
What is Phirni?
Phirni is a rice + milk based pudding, which is sweetened with sugar. The flavor enhancers that are typically used traditional Indian spices - saffron (very generously) and cardamon. The texture of this dessert is delightfully creamy and silky.
Since milk is one of the base ingredients, you can imagine how my lactose-intolerant stomach can't handle the original recipe. With a simple switch from full fat to almond milk, its the perfect pudding for me and no one else can tell the difference!
Phirni is different from Kheer as it is made with ground rice whereas Kheer uses whole rice. The consistency here is more like a custard.
Also phirni is best served chilled whereas kheer can be served warm or cold.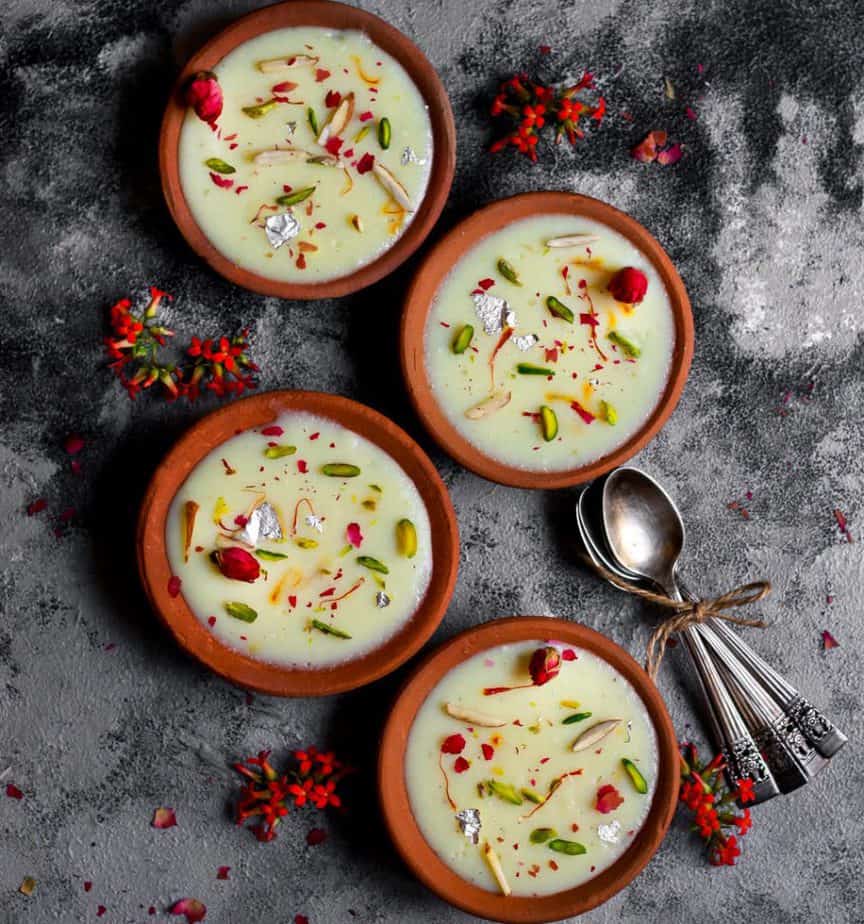 How to make Phirni
This is a pretty straight forward recipe. You begin by soaking rice in water for an hour. The rice is then drained and ground to a coarse paste. You coffee or masala grinder is the best appliance to use for this.
A little bit of milk or water maybe added to grind the rice.
The rice paste is then added to a pot of boiling hot milk and then its stir stir stir, for about 20-25 minutes. This mixture, needs to cook on low heat. It thickens fairly quickly but also gets lumpy rather fast. Hence the frequent stirring.
Once its thick and the rice is cooked through, the aromatics go in along with the sugar. Freshly ground cardamom and saffron soaked in warm milk get stirred in. Just a whiff of these beautiful spices makes desserts so special.
I am quite partial to raw sugar these days. So that's the sweetener used here. Regular granulated sugar will be just fine though.
Making Vegan Phirni
Traditionally this dessert is made with full-fat milk. But my lactose intolerance does not make it easy to indulge in my love for phirni. I decided to make a plant-based version which suited me better.
Using almond milk instead of full fat as my mom used to, makes this phirni lighter for me but just as creamy and delicious. Even if you are not lactose intolerant like me, it's a great plant-based recipe for anyone seeking a slightly healthier twist on a beloved Indian dessert.
Serving the dessert
This rich, creamy, subtly nutty phirni is usually served in shallow earthen bowls. But of course they sit pretty in lovely glass or terracotta dessert dishes too. If serving family style, then by all means use a large serving bowl.
A touch of silver leaf or varq, slivers almonds and pistachios and a sprinkle of rose petals ( fresh or dried) make phirni absolutely irresistible.
I'd love to hear from you! Please tag me on Instagram @tashasartisanfoods, using the hashtag #tashasartisanfoods. You can also FOLLOW ME on INSTAGRAM, PINTEREST for more fabulous recipes! Do subscribe to Tasha's Artisan Foods so you'll never miss a recipe!
Print Recipe
Phirni
Ingredients
1

ltr

Almond milk

You can use any milk of your choice

1/2

cup

Rice

15-20

Strands

Saffron, soaked in 1 tbsp of warm milk

1

tsp

Cardamom powder

1/2

cup

Raw sugar

Almond, Pistachio, Silver Leaf and Rose petals for garnishing
Instructions
Wash and soak the rice for 1 hour.

Drain the water and grind the rice with 2-3 tablespoons of almond milk to make a coarse paste.

Bring the almond milk to a boil and add the rice paste.

Cook on low heat, stirring very frequently, for 20- 25 minutes until the mixture has thickened and rice cooked. Please keep in mind the phirni thickens further as it cools.

Once thickened, take it off the heat and stir in the soaked saffron strands, sugar, and cardamom. Taste and adjust for sweetness.

Pour into your serving bowls. I like to serve phirni in small earthen bowls. Garnish with almonds and pistachios. Refrigerate for a few hours.

Serve chilled, topped with rose petals and silver leaf /varq ( if using ). Enjoy!