Kaju Katli is hands down our favorite Indian mithai. Fudgy bites that melt in your mouth, what's not to love? Not to mention, they are utterly gorgeous - diamond-shaped, topped with delicate silver leaf.
Normally, my big family of cousins, aunts, and uncles would gather on Rakhi to celebrate together and eat to our heart's content. We all exchange blessings, gifts, copious sweets, and share a big meal together. It is ordinarily one of the few times in the year when all us cousins get to meet up and spend the day together, reminiscent of our childhood days. Now, we are home for this holiday and adjusting to a different kind of celebration...all thanks to COVID!
Something my mom and I are doing our best to keep alive as we celebrate from a distance, is the food we would normally enjoy with the rest of the family. This brings us deep comfort as food is such an integral part of our festivities. So while she gets ready for a special lunch tomorrow, I used her recipe to make an all-time favorite dessert - Kaju Katli!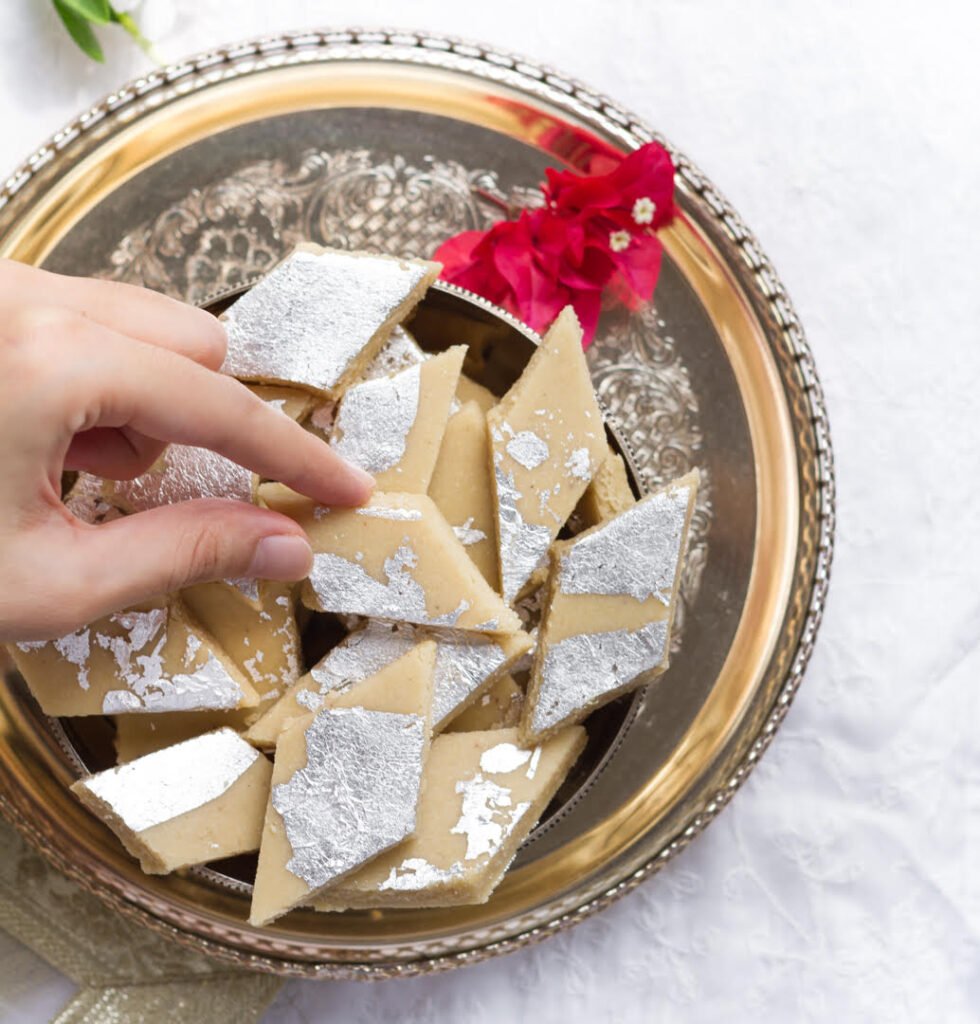 What is Kaju Katli
To those new to Kaju Katli, it is loosely translated - slices of cashew fudge. Kaju - cashews, are finely ground and mixed with sugar, water, and milk powder to make little diamond-shaped sweets. Traditionally, it is topped with Chandi vark (silver leaf). This is one of the most well known and beloved Indian sweets, most commonly associated with Diwali celebrations.
These little bites of cashew are absolutely divine. Sweet, rich, and chewy - there is a reason everyone's ears perked up when they heard I was making this! It is the kind of dessert that appeals to all and disappears in a flash.
How to make Kaju Katli
This was my first time making Kaju Katli, and I was pleasantly surprised by how easy it was! All you need for my mom's recipe are cashews, sugar, milk powder, elaichi (cardamom) powder, and some water.
Typically many Indian sweets require creating two string sugar syrups, which really freaks me out. I do not have the skill for that at all. This recipe calls for simple one-string syrup, only a handful of ingredients and some rolling action. Let's get into the steps!
Start with finely grinding your cashews. Cashews are soft and will grind quickly - make sure yours are at room temp. Sieve the ground mixture once to make sure that there are no large pieces.
Mix the finely ground cashews with milk powder and elaichi (cardamom) powder.
Now for the sugar. Heat the sugar and water on medium heat. Mix them well and let the mixture come to a boil. After that, let it simmer for a few minutes and then check for a one string consistency.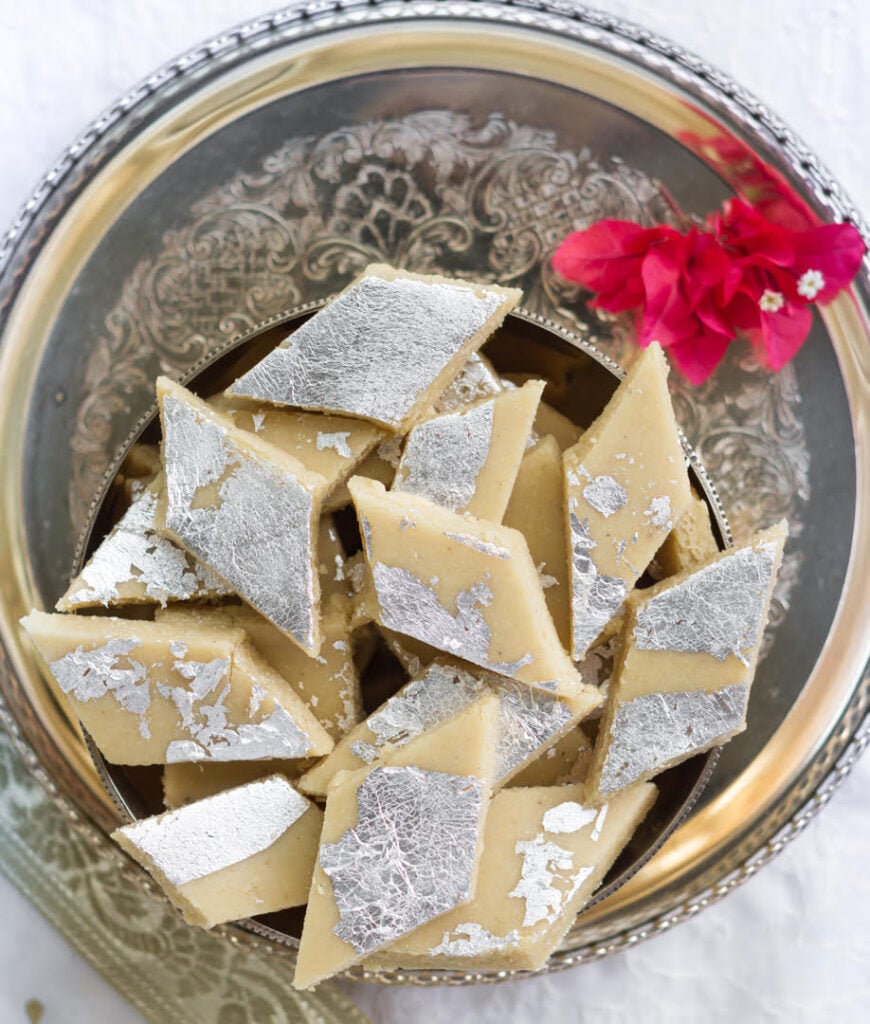 What is one string consistency?
This is when a single string/thread of the sugar mixture is formed between your fingers. You test by taking a few drops of the syrup between your index finger and thumb. If the mixture does not break as you pull between these fingers but instead forms a single "string" then you are good to go! For a more detailed guide on sugar string consistencies, you can read here.
Back to the recipe...
Once you reach the desired sugar consistency, turn the heat off and add in the dry ingredients to the pan. Mix this consistently till the dough is formed - do not leave it unattended.
You want to mix it till smooth and lump free.
The mixture will thicken and eventually, not stick to the sides of the pan.
Wait a few minutes till the mixture comes down from hot to warm and then knead it briefly with greased hands. It will become nice and smooth - which is the texture we want before rolling it out. This kneading process is key in giving our kaju katli to that melt in your mouth quality!
Transfer your dough to a greased plate or non stick parchment paper.
Cover your dough with parchment or butter paper and roll it out while it's still warm.
Roll the mixture out to about 1/4th of an inch in thickness. Let this cool and then you can add the silver leaf/chandni vark on top.
The final stage in making the kaju katli - cut the dough into diamond shapes! You can serve them immediately or let them set in the fridge/airtight box for up to 5 - 6 days.
Quick Notes
While this recipe calls for very few ingredients and simple steps, it's important to get every part of the process right. Precision and just a bit of elbow grease are vital to getting your kaju katli just right.
Make sure your cashews are at room temperature before grinding. When you grind them, sieving the mixture at least once is a must to get rid of any bigger pieces.
Do not grind the cashews too much - the mixture can go from fine to crumbly.
Be mindful when preparing the sugar syrup - measure both sugar and water precisely and keep a close eye on the mixture.
When adding the dry ingredients to the sugar syrup, do not do it all at once, otherwise, your mixture may get lumpy. Do this slowly and mix it till lump-free.
Do not leave the mixture unattended, stir continuously till it is ready. This really doesn't take very long, I promise. Just a few minutes.
Knead the final dough well before you get to rolling it out and cutting.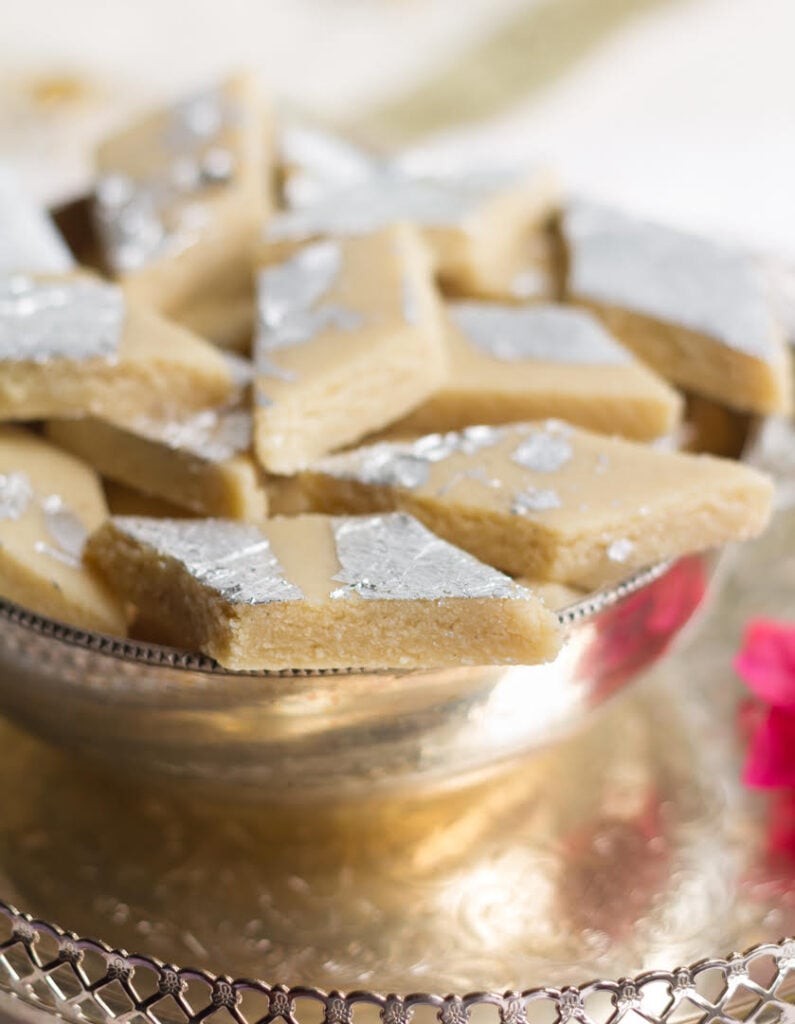 Other Homemade Indian Desserts to Try
You can never go wrong with homemade sweets. From family recipes to ones I have developed, here are my go to desi desserts for all special occasions.
📖 Recipe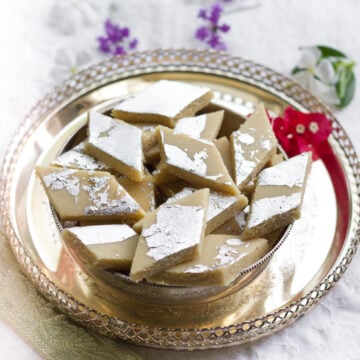 Print Recipe
Kaju Katli
Kaju katli is hands down our favorite Indian mithai. Fudgy bites that melt in your mouth - what's not to love? Not to mention, they are utterly gorgeous, diamond shaped, topped with delicate silver leaf.
Ingredients
500

gms

Cashewnuts

80

gms

Milk powder

1

tsp

Elaichi / Cardamom powder

300

gms

Sugar

100

ml

Water

Silver leaf / Vark

optional
Instructions
Grind the cashewnuts in your food processor or coffee grinder to a fine powder.

Sift them once to make sure there are no big pieces.

Mix in the milk powder and elaichi/cardamom powder. Make sure there are no lumps.

Bring the sugar and water to a boil in a kadai or wide pan. Cook for 3-4 minutes until the mixture reaches one string consistency.

One string consistency is when the sugar syrup forms a single thread between your thumb and forefinger.

At this point, turn the heat off and add the dry ingredients. Mix well till a dough is formed.

Let it cool for a few minutes. As soon as its cool enough for you to handle, knead briefly to get a smooth pliable dough.

Transfer your dough to a greased plate or thali or parchment paper.

Place parchment or butter paper on top. Roll the mixture out to a circle, about 1/4" in thickness. Cover with silver leaf or vark if using.

Let this set for 30 minutes or so. Cut into diamond shape and enjoy!