Come festive season, the heart wants one thing – delectable mouthwatering sweets that thrill the belly and the soul and the Coconut Cardamom Peda is just what the heart ordered!
With a week left, Diwali is undeniably in the air. Fragrant flowers, cheery candles, and dazzling diyas are dotting the homes. What's missing is the mithais, the ladoos, and the sweet -somethings.
It's bound to be a crazy busy time, so quick reliable recipes are a must.
You find a recipe that is quick yet a real crowd -pleaser like this coconut cardamom peda. The inspiration for it came from this recipe, but as ever, I gave it a personal, delectable touch.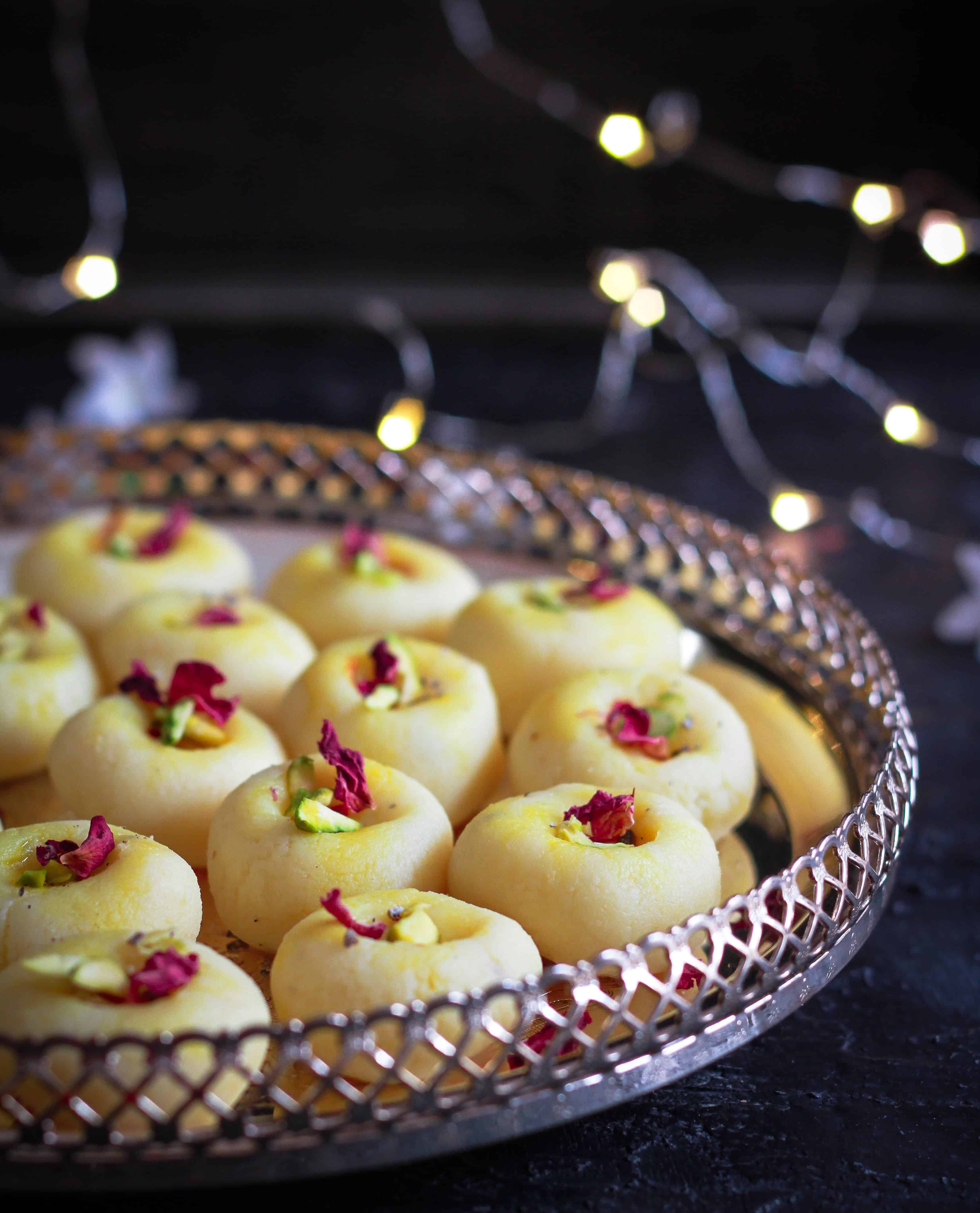 How to Make Coconut Cardamom Peda
First things first, pedas are soft, creamy fudge-like discs for those of you who are wondering. It takes about 20 minutes to make them, which is practically nothing. Plus, all I need are six ingredients, most of which are always lying around the kitchen!
Cook a mixture of milk powder, desiccated coconut, and sugar in ghee and milk. I chose to add a lesser amount of sugar than the original recipe and instead of cream, I stuck to milk. It makes for a lighter version of pedas while still retaining the sublime melt-in-the-mouth taste.
Once the mixture is cool enough to touch, sprinkle a teaspoon worth of the very addictive and aromatic cardamom powder into it while kneading. The motion takes away the grainy texture and creates a creamy smooth dough.
The fun part is turning the dough into the actual pedas. Roll a small-sized portion in your palm to make a ball and then press your thumb on top to get the perfect shape. Garnish them with dried rose petals and top it off with saffron, cardamom powder, and pistachio slivers for some crunch and zest.
There is really no dearth of mithai available in the market, especially at this time. But I still like to believe, there is nothing like making something at home. Make this a Diwali ritual, everyone at home will look forward to...these are the small things we remember and cherish, right?
Need ideas? A splendid complement to the intense coconut flavor of the pedas is besan burfi. To further ramp-up your arsenal of all-things-sweet, try the eggless buttery nankhatai.
If you'd like to indulge in a heavier version, switch the milk with cream and maybe add a bit of khoya too while making the coconut pedas. The beauty of cooking is that you don't have to stick to a formula. Pander to your own taste and preference.
Trust me, that's how all the beguiling delights make it to my table, especially during festivities.
I'd love to hear from you! Please tag me on Instagram @tashasartisanfoods, using the hashtag #tashasartisanfoods. You can also FOLLOW ME on INSTAGRAM, PINTEREST for more fabulous recipes! Do subscribe to Tasha's Artisan Foods so you'll never miss a recipe.
Coconut Cardamom Peda
Come Diwali, the heart wants one thing – delectable mouthwatering sweets that thrill the belly and the soul and the Coconut Cardamom Peda is just what the heart ordered!
Ingredients
2

cups

Milk powder

1/4

cup

Caster /powdered sugar

3/4

cup

Desiccated coconut

3

tbsp

Ghee

1/2

cup

Full fat milk

1.5

tsp

Cardamom powder

1

tsp

saffron soaked in 1tbsp warm water

Pistachio slivers for topping
Instructions
In a heavy bottom pan/ kadai, heat the ghee.

Stir in the milk powder, sugar, and desiccated coconut. Keep the heat low. And stir in the milk.

Cook, while stirring all the time. Once the mixture starts coming together, pulling away from the sides, take the pan off the heat.

Transfer the mixture to another bowl. Let it cool a bit.

When its cool enough for you to handle, add the cardamom powder and lightly knead the mixture, till its smooth.

Form into even sized balls, flatten them slightly and make a dent with your finger.

Garnish with the saffron and saffron water. Sprinkle with pistachio slivers. Enjoy!