Sooji Badam Halwa or Semolina Almond Pudding is one of the easiest and quickest desserts made in Indian homes. Be it any celebration or festival this is the most commonly made treat. But in our house, we have plenty of excuses to make it- rainy days, cold weather, sore throats, anyone feeling the blues…We love it that much!!
Apart from its lovely comforting taste, the ease of making sooji halwa, I think, makes it very popular. Essentially you only need three ingredients to make it - ghee, sugar and sooji/semolina. Well, make it four if you want to include water! Now this, not a dish that's calorie-conscious at all, but then I hardly ever think of food in terms of their calories. I'm happier practising moderation and balance…keeps my sweet tooth satisfied and in check!
Now back to the recipe. The other component of this sooji badam halwa, as the name suggests, is badam/almonds. They add a lovely nuttiness to this soft, melt-in-your-mouth textured dessert.  You can always play around with the proportions, add more or less of the ground almonds or to keep it classic, leave them out altogether.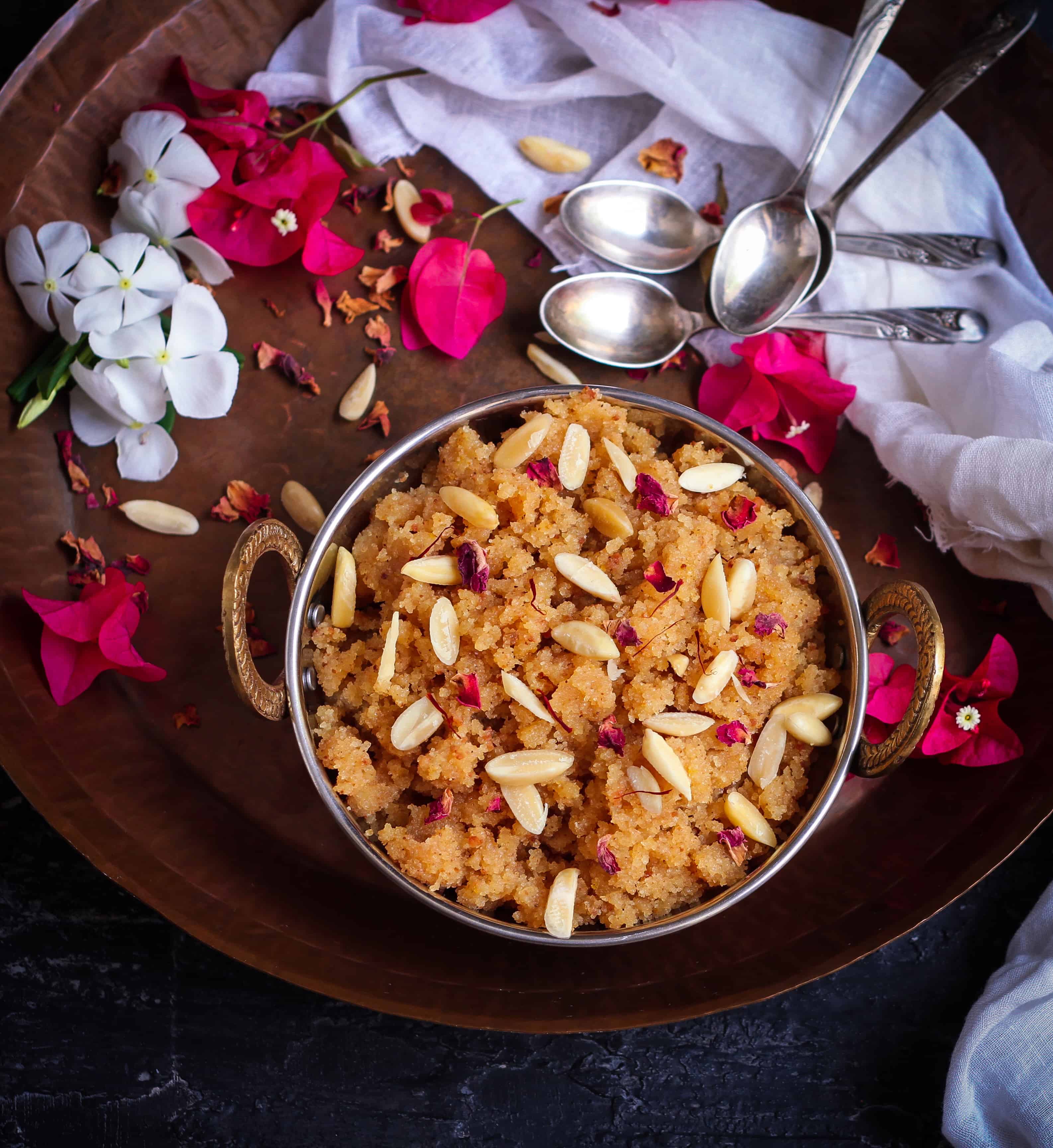 I like to dry roast the sooji till its light golden brown before adding the ghee and almond meal. It all gets roasted further till the sooji gets a deeper golden colour.  Do make sure you are roasting the semolina on low heat till fragrant. This ensures that there is no raw taste at all.
Saffron, along with green cardamom are my choice of flavourings in my halwa recipes. It always results in a beautiful, delicately aromatic dish that hits the sweet spot! Whilst I prefer to use water here, you can certainly use milk to make your halwa richer and creamier. I like to use cardamom and saffron-infused water for dissolving the sugar. It adds tremendously to the flavour.
Adding milk will result in a lighter-hued halwa though. I strongly recommend flavouring the milk with saffron and cardamom too. The taste is just sublime.
When you add the hot liquid, there will be a lot of splattering..so be careful. I like to turn the heat off when I stir in the water. And I also make sure I have a long-handled wooden spoon for whisking.
To ensure a smooth texture, do stir continuously as you add the liquid. You don't want a lumpy halwa!
If you try this Sooji Badam Halwa,  do let me know. I'd love to hear from you! Please do tag me on Instagram @tashasartisanfoods, using the hashtag #tashasartisanfoods. You can also FOLLOW ME on INSTAGRAM, PINTEREST for more fabulous recipes!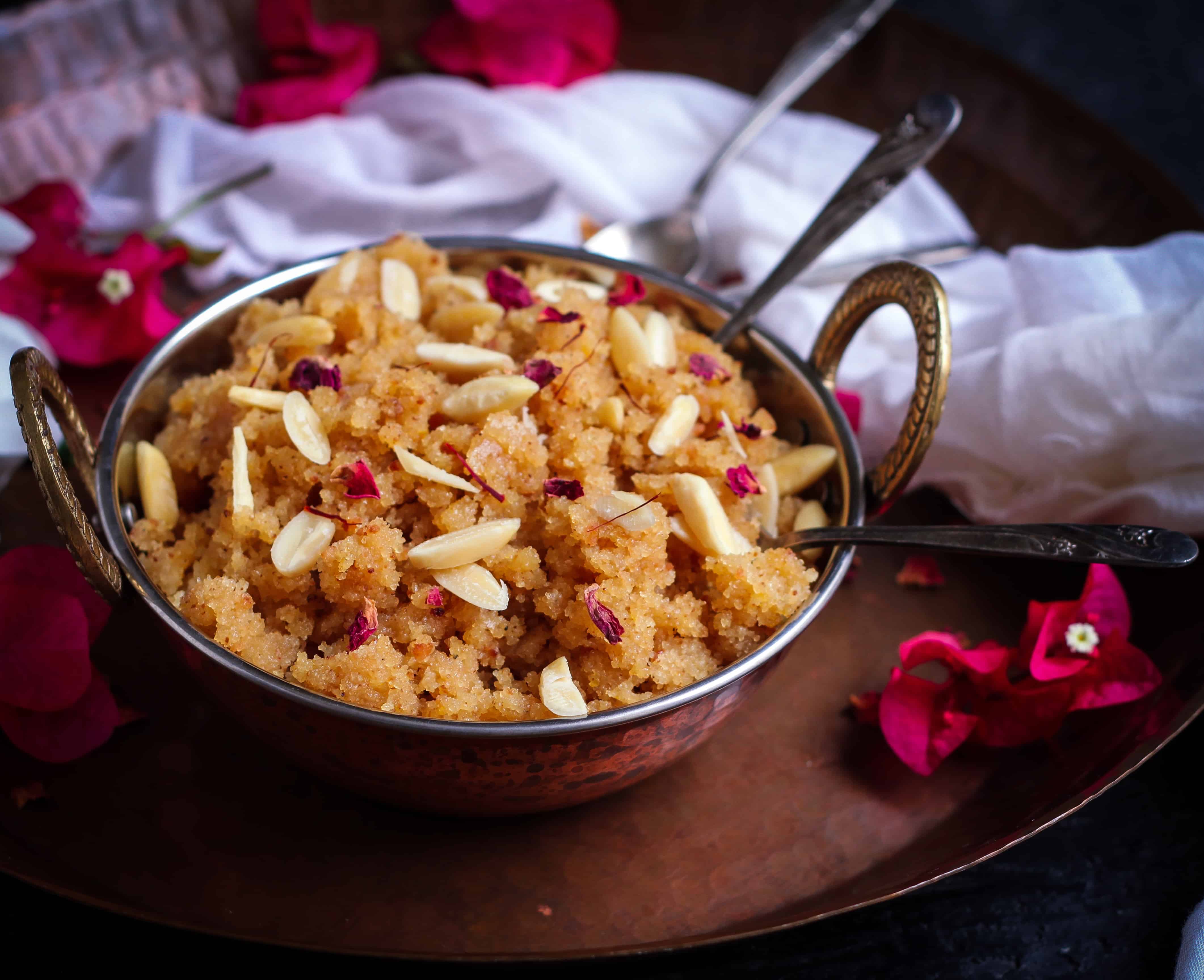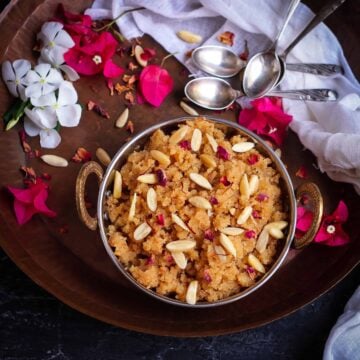 Print Recipe
Sooji Badam Halwa
Ingredients
1

cup

Sooji/Suji/Semolina

I use the fine variety.

1/4

cup

Almond meal

Simply grind almonds to a fine powder in your coffee/masala grinder

1/2

cup

Ghee

3/4

cup

sugar

3.5

cup

Water

6-7

Green cardamom pods, seeds crushed

1/2

tsp

Saffron

3-4

Tbsp

Slivered almonds for topping
Instructions
Heat a kadai or a thick bottomed pan, add the sooji. Dry roast it on medium -low heat till its lightly golden brown.

Now add the ghee and ground almonds to the sooji. Continue roasting on low flame. You have to keep stirring so the mixture doesn't burn.

In the meanwhile, combine the sugar, water, saffron and crushed cardamom seeds in a saucepan and bring all to a boil. Lower the heat and let it simmer for another 4-5 minutes. Take it off the heat.

By now, your sooji mixture should be golden brown. Slowly and carefully add to the sugar mixture. There will be a lot of spluttering. Keep stirring as the semolina will start to absorb the water and swell up.

Keep stirring till the mixture is thick and starts leaving the sides of the pan. Sprinkle with almonds and serve hot. Enjoy!