The chocolate swirl cheesecake bars are the kind of dessert that bring happy tears - artful spirals of rich, dark chocolate tango with tangy, creamy cheese layers on a crumbly, chocolate base.
How to make chocolate swirl cheesecake bars?
Cheesecake bars base
Mix crushed Marie biscuits with melted butter and cocoa powder till the consistency feels like wet sand.
Spread the mixture on a 9-inch square pan lined with parchment, and then pat it down evenly and firmly.
Bake this base for ten minutes at 180 °C.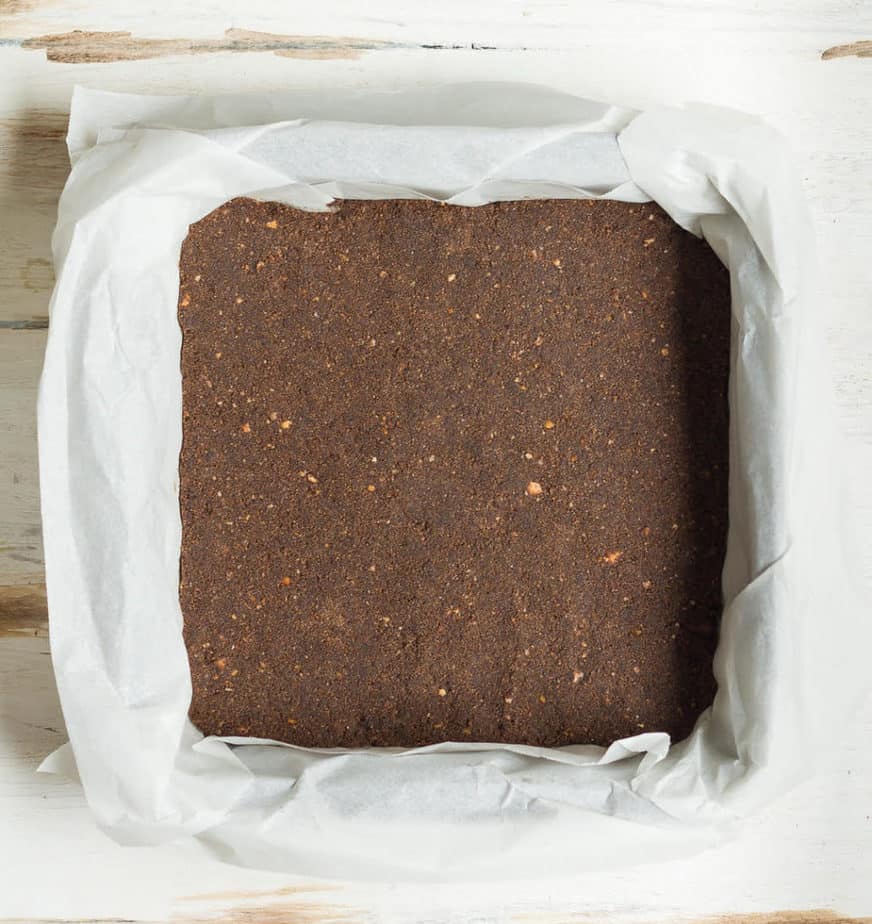 Chocolate cheesecake filling
In a large bowl, beat cream cheese, and raw sugar.
Add the eggs, one at a time.
Add vanilla extract, plain Greek yogurt, and finally all-purpose flour.
Divide the cream cheese filling into two bowls.
To one-half, whisk in melted, cooled dark chocolate. Leave the other half as-is.
Baking the swirl cheesecake bars
Pour part of the chocolate mixed filling on top of the baked base.
Follow it with the plain cheesecake filling.
Alternate between the two till you've used up all the batter.
Use a knife to make swirls and then bake for 50 minutes at 160 °C.
Crank open the oven door and let the cake cool inside.
Transfer to the counter and cool some more.
Finally, chill for a couple of hours, then slice into bars and serve.
My tips for baking cheesecake bars
Put the biscuits inside a plastic bag and use a rolling pin to crush them. Alternatively, you can blitz them in a food processor.
Add the eggs one at a time while beating the cream cheese. Let one mix completely before you add the next.
Don't put the cheesecake in a hot oven. After you've baked the base, let the temperature come down to 160 °C.
I always, always, always make cheesecakes a day ahead because I like to refrigerate them overnight, particularly in the summer months. It gives the cake enough time to set well, which makes it easier to cut neat slices. Plus, the texture and taste of chilled cheesecake bars are so much better.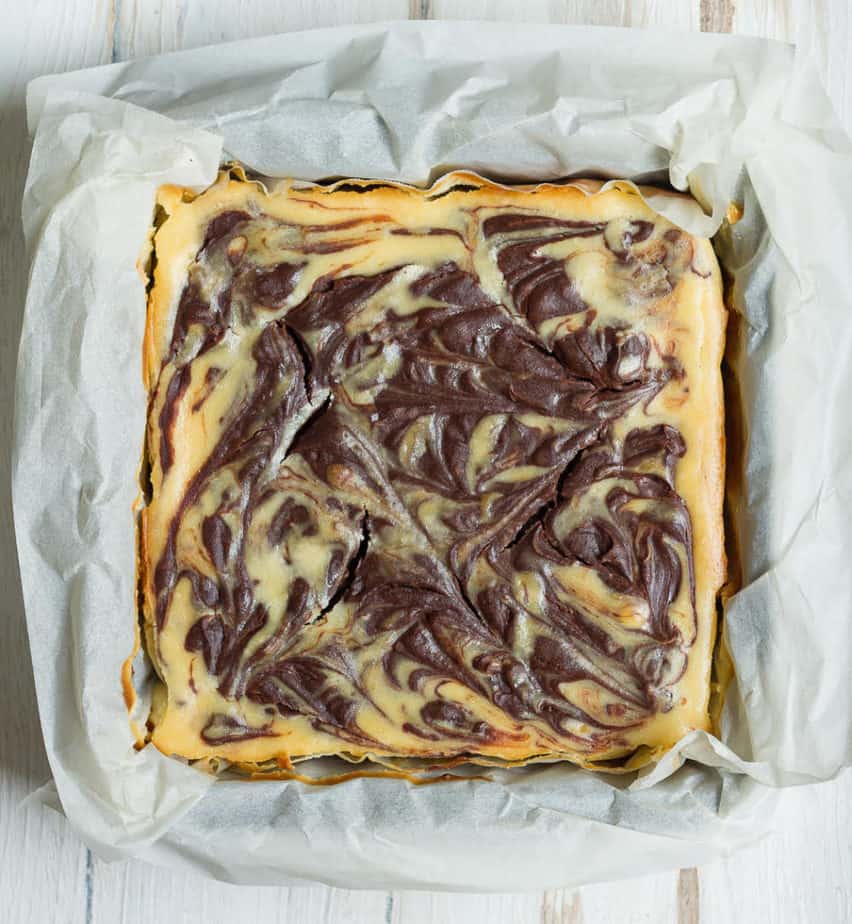 Chocolate swirl cheesecake bars FAQs
Why line the pan with a parchment overhang?
When you bake in a square pan, you worry about how to get the cake out of it without ruining it. The trick is to line the pan with parchment or foil so that part of it hangs over the edge.
That overhang acts as a handle that you can use to easily lift the cake out. For recipes like this one that have delicate layers, it's a godsend technique. You don't have to flip the cake to nudge it out of the baking tin.
How to bake a cheesecake without parchment?
In case you don't have parchment or foil, grease the square pan liberally. After the cheesecake is baked, don't take it out. Let it cool and chill in the pan.
Cut the bars while the cake is still inside, and then gently slide each square bar out. With parchment, you would take the entire cake out first and then slice it into bars.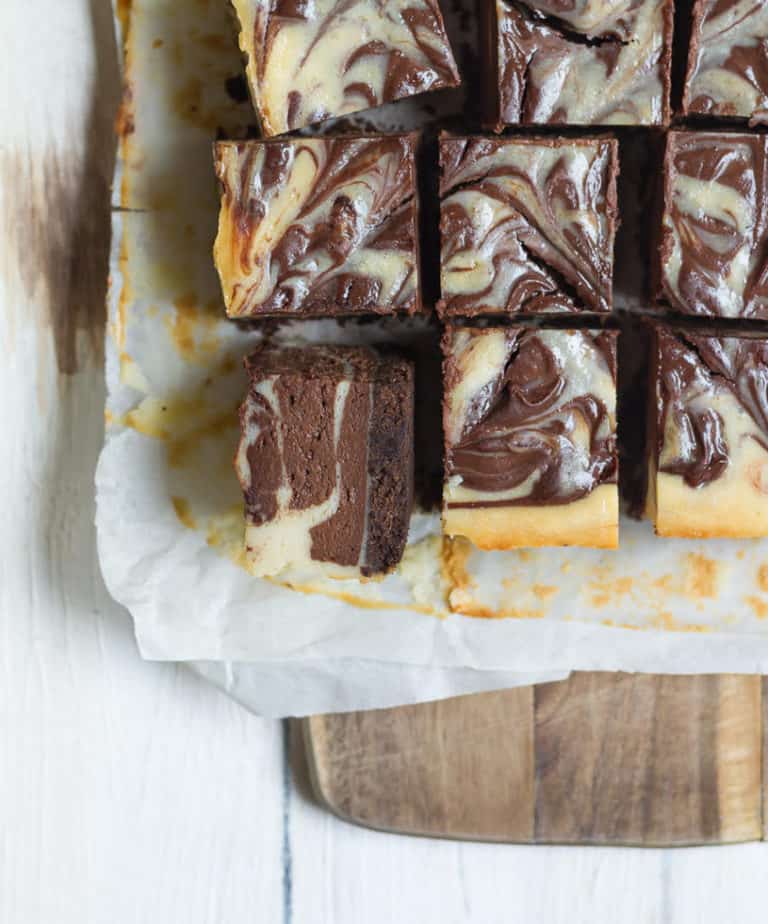 What pan can you use to bake swirl cheesecake bars?
I use a 9-inch square pan, but a regular, round loose-bottom pan will work for the recipe too.
How do you know when the cheesecake is done baking?
When the cheesecake is very slightly golden around the edges, and the center has a beautiful wobble to it. That's when it's done baking.
How do you stop a cheesecake from cracking?
Your cue to turn off the oven is when the cheesecake has a springy feel. Leave the cake inside with the door ajar for about 20 minutes. This will ensure that the cheesecake doesn't crack due to overheating, but still give it sufficient time to bake through.
How to make eggless chocolate swirl cheesecake bars?
For an eggless cheesecake recipe, use my saffron cardamom cheesecake as the basic reference.
What else can you use in chocolate swirl cheesecake bars?
Biscuits: Graham crackers and digestives are both excellent substitutes for Marie biscuits.
Cocoa powder: I wanted an intensely chocolaty punch to my cheesecake bars, which is why I incorporated cocoa powder in the base. Omit it, if you so wish.
Chocolate: My family definitely has a sweet tooth. Nevertheless, it's the flavors that we enjoy more than the sweetness, which is why we love the idea of dark chocolate ribbons running through the tangy cream cheese filling. It balances the sweetness of the cake.
Hence, I used 70% chocolate in the recipe. Feel free to use any chocolate you prefer – 55%, 30%, or even milk. But please make sure it is a good quality baking chocolate. Candy bars are not meant for this recipe.
Greek yogurt: You can sub the yogurt with either regular cream or sour cream.
Sugar: I have been stocking bags and bags of raw sugar in my pantry ever since it became my favorite baking ingredient. It is not essential to the cheesecake bars recipe. Beat in regular white sugar if that's what you have at hand.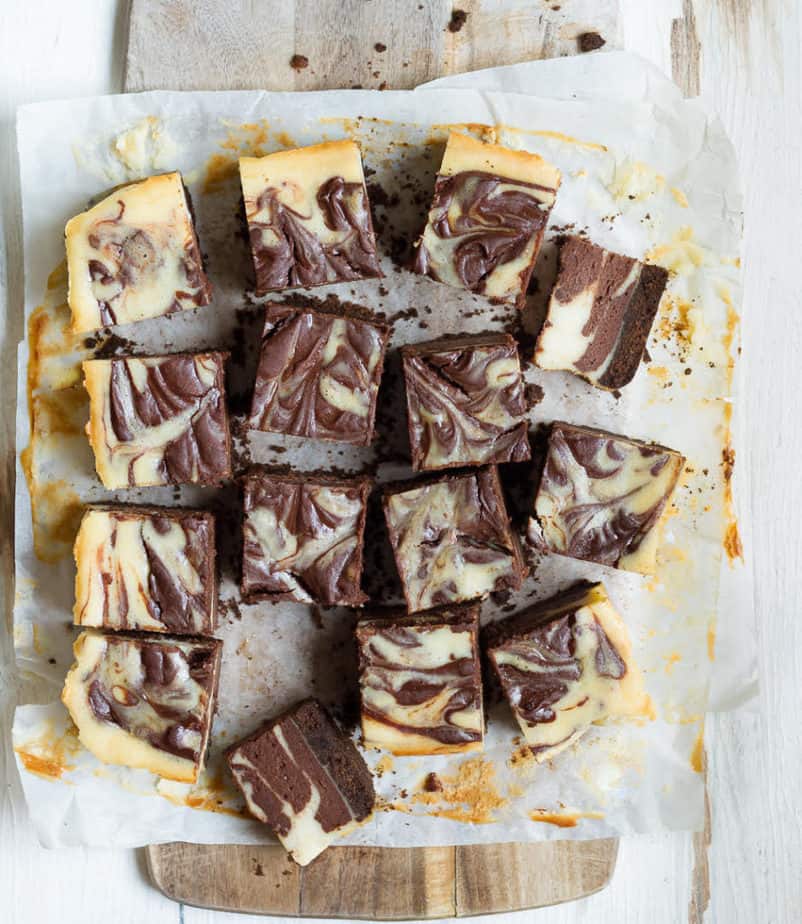 Try the chocolate swirl cheesecake bars. They are:
Easy to make.
Perfect for any celebration.
The texture is decadent, lush, and velvety.
Taste is deliciously tangy, sweet, and chocolaty all at the same time.
Appearance is a show-stopping marbled effect that requires no effort on your part.
Serving ideas for chocolate swirl cheesecake bars
With the most gorgeous chocolate and vanilla swirls eddying through the bars, I think they need no garnish. Trust me, you'll fall in love with the first look.
But more chocolate never hurts. So maybe drizzle some on top? Or serve with fresh berries on the side to balance the flavors and bring a pop of color.  Or maybe just with a cup of coffee!
Love cheesecakes? Then you must give these recipes a whirl:
Cream Cheese Swirl Banana Bread
📖 Recipe
Print Recipe
Chocolate Swirl Cheesecake Bars
The chocolate swirl cheesecake bars are the kind of dessert that bring happy tears - artful spirals of rich, dark chocolate tango with tangy, creamy cheese layers on a crumbly, chocolate base.
Ingredients
Cheesecake Crust
100

gms

Butter, melted

200

gms

Marie biscuits, powdered

1

tbsp

Cocoa powder
Cheesecake Filling
500

gms

Cream cheese, at room temperature

175

gms

Raw sugar

You can use regular white sugar too

3

Eggs, at room temperature

2

tsp

Vanilla extract

90

gms

Plain Greek yogurt, room temperature

45

gms

All-purpose flour

100

gms

Dark chocolate (70%), melted and cooled
Instructions
Cheesecake Crust
Preheat your oven to 180C.

Combine the melted butter, crushed cookies, and cocoa powder in a small bowl. This mixture should have the consistency of wet sand.

Press it down evenly at the bottom of the pan. Bake for 10 minutes at 180C. Remove from the oven.

Lower the oven temperature to 160C while you prepare the filling.
Cheesecake Filling
Beat cream cheese and raw sugar in a large bowl with an electric mixer.

Add the eggs, one at a time.

Mix in the vanilla extract.

Beat in Greek yogurt and all-purpose flour. Whisk well until smooth.

Divide the batter equally into 2 bowls. Add the melted, cooled chocolate to one bowl.

Pour the two batters alternatingly, ending with chocolate batter.

Run a knife through the batter to create swirls.

Carefully place in the oven and bake at 160C for 50 minutes. The top of the cake should look cooked and the center should be a bit wobbly.

Turn off the heat and slightly crack the door open and allow it to cool for 30 minutes.

Let the cake cool on the countertop for another hour and then refrigerate for at least 10 hours for it to set completely. Remove carefully from the pan, and cut it into 16 squares.

Serve cold. Enjoy!