When I tinker with a recipe these days, I hardly think about the flour I'm using. I know instinctively when whole wheat would make a good substitute for all-purpose or when I can add buckwheat.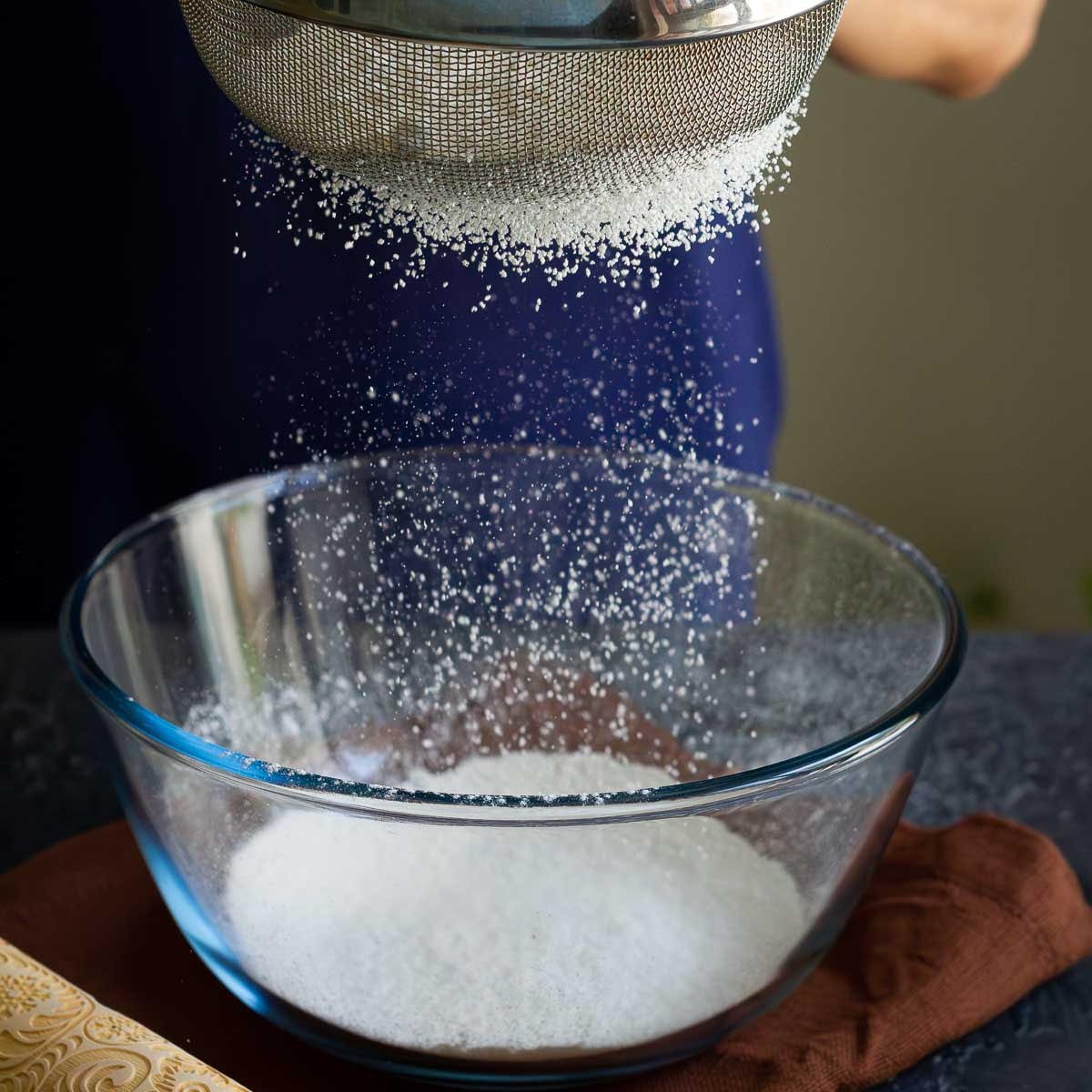 It wasn't always so. There was a time, eons ago, when I was naïve about how much flour impacts the texture, color, moisture content, spread, and nutritional value.
That's why I know many of you, new to baking, are in the same boat. So, I'm back with another essential to baking guide. This time we're exploring the most common types of baking flours and when you should use them (or not).
Jump to:
Different types of flour you can use for baking
Flours are the very foundation of baking. To understand why the same recipe gives such drastically different results with all-purpose flour or buckwheat flour, you need to know a little about what they're made of. (Just a tiny bit, no chemistry involved.)
How does the protein content of flour affect baked goods?
Of all the nutrients flours are made of (carbs, fat, minerals, vitamins, fiber), the most important one is protein. At least for bakers.
Why? Because the amount of protein affects how easily and how much gluten forms in the dough or batter.
What is gluten? You know, the stretchy strands you feel in the dough? That's gluten. It's what gives structure and architecture to your bread, muffin, cake, cookie, yadda, yadda, and forms the crumb.
When there is more protein in the flour
The more gluten, the stronger the dough, the chewier, airer, and crustier your baked goods. Protein also alters color. Flours with more of it give you browner cookies, biscuits, and bread.
One more thing: proteins absorb a lot of liquid, which is why the batter doesn't spread as much.
When there is less protein in the flour
The fewer the gluten strands, the softer the dough, the tender and fluffier, your baked goods. So, flours with less protein are great for cakes, cookies, and pie crusts.
Because they don't absorb the liquid ingredients as much as high-protein flours, they create more steam when the batter or dough is baked. So, the baked result rises more and is puffed up.
Whole wheat flour
Color: darker
Flavor: nutty and sweet
Protein content: highest (around 11 to 15%)
Whole wheat flour needs no introduction, especially if you live in India. Atta is synonymous with whole wheat here, and a pantry staple that we use for chapatis.
For those new to whole wheat flour, it is the healthier alternative for cakes and bread. It has a more pronounced flavor, which it asserts on every recipe and gives it a coarser texture.
Also, 100% whole wheat flour is incredibly dense. If a recipe calls for all-purpose flour, you can't simply use whole wheat flour in its place. You'll have to adjust the wet ingredients for the recipe to work because the flour requires more moisture.
Don't let that deter you from trying to make the switch. It's rather easy to increase the liquid content in the recipe, and once you get the hang of it, you'll love baking with whole wheat.
Whole wheat flour recipes I love
Ajwain crackers (carom seed crackers)
Banana peanut butter chocolate chip cake
All-purpose flour
Color: white
Flavor: mild
Protein content: high (around 9-12%)
The name says it all. It's the one flour you have to have in your pantry if you want to bake. It works for almost all recipes, from biscuits to cupcakes to breads. It's softer, lasts longer, and but barely has any natural nutrition because it is processed wheat flour.
It is also a very reliable flour, so with nary a worry, go ahead and use it in any recipe that mentions a different flour.
All-purpose flour recipes I love
Specialty flours
I've never baked with specialty flours as they're either not available in India or are very expensive. And I like to incorporate ingredients that anyone, anywhere can find and use with ease. But here's a little about them:
Cake flour
Cake flour has the lowest protein content, at around 7 to 8%. It rises very well and makes for light and airy cakes. Hence the name.
Substitute for cake flour: Sift in three-quarter cup of all-purpose flour three tablespoons of cornstarch.
Self-rising flour
Self-rising flour is a mix of salt, baking powder, and all-purpose flour. Never use it unless a recipe specifically mentions it, because you will need to tweak both the amount of salt and baking powder.
Substitute for self-rising flour: Sift in a cup of all-purpose flour, 1 teaspoon of baking powder, and ¼ teaspoon of salt.
Bread flour
Like whole wheat, bread flour has a godly amount of protein, around 12 to 14%. It needs to be kneaded really, really thoroughly to form the gluten structure. But once it does, the dough is sturdy, which is why bread flour is excellent for dinner rolls, bagels, pretzels, and, of course, breads. They have more body, are very chewy, and rise beautifully.
Substitute for bread flour: All-purpose flour is a fine replacement. You can even add some vital wheat gluten to all-purpose flour to increase the protein content. We only get imported bread flour here and it's rather expensive. So I like to use a mix of whole wheat flour and all-purpose flour as an alternative, sometimes.
Gluten-free flours
It took me some time to wrap my arms around gluten-free flour, but once I did, there was no letting go. They're versatile, more wholesome, and deliver dimensions to the flavor, texture, and mouthfeel that all-purpose flour simply can't.
With gluten-free flours, especially if you or anyone in your family has a gluten allergy, you need to make sure that the flour is certified. Why? Because often the flours are processed in the same factory as flours that do have gluten in them.
A tip when baking with gluten-free flour is to always add an egg or a substitute for it. It's necessary to give the dough or batter structure because the strength that gluten imparts is missing. To keep the recipe vegan and eggless, use:
Almond flour
Made of ground-up nuts, almond flour is chock-full of protein. For years, I've been making almond meal at home by blitzing blanched and peeled almonds in my coffee grinder. It was for my persimmon upside-down cake that I bought almond flour for the very first time.
Is there a difference? Yes, the texture is not the same. Store-bought almond flour is super fine, while the one I make at home is coarser. The ready-made flour is definitely convenient, but the homemade one lends far more depth to the flavor profile.
Almond flour recipes you'll enjoy
Buckwheat flour
I love, love, love baking with buckwheat flour, which we call kuttu ka atta. It's one flour I swear by. Made by grinding buckwheat flour, the flour has a wonderful nutty essence to it. From scones to cookies to pancakes, I've baked everything under the sun with it. You can use it alone or mix it with any other flour you love.
Buckwheat flour recipes you'll enjoy
Buckwheat Chocolate Layer Cake
Apple Cinnamon Buckwheat Waffles
Oat Flour
Like almond flour, oat flour too has a nutting undertone to it. I prefer to buy mine, making sure it is 100% gluten-free certified. However, it's a breeze to make. All you do is zap oats in your food processor or coffee grinder.
Oat flour recipes you'll enjoy
Quinoa Flour
Quinoa is a superfood, packing a powerful punch of nutrients. Its flour is brimming with proteins. So, when I'm in the mood to bake something healthy (yet indulgent), I automatically reach for it.
Quinoa flour recipes you'll enjoy
Amaranth Flour
For another gluten-free and healthy substitute, I recommend mixing amaranth flour with all-purpose flour in a 1:4 ratio. Made from amaranth, it has an earthy melody that you'll enjoy in cakes and scones.
Amaranth flour recipes you'll enjoy
Tips for the casual baker to navigate the wild world of flours
For casual bakers, the world of flours is wild. And when you're just getting into the groove of baking, it's somewhat terrifying. But, believe me, it's not, and you're going to love the journey of exploring every flour possible. I did and still do.
Hoping to take some of that hesitancy away, I leave you with three lessons I've learned over the years:
For absolute beginners and amateurs, all-purpose flour is the best choice. Stick to it and your bakes will be delicious. Once you get comfortable with it, try the same recipe with half whole wheat and half all-purpose flour.
When only using whole wheat flour, bakes can get drier than usual. Remember, it loves moisture and soaks it up greedily. Increase the liquid content and you'll be golden.
Starting with gluten-free flours? Mix and match them with all-purpose or whole wheat flour. It'll up the nutritional value of your bread, cake, cookie, or muffin and adjust you to using a different flour.