Peach shortcake, with creamy sweetness in every bite, is a balmy delight. The fluffy biscuits paired with juicy fruit are a feast for the senses. The whipped yogurt just ties it together in a subtly honeyed ribbon.
Think summer on a plate. The slow dancing balance of flavors and textures is simply elegant, with each morsel melting in your mouth like ambrosia.
Popularly they are split in half, topped with whipped cream and strawberries, and then relished. But since strawberries are a few months away, I gave them a peachy twist. With a healthier and lighter touch!
What is a shortcake?
A great shortcake is like a fluffy, flaky scone, only better. In the traditional sense (read: American), they are biscuits so light and tender that they greedily soak up the juices and flavor of the fruit stacked inside.
Shortcakes are so-called because the liquid ingredients are mixed with dry just enough to form a crumbly dough that has 'short' gluten strands.
To me, they are reminiscent of sumptuous high tea treats. They are also godsend saviors because you can freeze shortcakes. I just need to pull them out when the urge for a quick dessert strikes or when guests pop over unexpectedly.
How to Make a Peach Shortcake?
There is nothing easier than making a peach shortcake and from start to finish, it takes only 40 to 45 minutes!
You combine raw sugar, all-purpose flour, quinoa flour, and baking powder and then cut in cubed, chilled butter with your fingertips to get a coarse breadcrumb-like texture.
I mixed in quinoa flour, to make these biscuits a touch more wholesome. In order to avoid refined sugar, I used raw sugar here. And it works very well!
To this, lightly whisk in homemade almond milk with a fork and then gently bring it together using your hands.
I didn't use a rolling pin to shape the dough. Instead, with floured hands, I patted it into a round shape and then cut it using a cookie cutter.
Quick notes
Make sure your butter and milk are cold, because that's what gives the peach shortcake the tender, flaky layers our souls crave for in desserts.
If you can still feel clumps of butter, don't worry. They create tiny, airy pockets in the dough and help it rise better.
You don't need to knead the dough, just pat it. It'll be moist to touch, so when you're rolling it, keep the surface and your hands well-floured.
Baking the peach shortcake
Place the cut dough in a tray, and let the oven do its magic for 15 minutes.
Right before, I slid the shortcakes in the oven, I brushed them with almond milk and topped with cinnamon and sugar mixture, but this step is entirely optional. If you don't have the time, please feel free to skip it.
While the shortcakes bake, get to macerating the peaches because no matter how good the biscuits are, the leading lady of this dessert is the fruit.
Macerating tenderizes the peaches just a touch and helps draw out the liquid. Think of it as a sweet, peach-flavored syrup to soak into your biscuits.
To macerate, toss the cut peach slices with sugar and let it sit until the juices start to flow, and the fruit is soft, luscious, and flavorful.
Serving the Peach Shortcake
Shortcakes are extra versatile. Not only can you make them ahead, but can also serve them in endless combinations.
They are gorgeous on their own with a bit of butter or jam slathered. Just remember to let the shortcake cool a bit before you dig in. Or you can serve them with whipped cream and peaches.
I took the easy, and healthier way out and used yogurt. I'd been yearning to try a brand-new coconut yogurt that's launched here, and I finally got my hands on some.
So, my peach shortcakes were served with whipped coconut yogurt, a few extra slices of peaches on the side, and slivers of roasted almond. Needless to say, none of us came up for air until all that was left were clean plates.
The coconut yogurt was surprisingly mellow, very thick, and utterly creamy. In short, really good. It makes a great substitute for Greek yogurt, which is another fantastic accompaniment for peach shortcake.
You can, of course, just opt for the traditional whipped cream.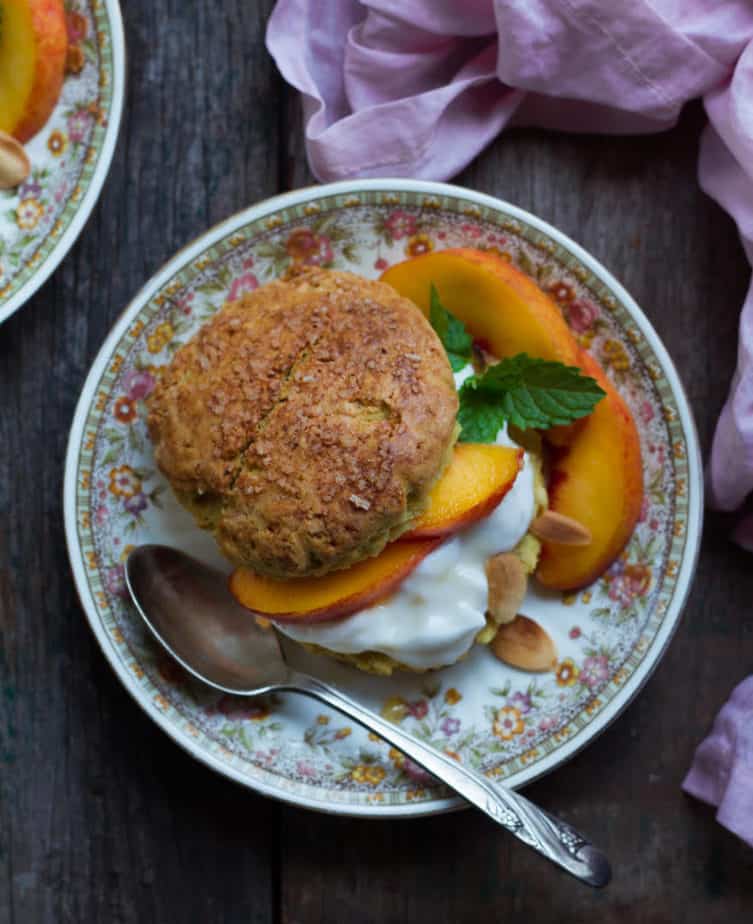 Variations of peach shortcake
You can serve shortcakes with myriads of fruits. Strawberries are an obvious choice, but cherries and plums make a brilliant swap. Fresh mangoes, apricots, or even berries will do if that's where you taste buds lie.
The versatility of shortcake is not limited to the boundaries of fruits. You can add a hint of cinnamon in the dough or even lemon zest. Try drizzling some honey or maple syrup to make the shortcake a tad sweeter.
For a dairy-free, vegan peach shortcake use chilled coconut oil instead of butter. It was too hot and humid here for my coconut oil to chill properly; otherwise, I would've opted for it in a jiffy.
I'd love to hear from you! Please tag me on Instagram @tashasartisanfoods, using the hashtag #tashasartisanfoods. You can also FOLLOW ME on INSTAGRAM, PINTEREST for more fabulous recipes!
📖 Recipe
Print Recipe
Peach Shortcake
Peach shortcake, with creamy sweetness in every bite, is a balmy delight. The fluffy biscuits paired with juicy fruit are a feast for the senses. The whipped yogurt just ties it together in a subtly honeyed ribbon.
Ingredients
Shortcake / Biscuits
2

cups

All purpose flour

1

cup

Quinoa flour

You can substitute with all-purpose flour or any flour of your choice.

1/4

cup

Raw sugar

1

tbsp

Baking powder

1/2

cup

Butter, chilled and cubed

You can use chilled coconut oil

3/4

cup

Almond milk

You can use any milk or even cream
Peach Filling
4

Peaches, sliced

1/4

cup

Raw sugar

3/4 -1

cup

Coconut yogurt or Plain Greek yogurt, whipped

You can also use sweetened whipped cream

1-2

tsp

Honey

Optional
Instructions
Peach Filling
Combine the sliced peaches and raw sugar gently in a bowl. Let this mixture sit for 15-20 minutes.
Shortcakes /Biscuits
Preheat your oven to 200C. Line a baking tray with baking paper or Silpat.

In a large bowl, whisk together all purpose, quinoa flour, baking powder and raw sugar.

Add the cubed butter and using your fingertips, cut into the dry ingredients until it looks like coarse breadcrumbs.

Pour in the milk. Stir it all together until the mixture comes together like a scraggy dough.

Turn it out to a floured surface and gently it bring it together in a ball. We don't need to knead the dough.

Flour your hands and pat the dough into a 1" thick circle. Use round cookie cutter to cut into 10-12 circles.

Gently place these on the prepared tray. Brush with almond milk and sprinkle over the cinnamon - sugar mixture.

Bake for about 15 minutes or until the tops are golden brown.
Assembly
Once the shortcakes are cooled, split them in half. Spoon over the yogurt or whipped cream and the peaches over the bottom half. Drizzle over some honey if you want. Cover with the second half of the shortcake /biscuit.

Serve immediately. Enjoy!