This past month, I started a love affair with persimmons, and I was surprised to learn that they're grown all over the northeastern part of India. Yet, the luminous golden orbs that can brighten even the greyest winter day rarely make it to my fruit bowl. 
I finally decided to sate my curiosity and, in my enthusiasm, bought a ton load of them. We found its sweetness delicious and very similar to dates or honey. Most of the fruit was enjoyed fresh, but I did save a few for the upside-down persimmon cake.
And believe you me, the cake surpassed all my dreams. It's absolutely wonderful with a moist, fluffy, and marvelously soft crumb, thanks to the oil and yogurt. And the caramelized fruit juices running rivers through the batter give it so much flavor.
Jump to:
Upside-down persimmon cake recipe
Garnishing ideas for festivities
What's a persimmon?
Persimmon is a gorgeous, seedless fruit that looks bizarrely similar to ripened tomatoes and is called amarphal, or Japani phal, here. It's fairly decently available at this of the year; I bought mine from a local vendor.
If you're new to persimmon, remember this when shopping. There are two categories: The first is astringent, and when it is unripe, the taste makes your mouth pucker from the bitterness. But the ripe ones look like jewels and are creamy, sweet, and perfect for cakes.
The second category is non-astringent. These persimmons have a crisper taste, so they're best in salads or as snacks. Both varieties have more dietary fiber and minerals than apples. They're also an excellent source of manganese and beta-carotene.
How to make an upside-down persimmon cake?
Keep aside the fact of whether you eat persimmon or not and make this cake anyway. It celebrates the fruit, and the star imprint gives it a quintessential holiday feel and gets the ball rolling for that time of the year. 
Prep the pan
Thinly slice 2 persimmons.
Grease your cake pan. I used an 8-inch one. And then line it with parchment paper. Grease the paper too so that the baked cake doesn't stick, and taking it out is a breeze.
Sprinkle raw sugar on the bottom and then arrange the persimmon slices on top. 
Mix the ingredients
In a bowl, sift whole wheat flour, almond flour, baking powder, baking soda, and salt.
Spice it up with cinnamon, nutmeg, and ginger powder.
If you have pumpkin pie spice or love the taste of it, feel free to include it too.
Stir in raw sugar.
In another bowl, whisk yogurt, coconut oil, and vanilla extract.
Fold the dry ingredients into the wet using a gentle hand. Don't overbeat the batter. Mix until there are no dry, white streaks visible and the batter is lump-free.
Bake the batter
Pour the thick-ish batter into your prepared pan. 
Bake for a good 35 to 40 minutes. When you insert a skewer to check for doneness, it should come out clean.
After it is baked, let the persimmon cake cool for 15 to 20 minutes.
Then flip on your serving plate and serve immediately. It's mouthwateringly delicious when warm or at room temperature.
Deck up your upside-down persimmon cake for the festivities
Persimmons are like ornaments, sitting pretty wherever they are. But once you cut them, they become downright gorgeous with a starburst pattern at the center of each slice.
That's my long-winded way of saying the cake needs no adornment. It's Instagram-worthy as-is. But I wanted to make it more festive. So, I scattered pistachios and pomegranate arils on top, a hat-tip to holly leaves decked with red berries.
What else can you use in the persimmon cake recipe?
Flour: All-purpose flour is a great substitute for whole wheat flour, or you can use half of both.
From scones to cakes, I've been baking with homemade almond meal for years. This time, I used store-bought almond flour and frankly found it very convenient. Not that making it at home is tough.
You blanch, peel, dry, and then grind almonds in a coffee grinder. That's all there is to it. But somehow the consistency is different. So, for the almond flour, I'd say buy it. It is an expensive proposition but worth it.
Don't want to spend on it? Then make almond meal at home. It'll add more of a nutty bite to the cake and that's a good thing!
Sugar: Instead of raw sugar, brown sugar, coconut sugar, cane sugar, or even regular white sugar is fine. Keep in mind, that the cake's color will change based on the sugar.
How to make vegan upside-down persimmon cake?
The cake is already eggless, so all you need to do to make it vegan is use a plant-based yogurt.
Can I add egg to the spiced persimmon cake?
Yes, of course. Substitute the yogurt for 2 eggs and remember to add ¼th cup of warm milk to the wet ingredients to maintain balance.  
How to serve persimmon cake?
The four of us enjoyed a simple slice each. But if you're serving it as dessert during a Christmas party (or any other gathering), a scoop of vanilla, a dollop of whipped cream, or a side of warm custard will be exquisite.
Never tried persimmons? Start with this cake recipe because:
Rises well
Low-effort
Fun to make
The best seasonal cake
Soft, moist, and pretty as a picture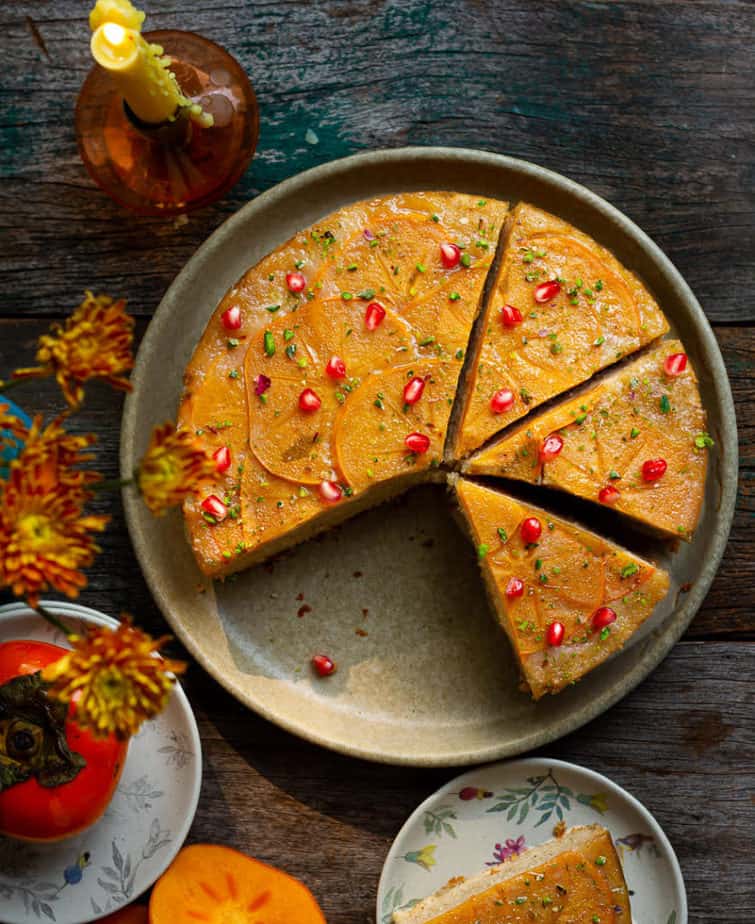 When you're done with upside-down persimmon cake, try these:
📖 Recipe
Print Recipe
Upside-Down Persimmon Cake
Upside-down Persimmon Cake is moist, fluffy, and has a marvelously soft, spiced crumb! And the caramelized fruit juices running rivers through the batter give it so much flavor.
Ingredients
2

Persimmons, thinly sliced

3

tbsp

Raw sugar or Brown sugar

1.5

cups

Wholewheat flour

1/2

cup

Almond flour

1.5

tsp

Baking powder

3/4

tsp

Baking soda

1/4

tsp

Salt

1

tsp

Cinnamon powder

3/4

tsp

Ginger powder

1/2

tsp

Nutmeg powder

3/4

cup

Raw sugar

1.5

cups

Greek yogurt, plain

1/2

cup

Coconut oil

You can use any vegetable oil you prefer

1.5

tsp

Vanilla extract
Instructions
Preheat your oven to 180c. Grease an 8" pan very well. Line the bottom with parchment paper. Butter the paper very well too.

Sprinkle 3 tbsp of raw sugar or brown sugar at the bottom of the pan.

Arrange the sliced persimmons on top.

Sift together the wholewheat flour, almond flour, baking powder, baking soda, salt, cinnamon powder, ginger powder, and nutmeg powder into a large bowl.

In a separate bowl, whisk together the yogurt, oil, and vanilla extract.

Pour over the dry ingredients. Mix well until no white streaks remain. Please do not over mix.

Pour the thick batter on top of the persimmon slices in the cake tin.

Bake at 180C for 35-40 minutes, or until a skewer inserted in the center comes out clean.

Let the cake cool in the pan for about 20 minutes, then invert onto a serving plate.

Decorate with pomegranate arils and finely chopped pistachios if you like.

Serve warm or at room temperature. Enjoy!