The classic pineapple upside-down cake is my mom's favorite. I've been baking the moist, spongy cake topped with gooey, juicy pineapple for her birthday for years.
I've just never gotten around to blogging the recipe, until now. The light fruity cake with hints of the tropics is a perfect #TAFEverydayCake.
You simply cannot go wrong with it. It comes out like a work of art every single time. Unless you're like me and too impatient to let it cool. Then you have to pray to the gods of twine to not let the cake crack completely before you're done taking all the pictures.
So, if you see a twine peeking out in the photos, please just ignore it. I consider it a testament to a truly homemade cake. One that turned out lovely, and delicious. Ultimately, that's what matters.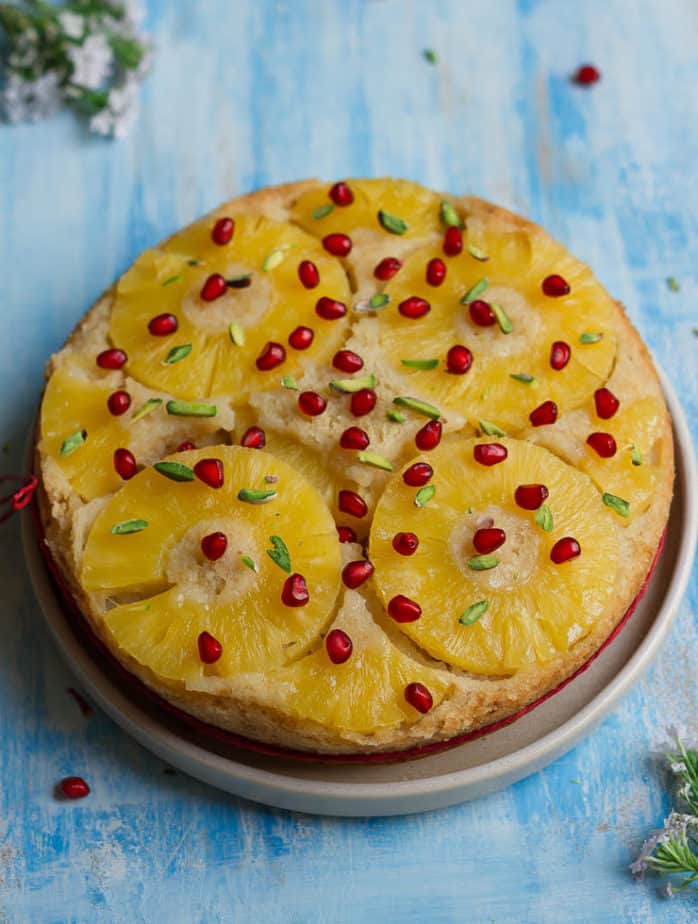 How to make pineapple upside-down cake?
The recipe stands the test of time and is rather easy to make. And even though it's vegan, the cake rises incredibly well.
Start by sifting whole wheat flour, baking powder, baking soda, and salt. Add in sugar and zest of one whole lemon and then mix all the dry ingredients.
In a separate bowl, combine almond milk and vinegar and let it sit for five minutes.
Add in coconut oil and homemade vanilla extract and whisk everything together.
Pour the wet ingredients over the dry and mix till you have a thick batter with a soft dropping consistency.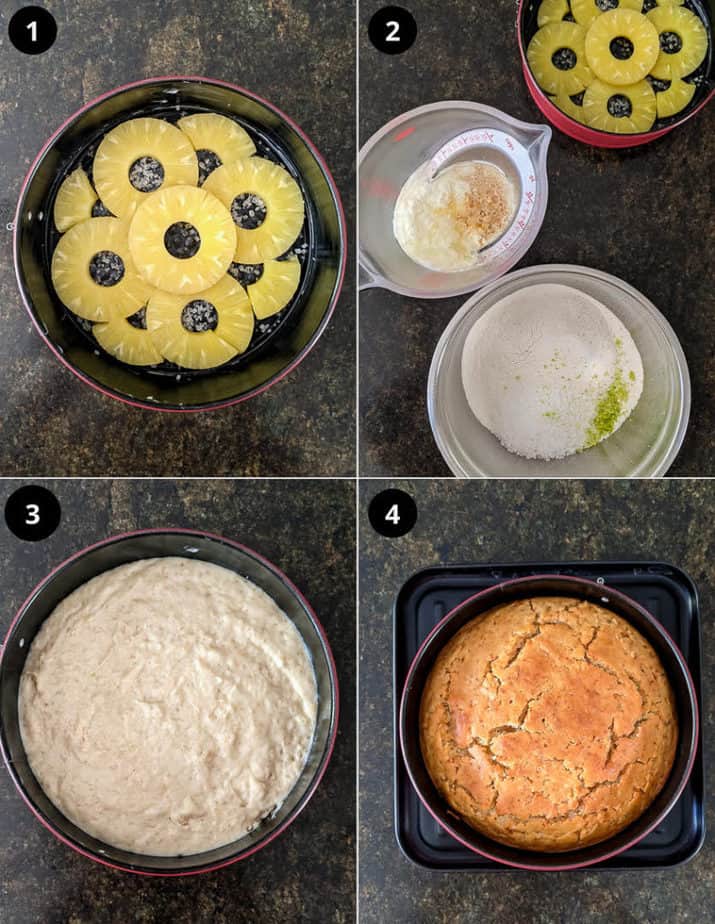 Baking the upside-down pineapple cake
The key to getting the glistening, golden top in an upside-down cake is sugar. As the cake bakes, the sugar caramelizes, bubbles up around the edges, and gives the top a glazed look.
Grease the baking pan very well and dust a layer of sugar on the bottom.
Then arrange the pineapple slices on top of the sugar.
You can position the slices any way you want - circles, overlapping, half-moons, side by side, or even interlocking.
Pour the batter on top of the slices and bake for 40 minutes.
As ever, I advise keeping an eye out because all ovens are different and temperatures vary, which will affect your baking time.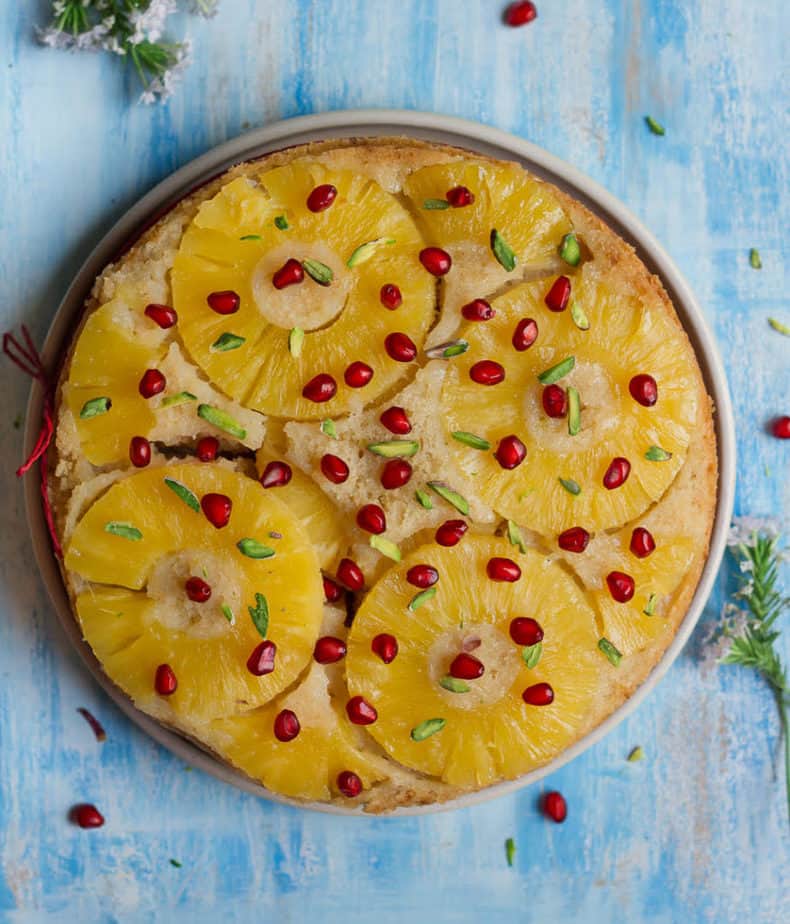 Garnish the pineapple upside-down cake
Once the cake is baked, don't be in a rush to flip it. Let it cool completely and give the sugar and fruit juices time to trickle down the cake crumb.
Turn the cake before it cools, and you get cracks like mine. But even if it does split, don't worry. It would taste just as good.
After you've carefully flipped the cake and taken it out of the pan, you can crown it with maraschino cherries. That's the traditional way to garnish an upside-down pineapple cake – a cherry sitting at the center of each pineapple ring.
I'm not a fan of these cherries. So, I topped it with a handful of pomegranate arils and chopped pistachios, giving the cake a pop of color.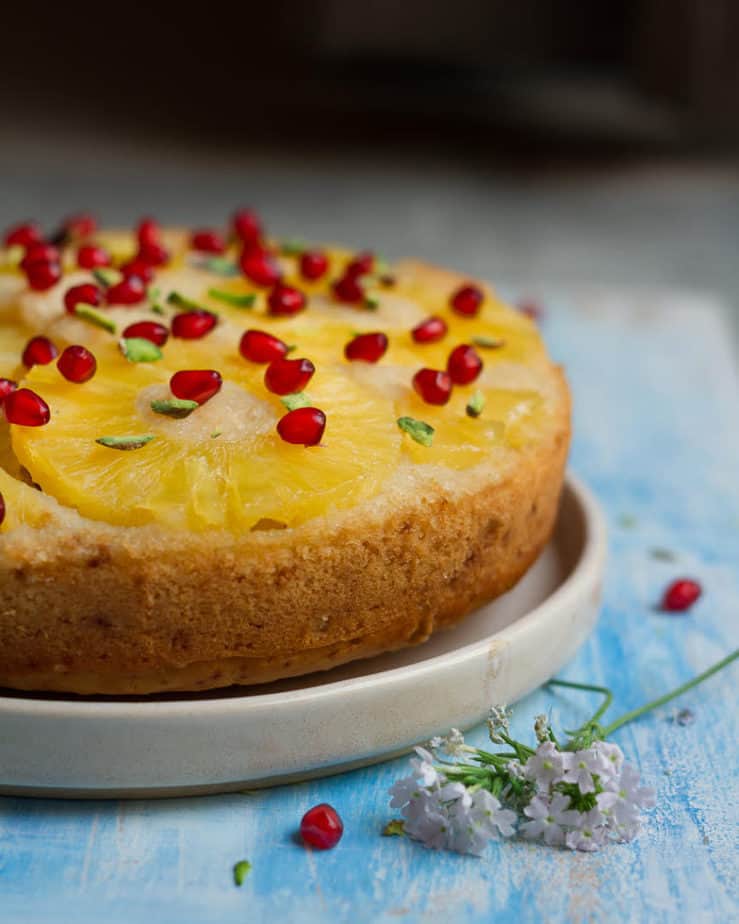 Variations of pineapple upside-down cake recipe
I had no qualms using canned pineapples. They save time and enable me to bake the cake any time of the year. I would advise looking for pineapples immersed in water or fruit juices instead of sugar syrup.
Of course, you can use fresh pineapples and make the extra effort to remove the core and cut them in the required shape and size.
How to avoid a soggy pineapple upside-down cake?
Rinse the tinned pineapple slices thoroughly. Drain them and then pat them dry before placing them on the baking pan bottom.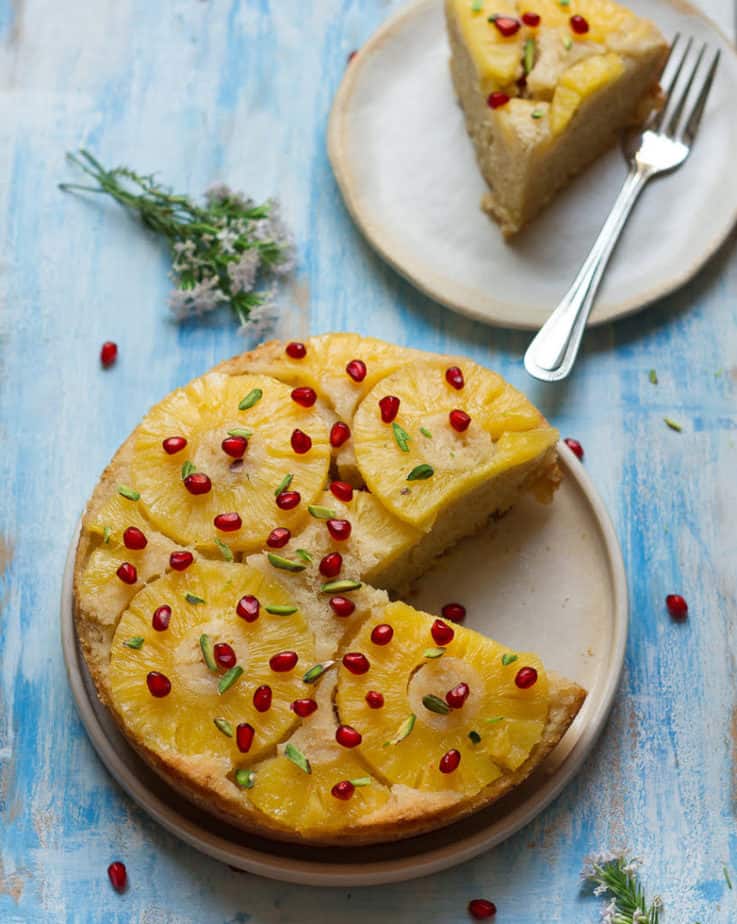 What sugar to use for the cake?
I've still not been able to get my hands on raw sugar, which is the healthier option. So, my recipe relied on regular white sugar. You can use any or for a more caramelly flavor; try coconut sugar. Even cane sugar is a good choice.
What is a good substitute for coconut oil in the cake?
For my orange upside-down cake, the recipe I adapted for this cake, I used olive oil. So, that's one option. But any neutral vegetable oil will work like a charm here.
What fruit I can use for upside-down cake?
Upside-down cakes are not restricted to tropical fruit. You can try them with any fruit from oranges to plums.
As with all my bakes, the pineapple upside-down cake is not overly sweet. The tartness of lemon zest balances the sweet-tanginess of the caramelized, gooey fruit. And you can always up the amount of zest and make the taste sharper.
Although my family wolfed down the spongy, luscious cake as-is, I recommend serving it with a scoop of ice cream to make the most of its tangy flavor!
I'd love to hear from you! Please tag me on Instagram @tashasartisanfoods, using the hashtag #tashasartisanfoods. You can also FOLLOW ME on INSTAGRAM, PINTEREST for more fabulous recipes! Do subscribe to Tasha's Artisan Foods so you'll never miss a recipe!
📖 Recipe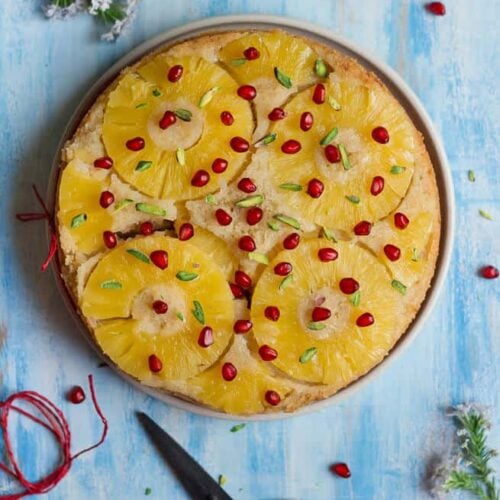 Print Recipe
Pineapple Upside-Down Cake
Pineapple upside-down cake - soft, spongy and fruity, this retro cake is a delight to the eyes and the palate!
Ingredients
1

tbsp

Sugar

5-6

Pineapple slices

1 3/4

cup

Wholewheat flour

1

tsp

Baking powder

1/2

tsp

Baking soda

1/4

tsp

Salt

1

tbsp

Lemon zest

1/2

cup

Sugar

1 1/4

cup

Almond milk

You can use any milk you prefer

1

tbsp

White Vinegar

1/3

cup

Coconut oil

You can use any oil you prefer

2

tsp

Vanilla extract
Instructions
Preheat your oven to 180C. Grease a loose bottom 8" pan very well.

Sprinkle 1 tablespoon of sugar at the bottom of the pan. Arrange the pineapple slices on top of the sugar.

Sift the wholewheat flour, baking soda, baking powder, and salt in a large bowl. Mix in the sugar and lemon zest.

In another bowl, combine almond milk and vinegar. Set aside for 5 minutes.

Whisk in the coconut oil and vanilla extract.

Pour the wet ingredients over the dry ingredients. Mix well until you get a thick batter with soft dropping consistency.

Pour the batter into the prepared pan, on top of the pineapple slices, carefully.

Bake at 180C for 40-45 minutes, until the cake is golden brown and a skewer inserted in the center comes out clean.

Let the cake rest for 20-25 minutes, before turning it out on a cooling rack. Sprinkle with pistachio slivers and pomegranate arils and serve. Enjoy!