The lockdown altered the essence of celebration in the true sense of the word. I've celebrated three birthdays during it, and it hit home every time. You can't go out for dinner or even gift shopping. So, I, like everyone else in the world, fashioned a new kind of celebration.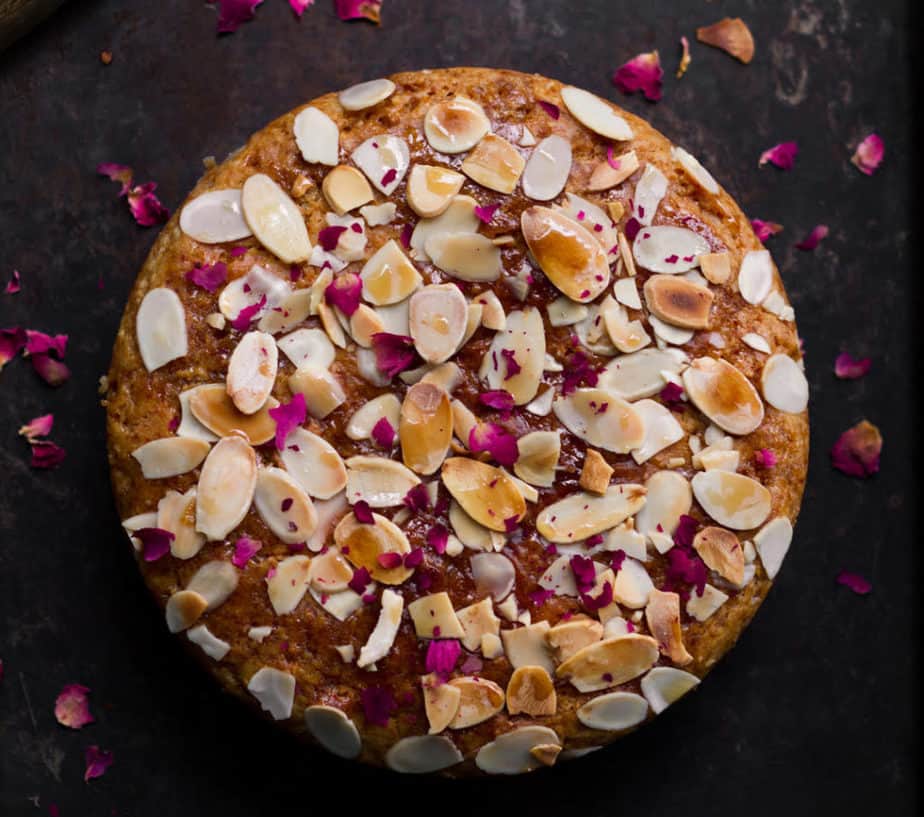 For me, it's all about cakes. Cakes that are a sacred indulgence.
So for the kids, I baked Swedish Chocolate Cake and Buckwheat Chocolate Layer Cake. For the man of the house, it was Baked Ricotta Mango Cheesecake.
This past Wednesday was my sister's birthday. Since she has egg allergies and pounces upon tea cakes like the Tasmanian Devil, her celebration included this honey almond cake.
The cake is healthy, at least as far as cakes go, but that's just an incidental benefit. What matters most is when the first bite hits the palate, there is only one thought, "Gosh, this is delicious! You should try it."
Or that's what my sister said after she had polished off her first helping and was well into the second
How to Make Honey Almond Cake?
Sift all-purpose flour with salt, baking powder, and baking soda. Add in almond meal and raw sugar. Whisk them together quite well.
The all-purpose flour gives the cake structure and loft, while the almond flour lends a wonderfully moist and hearty texture.
I grind almond meal at home by blanching almonds, drying them, and then blitzing because the aroma and flavor of the homemade stuff are fantastic. Of course, you can buy almond flour online, if that's your preference.
For the wet ingredients, mix coconut oil, almond extract, coconut yogurt, honey, and a splash of rose water. 
Fold the dry ingredients into the wet, and you'll have a thick batter. Please don't overmix.
Pour the batter into your prepared 6-inch baking pan, top it with slivered almonds and then let the oven do its thing. 
In about 30 to 35 minutes, the cake should be done. Do a skewer test to check. It should come out clean.
When you're making something with as basic ingredients as this honey almond cake, your job is made ten times easier with decent ingredients. So, instead of reaching for commercial honey, do try to use some good quality raw, organic honey.
If you bake, you know that honey is a natural sweetener, and it does so indulgently. But good honey imparts exceptional flavors and delivers layers of benefits.
For this cake, its organic acids enhance the nutty flavor of almonds, and honey's hygroscopicity makes the cake moist, delicate, and tender.  But most important of all, it bakes the cake uniformly, giving you that gorgeous golden-hued crust.
The same rule applies to rose water. The aromatic works wonders with almonds, but if you don't have access to food-grade, top-quality rose water, skip it.
Variations of the honey almond cake
This hearty honey almond cake is versatile, so let your cravings be your guide. Instead of all-purpose flour, use whole wheat.
I haven't tried it with gluten-free flour, but if you do, make sure you replace the yogurt with egg to give it a better structure.
If you don't have raw sugar, white sugar will be fine, simple, and sweet.
Lately, I've fallen in love with coconut yogurt, and it works brilliantly in the honey almond cake. But you can replace it with plain Greek yogurt or even hung yogurt.
While the cake has no coconut taste, despite the yogurt and the oil, if you wish for a substitute, use melted butter or refined oil.
Serving the Honey Almond Cake
Birthday cakes, to me, are a chance to stop thinking about the health value of what we are eating. I didn't bake this cake because honey is probiotic and a good source of antioxidants. I didn't bake it because almonds are full of healthy fats and a great source of protein.
I baked it because it tastes so good. And part of its appeal is the honey syrup.
While the cake bakes, boil water, switch off the heat, and then add honey. You can add rose water to the honey syrup, but it's entirely optional.
Poke a few holes using your skewer in the cake and then pour the honey syrup over it. As cake soaks, it makes the crumbs even more moist, making the syrup an almost mandatory step.
On the cooled cake, dust a few dried rose petals, and voila, you have a birthday cake ready to be devoured!
Two bowls, one whisk, and a spatula are all it takes to make the cake. The almond, honey, and rose water blend in a slow dancing melody very reminiscent of middle eastern flavors.
Don't be fooled by the number of almond ingredients. The taste is not in your face; rather, it's sufficiently molecular to give the fluffy honey almond cake a language you'll relish.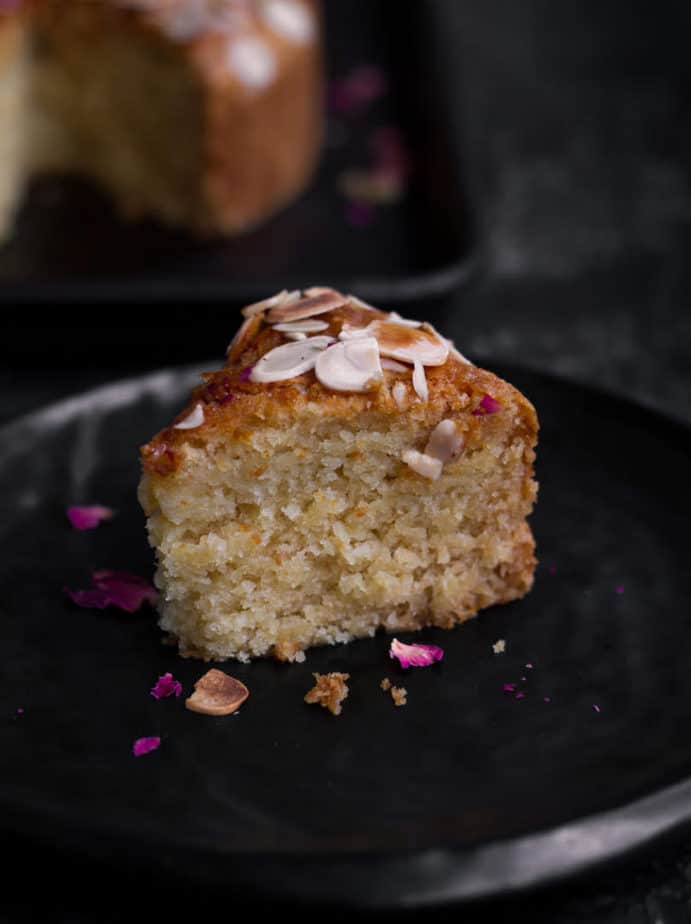 I'd love to hear from you! Please tag me on Instagram @tashasartisanfoods, using the hashtag #tashasartisanfoods. You can also FOLLOW ME on INSTAGRAM, PINTEREST for more fabulous recipes!
This blog post contains affiliate links. These don't cost you anything, but they allow me to continue running this site and providing free content for my readers.
📖 Recipe
Print Recipe
Honey Almond Cake
Soft and fluffy, this eggless Honey Almond Cake is a delight! Almonds, honey, and rose water come together to give a lovely Middle Eastern touch!
Ingredients
1.5

cup

All purpose flour

1 1/4

tsp

Baking powder

1/2

tsp

Baking soda

1/4

tsp

Salt

1/4

cup

Almond meal

1/4

cup

Raw sugar

You can use regular white sugar

3/4

cup

Coconut yogurt

You can use plain Greek yogurt or hung yogurt

1/3

cup

Coconut oil

You can use any oil

1/4

cup + 1 tbsp

Honey

4-5

drops

Almond extract

1/2

tsp

Rose water

Optional

1/4

cup

Slivered almonds
Honey syrup
1.5

tbsp

Water

1.5

tbsp

Honey

4-5

drops

Rosewater

Optional
Instructions
Preheat oven to 180C. Grease a 6" cake tin.

Sift the flour, baking powder, baking soda, and salt in a bowl.

Add almond meal and raw sugar to the dry ingredients.

In another bowl, whisk together honey, yogurt, coconut oil, almond extract and rosewater.

Pour over the dry ingredients and gently mix.

Pour into the prepared pan. Smoothen the surface and sprinkle slivered almonds.

Bake for 30-35 minutes or until a skewer inserted in the center comes out clean.

Let the cake cool in the pan for 5-10 minutes before turning it out on a cooling rack.
Honey Syrup
Bring the water to a boil. Take it off the heat, stir in honey and rosewater. Let the syrup cool.

Once the cake is ready, use a skewer to poke holes all over the top of the warm cake. Spoon over the cooled honey syrup.

Let the syrup soak in for 30 minutes or so.

Garnish with dried rose petals and serve at room temperature. Enjoy!