If you want a baked ricotta mango cheesecake to count from the very first bite, then it has to have a buttery, crumbly cookie base, and an oh, so lush, luscious filling of juicy, ripe mangoes flavored with saffron!
When I still ran my bakery business, I baked a lot of cheesecakes because I loved their beautiful texture and flavors that truly shined through. I tried everything from a raw, vegan cherry lemon cheesecake to a no-bake strawberry cheesecake bites.
For Father's Day, I wanted to make something that truly celebrates the dad of the house, who has a mega sweet tooth and dotes mangoes. So, I made a baked ricotta mango cheesecake - a creamy and decadent cheesecake to blow all his other points of comparison out of the water.
How to Make Baked Ricotta Mango Cheesecake?
A lot of people find cheesecakes intimidating, but with a couple of tips, they aren't hard to crack. First, I make the base by mixing crushed Marie biscuits and melted butter.
For all my US readers, I advise using graham crackers. For everyone else, if you don't have Marie biscuits, digestive cookies work as well
I pat this biscuit mixture on the bottom of an 8-inch loose bottom pan evenly and slide it in the oven, just for a few minutes. While the crust bakes, I quickly work on the mango cheesecake filling.
Making the ricotta mango cheesecake filling
On the heels of my love letter to the ultimate mango combination – mango shrikhand made using saffron, I'd be remiss not to include the spice in this baked ricotta mango cheesecake.
So, I added a few strands of saffron in the cream. Once the cream is infused with the sunshine spice, I mix it with ricotta cheese, flour, sugar, fresh mango puree, and eggs.
I whisk the ingredients until they are thick, creamy, and lump-free. By now, the base is done (takes about 5-10 minutes), so I pour the filling on it and then bake again.
Quick Notes:
For the mango puree, use the ripest mangoes you have at home. I had Safeda at hand, which gave the cheesecake a gorgeous orangey color, and the saffron just enhanced the hue. If you feel your mango cheese filling is too pale, add in artificial food coloring.
I worked with less ricotta than I would have preferred because I ordered it instead of making it at home and they delivered the wrong amount. You can use this recipe to make your own ricotta cheese to get the perfect ratio.
Cheesecakes tend to overheat and then crack. The only safe way to avoid this is to turn down the dang heat! When the cake looks set but has a little jiggle and wobble in the center, switch the oven off and crank the door open, but leave the cake inside.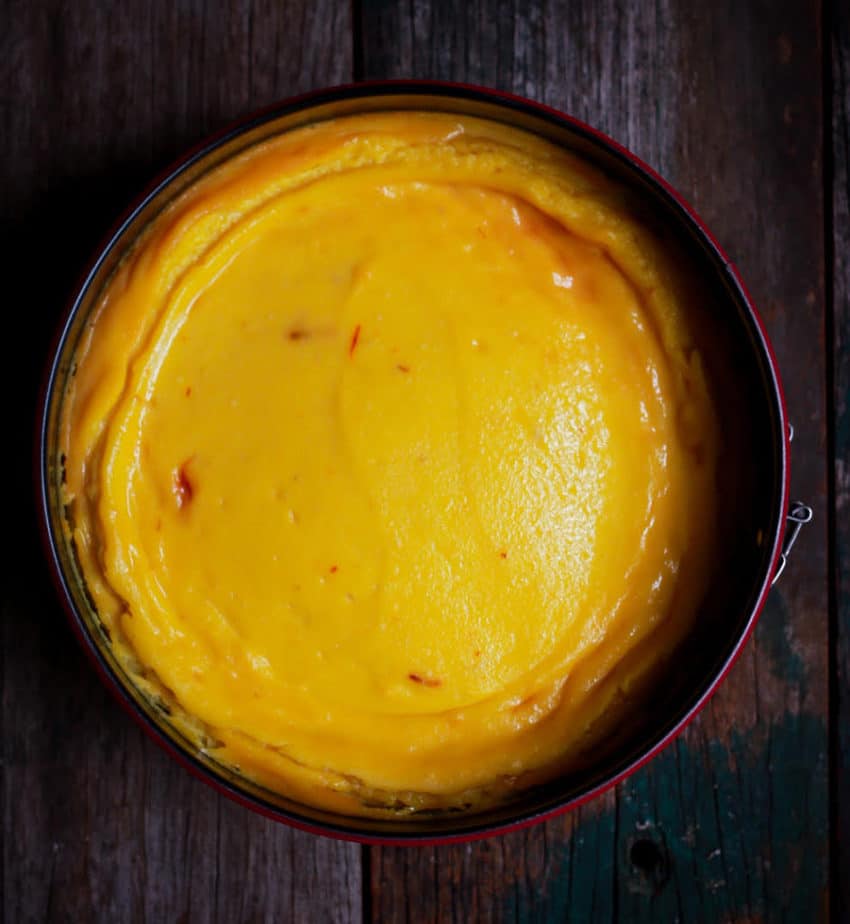 The remaining heat will gently and slowly bake the mango cheesecake at a steady pace, without the fear of it cracking right down the middle in less time than it takes to blink.
Also, don't keep opening the door of the oven every few minutes to check for cracks. Even if the cake doesn't turn out aesthetically perfect, who cares? You can always cover it up with fruit compote, a dusting of icing sugar or a handful of chopped fresh fruits!
Variations of cheesecake:
If you don't have ricotta cheese and are feeling too lazy to make some, use cream cheese instead like I did for my Chocolate Hazelnut Cheesecake.
I didn't add cardamom, but I highly recommend it. The idea with cardamom is to add depth and aromatic complexity to the inherent flavors you want to emphasize so that the mango tastes more like mango, and the saffron tastes more like saffron.
Serving the Baked Ricotta Mango Cheesecake
Once the baked ricotta mango cheesecake is done, let it cool at room temperature for some time. It'll help settle it more evenly. Then shift it to the refrigerator.
I usually make cheesecakes a day before so they can chill overnight. This is important because you cannot hurry up a cheesecake no matter how much your mouth waters. So, please don't rush the process.
Believe me that when you dig into the very first bite, the decadent and plush mango cheesecake will set itself apart from the rest. The texture is so soft, sumptuous and velvety smooth.
With this baked ricotta mango cheesecake, I aimed for creamier, more flavorful, and nuanced delicacy, very unlike the cloying cheesecakes you get in the market.
And if the appreciative noises the father of the house made are any indication, I prevailed (he just couldn't wait for Sunday to enjoy the cake). It gives me the impetus to try it eggless someday!
I'd love to hear from you! Please tag me on Instagram @tashasartisanfoods, using the hashtag #tashasartisanfoods. You can also FOLLOW ME on INSTAGRAM, PINTEREST for more fabulous recipes! Do subscribe to Tasha's Artisan Foods so you'll never miss a recipe!
📖 Recipe
Print Recipe
Baked Ricotta Mango Cheesecake
If you want a baked ricotta mango cheesecake to count from the very first bite, then it has to have a buttery, crumbly cookie base, and an oh, so lush, luscious filling of juicy, ripe mangoes flavored with saffron!8
Ingredients
Cheesecake base
1.5

cup

Crushed Marie biscuits

You can use Graham crackers or Digestive biscuits as well.

1/3

cup

Melted butter
Cheesecake filling
1/3

cup

Cream

1

tsp

Saffron strands

450

gms

Ricotta cheese

3/4

cup

Sugar

1/4

cup

All purpose flour

2

Eggs

1.5

tsp

Vanilla extract

1 1/4

cup

Fresh mango puree

You can use canned mango puree as well.
Instructions
Cheesecake Base
Preheat your oven to 180C. Cover the bottom and sides of your 8" springform pan with aluminium foil.

Combine the melted butter and crushed cookies in a small bowl. This mixture should have the consistency of wet sand.

Press it down evenly at the bottom of the pan. Bake for 10 minutes. Lower the oven temperature to 160C while you're preparing for the filling.
Cheesecae filling
Stir in saffron into the cream. Let this sit for 5 -10 minutes.

Beat the ricotta cheese, saffron-infused cream, flour, pureed mango, and sugar in a large bowl with an electric mixer. When this mixture is smooth, add one egg at a time, mixing well until incorporated. Whisk in the vanilla extract.

Pour into the prepared crust. Carefully place in the oven and bake at 160C for about 45-55 minutes. The top of the cake should look cooked and the center should be a bit wobbly.

Turn off the heat and slightly crack the door open and allow to cool for 30 minutes.

Let the cake cool on countertop for another hour and then refrigerate for at least 8 hours for it to set completely. Remove carefully from the pan, place on your serving plate.

Garnish with pistachio slivers and some saffron strands. Serve chilled. Enjoy!