Happy, sunny, and very mango-ey: this recipe for eggless mango cake is like a joyous celebration of summer on your taste buds. Perfectly moist, soft, and luscious, you'll be absolutely smitten with the mango cake (eggless), reaching for it again and again as a satisfying midday snack or indulgent weekend dessert!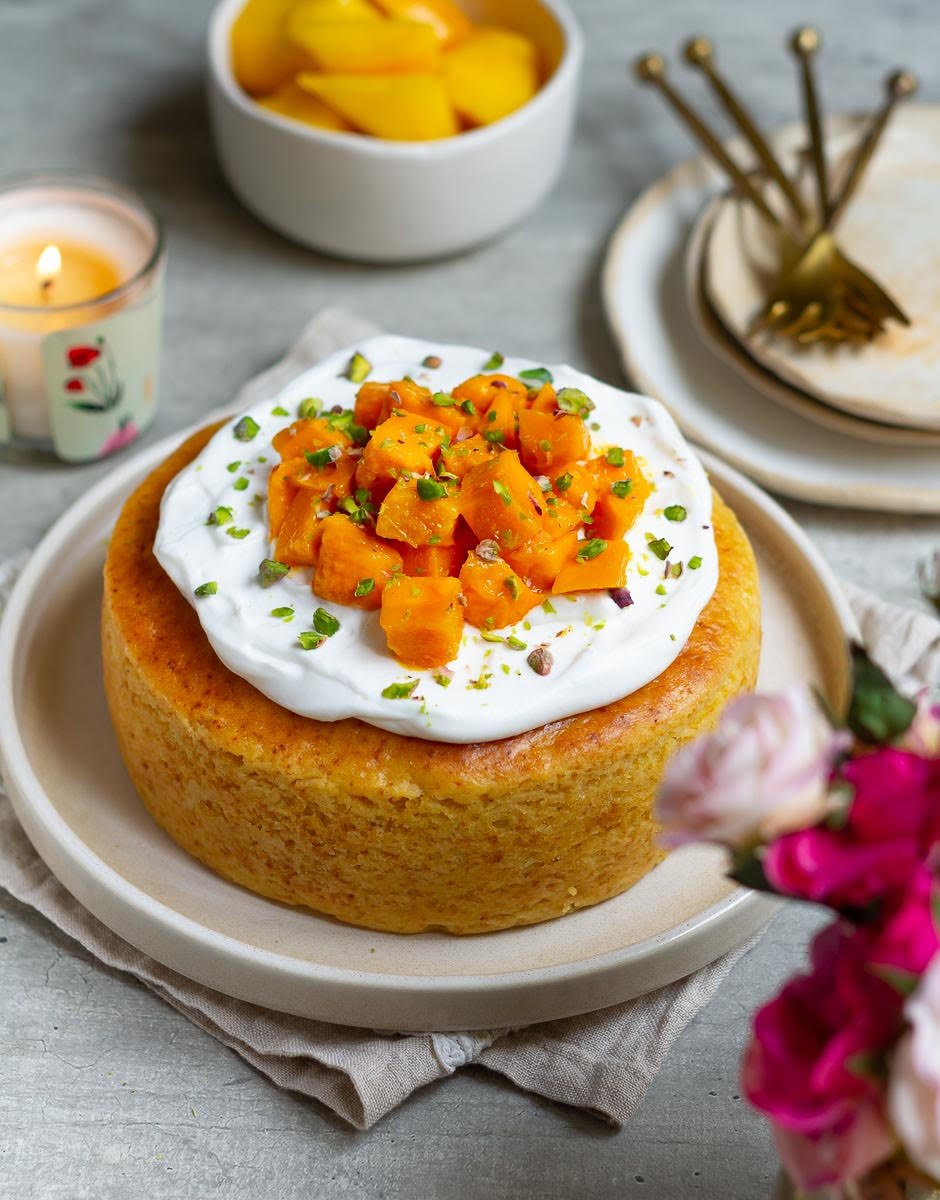 How to make mango cake that no one can resist? You don't bake one with chunks of the juicy fruit inside, or serve a teacake with pieces on the side.
You use mango purée. In the batter.
That's how you get the best mango cake. Ever. A cake that speaks everyone's love language.
Jump to: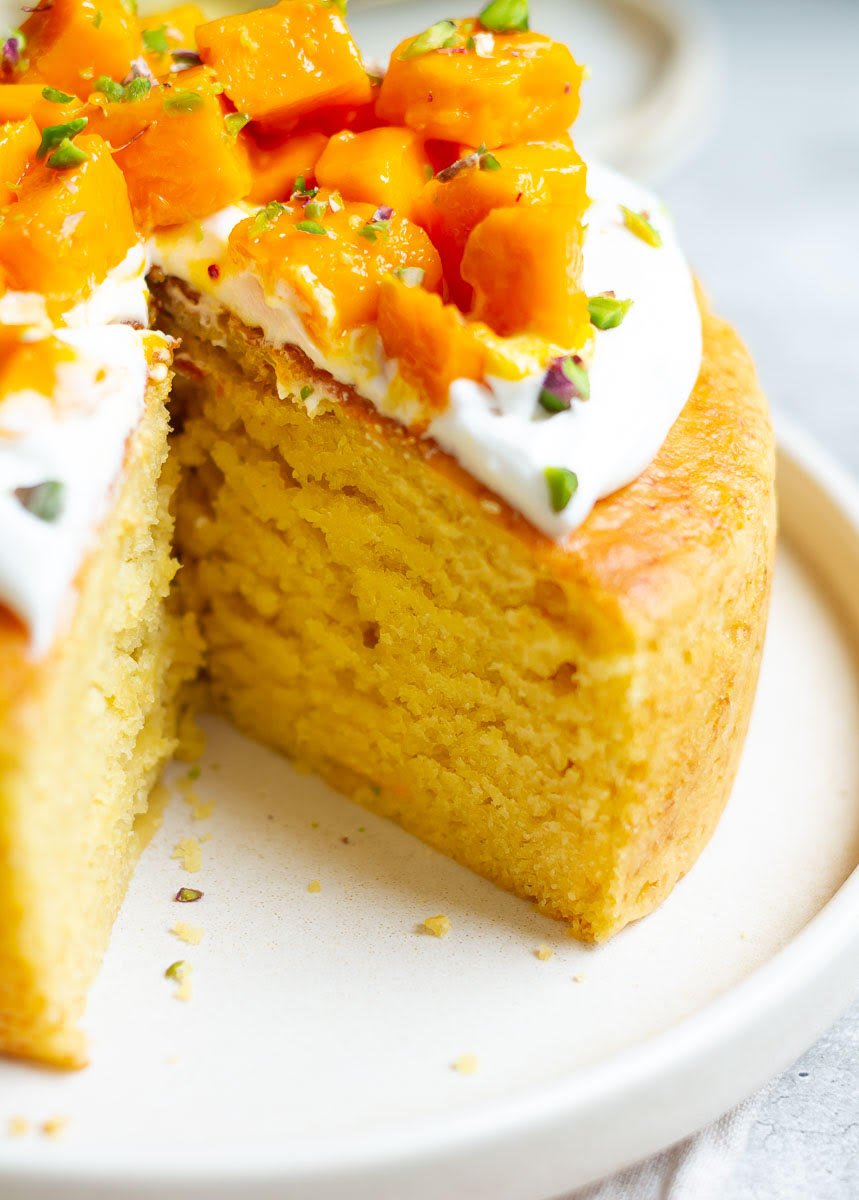 WHY TRY THIS MANGO CAKE?
This, this mango cake recipe, is what dreams are made of.
It's lovely for a summer evening snack or mango dessert.
It's so simple to make that you can put it together in a cinch.
HOW TO MAKE MANGO CAKE?
Step 1: Sift, in a large bowl, all-purpose flour, salt, baking powder, and baking soda.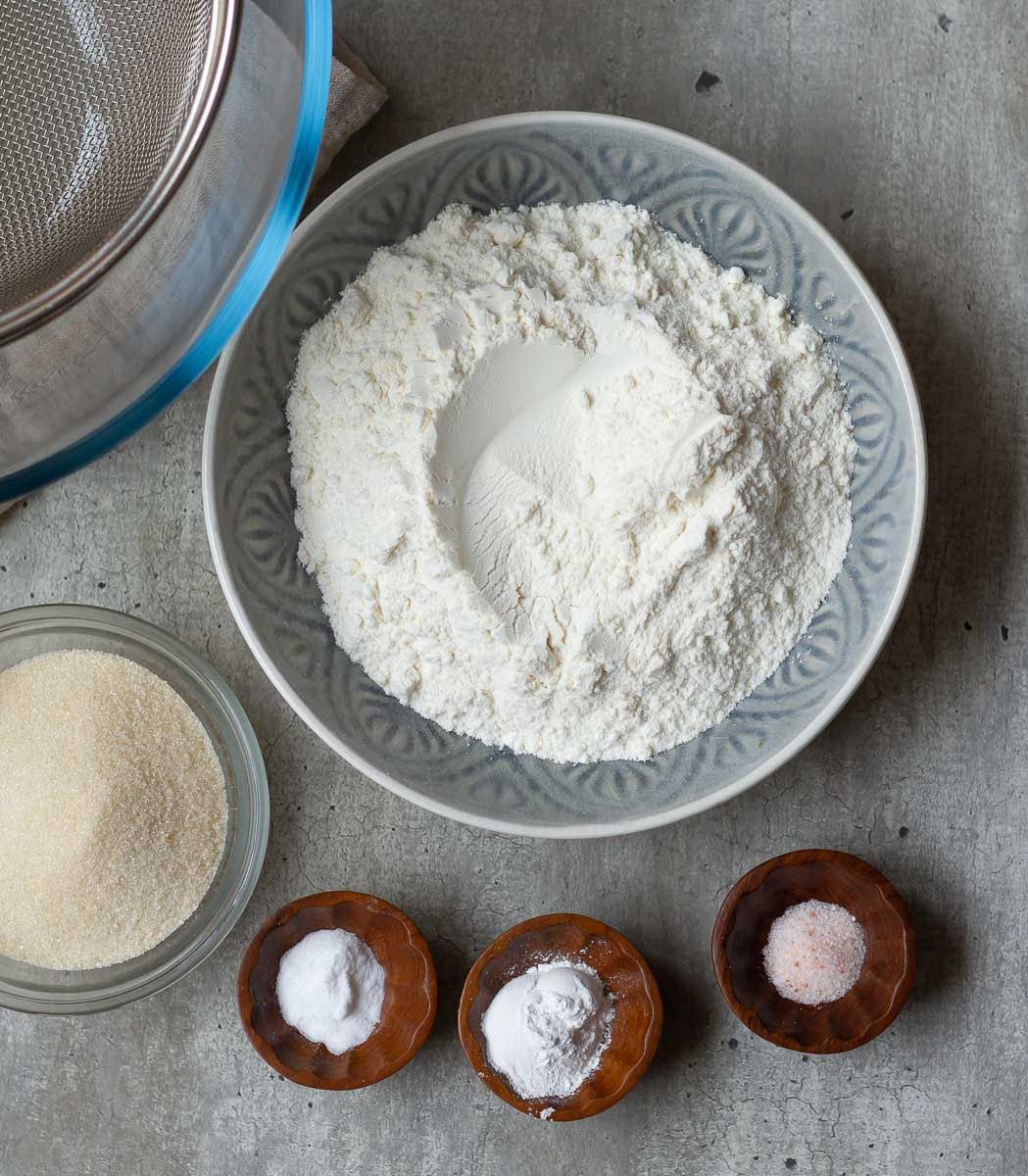 Step 2: Whisk in the sugar and set aside.
Step 3: In another bowl, combine mango purée with plain Greek yogurt, oil, and vanilla extract. Mix well.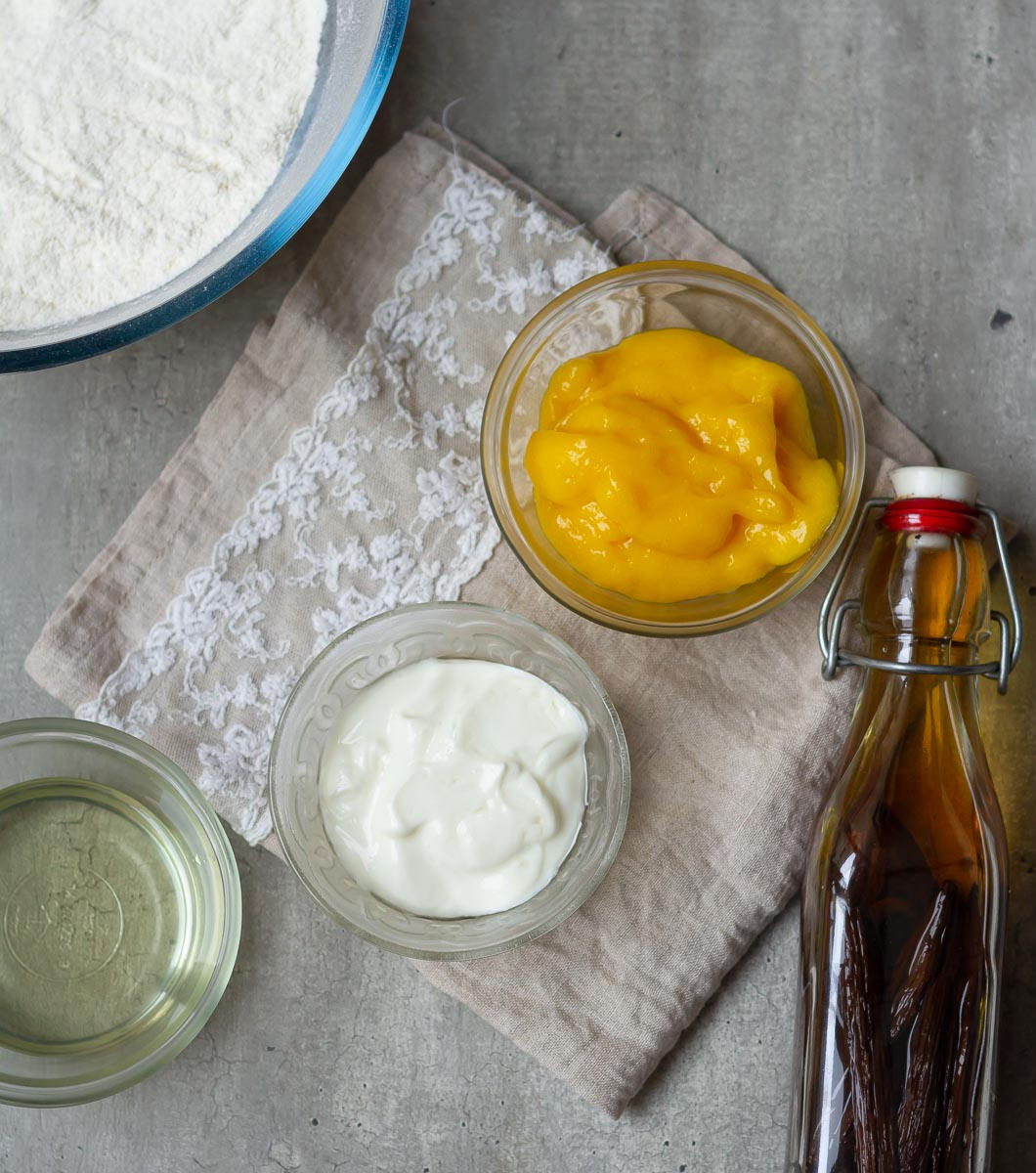 Step 4: Pour the wet mixture over the dry ingredients of the eggless mango cake and mix until just combined.
Step 5: Transfer the mango cake batter into a greased cake tin. I used a 6-inch one and baked it for 40 to 45 minutes at 180 °C.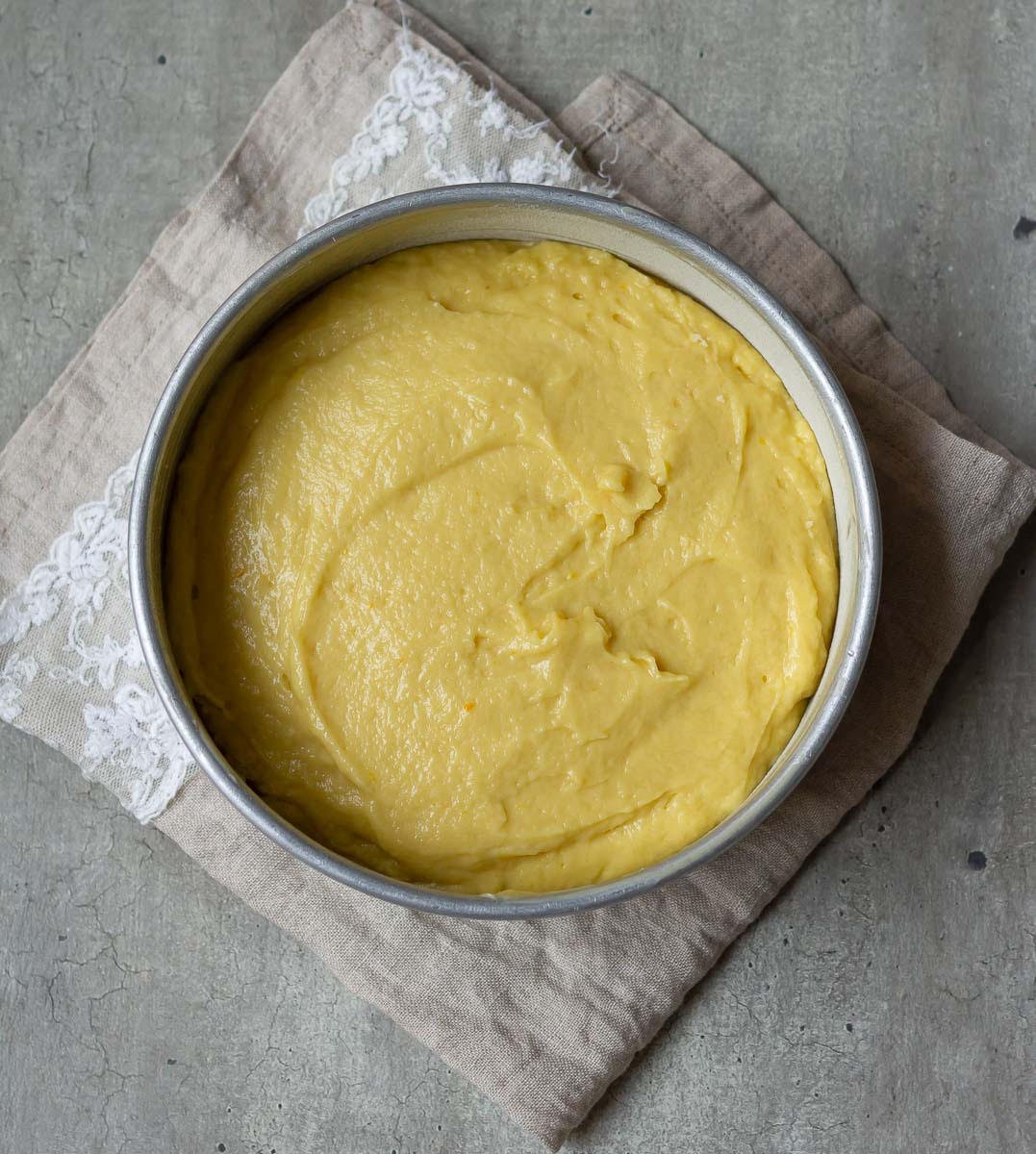 Step 6: Let it cool in the pan, and then turn it out on a mat. At this point, you can fully indulge in the most beautifully flavored mango cake ever.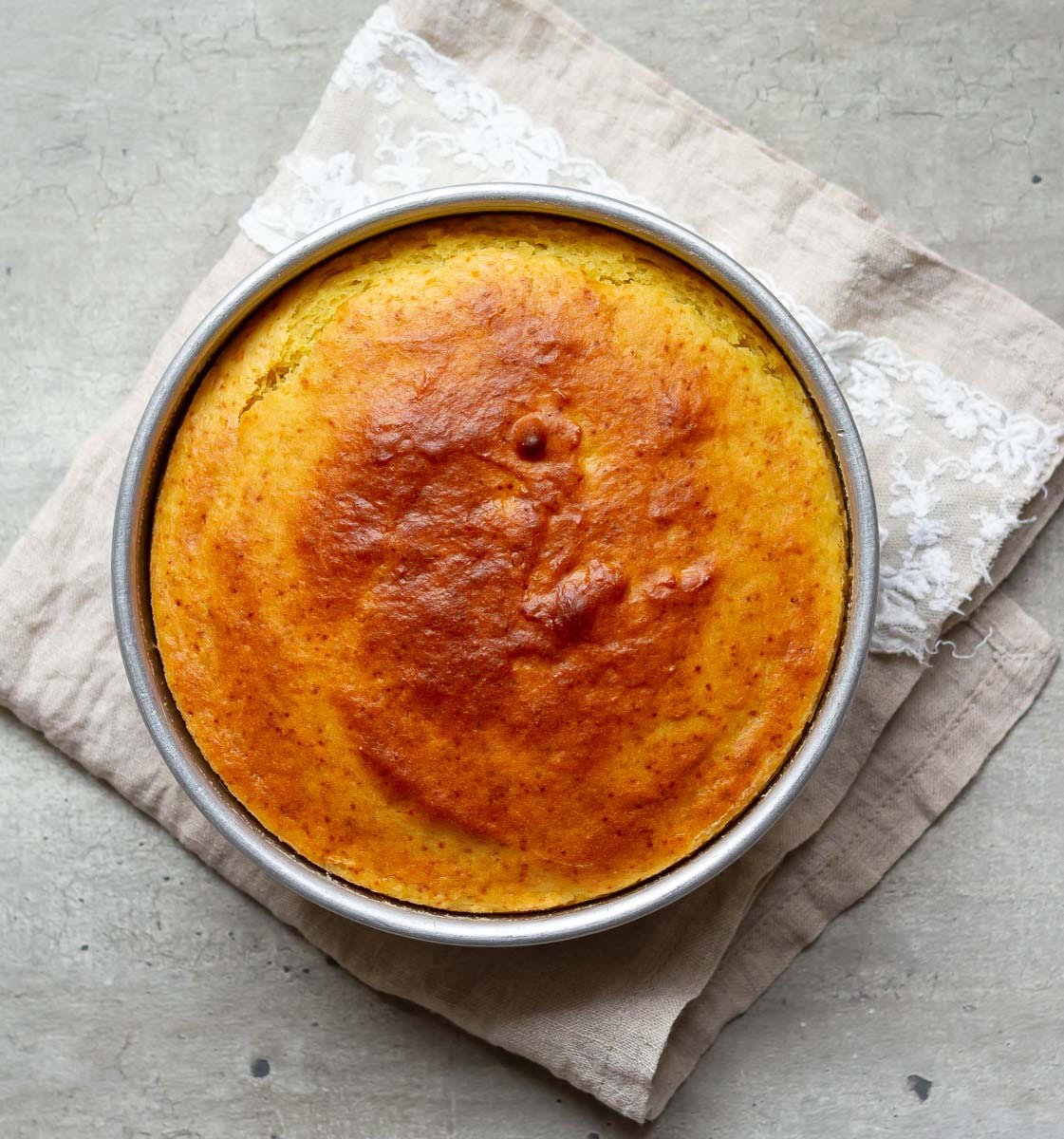 Optional step: I have zero impulse control when it comes to mangos, or rather, using seasonal produce in my recipes. I just have to go extra. So, I decorated the cake with some whipped cream and cubed fruit pieces. Finally, a sprinkle of pistachios added texture and color.
Final step: Marvel at the glory of the sublime taste of mango in every bit!
NOTES ON MANGO CAKES
I get rid of all the lumps in my dry ingredients before I mix them with the wet. It makes my life easier and ensures I don't overbeat the batter. This recipe for mango cake calls for combining only until you stop seeing dry streaks. Whisk more than that, and the cake crumb toughens.
The batter of mango cake (eggless) is very thick. You'll have to scrape it when transferring it to the cake tin. My advice? Refrain from adding extra liquid. The purée and yogurt lend it enough moisture during baking that it will definitely not be dry.
Just in case the batter feels too dry, add a tablespoon or two of warm milk.
WHAT KIND OF MANGOS TO USE IN THIS CAKE?
I made a very typical Indian mango cake, using a combination of Safeda and Alphonso. But I know any kind of mango will work perfectly in this recipe, as long as it is not too fibrous. So whichever variety of mango you have access to, use it; just make sure it's ripe and pulpy.
CAN YOU USE TINNED MANGOS?
Absolutely!
I have the delicious honor of living in a country where mangos grow in abundance. Once the season starts, the market brims with shades of yellow. But I know for a fact that tinned mango purée is equally majestic in this recipe for eggless mango cake.
You'll easily find excellent-quality canned purée in any Indian grocery store. The only caveat I'll make is to reduce the quantity of sugar to 1/3rd cup because canned purée is already sweet.
HOW DO YOU KNOW WHEN THE MANGO SPONGE CAKE IS DONE?
The top will be springy to the touch, and a skewer inserted in the center will come out clean.
VARIATIONS OF EGGLESS MANGO CAKE
Flour: For those who love to experiment with flour in cake recipes, try adding a little almond flour. I did it for my honey almond cake, and it turned out to be so moreish. Another mango cake eggless variation is whole wheat flour mixed with all-purpose.
Oil: For me, melted coconut oil is often a baking go-to. But any vegetable oil is fine in this recipe.
Yogurt: Homemade yogurt is a wonderful substitute for Greek yogurt, but it has to be hung. You want a thick yogurt because the liquid component of the cake is already from the fruit purée. Any more, and the cake will be damp instead of moist.
Sugar: Don't have caster sugar? Raw and cane sugars make excellent alternatives.
Add-ins: If you like a nutty dimension to your cakes, feel free to top the batter with almond flakes or hazelnuts right before you slide it into the oven.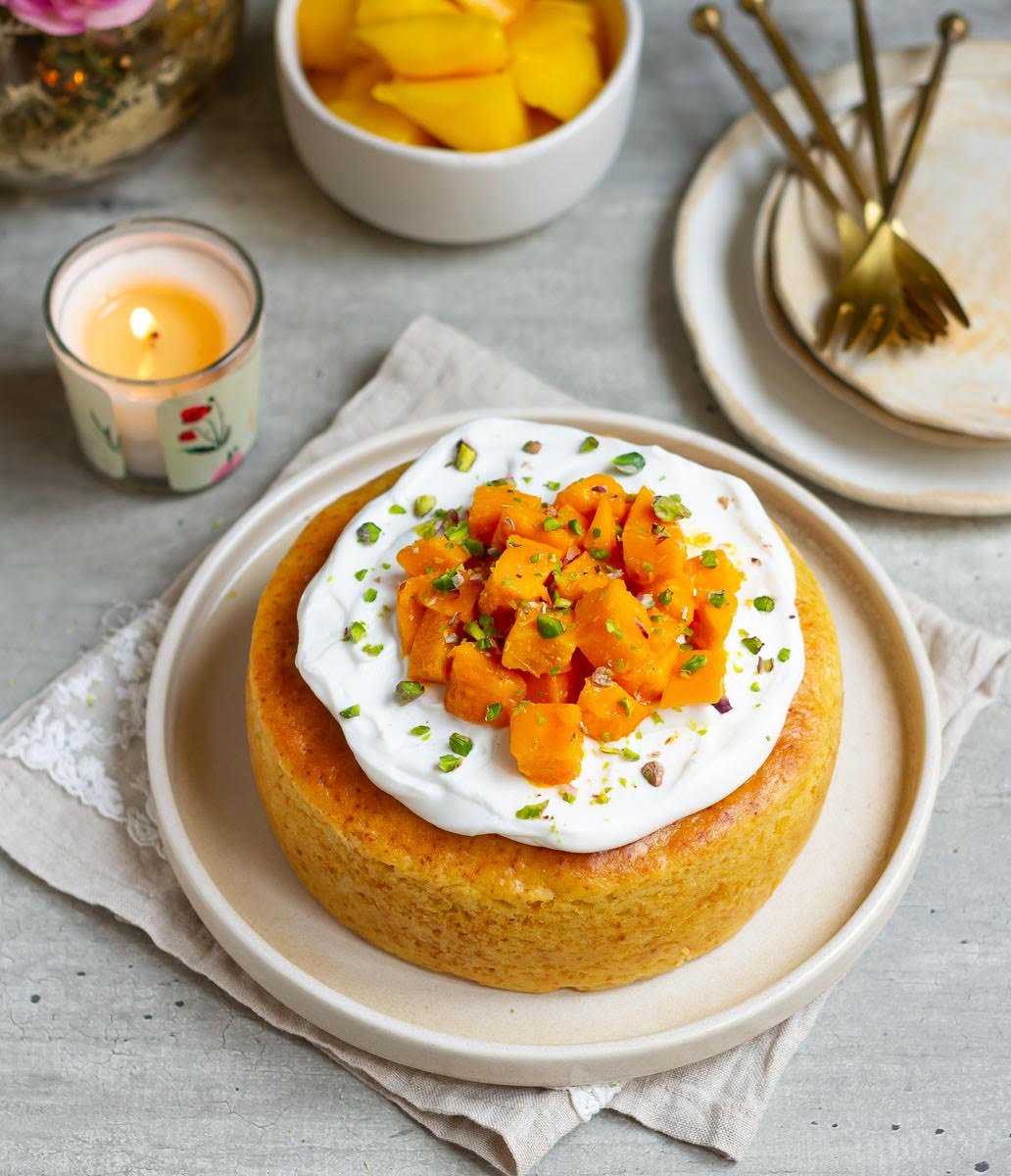 SERVING CAKES WITH MANGO
Mango cake is so super moist that it doesn't need anything with it. Have a slice with your tea or coffee as-is, or turn it into a mango dessert with a dollop of soft whipped cream. Add some mango bits on top, some chopped pistachios, and voila!
It's also a tall-ish cake because it rises wonderfully, so if you're in the mood to fancy it up some more, split the cake in half horizontally. Fill with cream and chopped mangos and then serve.
STORING THE CAKE
This cake will stay well, refrigerated for 3 to 4 days. Just make sure it's wrapped well and is not frosted.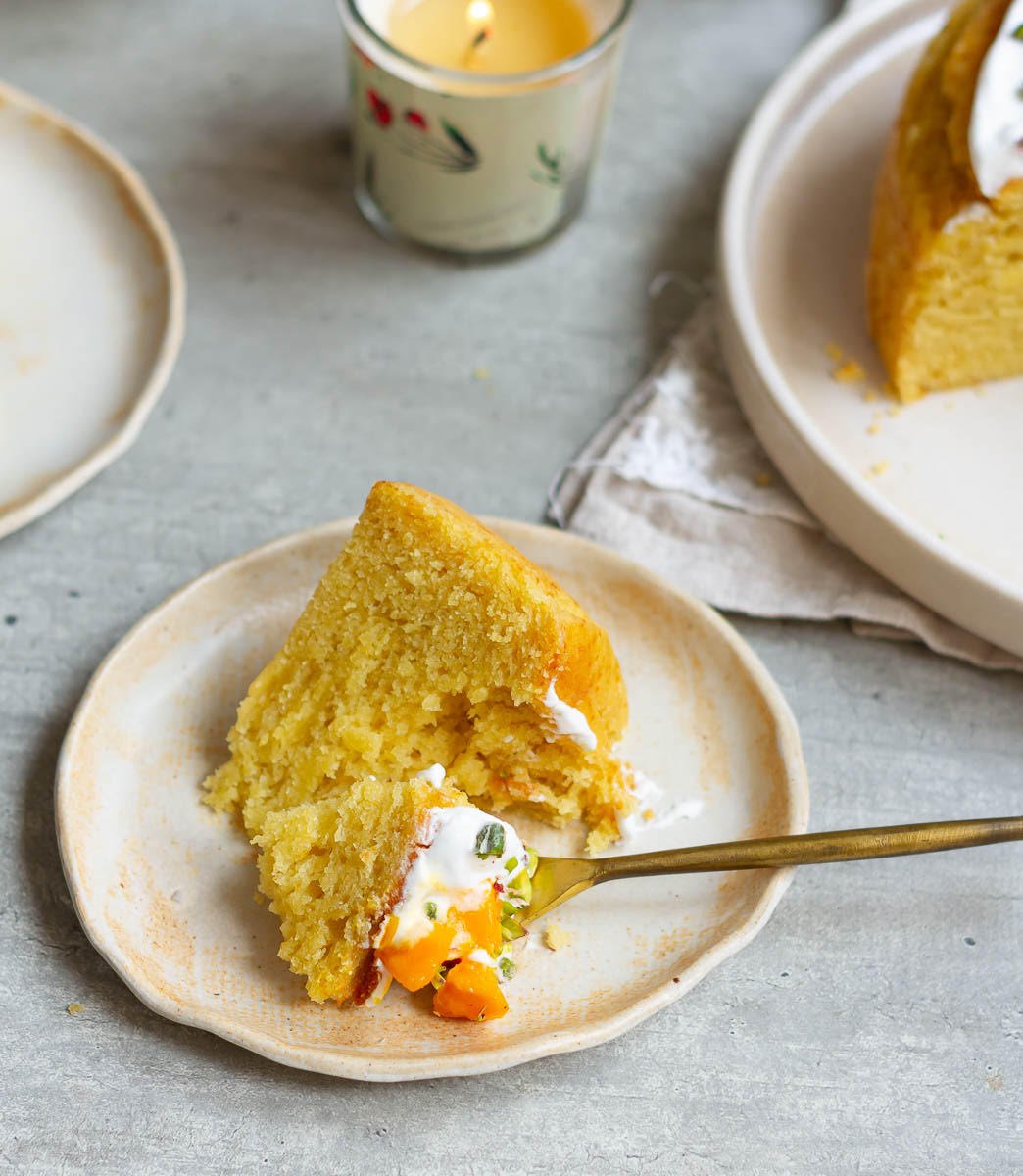 MORE DESSERTS WITH MANGO
Half the joy of cooking is sharing it with others, which is why I'm always eager to hear from you. So go right ahead and drop a comment or reach out on Instagram, Pinterest, YouTube, or Facebook. I hope you love this mango cake eggless recipe as much as we do!
📖 Recipe
Print Recipe
Easy Mango Cake - Eggless Recipe
Happy, sunny, and very mango-ey: this recipe for eggless mango cake is like a joyous celebration of summer on your taste buds. Perfectly moist, soft, and luscious, you'll be absolutely smitten with the mango cake (eggless), reaching for it again and again as a satisfying midday snack or indulgent weekend dessert!
Ingredients
1.5

cups / 200 gms

All-purpose flour

1 1/4

tsp

Baking powder

1/2

tsp

Baking soda

1/4

tsp

Salt

1/2

cup / 100 gms

Caster sugar

1/2

cup /125 gms

Mango puree

2/3

cup / 150 gms

Greek yogurt, plain

1/3

cup/ 60 gms

Vegetable oil

1

tsp

Vanilla extract
Topping
Whipped cream, Chopped mango, Pistachio
Instructions
Preheat your oven to 180 C. Grease a 6" cake tin well.

In a large bowl, sift together the flour, baking powder, baking soda, and salt.

Whisk in the caster sugar.

In another bowl, whisk together the mango puree, yogurt, oil, and vanilla extract.

Pour over the dry ingredients and mix well until no white streaks of flour are visible. The batter will be thick.

If the batter feels too dry, add 1-2 tbsp of warm milk.

Transfer the batter to your prepared cake tin and bake at 180 C for 40-45 minutes, or until a skewer inserted in the center comes out clean.

Let the cake cool in the tin for 10-15 minutes, before turning it out on a cooling rack to cool completely.

Serve as is or top with whipped cream, cubed mango, and chopped pistachios. Enjoy!