The Swedes call it Kladdkaka, but to the rest of the world, the Swedish Chocolate Cake is a chocolate lover's dream come true. It's a soft, sticky, gooey and dense delicacy that you are never, ever, ever too full to gorge!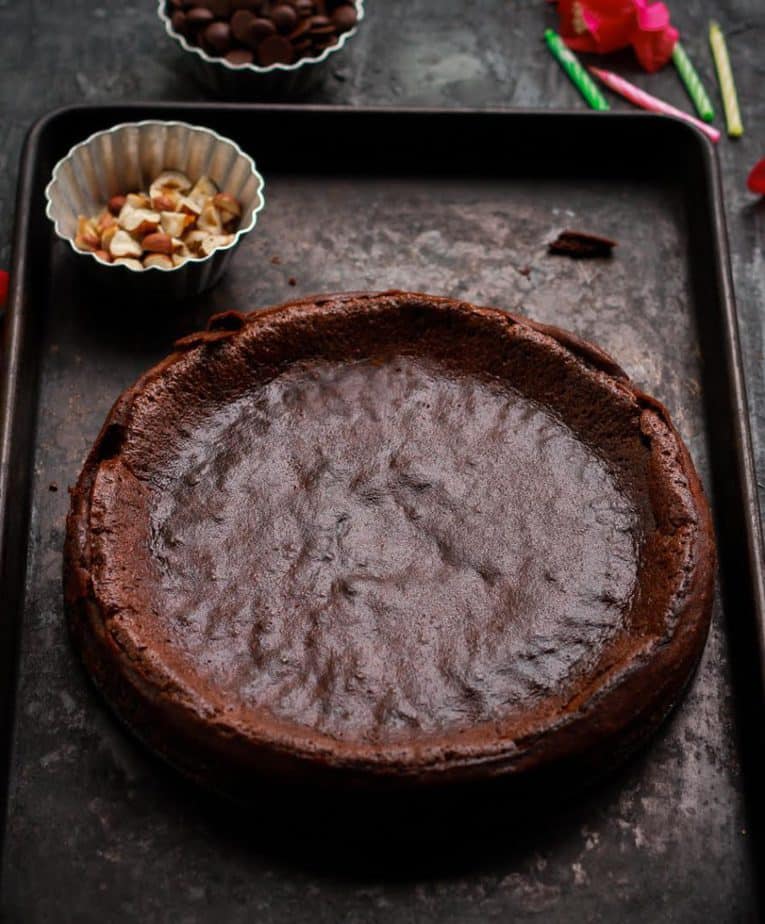 The kid's birthdays are poignant moments for me. The pleasure of watching them grow up is edged with the realization that there is only so much time left when I can get away with calling them kiddos on a public platform.
But that's my take. The kids view birthdays as the day they get to devour cake. In our home celebration cakes are always chocolate, it's a given. So, you can guess that I'm always on the hunt for that chocolate cake.
A few years ago, I found a recipe that completely floored me. The Swedish Chocolate Cake by the cake queen Linda Lomelino who has magical hands. Since then it's been adopted as a family recipe!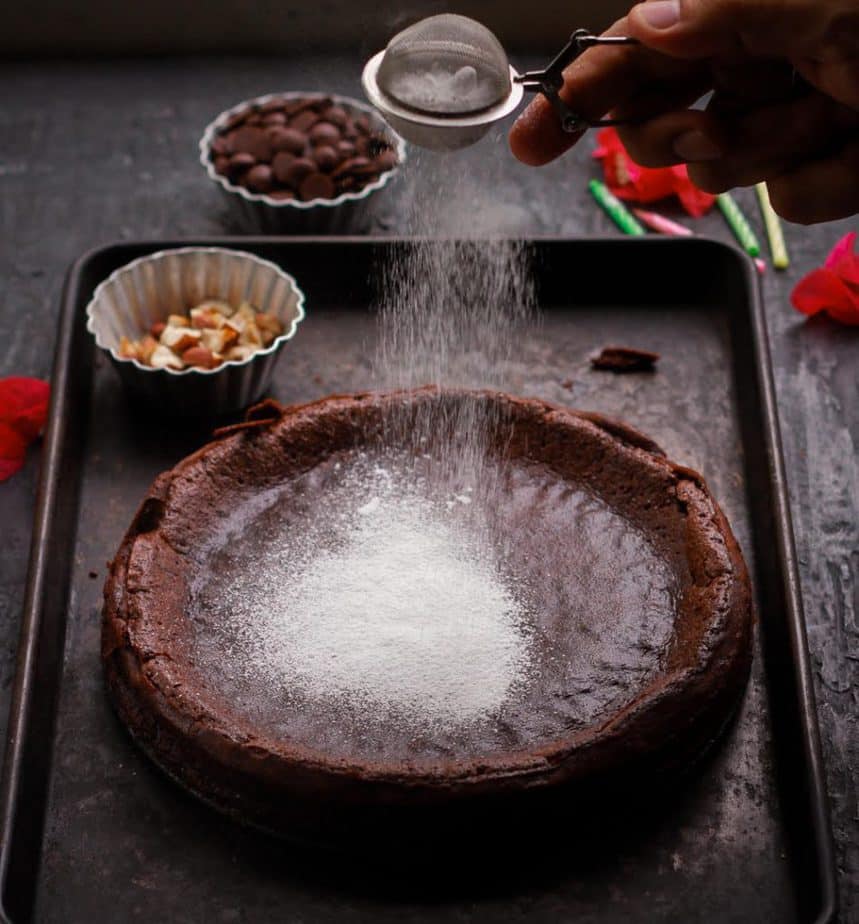 I bake the cake, loaded with butter, dark chocolate, and sugar, only once every year. It's laced with such richness and drips in so much decadence that repeats are not necessary. The flavor of it continues to linger in the memory for a long time.
This year my son's 15th birthday is the chosen day for it, partly because the kiddo asked for it and partly because I wanted to splurge for once in almost 50 days of lockdown.
How to Make Swedish Chocolate Cake?
The cake is traditionally called kladdkaka. The English interpretation of it is 'sticky or gooey cake' because even though it is baked with no more than six ingredients, it makes for a deliciously dense and fudgy-like treat.
The classic Swedish dessert is also incredibly easy to prepare. It requires no separating, mad whisking, or careful folding of ingredients. You simply melt chocolate and butter in a pan and then mix in the coffee. A well-beaten mixture of sugar, eggs, and vanilla are added to the chocolate mixture to create a batter.
Pour the resulting batter into a loose-bottom pan and then you let the oven do its work!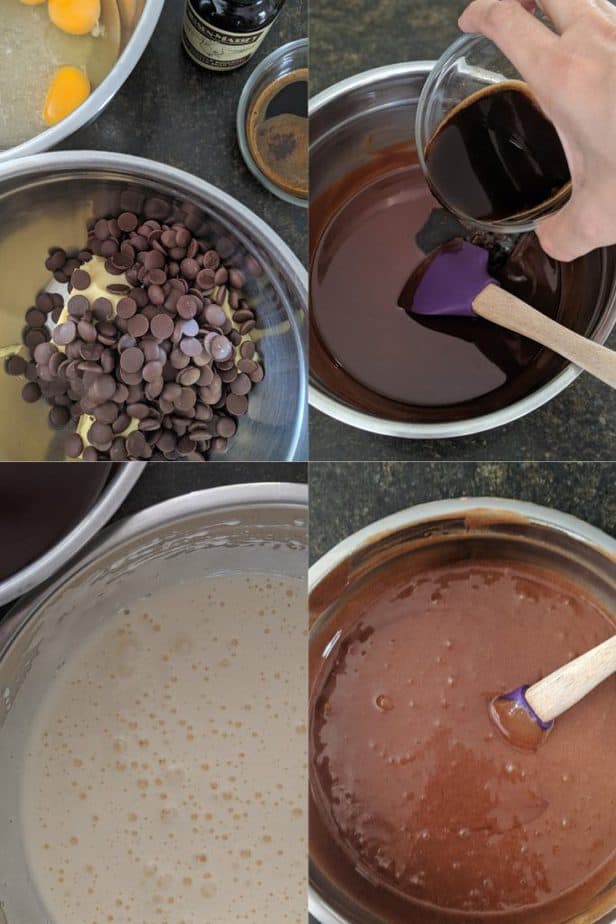 Quick Notes
The Swedish chocolate cake uses the most basic ingredients, but the trick is to find the very best of them. The chocolate has to be dark, to get the best flavor.
The good stuff I have been ardently saving went into it. If you can't get your hands-on good quality chocolate right now, I recommend saving the recipe for later. Trust me; the wait will be one hundred percent worth it!
Keep all the ingredients at room temperature. It will make the process that much faster and results much better.
When you mix the egg-sugar mixture to the melted chocolate, be gentle so that the whipped up mixture doesn't deflate.
Cover the outside base of the tin with foil. Because you're using a loose bottom pan, drips and leaks are possible. It happens to me ALL the time! The foil catches them all and prevents a messy oven. Also, line the tin with parchment paper, it will save you a lot of headache while taking out the cake.
Since the cake doesn't include any leavening agent like baking powder, the cake will rise, then fall. So, don't panic when it goes all sunk in-the-middle fudgy brownie on you.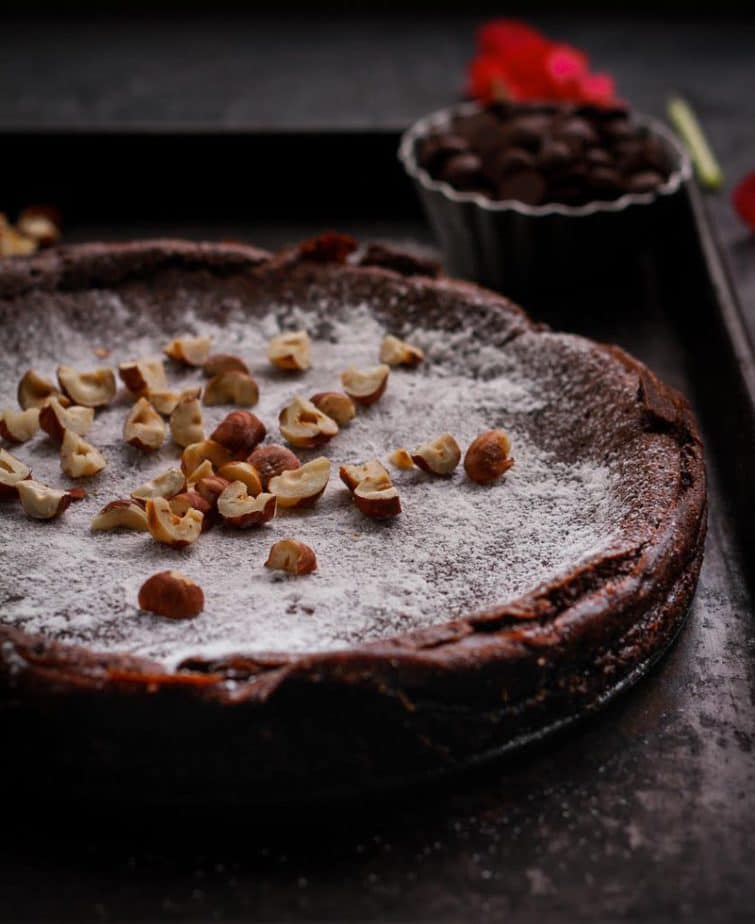 Serving the Swedish Chocolate Cake
Getting the cake out of the pan is a teensy bit tricky. I recommend doing this once it is completely cooled, which can take a few hours. I prefer baking it a day before so that it sets well.
The 9-inch cake should comfortably serve 8 to 10 people because one slice of the intense chocolate dessert with a treacly middle and a crackly crust goes a long way.
You can enjoy the Swedish chocolate cake while it's still warm and indulge in its silky, sticky goodness. But if you're like us and love a wickedly dense cake served with a scoop of ice cream or a dollop of whipped cream, then chill it.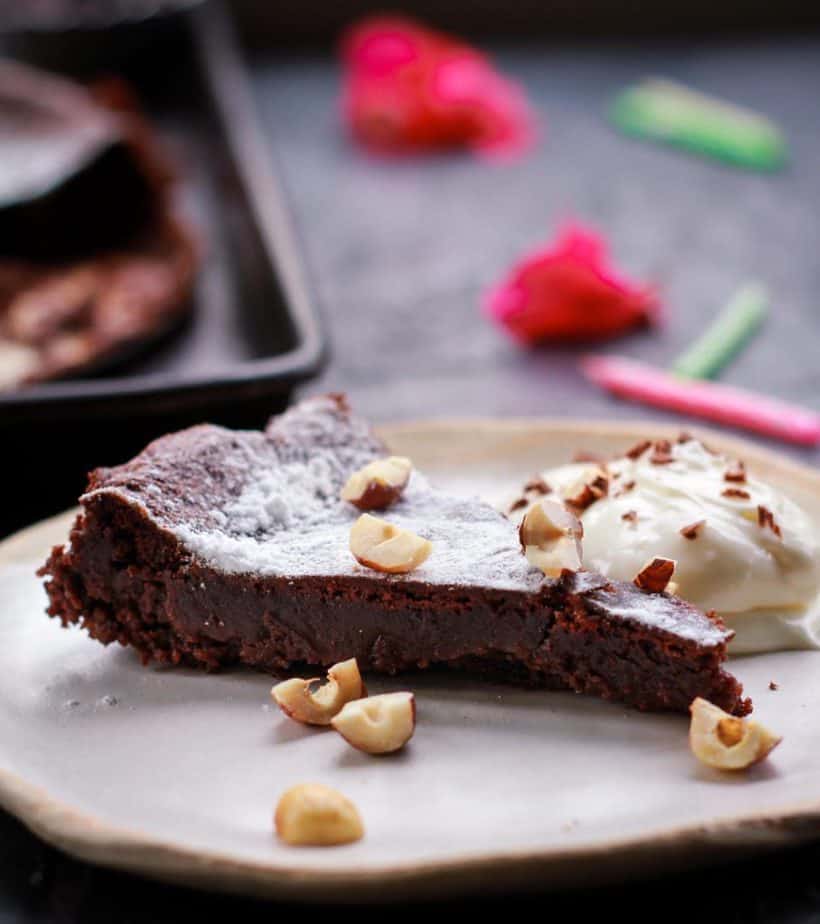 Or you can give in to temptation and have it as is. It is delicious to boot, no matter how you relish it.
The Swedish Chocolate Cake is naturally gluten-free as it is flourless, which means that really all you will taste is dark chocolate, with a beautiful coffee after note that just takes it to another level.
The cake looks sophisticated, yet the making of it is anything but. With a moist center and thin, crunchy exterior, it's the most incredibly luscious and decadent cake you'll ever have the pleasure of partaking.
When a cake has a national day dedicated to it, it's a clear testament to its mouth-watering taste. Right?
I'd love to hear from you! Please tag me on Instagram @tashasartisanfoods, using the hashtag #tashasartisanfoods. You can also FOLLOW ME on INSTAGRAM, PINTEREST for more fabulous recipes! Do subscribe to Tasha's Artisan Foods so you'll never miss a recipe!
📖 Recipe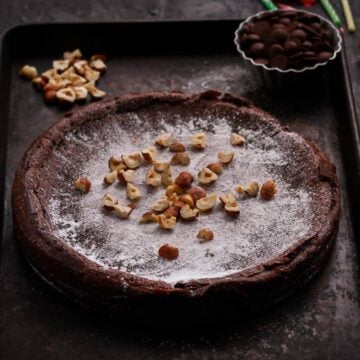 Print Recipe
Swedish Chocolate Cake
The Swedes call it Kladdkaka, but to the rest of the world, the Swedish Chocolate Cake is a chocolate lover's dream come true. It's a soft, sticky, gooey and dense delicacy that you are never, ever, ever too full to gorge!
Ingredients
250

gms

butter

I used salted butter

250

gms

Dark Chocolate

100

ml

Brewed strong coffee

1/3 cup hot water + 1 tbsp coffee powder

4

eggs

180

gms

sugar

1

tsp

vanilla extract
Instructions
Grease a 9″ spring bottom pan and line the bottom with parchment paper. Pre heat the oven to 180 C.

Melt the chocolate and butter in a large bowl placed over a pan of simmering water. Once its all melted, add the coffee and keep it aside.

In another bowl, beat the eggs, sugar, and vanilla until light and doubled in volume.

Stir the chocolate mixture into the egg mixture. Pour into the prepared pan. Bake for about 40 – 50 minutes. It will get puffed up and then fall once it cools. Do let cool completely and turn out from the pan.

I let the cake cool in the pan and then refrigerate it for at least 2-3 hours before releasing it from the pan.

Note : You will not be able to test this cake with a tooth pick as it is meant to be gooey in the center.