It's dreamy. It's super creamy and it's built for maximum ease. That's Biscoff icebox cake in about 10 words.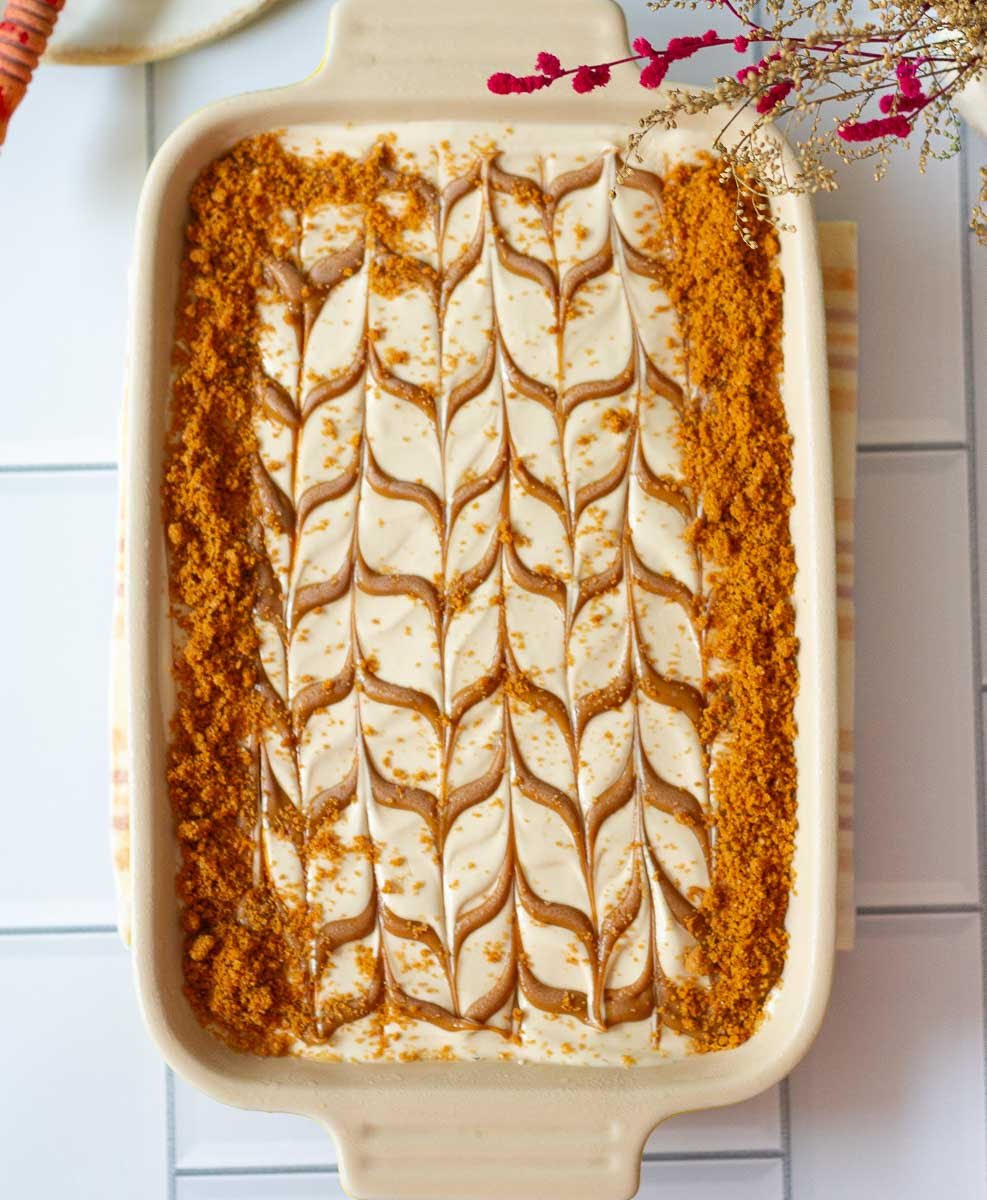 But 10 words are too few to explain the delicious glory of this decadent cookie butter cake. If I could, I'd write an epic saga on it.
I became a fan of the icebox cake recipe after the smashing success of my mango icebox cake. It takes 10 to 15 minutes to put together, and then you sit back, relax, and indulge in a perfect treat for summer (albeit after a wait that seems interminable).
Jump to:
WHAT IS A BISCOFF ICEBOX CAKE?
Icebox cakes are no-bake cake recipes where something creamy (think whipping cream or mascarpone) is layered with cookies (in this case, Biscoff) and then left in the fridge to set.
It's a chilled cake (pun intended 100%) that sometimes has add-ins like mangos. In this recipe, the add-in is Biscoff cookie butter made by Lotus Biscoff, the most popular brand for speculoos. The biscuits and the butter are downright delicious—caramelized, nutty, and crispy – all of which you get to enjoy in the rich speculoos cake.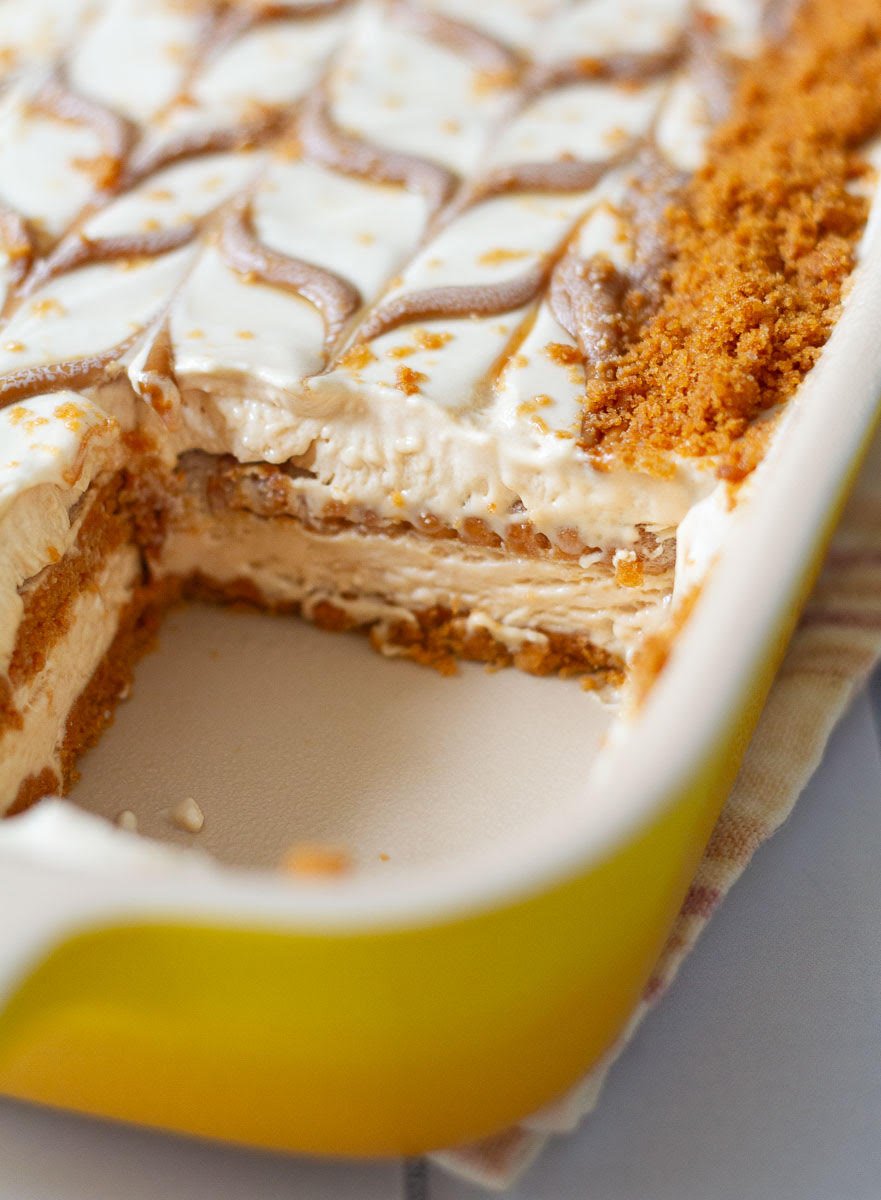 YOU'VE GOT TO TRY BISCOFF CAKE
All it asks for are 4 ingredients, a dish, and an icebox
Low-fuss and fabulous dessert for summer
Easy freezer cake that's so, so fun to make
100% a crowd-pleaser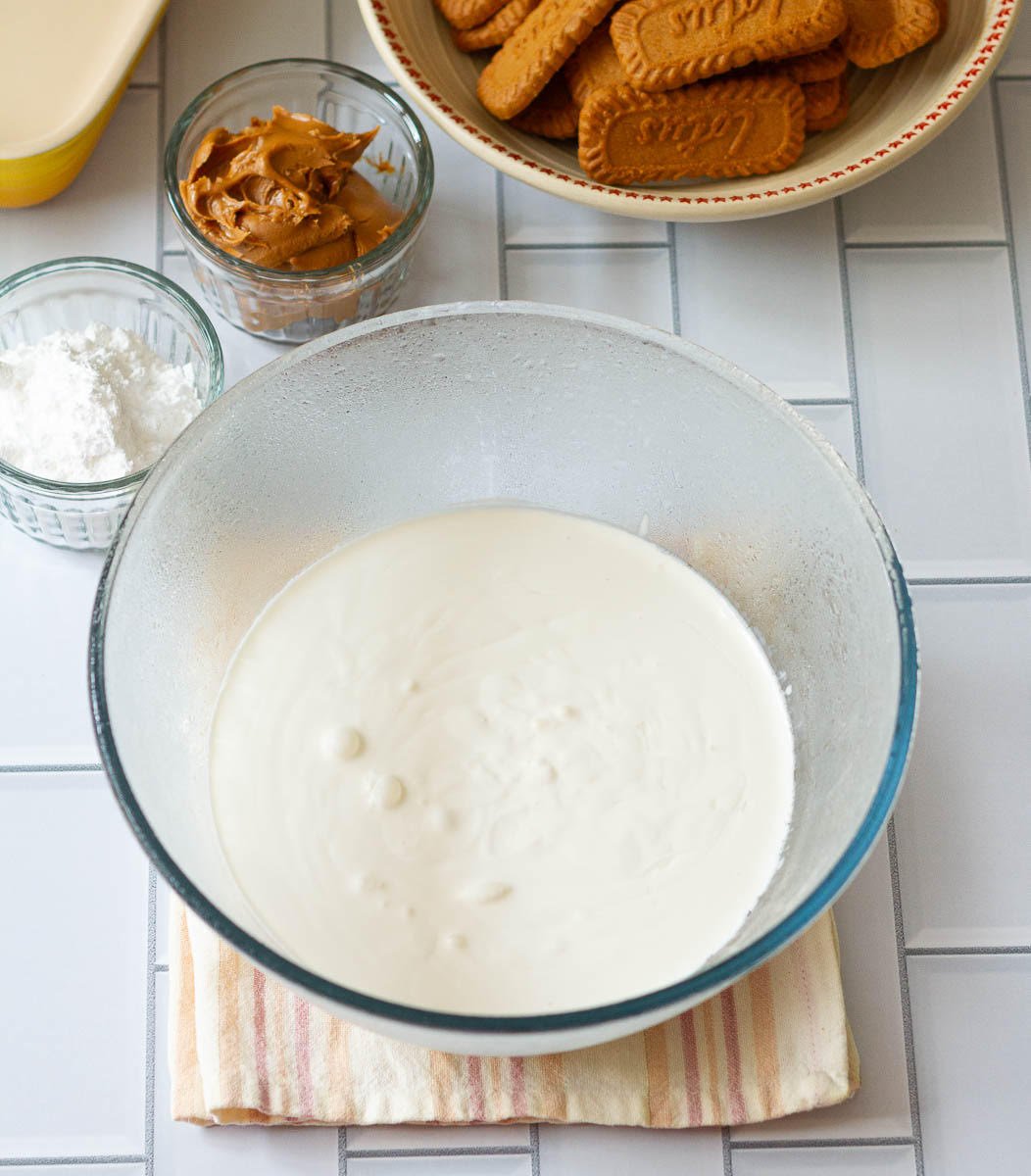 HOW TO MAKE BISCOFF ICEBOX CAKE?
Step 1: Whip the cream into the perfect soft-medium peaks by beating together icing sugar and cream.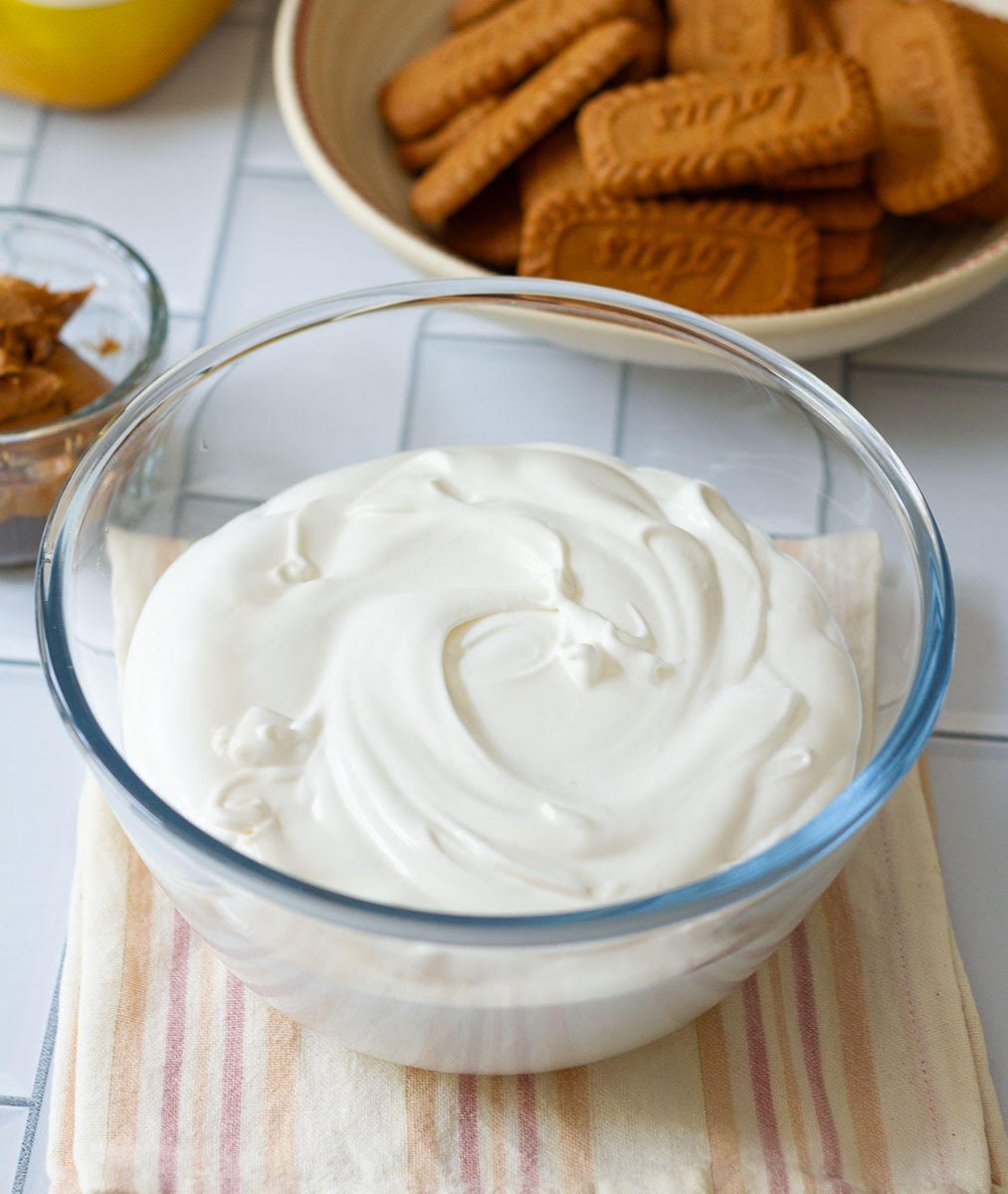 Step 2: Add in the Biscoff butter and beat for about 30 to 45 seconds until the butter is just mixed in.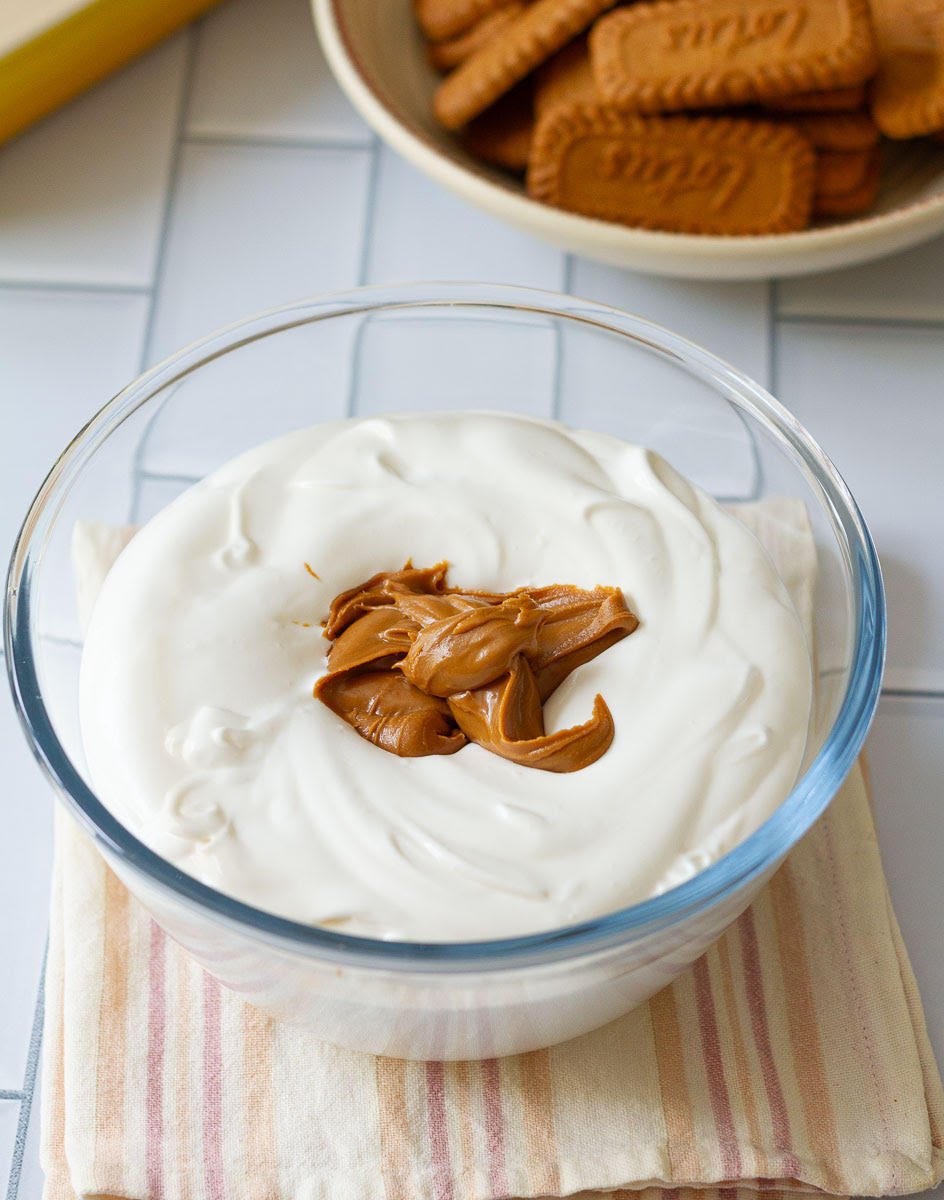 Step 3: It's time to layer the Lotus ice cream cake.
Start with biscuits, covering the dish bottom with whole cookies.
Plop some whipped cream on top, then build the next cookie layer.
Keep repeating until you run out of whipped cream.
I made 2 layers.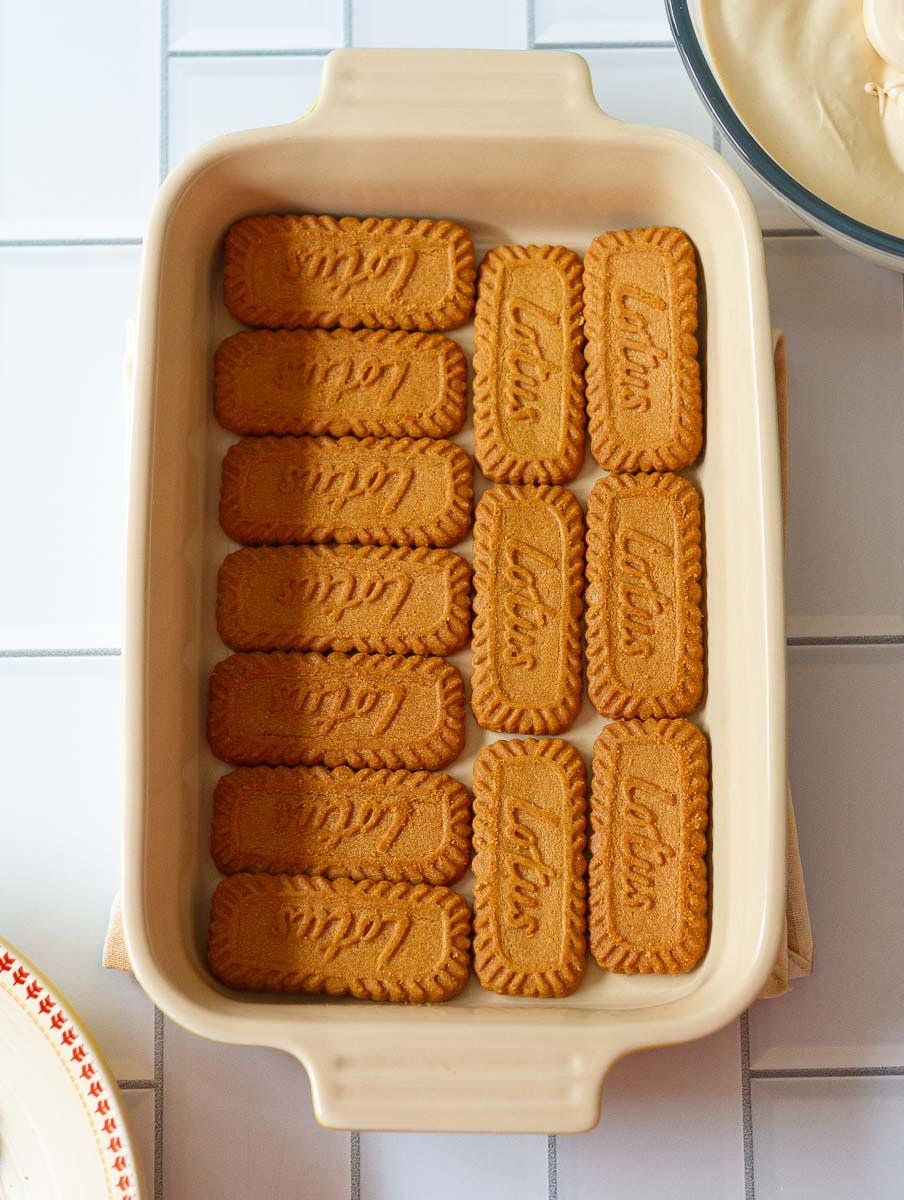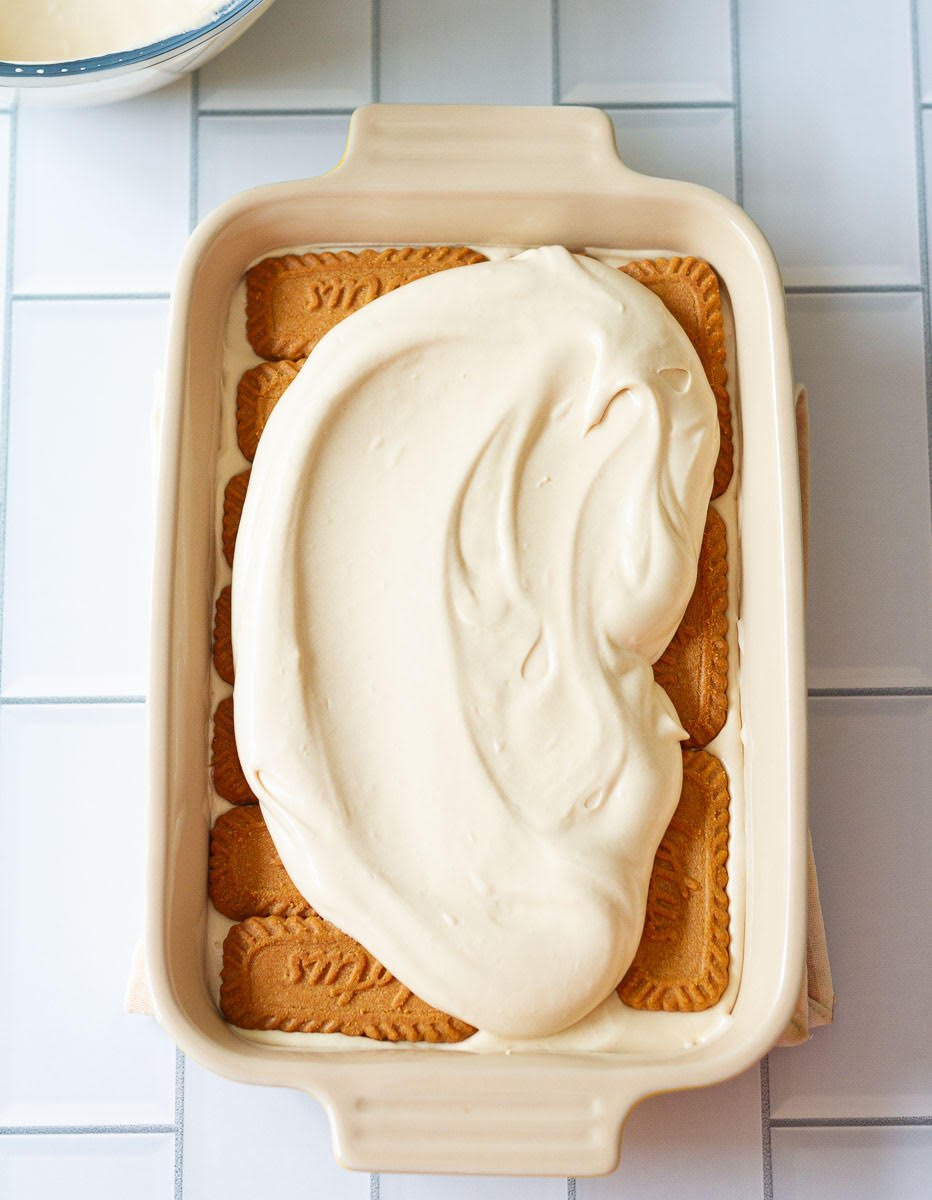 Step 4: Smoothen the top cream layer. While you can leave it as-is, I was in a mood and decided to create swirls using melted Biscoff butter. The final touch was decorating the edges with more Lotus Biscoff cookies.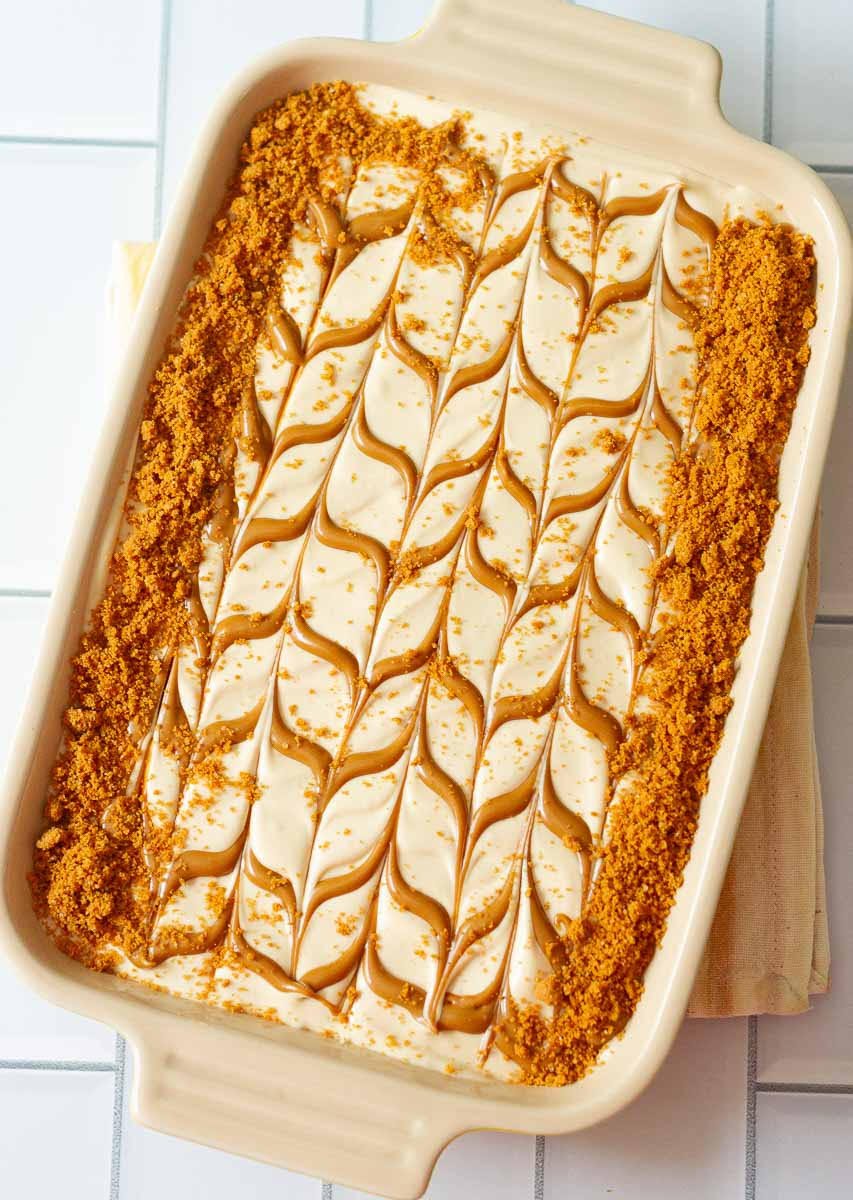 Step 5: Let the Biscoff fridge cake chill in a freezer overnight. Or at least for 8 hours.
Final step: Cut a generous square and enjoy. (You don't need to do a single additional thing when serving.)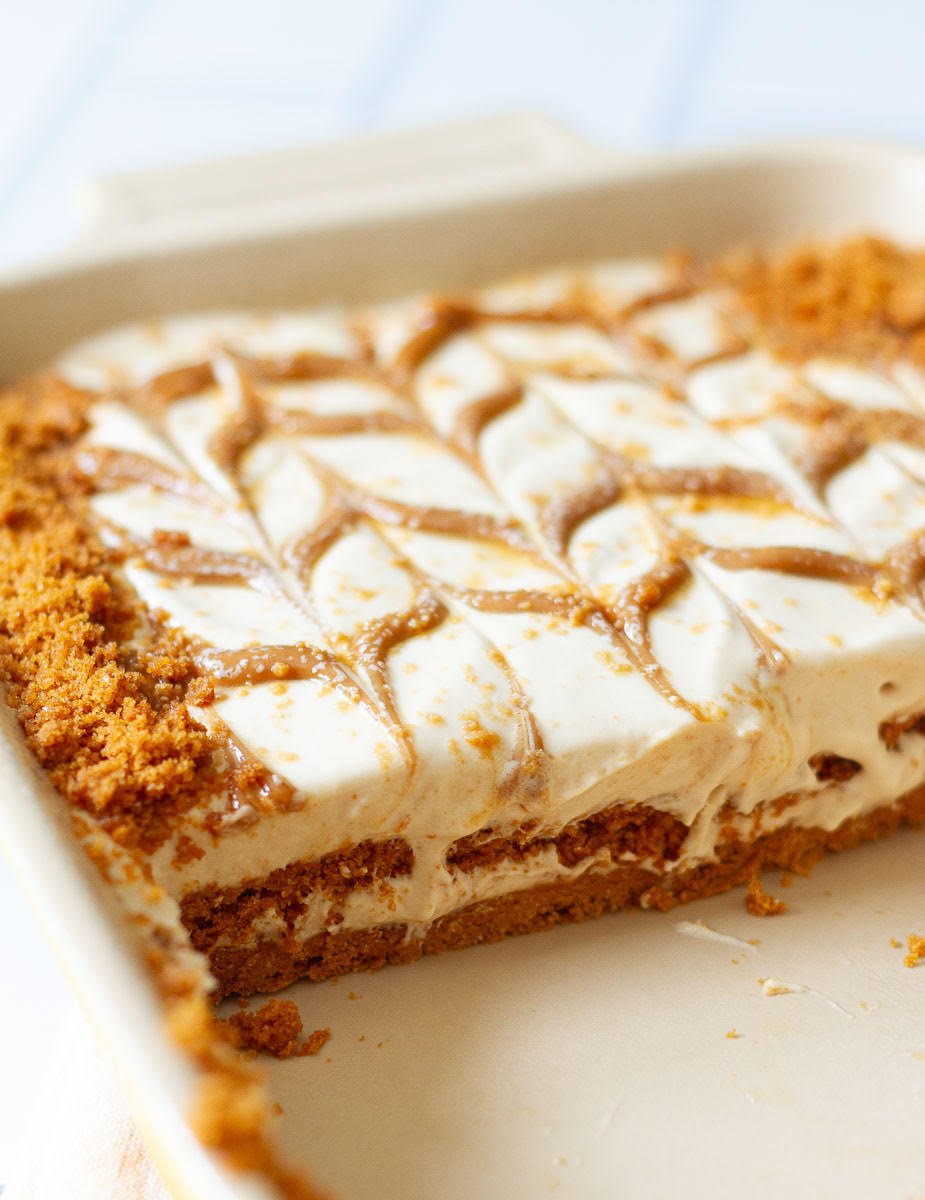 COOKIE BUTTER CAKE TIPS
Be careful not to overbeat the cream. You want it whipped, not turned into butter.
If you're using a loaf pan, line it with clingwrap or parchment paper. Leave some overhang to make removing the cake easy and mess-free. I couldn't be bothered with getting a pan ready, so I just used a freezer-friendly ceramic dish.
To oomph up the lotus cookie cake, you can either spoon melted Biscoff on top or draw a line using a piping bag and then, with the tip of a toothpick, swirl.
Icebox cake recipes are a messy endeavor if they are not served immediately. Especially here as it's so so hot! So, either have it nice and cold or surrender to a melting dessert.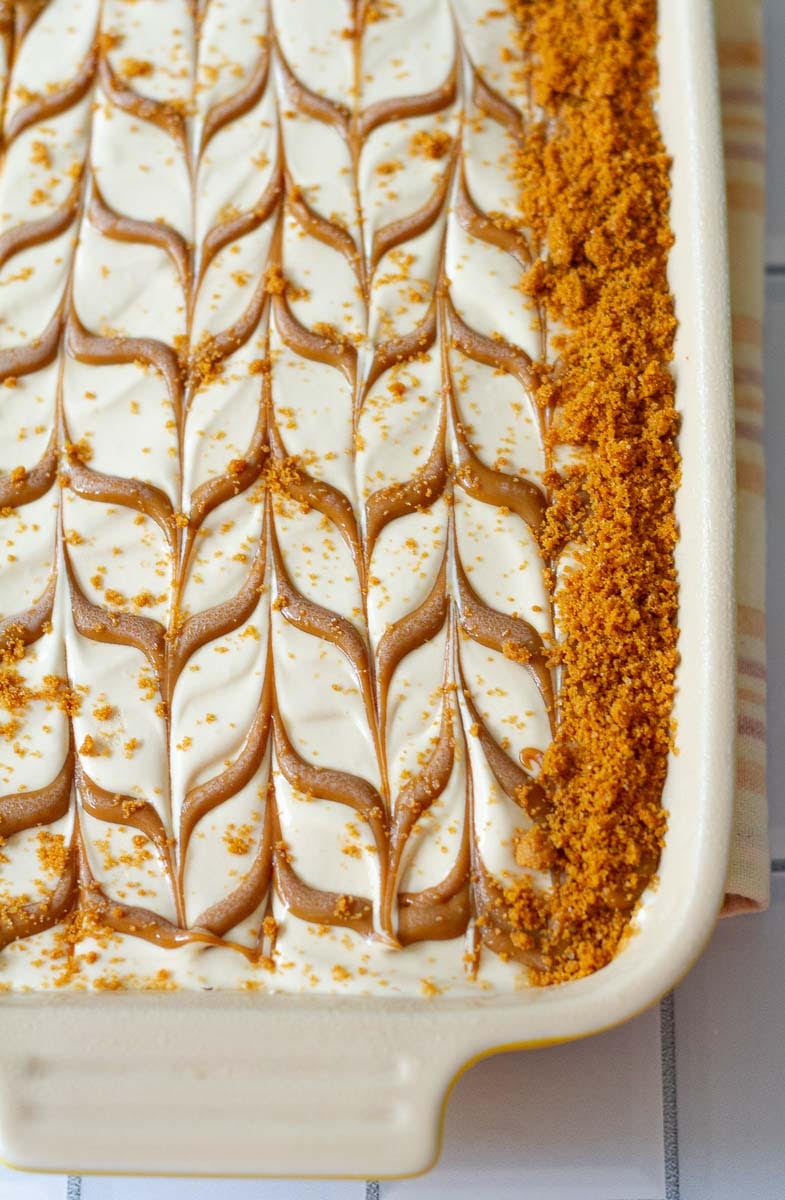 INGREDIENT SUBS FOR BISCOFF COOKIE CAKE
Butter: Lotus Biscoff butter is not essential to cookie butter cake recipes. Any brand of cookie butter will work wonderfully here.
Cookie: Any speculoos you can get your hands on are fine. Lotus Biscoff cookies are merely the easiest and most popular. A good Indian substitute is Parle G.
Whipping cream: My choice for the Biscoff ice box cake was Amul cream with 35% fat content. But I'd say stick to what's easily available to you. And if you want to make the cream richer, nix the icing sugar and use condensed milk, as I did for my mango float cake.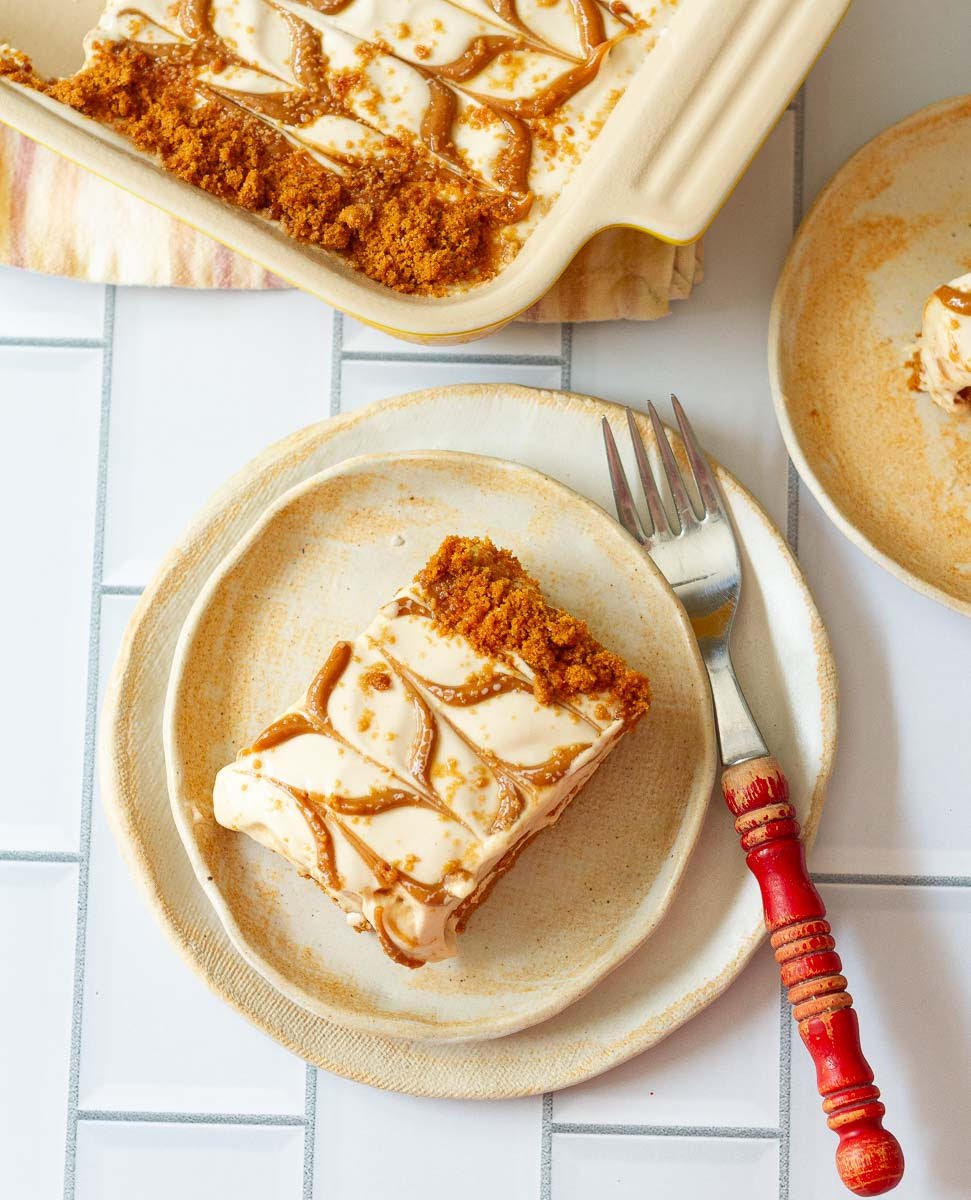 MORE LOW-LIFT, NO-BAKE DESSERT RECIPES
Half the joy of cooking is sharing it with others, which is why I'm always eager to hear from you. So go right ahead and drop a comment or reach out on Instagram, Pinterest, YouTube, or Facebook. I hope you love this Biscoff icebox cake as much as we do!
📖 Recipe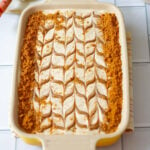 Print Recipe
Biscoff Icebox Cake Recipe
Biscoff Icebox Cake is a decadent, creamy, super low effort dessert. It comes together in minutes and is a definite crowd-pleaser. 4 ingredients and a freezer is all you need to make this glorious dessert!
Ingredients
1.5

cup / 360 gms

Whipping cream, chilled

1/2

cup / 50 gms

Icing sugar

1/2

cup / 130 gms

Biscoff spread

25-30

Lotus Biscoff cookies
Topping
1-2

tbsp

Biscoff spread

2

Lotus Biscoff cookies, crumbled
Instructions
Whip the chilled cream and icing sugar in a large bowl until medium-stiff peaks form.

Whisk in the Biscoff spread.

In your serving dish, layer the Lotus cookies at the bottom.

Cover with half the cream mixture. 

Repeat with another layer of Lotus cookies and cream.

Top with swirls of Biscoff spread and crumbled cookies.

Transfer to the freezer for 6-8 hours. I froze this overnight.

Cut into slices or squares. Serve and enjoy!