Korean pickled radish makes any dish you can think of more exciting to eat. It's the simplest and quickest pickled daikon radish recipe, but with one bite of the crisp, tart preserved radishes, everything bursts into flavors and textures.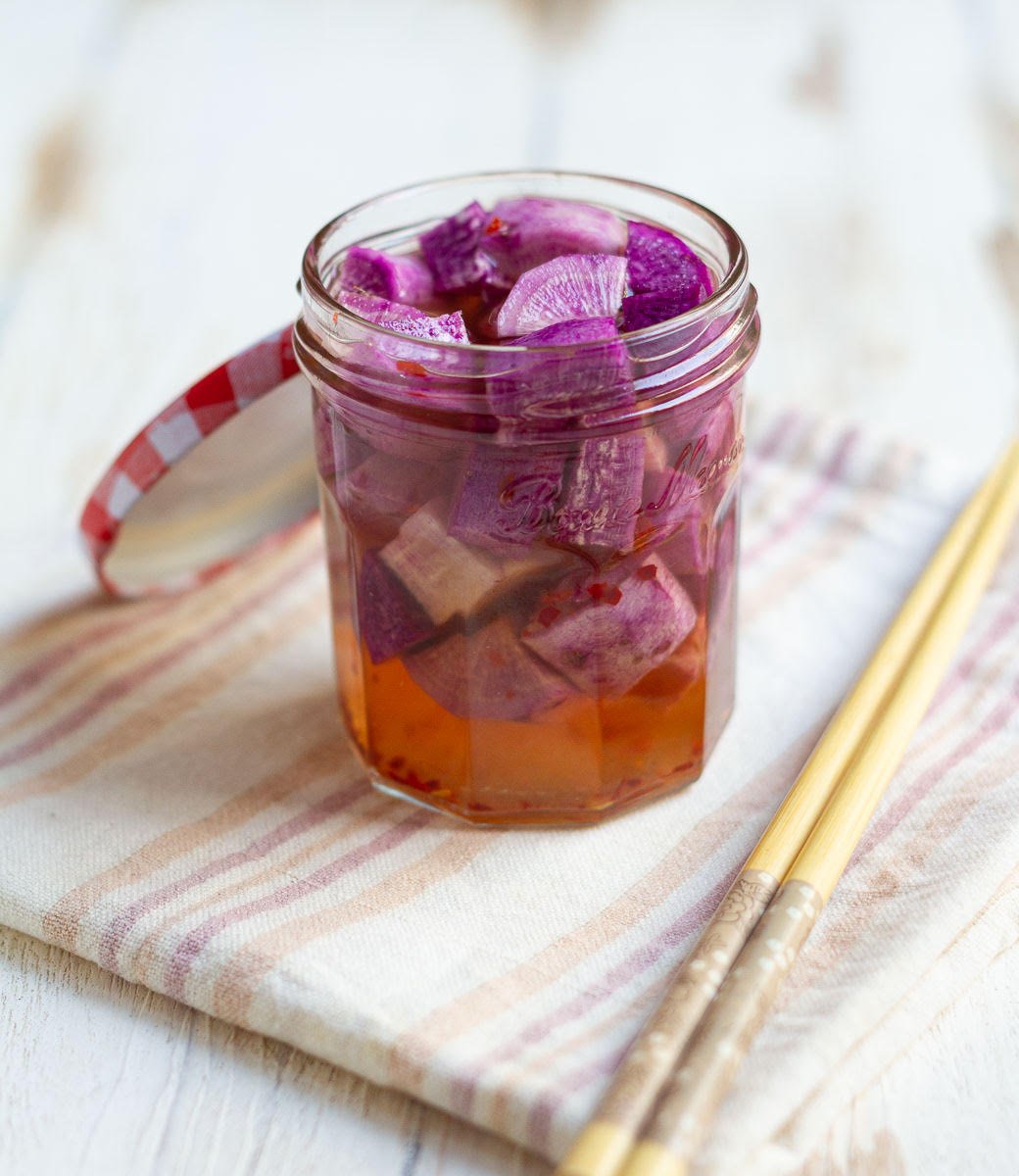 A pickle preserves a fruit or vegetable through acidity, so traditionally, pickling takes ages to mature. Forget ages, I don't even have the willpower to wait a few hours for a gastronomic haven like a pickle.
So, I turned to wiser minds than mine for quick Korean pickles. Made with purple radish, the recipe is adapted from both Drive Me Hungry and the queen of Korean food, Maangchi. FYI, for beginners, Maangchi's blog and YouTube channel are a treasure trove of Korean home cooking!
Jump to:
WHY TRY KOREAN PICKLED RADISH
Don't need fancy equipment or cooking skills.
Can you slice radishes and boil water? Then you can make this pickle.
Plenty of room for the creative cook to experiment.
Serve it with anything from tacos to sandwiches to fried chicken!
HOW TO PICKLE RADISHES KOREAN STYLE
Step 1: Peel and cut radishes into small cubes and transfer them to a glass jar.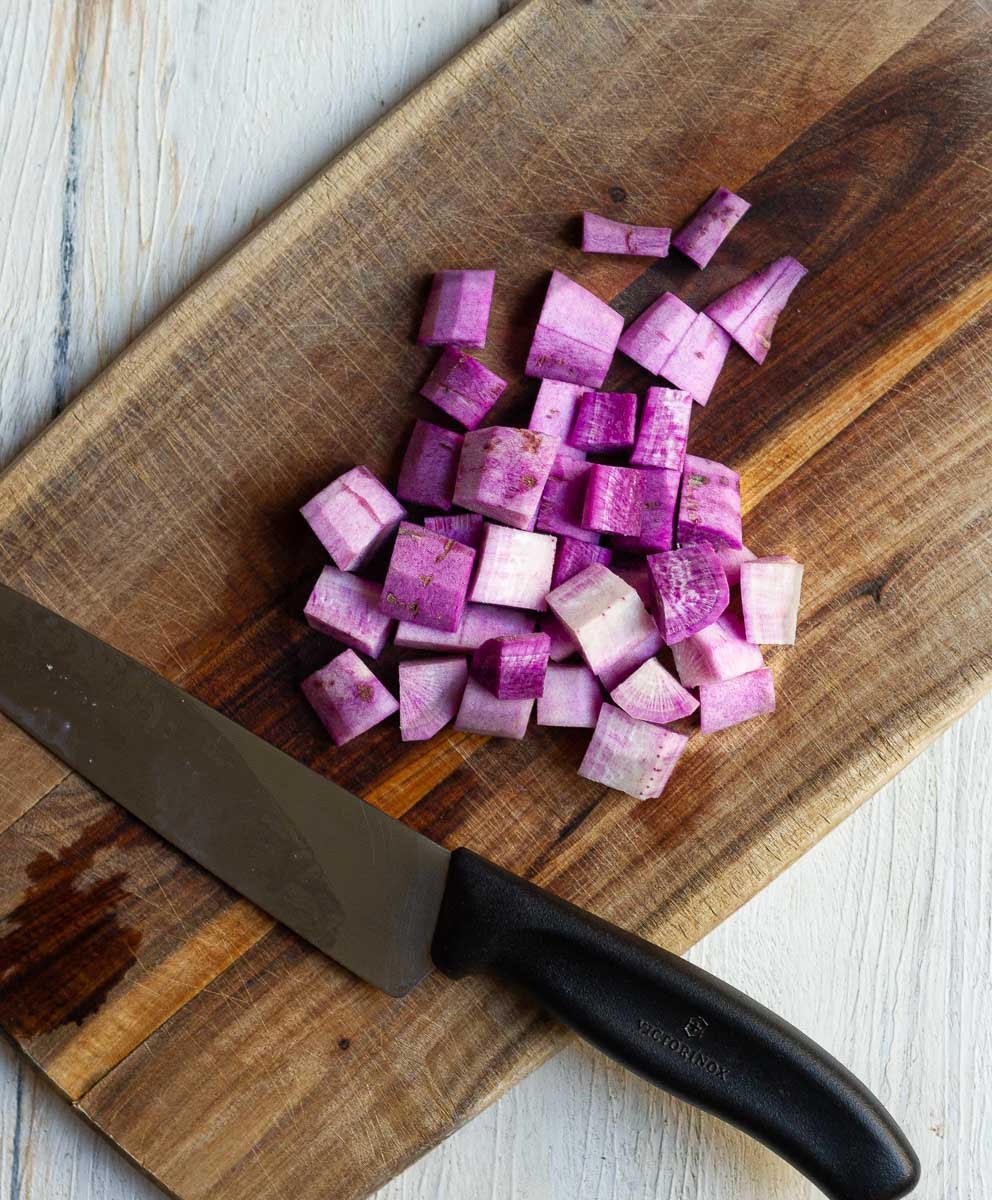 Step 2: In a saucepan, heat water, vinegar, salt, sugar, and chili flakes or gochugaru just until the sugar dissolves.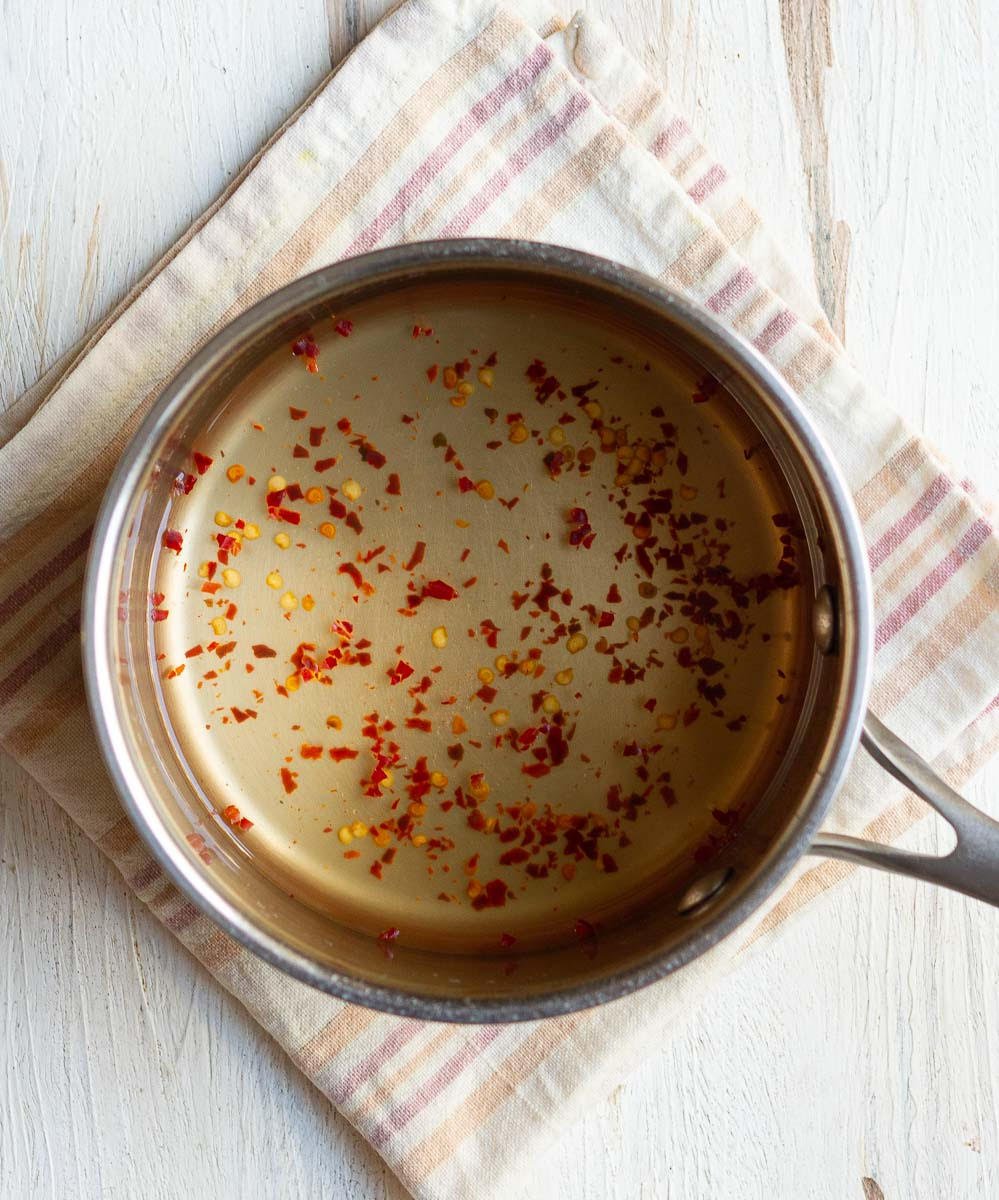 Step 3: Pour over the cubed radishes. Close the jar lid and refrigerate.
Final step: Enjoy chilled 24 hours later!
NOTES ON QUICK KOREAN PICKLES
If you don't know how to make radish pickles and are trying it for the first time, don't overdo the spices. Let the flavor develop over a few days. Taste and then adjust the spices accordingly when you next try this Korean pickled radish recipe.
Cubing is the most popular way to cut radishes for this quick pickle because it gives you a hardy crunch perfect for salads or as a side dish. But if you're thinking of adding it to tacos, then thinly slice the vegetable to get that tangy texture.
You can easily use any other vegetable for quick pickling in this way - cucumbers, carrots, beans, beetroot!
WHAT KIND OF RADISH TO USE FOR KOREAN PICKLING?
A Korean pickled radish recipe calls for Mu because it's crunchier and has a flavor profile that packs a punch as compared to daikon or mooli.
How do you recognize Korean radish? It's white with rounded green ends, giving it more of a potato shape than a tapered end.
My American readers will find it easily available in Asian grocery stores. Don't worry if you can't get your hands on it. Any seasonal radish will work here.
I opted for some gorgeous and stunning purple radish from Krishi Cress, which delivers fresh farm produce in the NCR. The pickles turned out tender yet crunchy and flavorful.
HOW LONG DO PICKLED RADISHES LAST?
Refrigerated Asian pickled radish lasts for a good week. So, make it a few days ahead, especially because the longer you wait, the stronger, cleaner, crisper, and more balanced its flavor will be.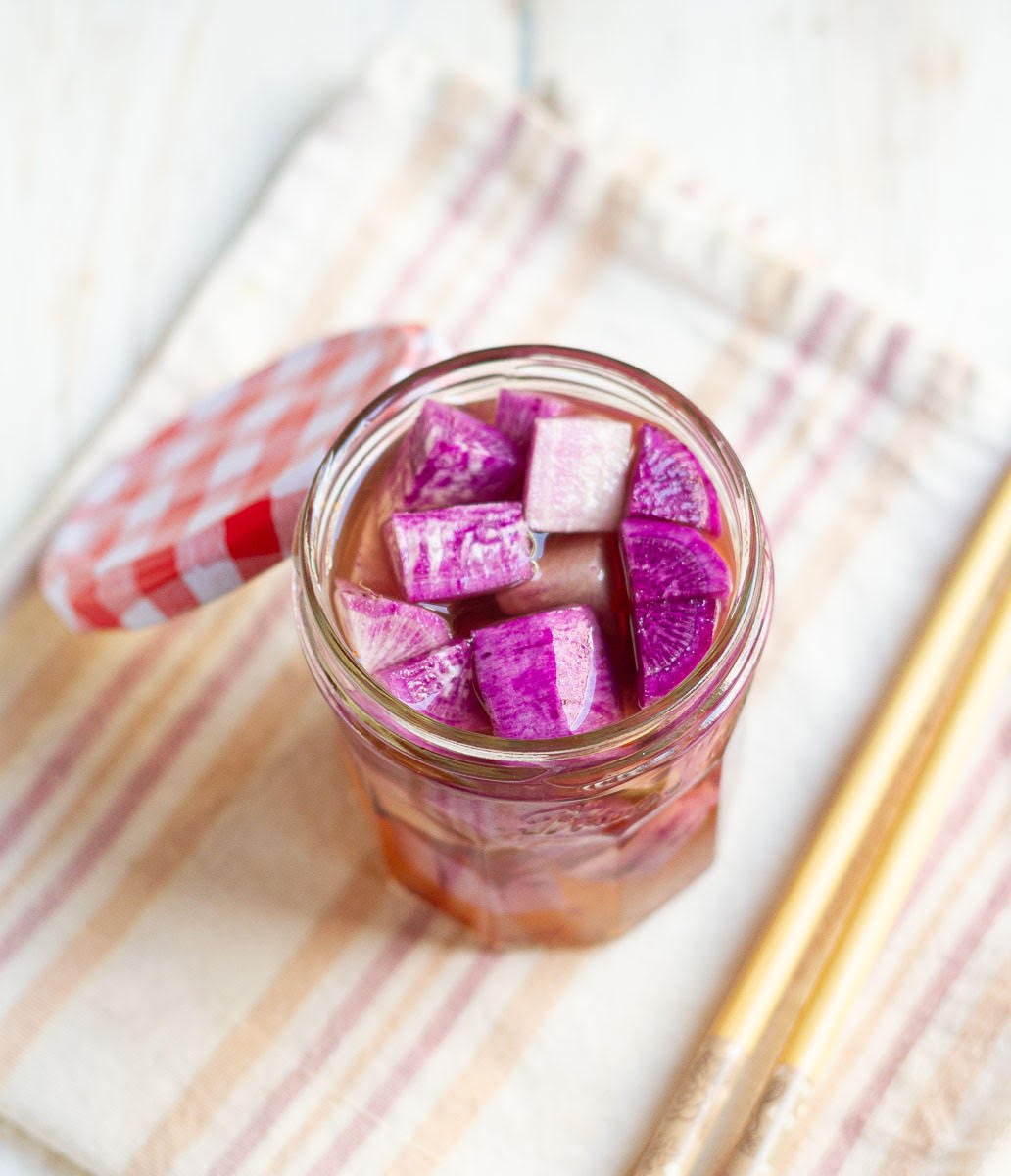 HOW TO SERVE?
Typically, pickled radish is served with Korean fried chicken because the acidity cuts through the richness, priming the palate for any other dishes being served and balancing the heaviness.
I am happy serving the preserved radishes with literally anything, even dal chawal. Think of it as a supporting player, not a star, to your spread. It elevates any dish it is served with. My suggestion would be:
PURPLE DAIKON RADISH RECIPE VARIATIONS
Spices: Korean pickles need salt to bring out the piquancy, and sugar to blunt vinegar's sharp edge. Besides them, you don't need to add more spices.
So don't feel bound to add Korean chili powder or chilli flakes. It's completely optional. You can even flavor the preserved radishes with coriander seeds, bay leaves, garlic, herbs, or turmeric. Treat it like a blank slate.
Vinegar: The best-pickled radish recipe is crisp with a subtle spice underneath. While the usual distilled white vinegar works like a charm, I prefer rice vinegar, the less tangy and acidic cousin.
MORE CONDIMENT RECIPES
Half the joy of cooking is sharing it with others, which is why I'm always eager to hear from you. So go right ahead and drop a comment or reach out on Instagram, Pinterest, YouTube, or Facebook. I hope you love these quick pickled radishes as much as we do!
📖 Recipe
Print Recipe
Korean Pickled Radish - Quick and Easy!
Korean pickled radish makes any dish you can think of more exciting to eat. It's the simplest and quickest radish pickle recipe, but with one bite of the crisp, tart preserved radishes, everything bursts into flavors and textures.
Ingredients
2

/ 140 gms

Radishes

3

tsp

Sugar

1

tsp

Salt

1

tsp

Red chilli flakes/ Gochugaru

Optional

1/4

cup /60 ml

Water

1/4

cup / 60 ml

Rice wine vinegar
Instructions
Peel and cut radishes into cubes. Transfer to a clean jar.

In a small saucepan, combine, sugar, salt, water, rice vinegar, and chilli flakes. Heat until the sugar dissolves.

Take the pan off the heat and pour the liquid over the cubed radishes.

Cover the jar with a lid and refrigerate for 24 hours. Enjoy!

Refrigerate up to a week.