We like our salads, we really do. More often than not they double up as a meal for us. So I make sure they are hearty enough. This Roasted Sweet Potato and Chickpea Salad is not only substantial but is also bursting with flavours and textures.... following the "salad rulebook to the T"!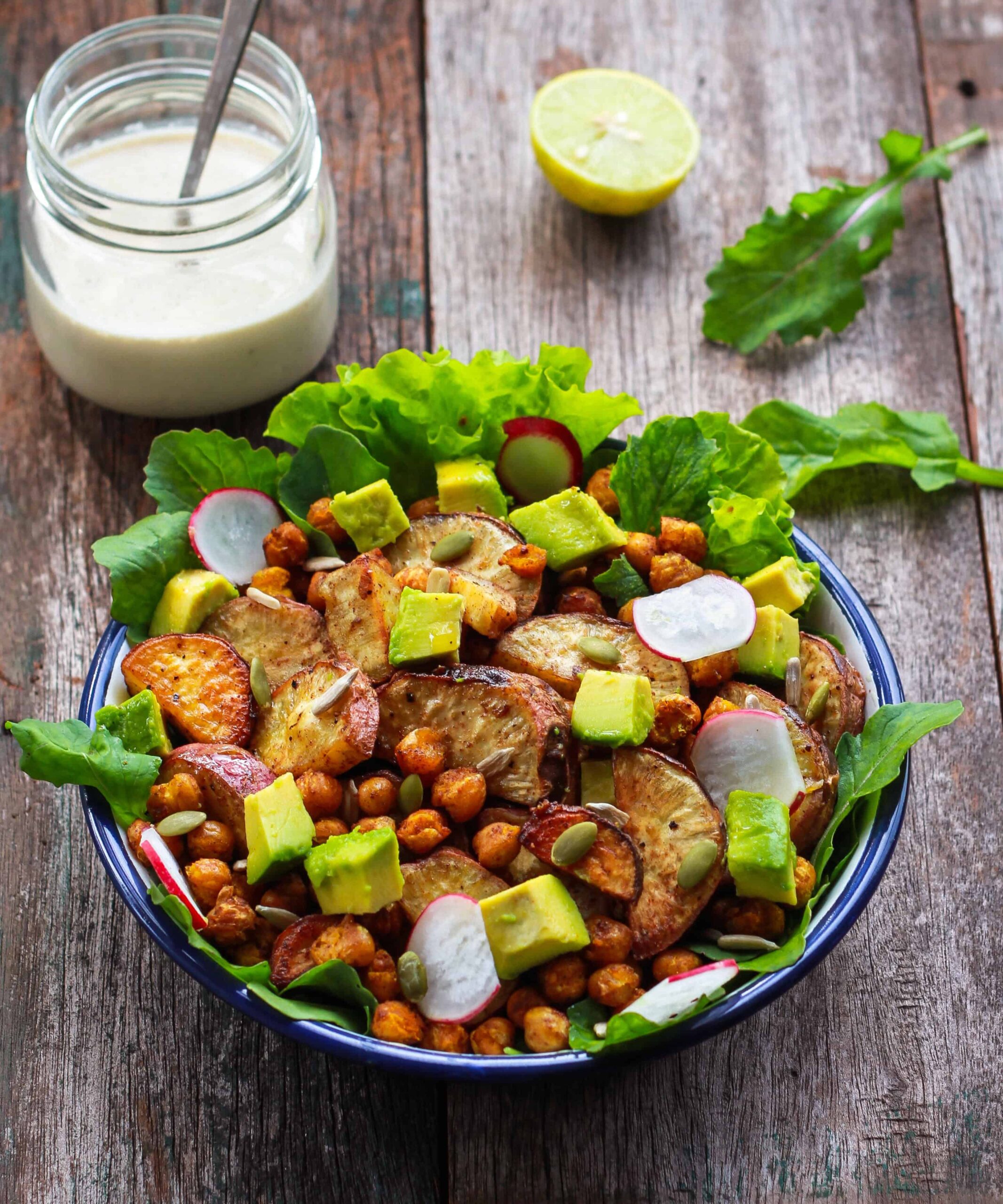 Some days inspiration strikes and I whip up a quick, easy dish in a matter of minutes. A few days (or even months) later I pick up the recipe again, tweak it until it's perfect and then serve (to the satiating satisfaction of my household).
That's the case with my roasted sweet potato and chickpea salad. With just a tiny change here and there, it went from "hmmm, this is good" to a flavour explosion in your mouth.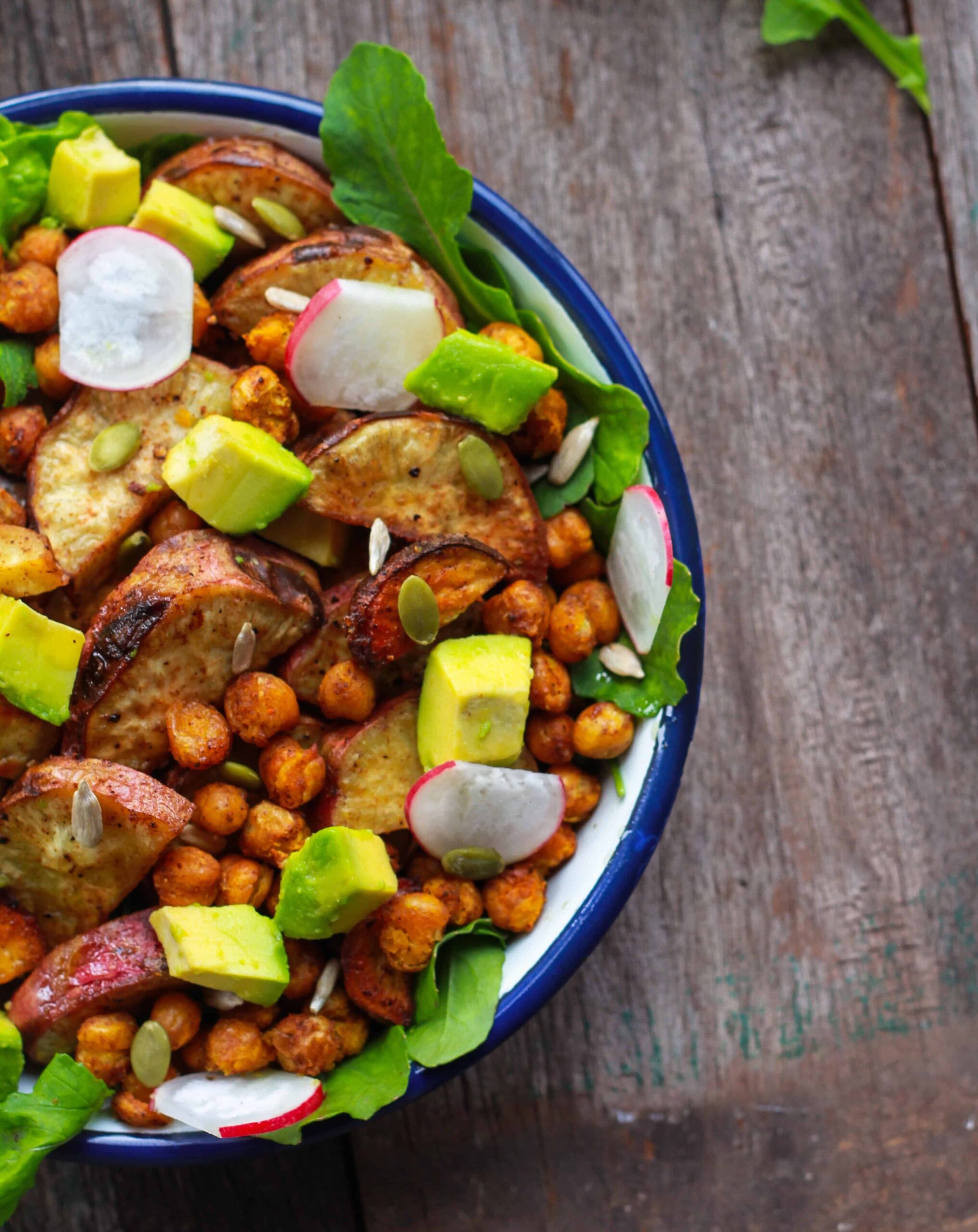 How do you make roasted sweet potato and chickpea salad?
Start with roasting sweet potatoes, which is my absolute favourite way of cooking them. You let the oven do all the work (FYI, I blame the never-ending winter for my laziness) and with such little effort, you get big delicious results.
There's nothing mellow about oven-roasted sweet potatoes, and that's what brings the surprising intensity of flavours. But the real meal time magic comes with roasted chickpeas. They are a revelation in themselves. A crunchy, spicy, and savoury snack that you'll keep popping in your mouth by the fistful.
High protein and fibre content make them super healthy and very satisfying too. That is why a little jar sits on my son's desk all the time while he's studying for those dreaded exams.
For the salad, you want to eat them freshly roasted as they do lose their crunchiness by the next day.
Oh, by the way, roasted chickpeas also make excellent soup and salad toppings (as in this recipe) …hello new age croutons!
Along with chickpeas and sweet potatoes, I added rocket leaves (for a peppery piquancy), some thinly sliced red radishes (for an interesting punch of texture and crunch) and chunks of avocado (for a boost of healthy fat).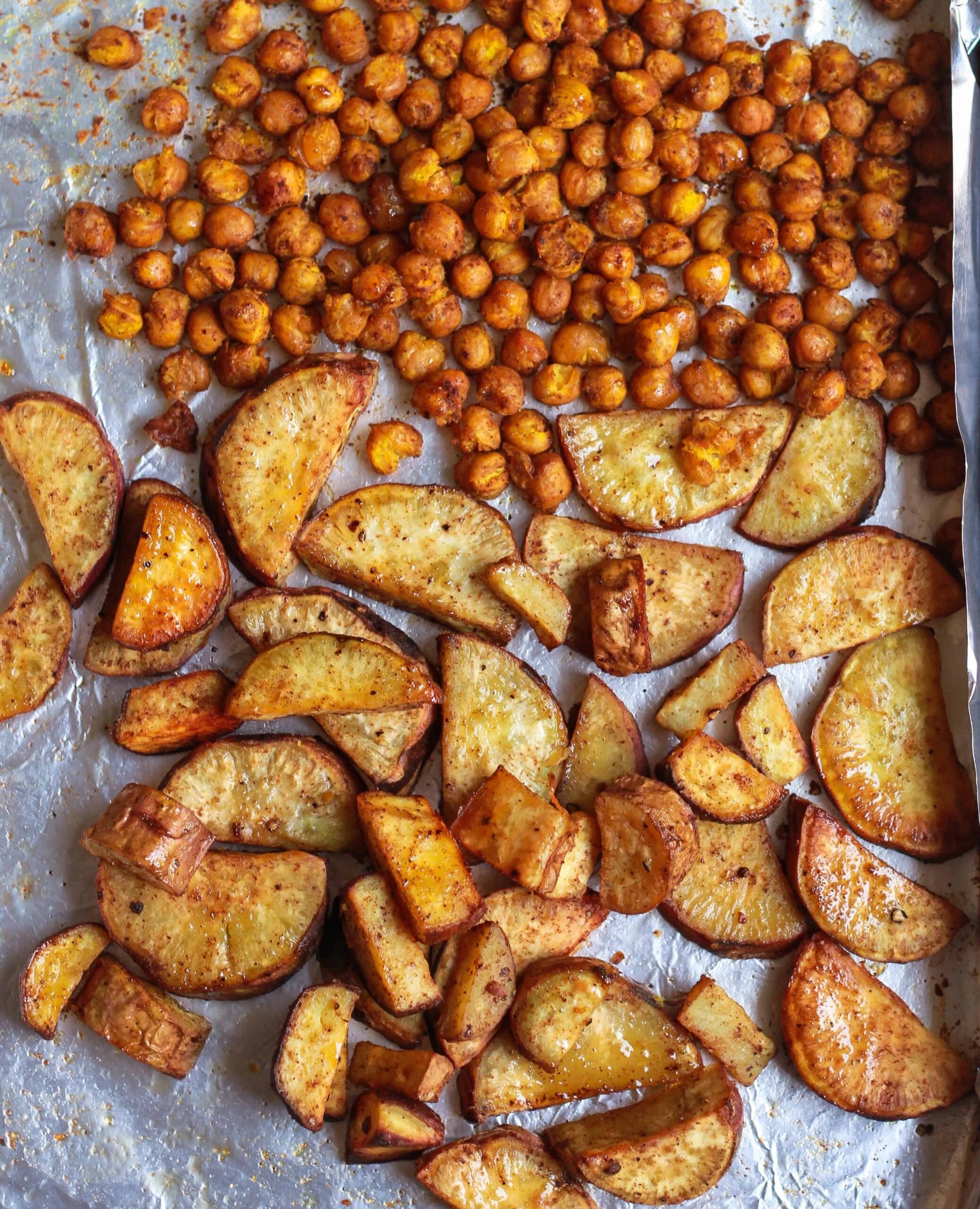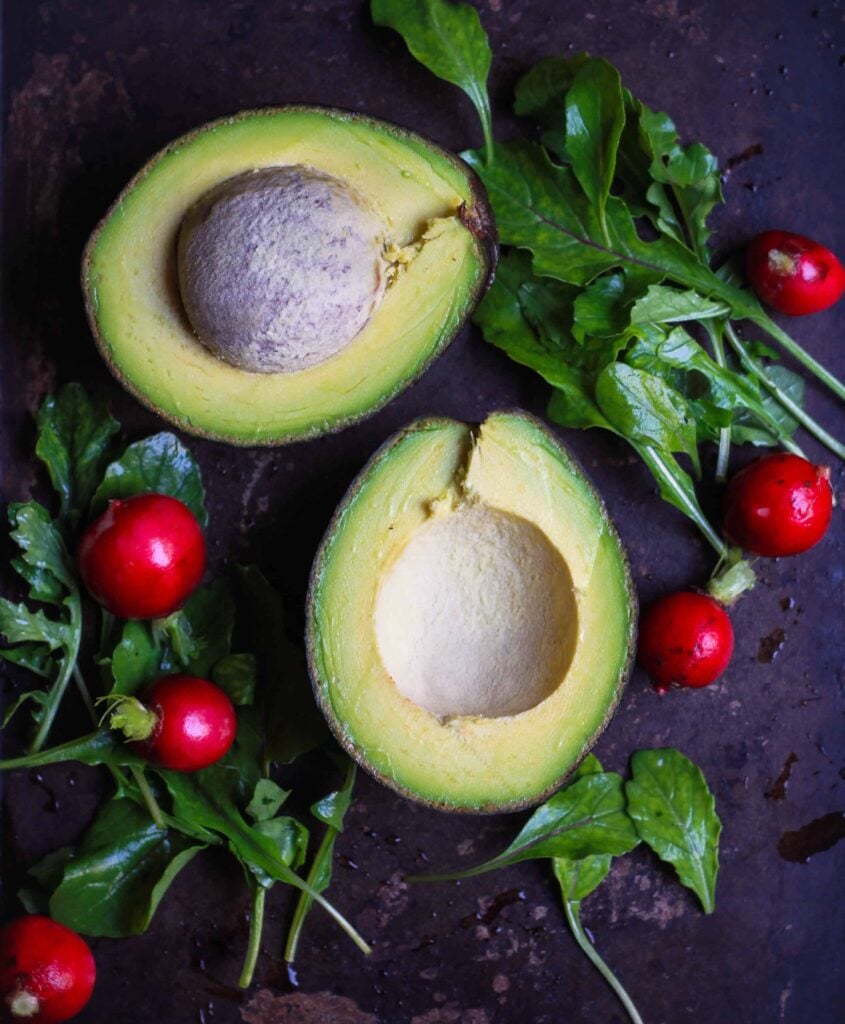 Dressing the salad….
Blending the inherent sweetness of the seasonal root vegetable with savoury ingredients creates a very balanced salad preparation. But it's the tahini dressing drizzled on top that composes all the ingredients in a delicious melody.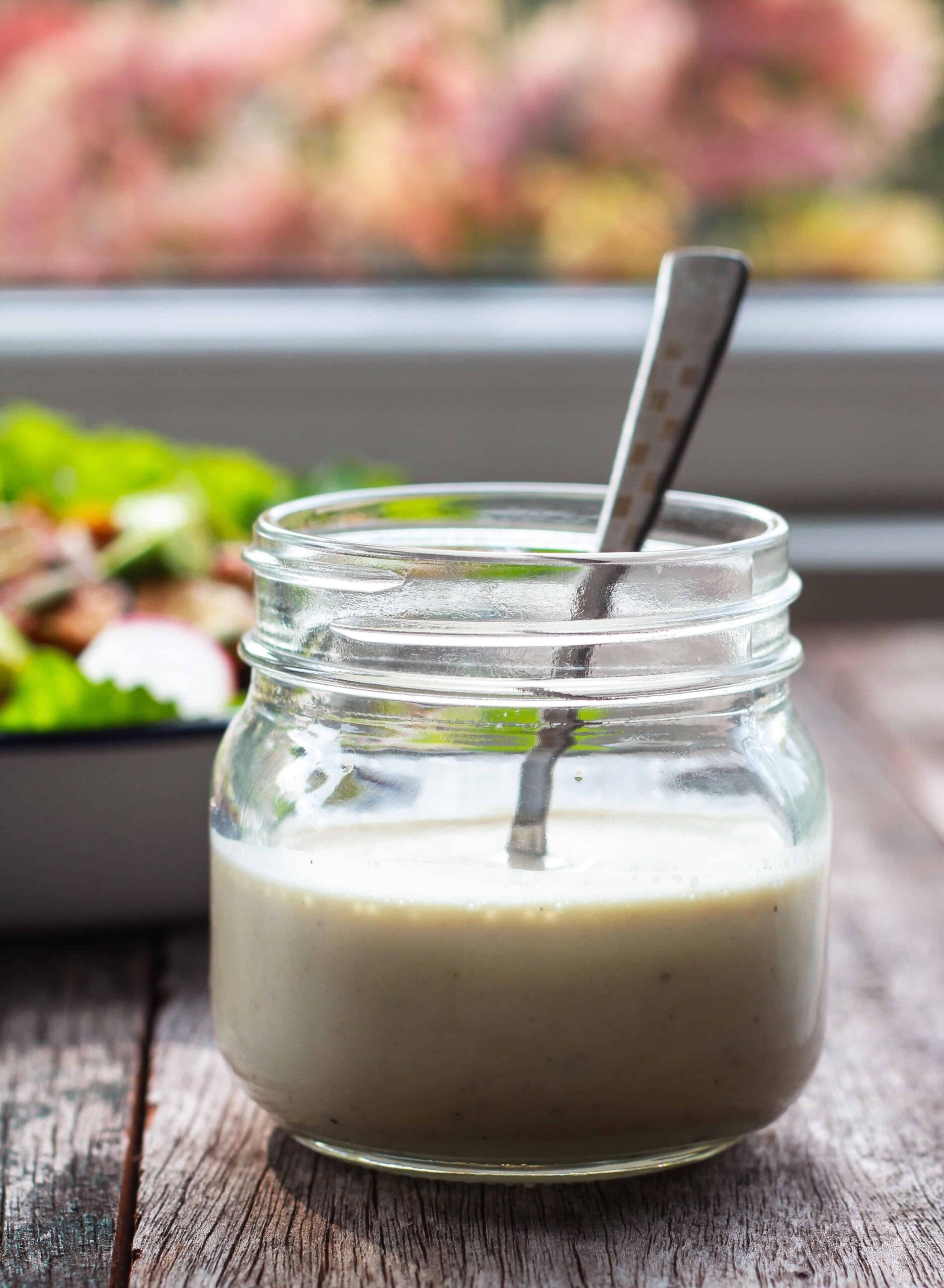 What is tahini?
Tahini is a toasted sesame seed paste. It's one of the best sources of calcium and protein in the nut family. Although it tastes richly creamy and nutty, I find it a touch strong which is why I add a bit of maple syrup to the dressing. You can add a dash of honey as well. A splash of lemon juice rounds up the flavours beautifully.
That's it, in a jiff you've got yourself a creamy, dreamy dressing you want to dip your face in!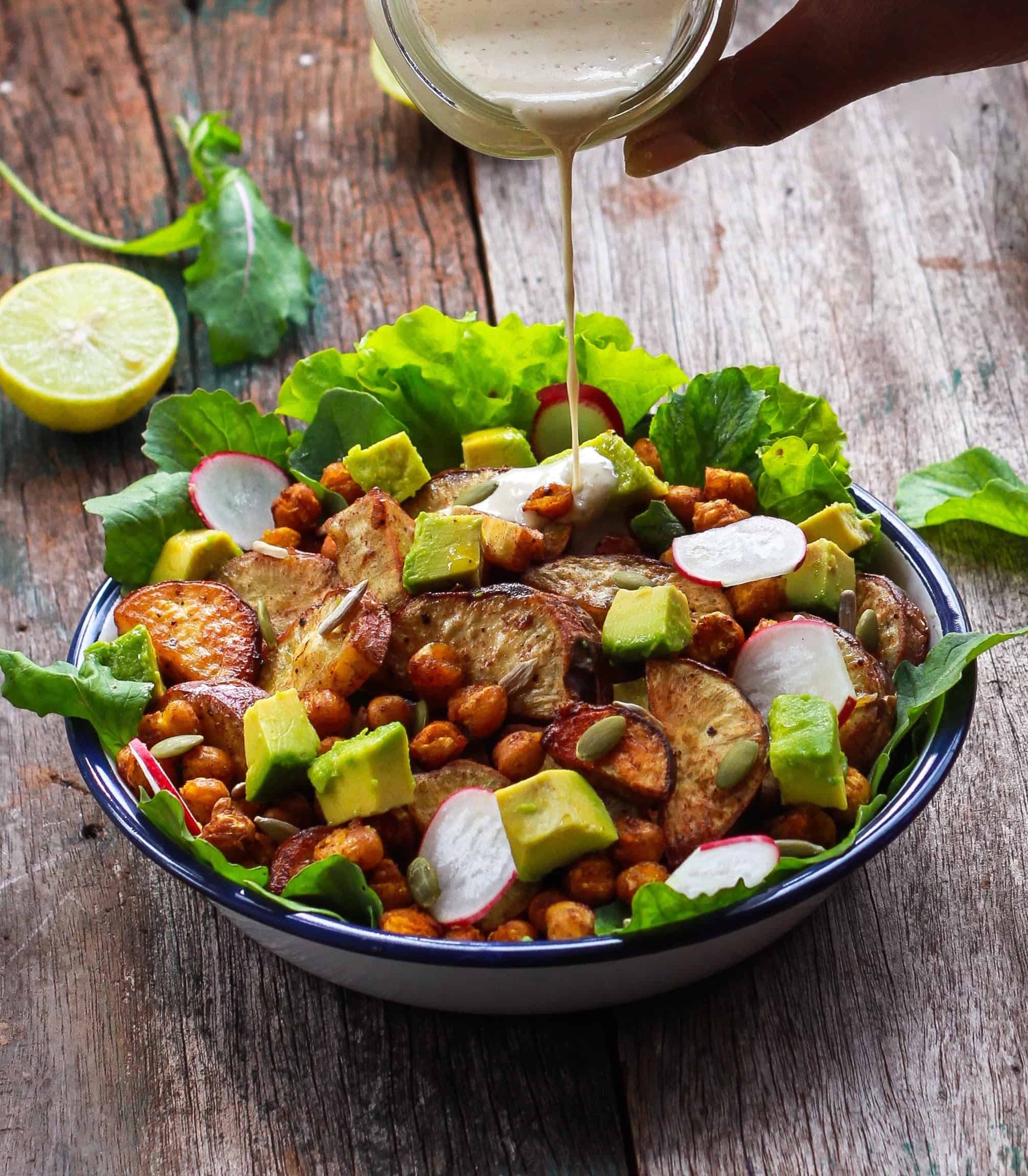 Some notes on serving roasted sweet potato and chickpea salad:
Sweet potato (and every other ingredient in the salad) is available in abundance during December and January, which is why the salad is perfect for this time. Seasonal ingredients simply taste better; and honestly, I look forward to including them in my recipes.
I got some excellent tahini from right here in Gurgaon, but it is as readily available online (yay Amazon) and in health food stores.
Being the quintessential winter salad, it is ideal for people like me who start bundling up the minute temperatures drop below 20 degree Celsius.
You'll enjoy it the most when warm or at room temperature. With one bite, the cosy warmth of fresh ingredients takes away the winter blues.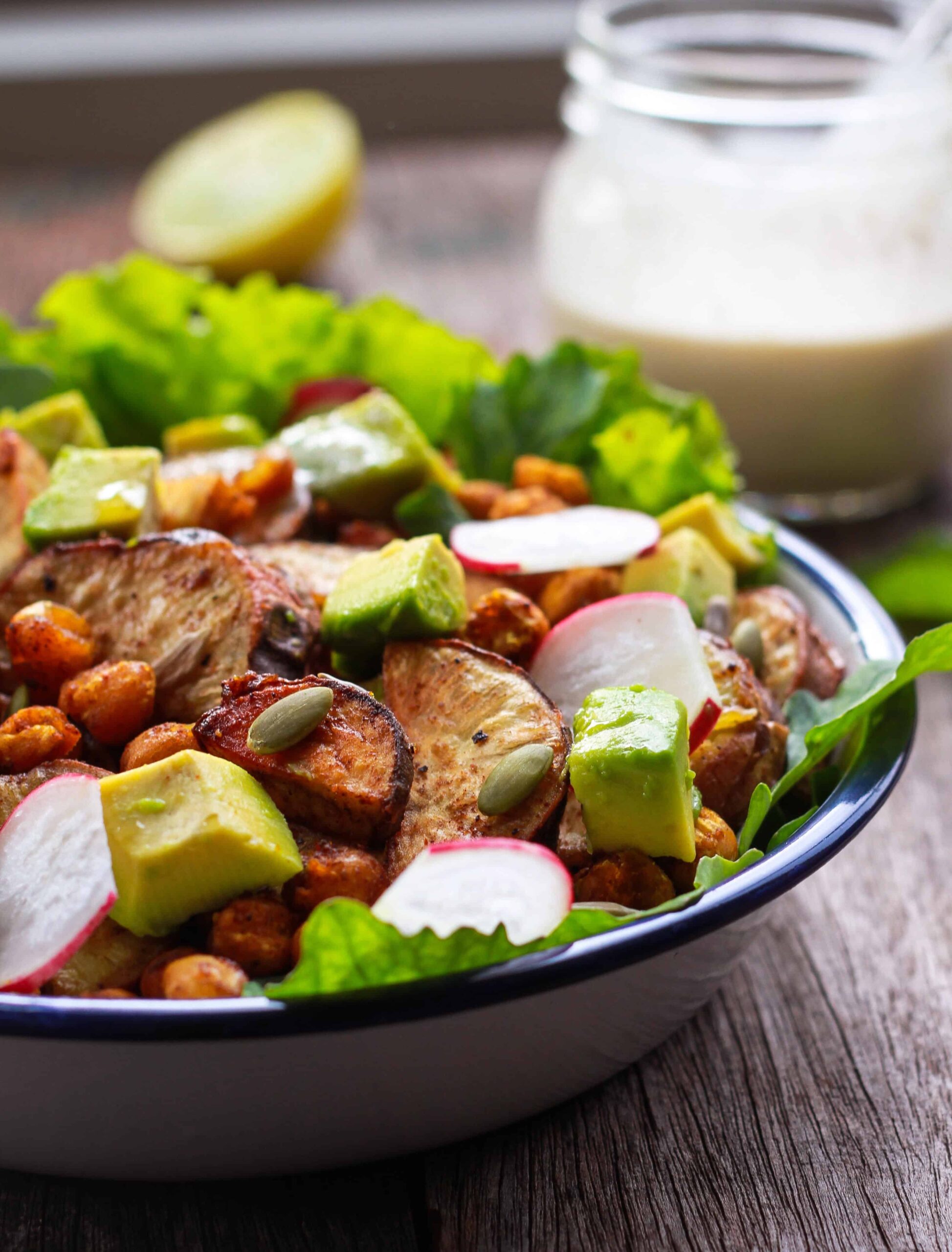 I hope you fall in love with this gorgeous Roasted Sweet Potato and Chickpea Salad just like we did. Delicious, hearty, healthy and trust me, its really more of a meal than a salad!
I'd love to hear from you! Please tag me on Instagram @tashasartisanfoods, using the hashtag #tashasartisanfoods. You can also FOLLOW ME on INSTAGRAM, PINTEREST for more fabulous recipes! Do subscribe to Tasha's Artisan Foods so you'll never miss a recipe!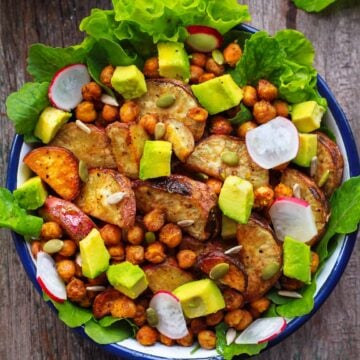 Print Recipe
Sweet Potato and Roasted Chickpeas Salad
Ingredients
800

gms

Sweet Potatoes

200

gms

Chickpeas

cooked and drained

150

gms

Rocket leaves

1

pc

Avocado

Diced

3

Tbsp

olive oil

2

tsp

Chilli flakes

Add more if you like

1

tsp

Turmeric

2

tsp

Cumin powder

Salt to taste

4-5

Red radish

Thinly sliced
Tahini dressing:
4

Tbsp

Tahini

1

Tbsp

Lemon juice

1-1.5

tsp

Maple syrup/ Honey

1-2

Tbsp

Water

Salt & Pepper to taste
Instructions
Roasted sweet potatoes:
Pre heat the oven to 200 C. Line a baking sheet with aluminium foil or baking paper.

Scrub the sweet potatoes really well. Cut into thick roundels or dice them in 1" pieces.

Toss with 1.5 Tbsp olive oil, 1 tsp cumin powder, 1 tsp chilli flakes and salt to taste.

Roast for 20-25 minutes,turning them over once, until cooked through and golden. Turn them out on a tray and keep aside.
Roasted chickpeas:
Toss the chickpeas with the remaining 1.5 Tbsp olive oil, 1 tsp cumin powder, 1 tsp chilli flakes, 1 tsp turmeric and salt to taste.

Spread them evenly on the same baking tray and bake them for 30-35 minutes, tossing them a couple times, until crunchy and golden.
Tahini dressing:
Combine tahini, lemon juice, honey or maple syrup in a small bowl. Add water 1 Tbsp at a time until you get a thick drizzling consistency. Taste and adjust seasoning.
Assembling the salad:
Line a bowl with rocket leaves. Top with roasted sweet potatoes, chickpeas, sliced radishes and diced avocado. Drizzle over 1 Tbsp of the dressing and serve the rest on the side with lime wedges.

Serve immediately. This salad is best served at room temperature. Enjoy!