What's a great margarita? One with a happy fusion of ingredients, each element playing off the others. That's why the 3 Ingredient mango margarita is perfect. It marries fresh, crisp flavors with some exquisite tequila!
I love my cocktails with a hint of fresh fruit in it. If I have to enjoy a Gin & Tonic, I add cherries. When it comes to a mojito, pomegranate is a great addition. I've even kicked back with a whiskey apple iced tea!
With the adults in the house in the mood for a pick me up, a margarita was up next. And, let's be honest, there's never a time when margarita doesn't sound like a good idea. And when you jazz it up with seasonal fruit, you've got manna from heaven!
So, the classic cocktail got dressed up with the quintessential summer fruit to make a refreshing 3 ingredient mango margarita!
How to Prepare 3 Ingredient Mango Margarita?
A well-made and aged tequila is smooth with agave flavours. Its taste is earthy, very mildly peppery with suggestions of citrus and tiny fruity notes. A good margarita is one that brings all these flavours into the drink.
That's what my aim was with the 3-ingredient mango margarita and, yes, to prepare a cocktail in a jiffy!
To make the drink, in a shaker or glass (work with what you have at home) combine mango juice, tequila and ice. Muddle until mixed well, pour in a margarita glass, garnish and serve.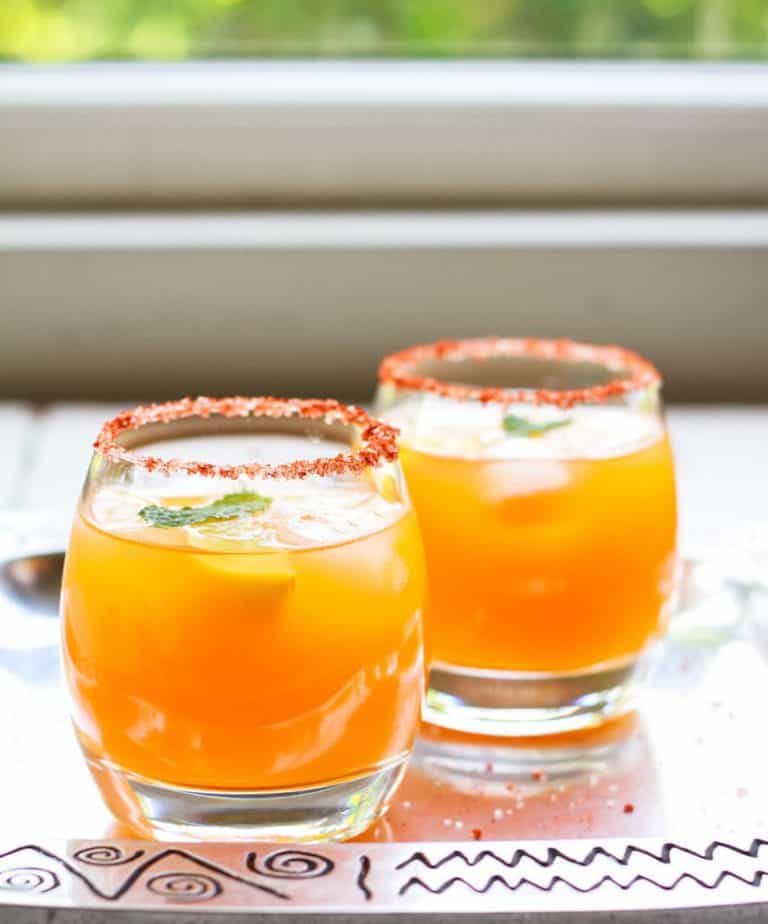 Quick Notes:
Since cocktail recipes are very accommodating, you can add, remove or substitute any ingredient easily. The trick is to use a good-quality tequila because it needs no sugar beyond what's in mango juice.
If you can get your hands on fresh mango juice, excellent; otherwise, use the regular packaged juice. If you like a bit of tang to your cocktail, squirt some more lemon juice in it. If you prefer a sweeter note to your drinks, increase the amount of mango juice.
Mix in water or club-soda to the recipe, if your palate leans towards drinks that have them.
Don't have tequila at home? Vodka works equally well. It won't be a margarita, in that case, but still a great drink to enjoy.
If you have the time, try freezing the mango margarita and then running it through your blender. You'll get a fantastic slushy margarita!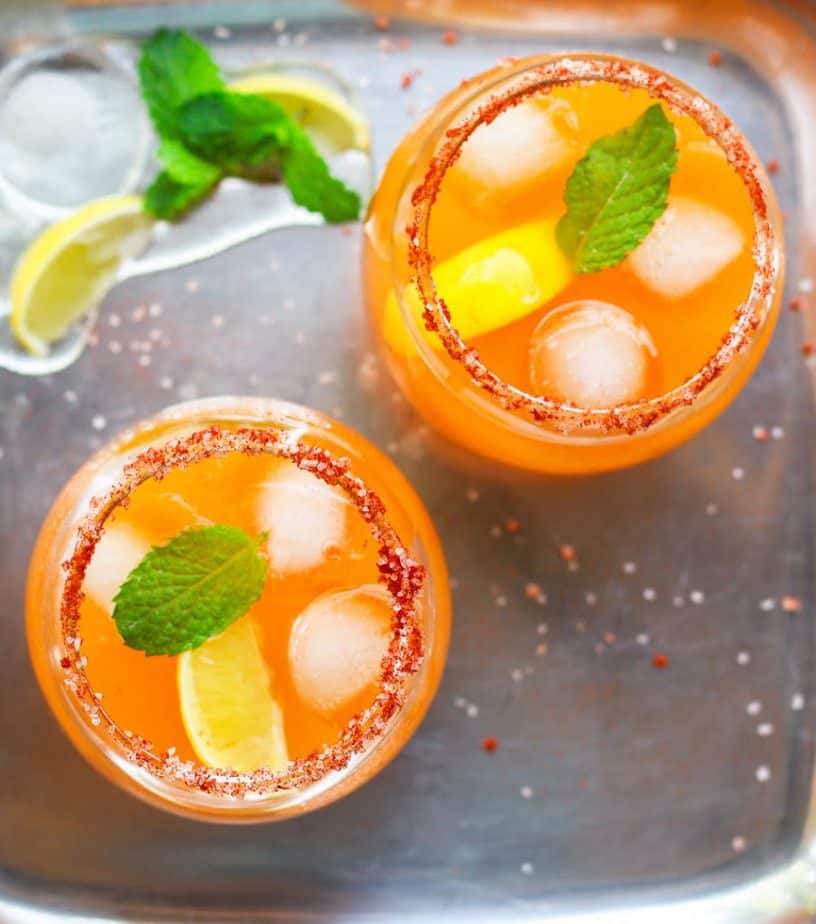 Pouring the 3 Ingredient Mango Margarita
Typically, the rim of a margarita glass is dotted with salt. But as I was scrolling through Pinterest the other day (who else loves the site for some inspiration?), I came across a stunning cocktail picture.
And that's what I tried to replicate with my 3-ingredient mango margarita.
In a plate, mix some sea salt and paprika and set aside. Take your glass, invert it and dip it in water or lemon juice to coat the rim. Next place the wet rim on the salt and paprika mixture. Once the glass edge is nicely wrapped with red and white dots, pour in the margarita and garnish.
With every sip of the cocktail, the mild yet flavourful paprika cuts through the sweetness of mango juice with a kick of chilli (it really is just a whiff) and the salt delivers a beautiful balance to it all!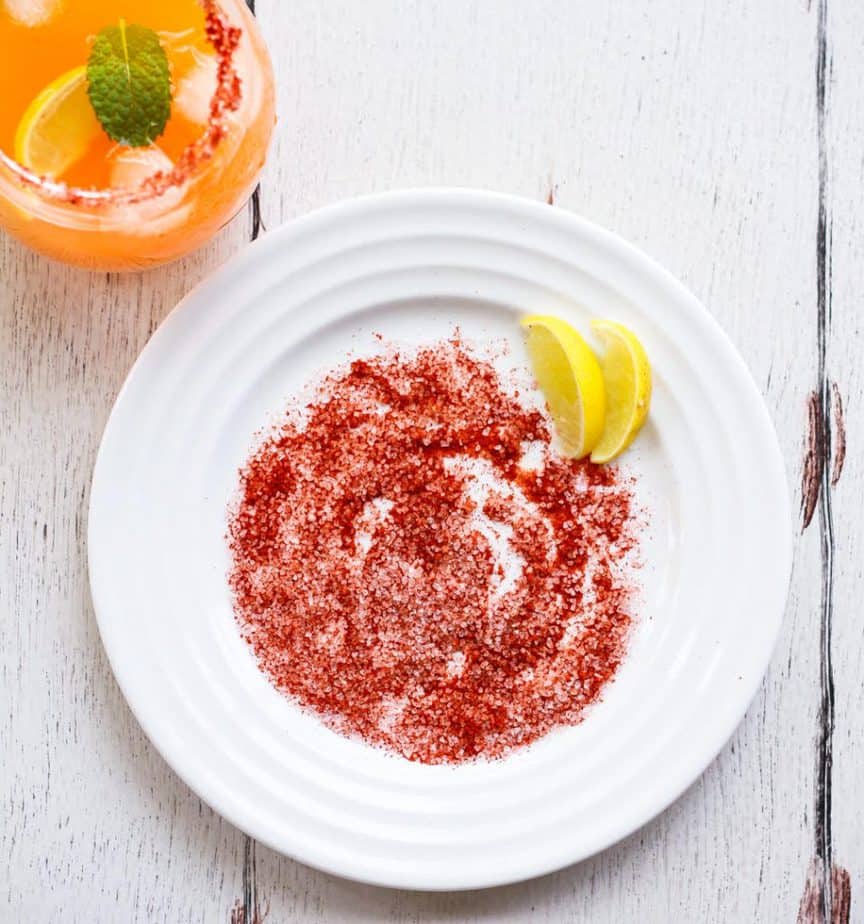 Garnishing the 3 Ingredient Mango Margarita
I have copious amounts of mint growing in my garden. So, I couldn't resist using it to garnish the cocktail. A thin wedge of lemon went next to get that gorgeous combination of fiesta colours – bright yellow, fresh green and the summery-est orange.
The hint of red from the paprika just rounds off the effect! Plus, the lovely mint flavor and lemon juice really brighten up the wee spicy, citrusy cooling cocktail. The frosty 3-ingredient mango margarita is the perfect drink for summer and the best part, for me, it paired excellently with feisty Mexican rice!
I'd love to hear from you! Please tag me on Instagram @tashasartisanfoods, using the hashtag #tashasartisanfoods. You can also FOLLOW ME on INSTAGRAM, PINTEREST for more fabulous recipes!
Print Recipe
3 Ingredient Mango Margarita
What's a great margarita? One with a happy fusion of ingredients, each element playing off the others. That's why the 3 Ingredient mango margarita is perfect. It marries fresh, crisp flavors with some exquisite tequila!
Ingredients
45

ml

Tequila

1/2

cup

Mango juice

3-4

Ice cubes

1

tsp

Sea salt

1/2

tsp

Paprika

Optional

Lemon wedges and Mint to garnish

Optional
Instructions
Make a mixture of sea salt and paprika. Place in a plate.

Dip the rim of a glass in lemon juice. And then dip into the salt - chili mixture.

Combine the tequila, mango juice in a cocktail shaker or a glass.

Pour into the prepared glass and top with ice.

Garnish with a mint leaf and a wedge of lemon. Cheers!