These loaded potato nachos are a heaping pile of crispy, seasoned potatoes, laden with crunchy toppings, and smothered with the most drool-worthy cheese sauce. I call them an unbelievably comforting treat!
You can never go wrong with cheese and potatoes. The match made in heaven is universally pleasing – in any form. Given the almost inconceivable circumstance all of us are living in, I wanted to take this combo and turn into authentic comfort food.
So, I went all out and made loaded potato nachos. The recipe may seem like overkill, but there is a method to the madness. Somewhere under the intricate strata of crunchy veggies and ooey-gooey pleasure of cheese, you'll find epicurean goodness.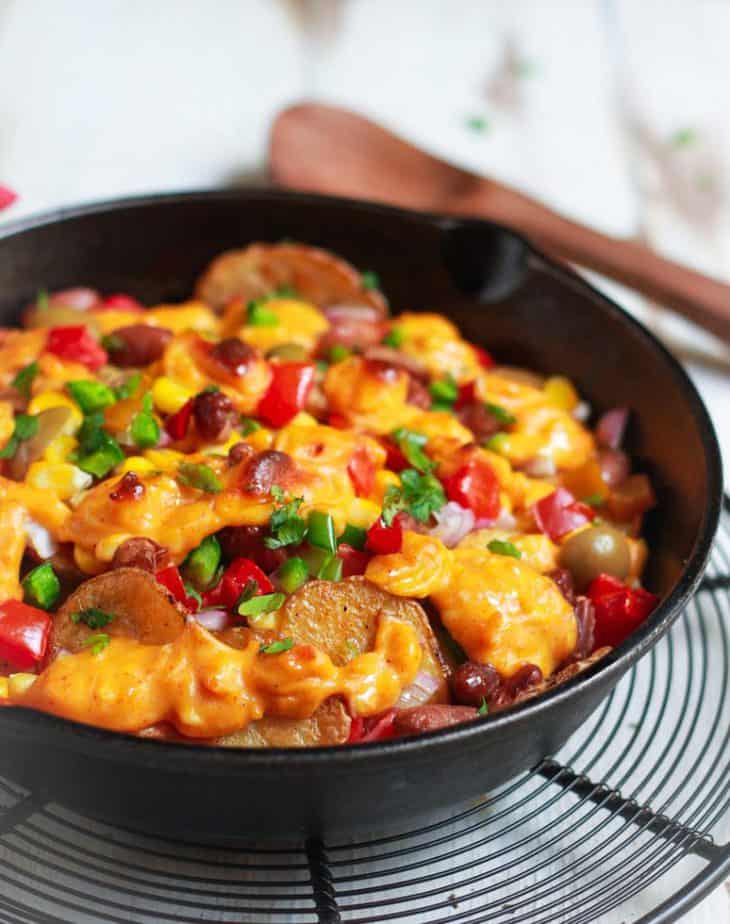 How to Make Loaded Potato Nachos?
Right off the bat, let me say, you just can't mess-up loaded potato nachos. The recipe is that adaptable. You're just 4 simple steps away from this deliciousness!
1. Baking the potatoes
I thinly sliced potatoes, drizzled olive oil, tossed in salt, black pepper, cumin powder, red chilli and then baked till they were golden and crisp.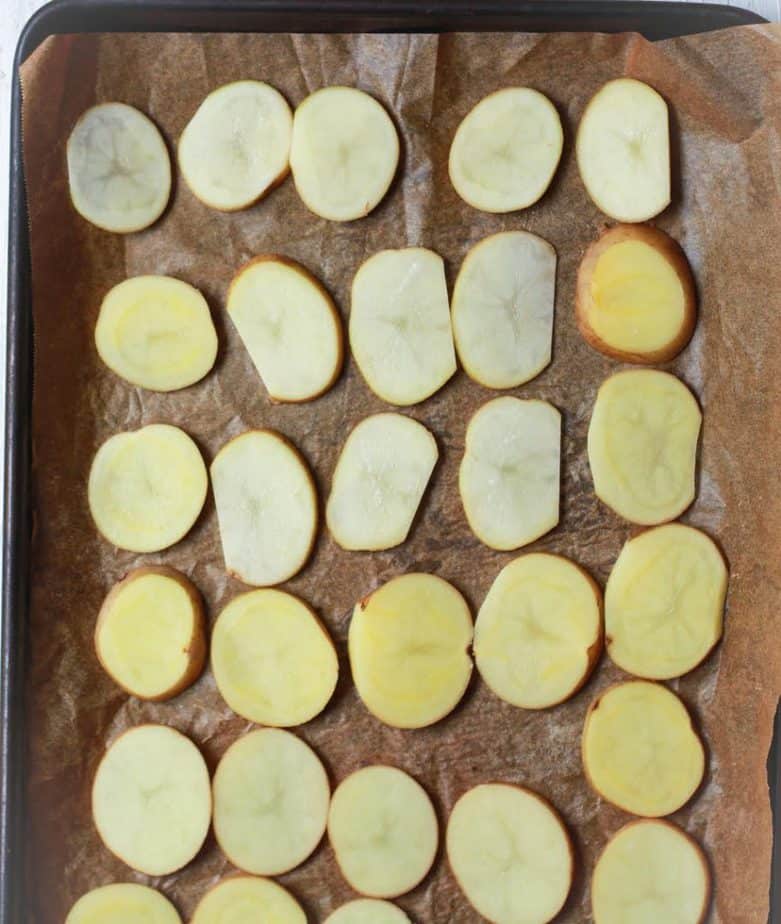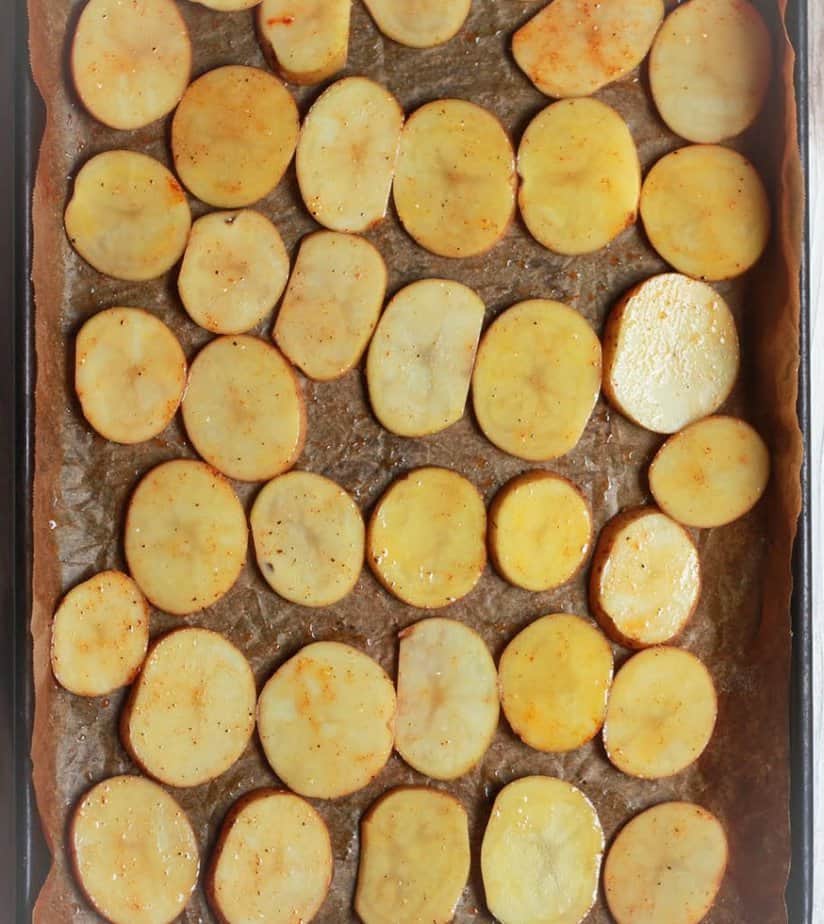 Quick notes:
I wanted a healthier substitute to store-bought nachos and since there are tons of potatoes at home, I used them. If you are, understandably, not in the mood for extra effort, good old nacho packets work equally well.
If you do utilise potatoes, cut the slices as thin as possible, and they will bake that much faster. Also, keep the slices uniform so that they bake evenly.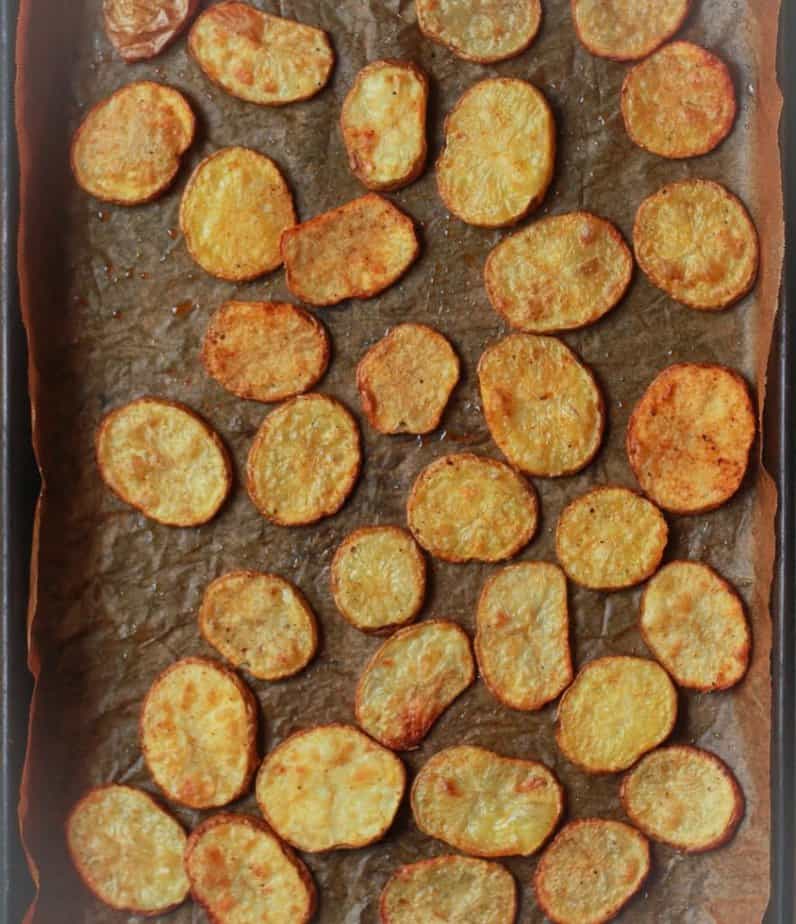 2. Prepping the toppings
While the potato slices baked, I finely chopped onions, tomatoes, olives, green bell pepper and then mixed them with red kidney beans and corn.
Quick notes:
Deseed the tomatoes, else the topping will be watery and the nachos limp and soggy. For the corn, frozen ones work like a charm.
I had cooked red kidney beans leftover from the Mexican rice I made the other day. You can choose to leave out the beans or switch them for black beans or even chickpeas.
3. Making the cheese sauce
With the cheese, there are two options - either use freshly grated cheese or make a cheese sauce. I was gunning for melty cheese that pools around all the nooks and crannies of the loaded potatoes nachos – so the cheese sauce it was.
I heated olive oil and butter in a pan. When the mixture was hot and bubbling, sprinkled in some flour while constantly stirring to form the roux (read: a thick paste).
Cooking the flour is important because it takes away the raw taste. Still whisking continuously, I decanted milk. After reducing the heat, in went grated cheese, salt, pepper, chilli flakes and red chilli powder to get that gorgeous golden-orange hue of nacho sauce.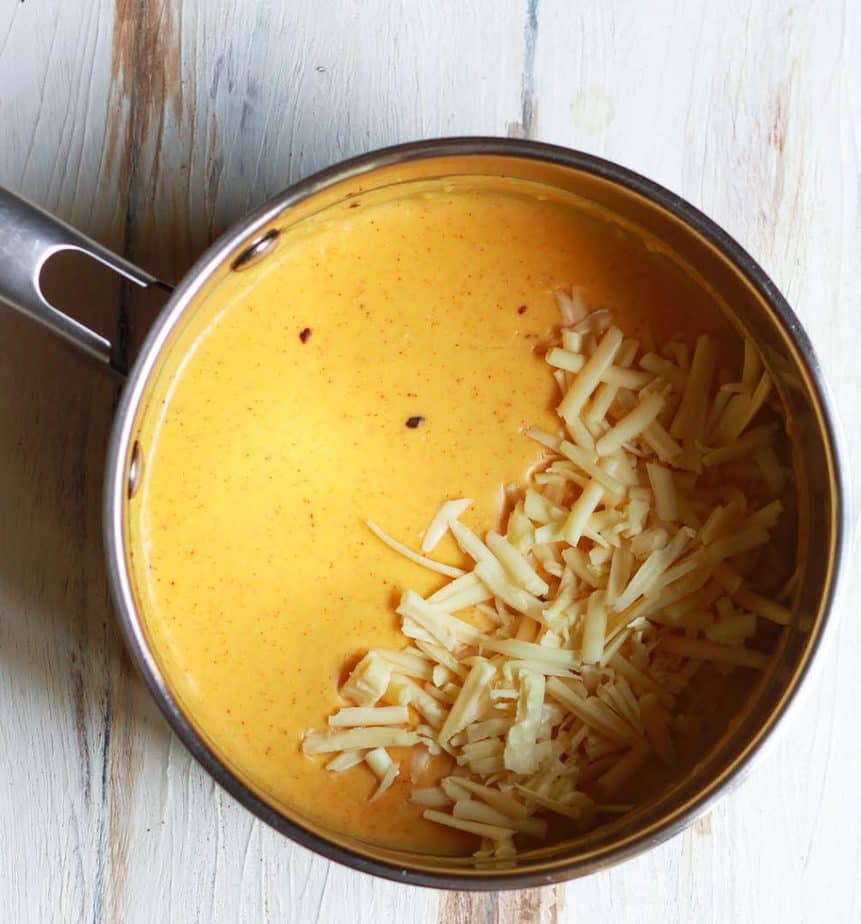 Quick notes:
The easy, creamy and versatile cheese sauce is also an excellent base for pasta, burgers, rice, fries or as a dipping sauce… getting the picture? Make it a go-to item in your repertoire. It refrigerates well, so you simply have to take it out and stir it in!
If you like a thin consistency to the cheese sauce, add more milk. If you love a thick, melty sauce, be liberal with the grated cheese.
4. Assembling the Loaded Potato Nachos
The homestretch and my favourite part of the loaded potato nachos is assembly. In a cast-iron pan (or any oven-friendly dish), I layered the baked potatoes, topped them with veggies and then drizzled the freshly made cheese sauce.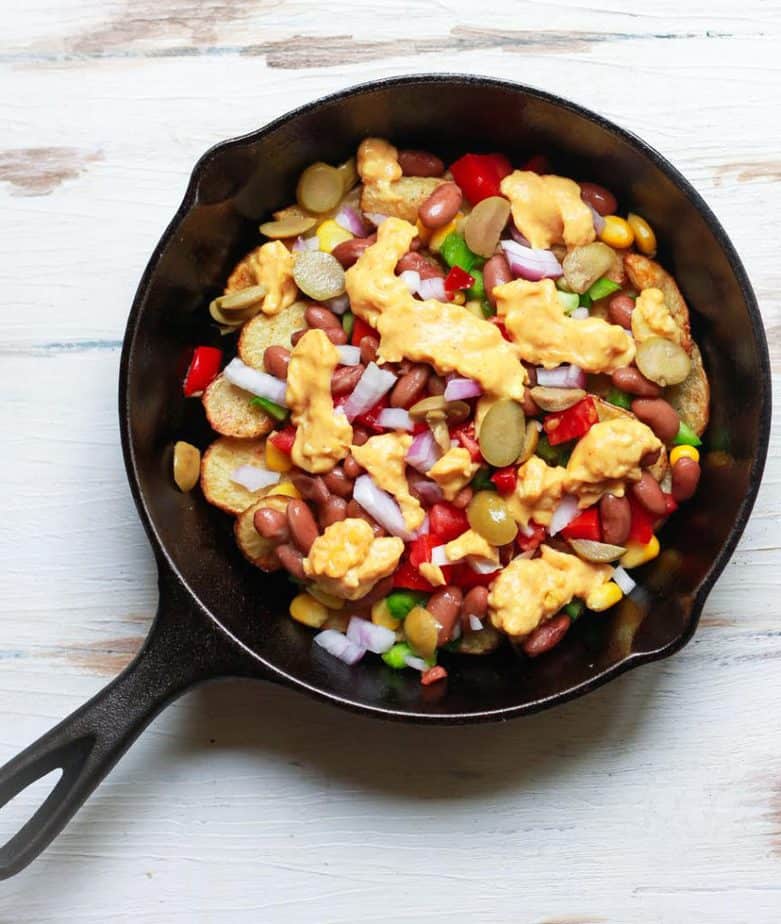 The layers were repeated one more time to make a heaping concoction and then baked till the cheese began to bubble and brown in bits.
Quick notes:
We aren't a cheesy family, i.e., we like it in moderation, kids included. So, I kept the cheese sauce layers on the lighter side (the leftover sauce got stored in a jar).
That said, the topmost cheese sauce layer has to be liberal because you really want it to be laden with drapes of oozing cheese.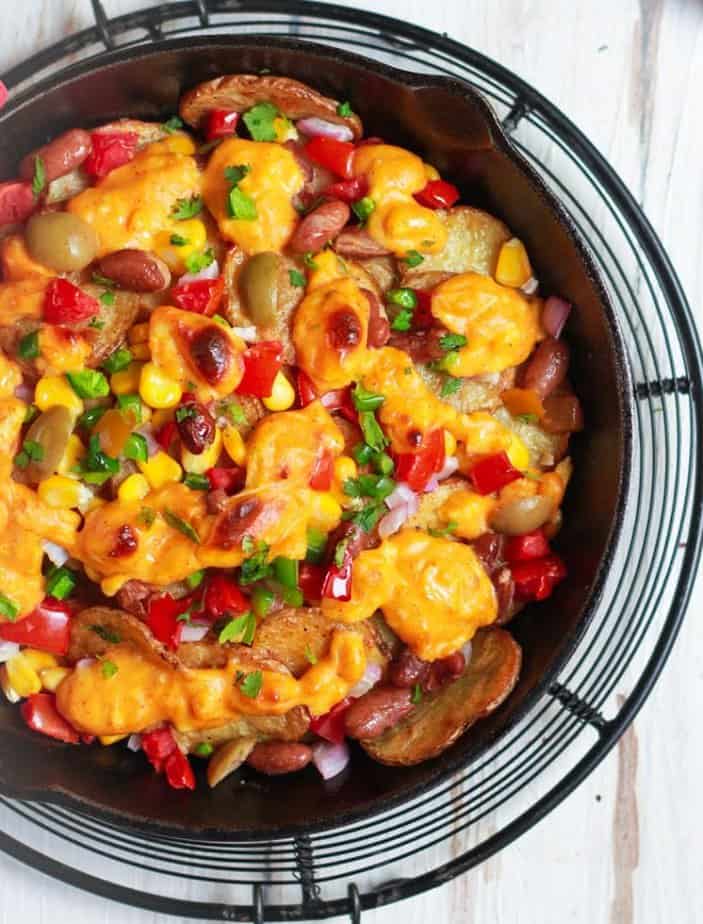 Serving the Loaded Potato Nachos
The final touch was to scatter some cilantro and olives. The crispy loaded potato nachos hot out of the oven were ready to be dug in – which we did with great gusto!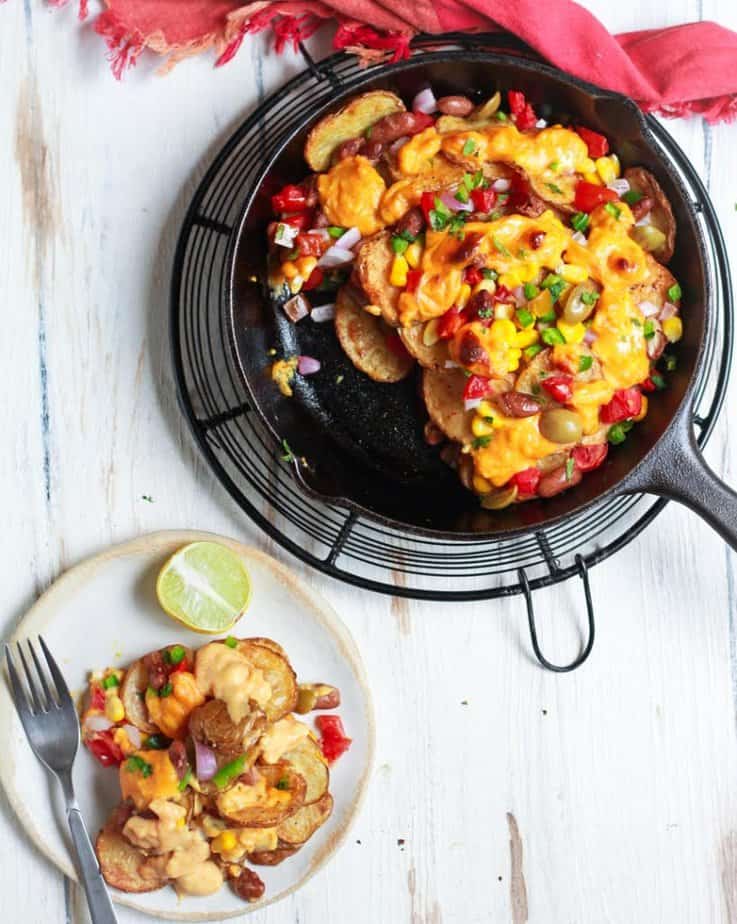 Variations:
If you have access to avocados, the loaded potato nachos pair excellently with a big dollop of guacamole. A giant spoonful of sour cream is another great addition.
You can also top them off with jalapeños, shredded chicken, crumbled tofu, cooked minced meat, or salsa. To make it vegan, stick to shredded vegan cheese. If your heart's set on cheese sauce, skip the butter and replace regular milk with plant-based.
You can serve the loaded potato nachos family style or in individual portions, both work. You can even double the portions and easily make a meal out of them – they're that hearty.
Don't feel like roasting the potatoes, just use store bought nachos and proceed with the recipe!
In the current topsy-turvy times, we take comfort in the small mundanities of life – uplifting munchies and easy drinks. So, my abode enjoyed the loaded potato nachos with a side of mango margarita (for the adults) and iced coffee (for the kiddos).
I'd love to hear from you! Please tag me on Instagram @tashasartisanfoods, using the hashtag #tashasartisanfoods. You can also FOLLOW ME on INSTAGRAM, PINTEREST for more fabulous recipes!
Print Recipe
Loaded Potato Nachos
These loaded potato nachos are a heaping pile of crispy, seasoned potatoes, laden with crunchy toppings, and smothered with the most drool-worthy cheese sauce. I call them an unbelievably comforting treat!
Ingredients
Roasted Potatoes
4

large

Potatoes, scrubbed clean and sliced thinly

2

tbsp

Olive oil

1

tsp

Cumin powder

1/2

tsp

Red chilli powder

You can add more

Salt & Pepper to taste
Cheese Sauce
1

tbsp

Olive oil

1

tbsp

Butter

2

tbsp

All purpose flour

1/2

cup

Milk

1/3-1/2

cup

Grated cheese

1/2

tsp

Red chilli flakes

1

tsp

Paprika

Salt & Pepper to taste

I keep the salt light here as cheese also adds saltiness
Toppings
1/2

Onion, diced

1-2

Tomatoes, deseeded and diced

1/3

cup

Cooked red kidney beans

1/3

cup

Corn

1/2

Green bell pepper, diced

8-10

Olives, chopped

Fresh cilantro/ coriander for sprinkling on top
Instructions
Roast Potatoes
Preheat your oven to 220 C.

Toss the sliced potatoes in olive oil, cumin powder, chilli powder, salt and pepper.

Spread in a single layer on a baking tray and roast the potatoes for about 20-25 minutes, until cooked through and crispy golden. You will have to turn them over once while they are baking.
Cheese Sauce
Heat olive oil and butter in a heavy bottom pan over medium heat. Add flour and seasonings. Cook, stirring, for 1 to 2 minutes or until bubbling. Lower the heat and slowly add the milk, whisking constantly till the sauce comes to a boil and thickens. Mix in the cheese. Taste and adjust for seasonings.
Assembly
Preheat your oven to 220 C. Keep an ovenproof baking dish ready.

Start with the layering - potatoes, veggies, olives, cheese sauce. Keep layering till all ingredients are used up. Finish off the top layer with cheese sauce.

Bake for 15-20 minutes till the cheese sauce is bubbling.

Sprinkle with fresh cilantro/coriander. Serve warm. Enjoy!