Carrot cake cookies are exactly that—carrot cake in cookie form. The soft cookie recipe has the same ingredients and the same amazing taste and texture, but with attitude 2.0. Call it portion-controlled cake or bite-sized cuteness, it's one of the Easter cookie recipes you don't wanna miss.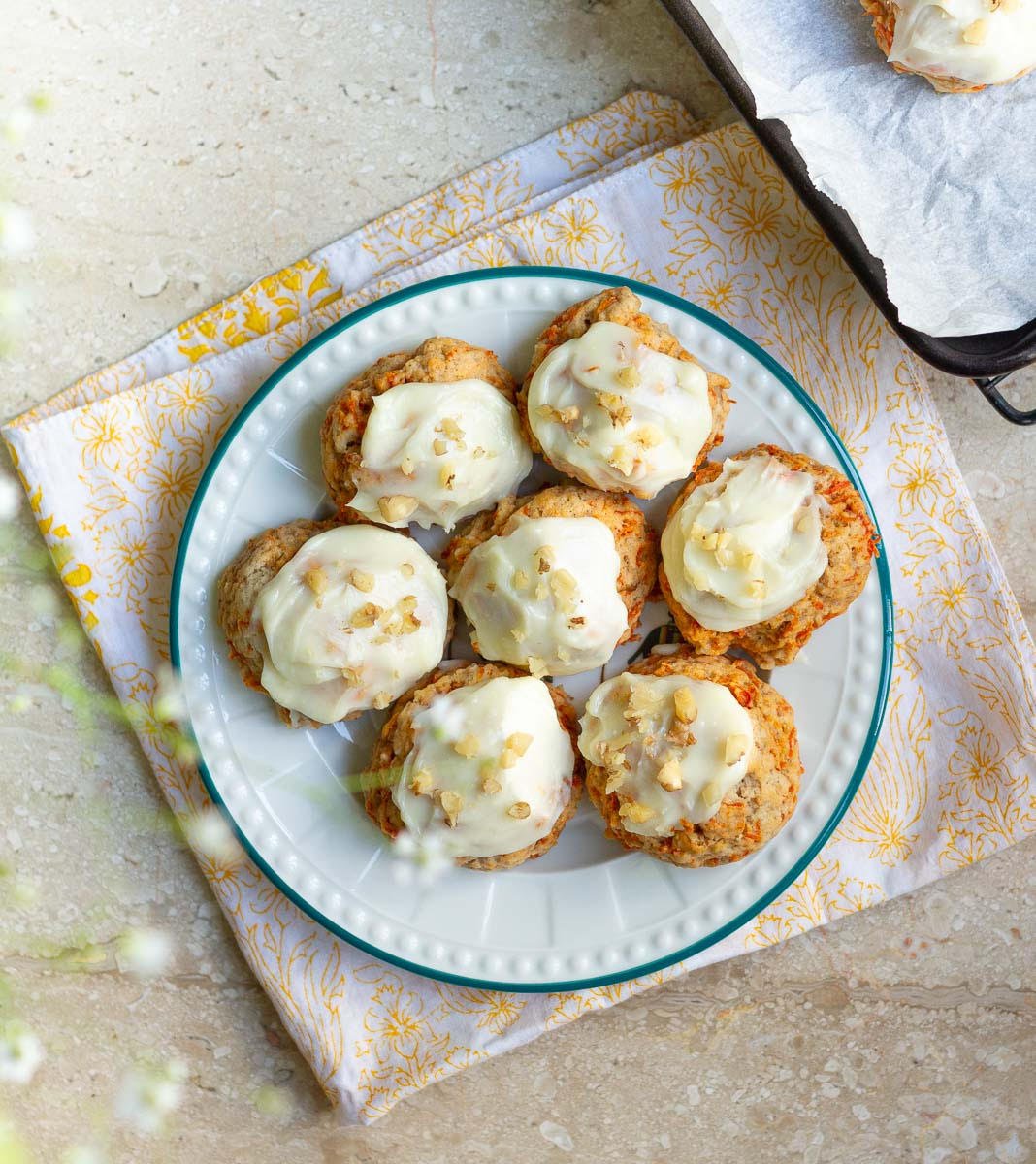 Carrot cookies are not the crispy kind. Imagine biting into a carrot cake that's crunchy on top but soft and moist inside. That's carrot cookies with cream cheese frosting.
Speckled with sweet, earthy carrots that color the cookies, these cute treats are studded with walnuts, adding texture and flavor. As you savor the spiced flavors, the creamy, tangy frosting that envelops each soft carrot cake cookie wraps it in a nice lil bow!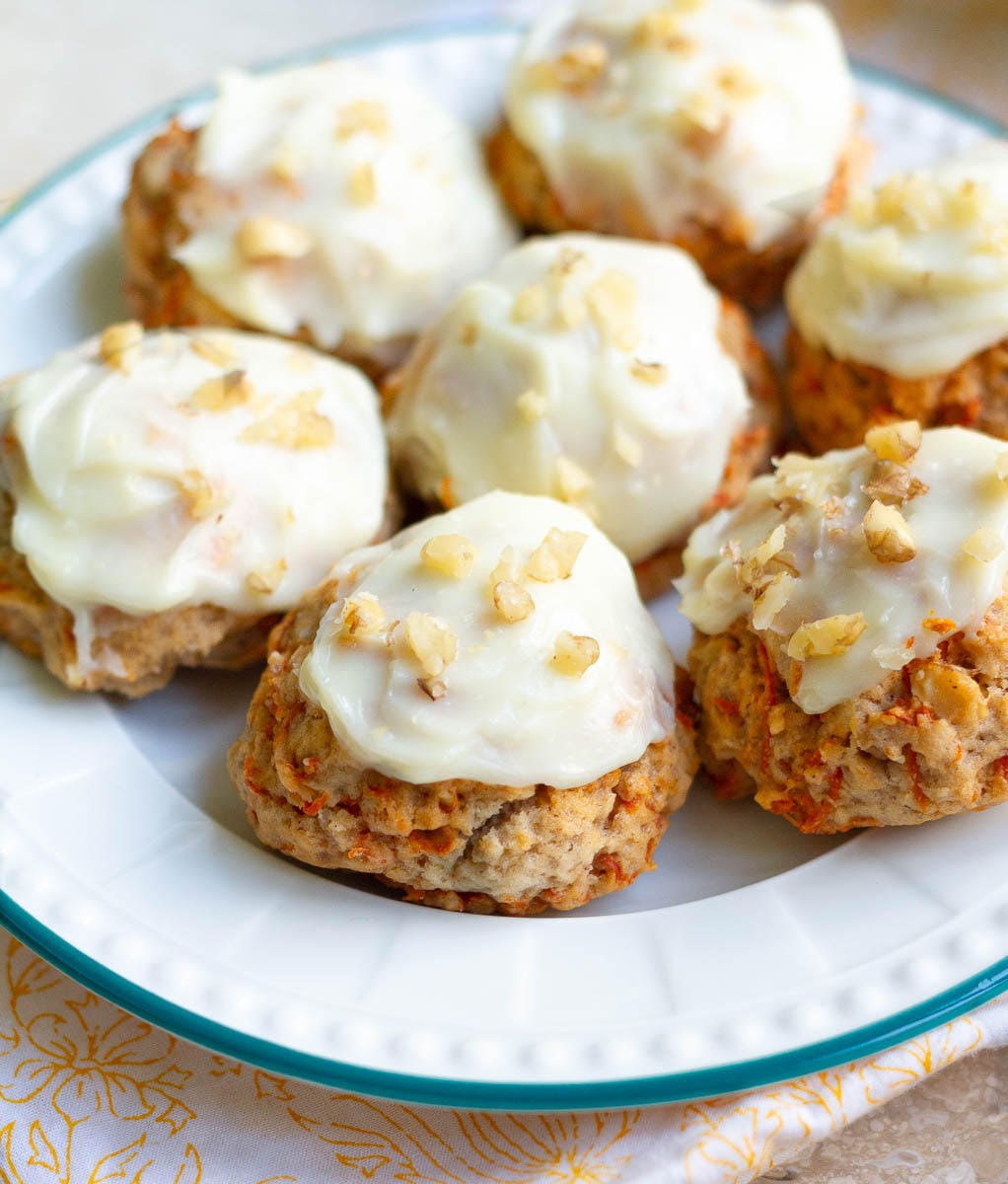 Jump to:
THE PERFECT SPRING COOKIE RECIPE !
So easy to make, start to finish is less than 45 mins
Hearty, filling, and not too sweet (ideal cookies for Easter)
Get everything you love in carrot cake but with less hassle
A tasty way to satisfy your sweet tooth while still jamming a serving of veggies into your diet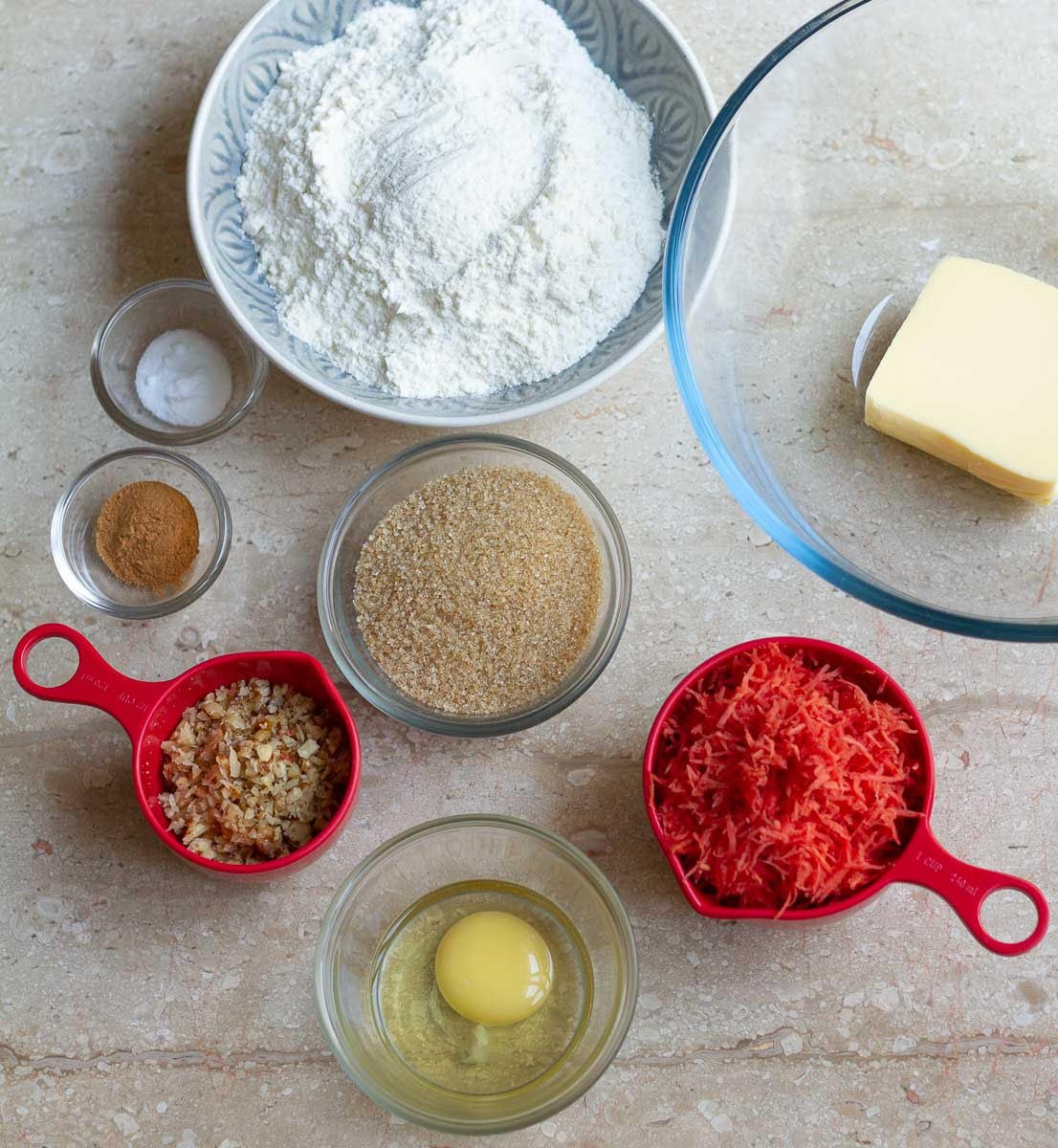 HOW TO MAKE CARROT CAKE COOKIES?
Step 1: In a large bowl, cream softened butter and raw sugar. Keep beating until it's fluffy, so the carrot cookies turn out just like you want them (cakey).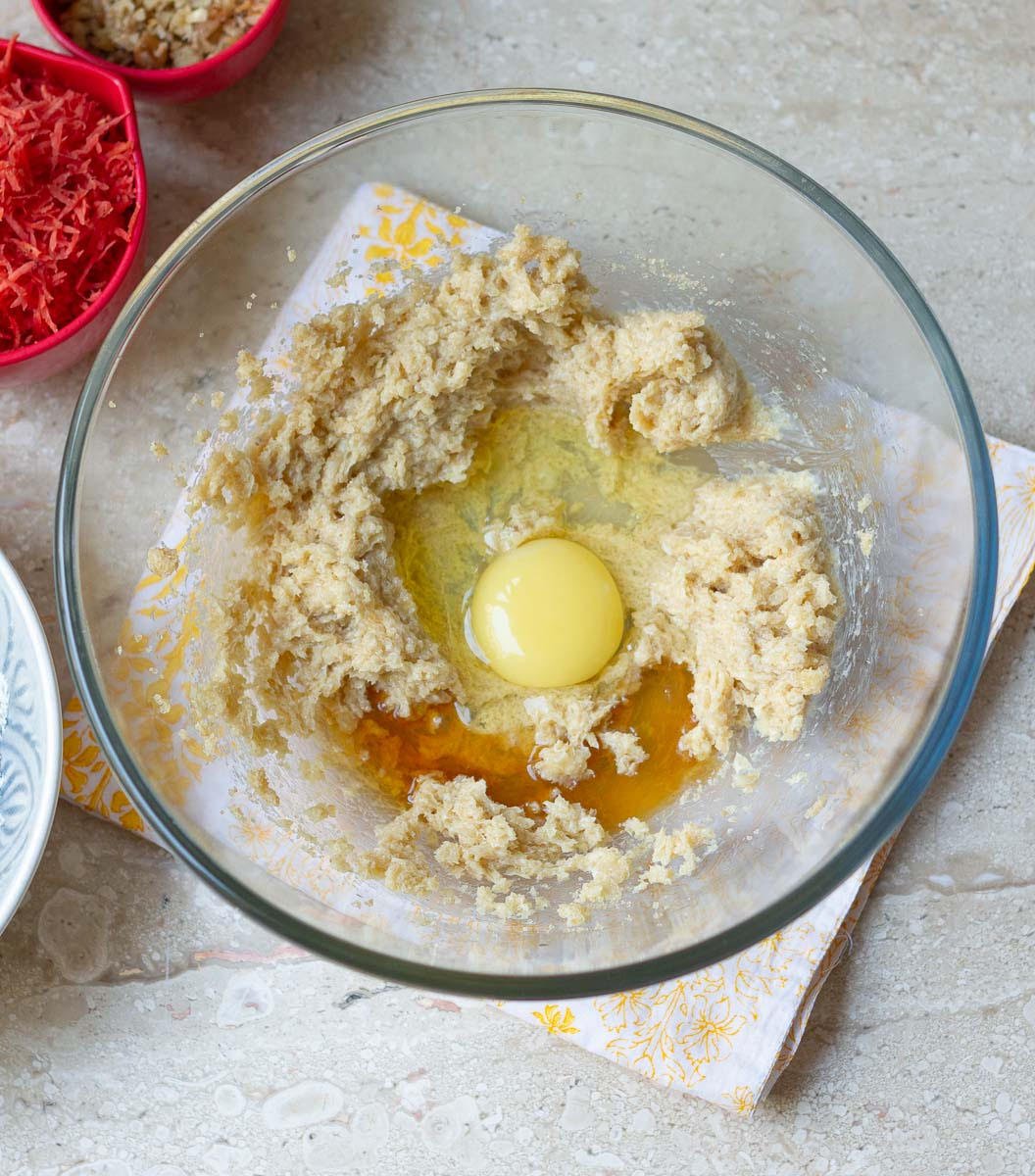 Step 2: Add an egg and vanilla extract and beat again.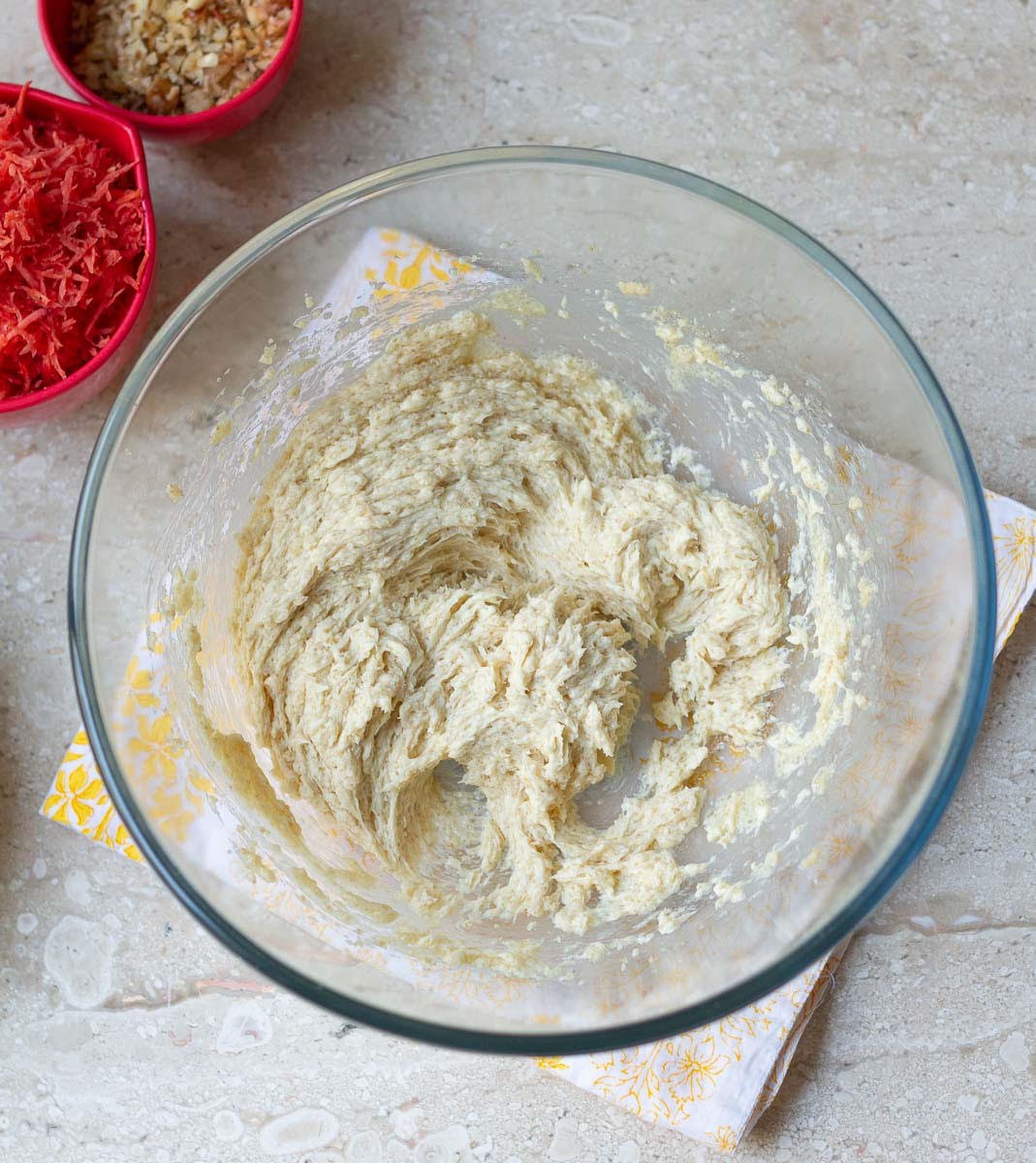 Step 3: Mix in the flour, baking soda, and cinnamon powder, and mix well using a spatula.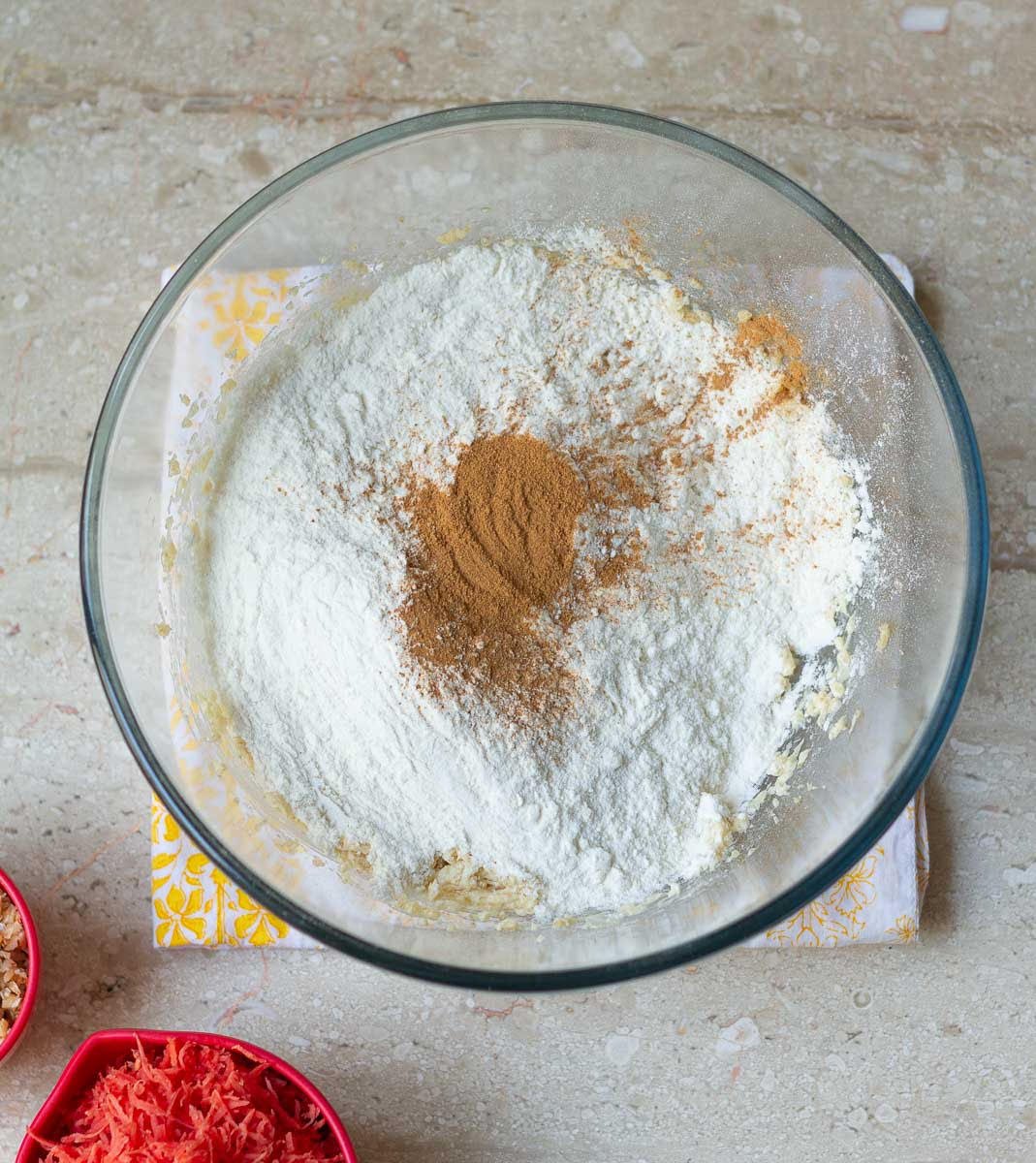 Step 4: Fold in your finely grated carrots and chopped walnuts until evenly distributed.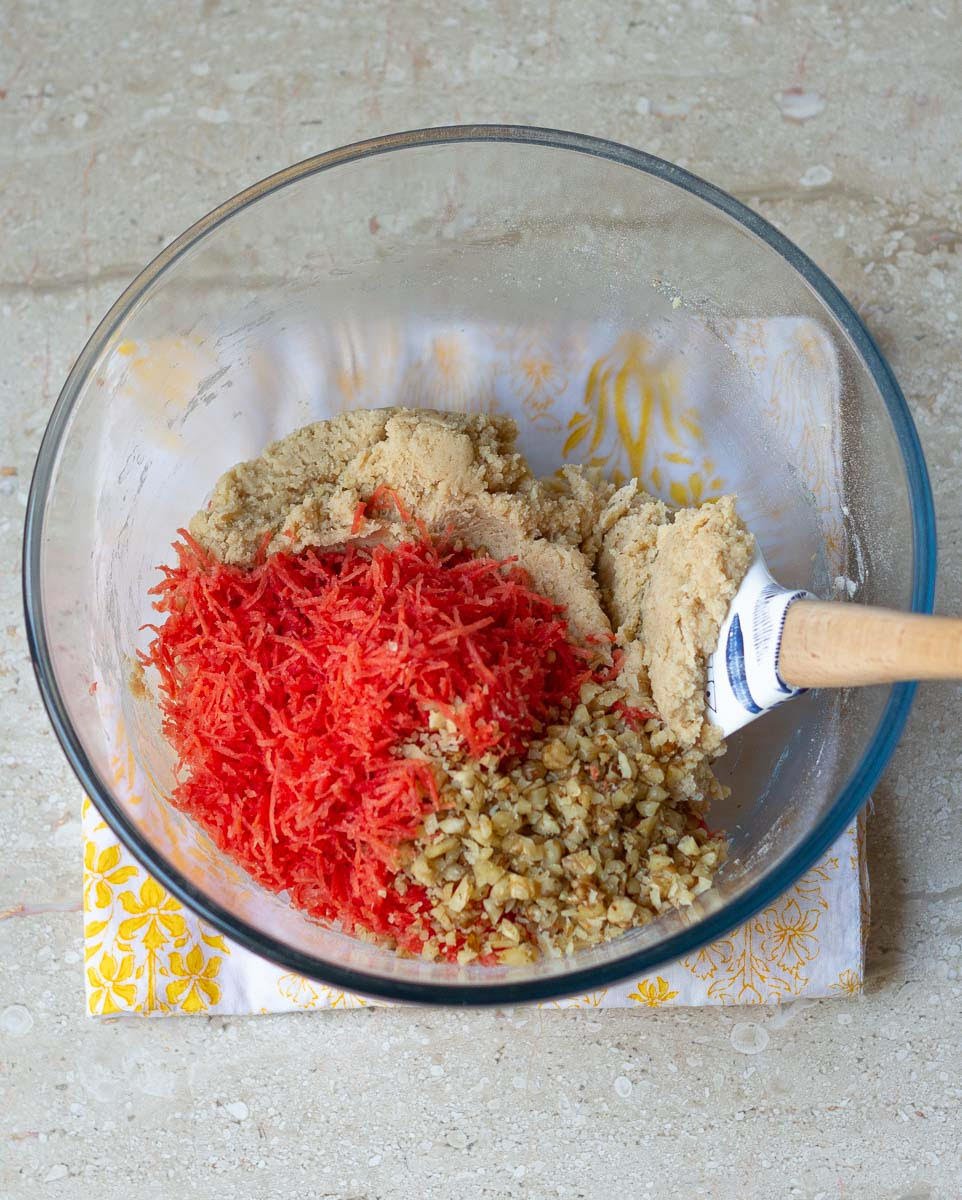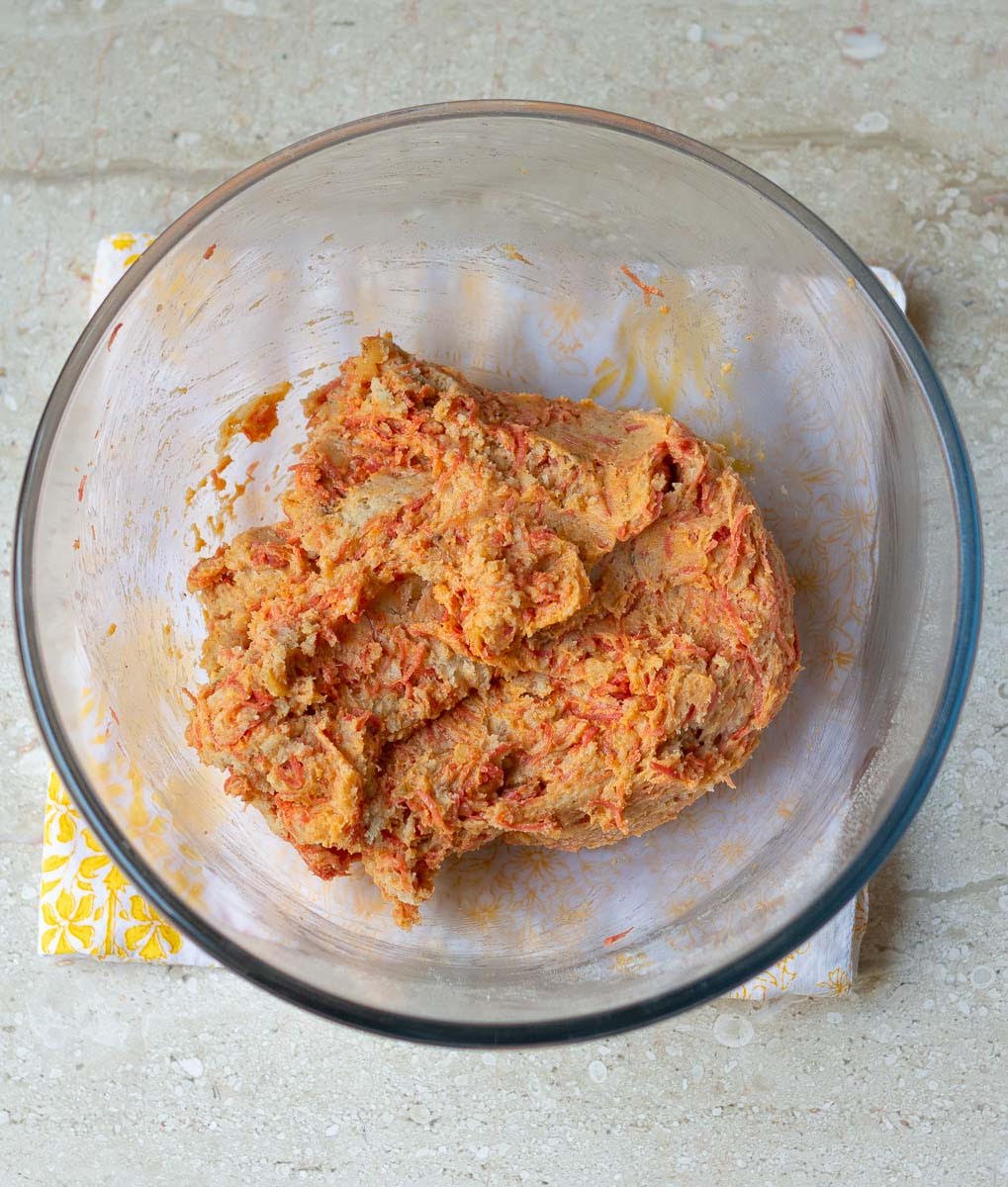 Step 5: On a parchment paper-lined cookie tray, scoop out the dough (size: about a tablespoon and a half).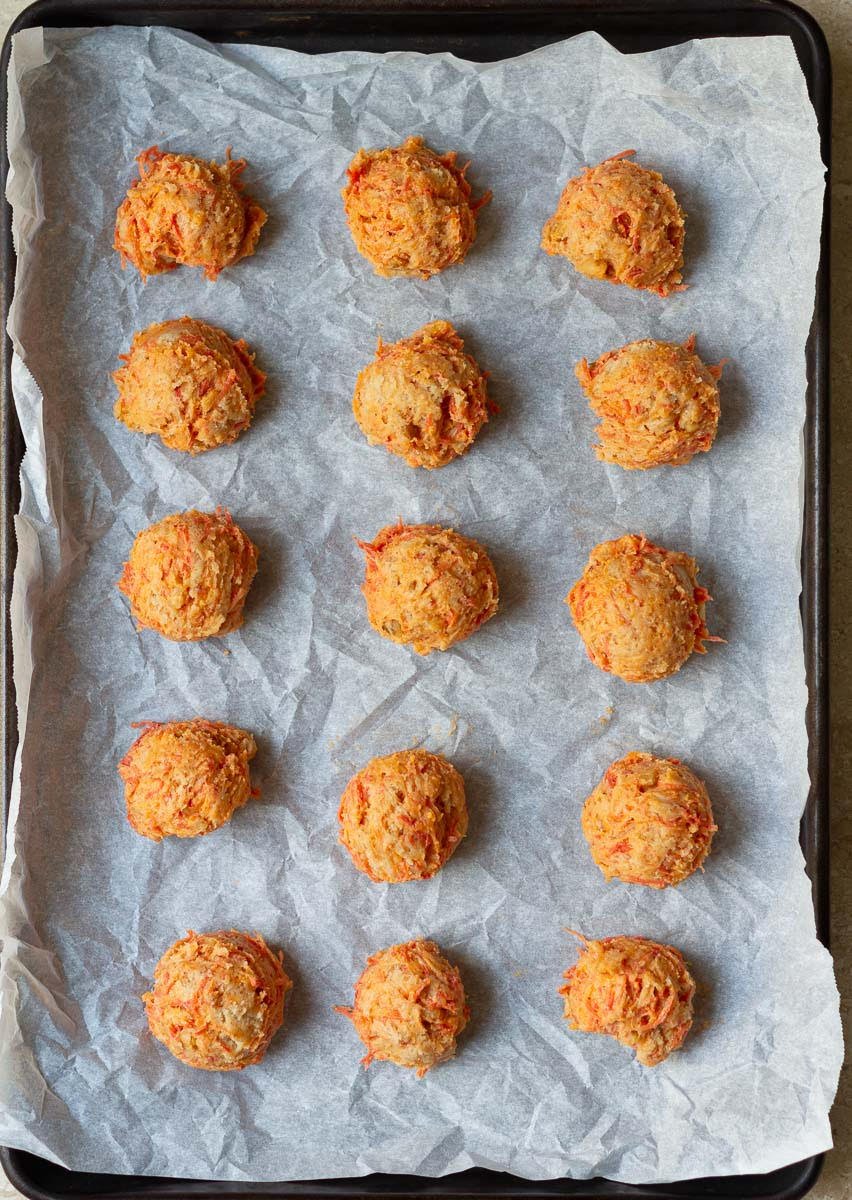 Step 6: Bake for 14–15 minutes (these are quick cookies).
Final step: Cool and serve.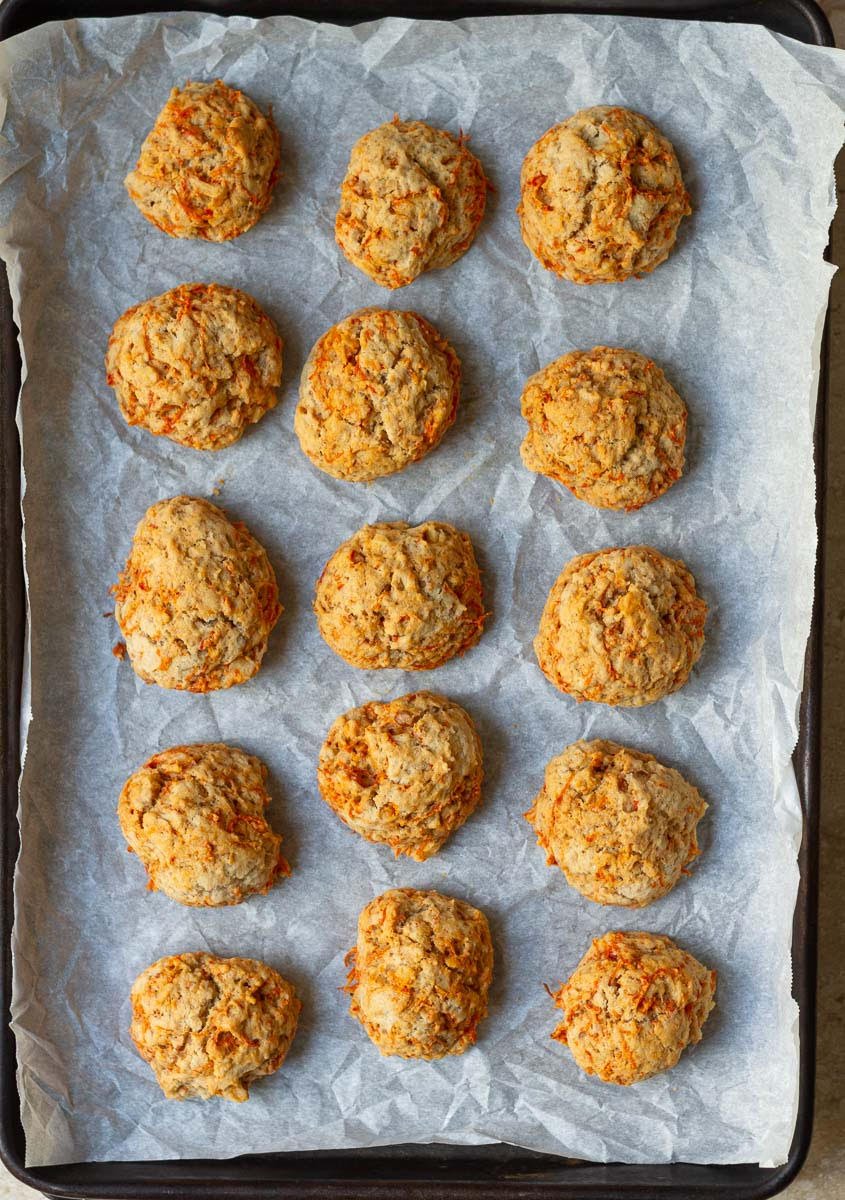 DELICIOUS SOFT COOKIES RECIPE TIPS
The trick to making carrot cake cookies is not to overbeat and overmix the batter. That's why you need to start with room-temperature butter and eggs. They're easier to mix together.
Don't use butter that's about to melt; it will make the cookies spread as they bake.
As you add the dry ingredients, mix just until each is incorporated.
You could flatten each cookie scoop a little with your hands before baking. I didn't (because I love some heft in my cookies).
I always say this: oven temperatures differ, so keep an eye on your carrot cookies near the end.
Right out of the oven, they are soft. They will firm up as they cool. If you're not a fan of too-brown cookies, transfer them to a cooling rack so the residual heat of the tray doesn't bake them further.
HOW TO MEASURE GRATED CARROTS?
The best way to measure shredded or grated vegetables is with a kitchen weighing scale. Invest in a small one, and it will yield delicious dividends.
How to measure grated carrots without scales? Pack them in a cup loosely, not tightly.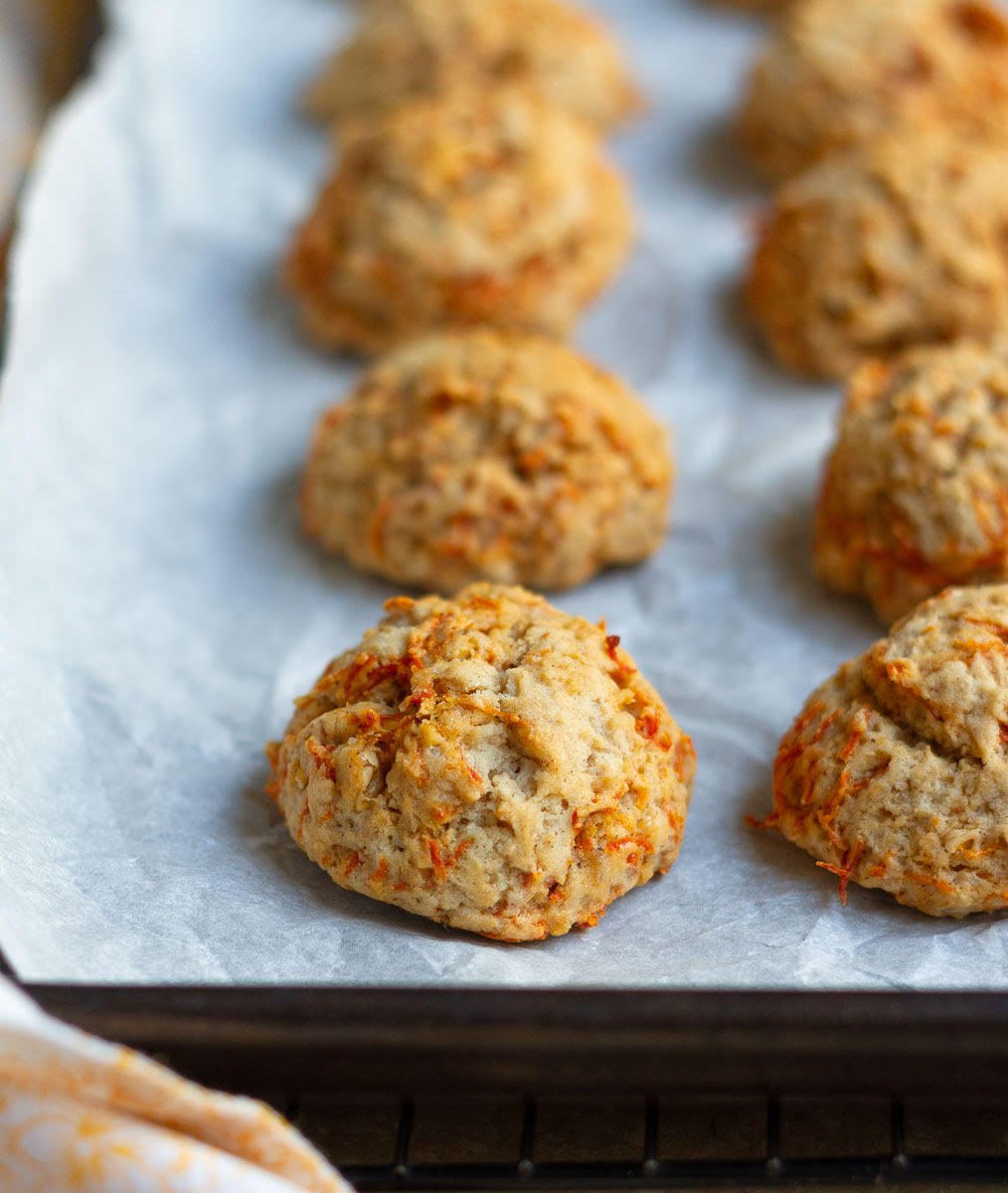 SERVING & STORING COOKIES WITH CREAM CHEESE FROSTING
These Easter cookies already move to the beat of their own "I'm a delightful mash-up of cake-n-cookie" drum, but with a schmear of frosting, they are altogether a different experience.
So, while yes, you could serve them as-is, why do so? I highly, highly, highly recommend cookies with cream cheese frosting.
How do you make cream cheese frosting for cookies? You mix room-temperature cream cheese with icing sugar. Then spoon the thick, creamy mixture on top. Finish with a dusting of chopped walnuts and dig in!
It's warm here (warmer than it should be). So, I refrigerated the baked and frosted cookies in an airtight container. Because cream cheese doesn't harden, I suggest storing them in a single layer rather than stacking them.
If your corner of the world is still cool (or cold), leave them on the countertop. They last for a good 2 to 3 days. Unfrosted cookies can be frozen for about a month. Simply thaw, plonk in the oven for a handful of minutes, frost, and serve.
CARROT COOKIE VARIATIONS
Flour: Whole wheat flour is just as marvelous in this carrot cake cookie recipe as all-purpose flour. Although a word to the wise, it is denser, so sieve it before incorporating it in the batter to give the cookies a lighter texture.
Butter: Feel free to substitute it with chilled coconut oil.
Egg: Want to make eggless carrot cake cookies? Switch to flax egg (mix one tablespoon of flaxseed powder with three tablespoons of water).
Walnuts: It's okay to leave them out and experiment with other nuts like almonds or pecans. Or omit them completely from this recipe for carrot cookies.
Spices: If you want to sneak in a pinch of freshly grated nutmeg or even orange zest in the dough, do so to make the best carrot cake cookies ever! Orange zest would also complement the gentle tang of cream cheese frosting.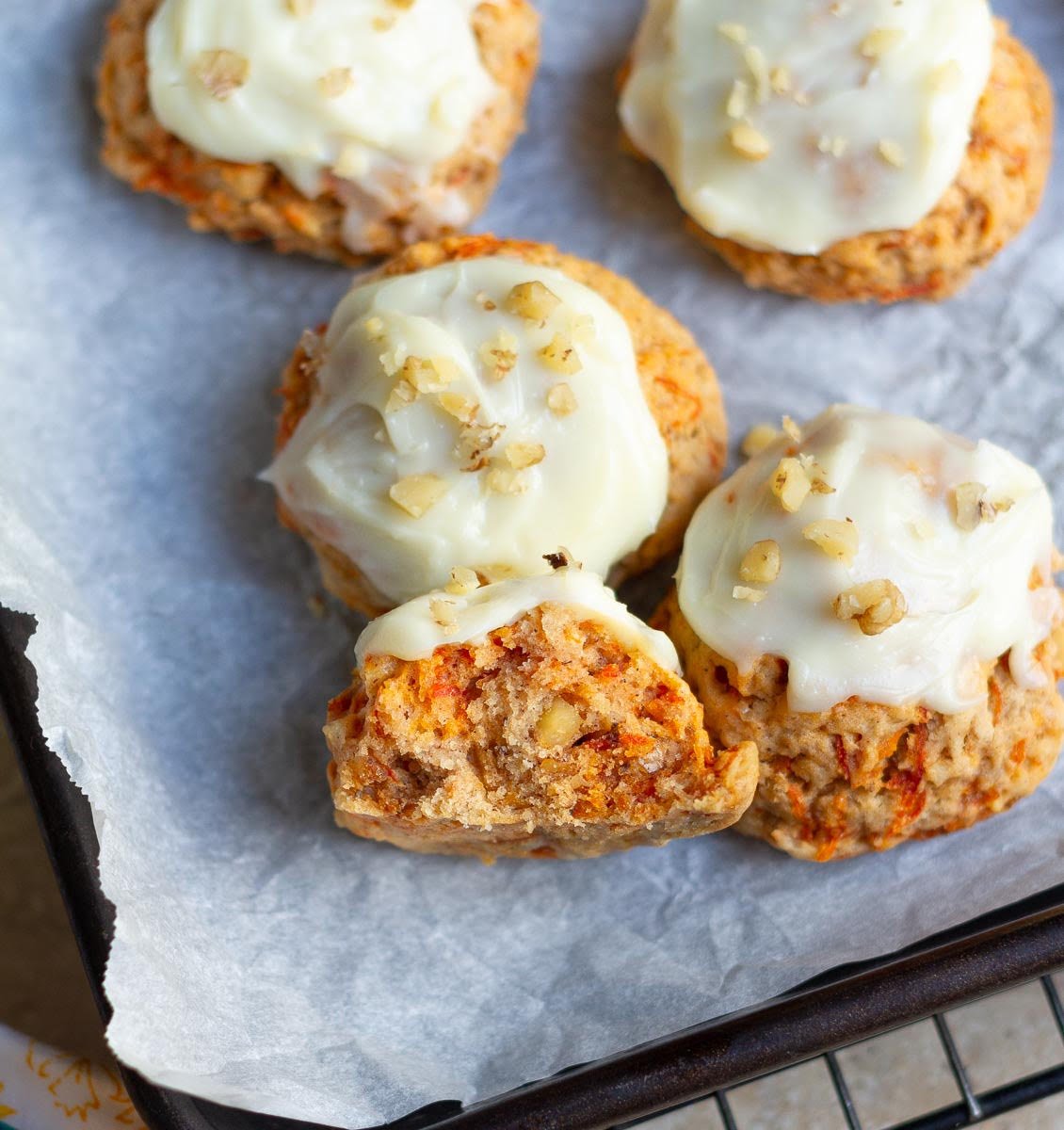 INSPIRED BY CARROT CAKE RECIPES
MORE BAKING RECIPES WITH CARROTS
Half the joy of cooking is sharing it with others, which is why I'm always eager to hear from you. So go right ahead and drop a comment or reach out on Instagram, Pinterest, YouTube, or Facebook. I hope you love these carrot cake cookies as much as we do!
📖 Recipe
Print Recipe
Carrot Cake Cookies with Cream Cheese Frosting
Carrot Cake Cookies - carrot cake in cookie form. The soft cookie recipe has the same ingredients and the same amazing taste and texture. Call it portion-controlled cake or bite-sized cuteness, it's one of the Easter cookie recipes you don't wanna miss!
Ingredients
1/2

cup / 115 gms

Butter

I used salted butter.

1/2

cup / 107 gms

Raw sugar

1

Egg

1

tsp

Vanilla extract

1 3/4

cup / 220 gms

All-purpose flour

1/2

tsp

Baking soda

1

tsp

Cinnamon powder

1

cup / 90 gms

Finely grated carrots

1/4

cup / 55 gms

Finely chopped walnuts
Cream Cheese Frosting
4

tbsp

Cream cheese, softened

1/4

cup / 25 gms

Icing sugar

1

tbsp

Finely chopped walnuts for decoration

Optional
Instructions
Preheat your oven to 180 C. Line a baking tray with parchment paper.

Beat together the butter and raw sugar in a large bowl.

Add egg and vanilla extract. Beat well until the mixture is fluffy and pale.

Whisk in the flour, baking soda, and cinnamon powder.

Fold in the grated carrots and chopped walnuts.

Scoop the dough onto the baking tray using a 1.5" ice cream scoop or 2 tablespoons.

Bake the cookies at 180C for 14-16 minutes or until they are golden and slightly firm to touch.

Carefully transfer to a cooling rack and let them cool completely.
Cream Cheese Frosting
Combine the softened cream cheese and icing sugar in a small bowl. Whisk well until a thick, smooth mixture is formed. Taste and adjust for sweetness.

Frost the cookies and sprinkle a few chopped walnuts on top for decoration.