Laden with crunchy carrots with nutty bits peeking through, the carrot cake madeleines are a treat to make, see and eat. When you're craving a carrot cake but don't want to indulge in a whole slice, trade it with these vegan madeleines.
Soft, spongy, and barely sweet, the scalloped beauties are a delightful, delicious treat. And because we're adding carrots, they are nutritious to boot. That's the plus point of using veggies in your bakes. You get a healthy dose of vitamins, minerals, and nutrients.
In this case, a punch beta carotene - the nutrient our bodies need to make vitamin A – and some biotin, potassium, and vitamin K1. And yes, of course, the carrots also lend natural sweetness, texture, and color to the madeleines, making them pretty as a picture.
How to make carrot cake madeleines?
Honestly, madeleines come together effortlessly, and they're quick since the
refrigerator does most of the work.
- In a bowl, sift flour, a pinch of salt, and baking powder. Whisk in sugar,
cinnamon powder, and nutmeg powder.
- In a separate bowl, combine milk, olive oil, and vanilla extract. Use
lukewarm (not hot) milk. It'll help thoroughly mix everything.
- Add the liquid ingredients to the dry and stir gently until all ingredients
are well moistened.
Chilling the carrot madeleines dough
You'll have a thick batter at this point. If it feels too dry, go ahead pour in
a tablespoon or two of milk.
- Fold in very finely chopped walnuts along with shredded carrots.
- Cover the batter and slide it in the refrigerator for an hour or two.
A madeleine is not a madeleine until it has the characteristic hump. How do you get that gorgeous bump in the French tea cakes? By chilling the batter.
The cold solidifies the oil in the batter, which helps form the hump. You can
even freeze the madeleine molds.
Baking the carrot cake madeleines
- Give the chilled batter a whisk, and then spoon it on your molds.
- Bake for about 12 to 14 minutes.
- When the edges start turning color, and the middle is springy to a light
touch, the madeleines are ready.
You can do a skewer test. It should come out with a few moist crumbs
attached.
Tips on baking madeleines
Don't overmix the batter.
I prefer silicone mold because you don't need to grease them. But if you're using metal madeleine molds, brush them liberally with oil. Don't be stingy.
To get that scalloped belly and shell-like top, fill the molds only 3/4th of the way. Overfilling will give you delicious but misshapen mutants.
Use a spoon to add the batter right in the middle of the mold. Don't even it out so that it touches the sides.
Don't overbake the madeleines. Although the chances of them coming out dry are almost nonexistent since the carrots release a flood of juices into the batter.
Substitutes for madeleine ingredients
Olive oil – Over the years, I've realized oil makes the madeleines softer,
moister, and spongier. But butter is an option. Make sure it is melted and
then slightly cooled. To keep the recipe vegan, you can even try coconut
oil.
Milk – My preference is always homemade almond milk, but any milk
from regular to plant-based will work here.
Sugar – I am partial to raw sugar in my bakes because it is the healthier
choice. I ran out of it this time, so I made do with regular white sugar.
Cane sugar or coconut sugar will work like a charm in the recipe.
Nuts – When you're making carrot cake, walnuts are a given. Like
tomatoes and basil, they simply go together. But feel free to take the
recipe in the direction your taste buds desire – pecans, almonds, raisins,
or even dried fruits.
The only condition is to chop them finely. You don't want big chunks of walnut
or almonds in your mouth. You want a hint of their texture.
Serving the carrot cake madeleines
Moist with a lovely crumb that's shaded with the lightest orange; the carrot cake madeleines are so pretty that I didn't even want to dust them with icing sugar. Covering their speckled beauty would be sacrilegious.
The tiny cakes are best eaten warm and great for snacking any time. Find a quiet spot, light a candle, put on some music, and then dunk the wonderfully spiced madeleines in your tea. That's the way they're meant to be savored.

Variations of madeleine recipes
Madeleine recipes ask for ingredients that are right there in your pantry. You don't need anything fancy to bake them.
But you can experiment with a whole lot of flavors. Here are some I've baked much to the appreciation of my household:
I'd love to hear from you! Please tag me on Instagram @tashasartisanfoods, using the hashtag #tashasartisanfoods. You can also FOLLOW ME on INSTAGRAM, PINTEREST for more fabulous recipes! Do subscribe to Tasha's Artisan Foods so you'll never miss a recipe!
📖 Recipe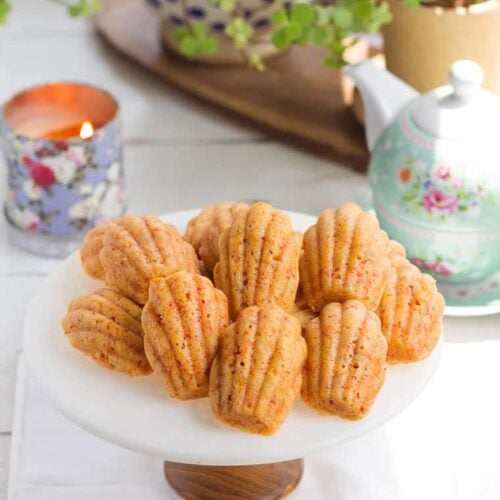 Print Recipe
Carrot Cake Madeleines
Speckled with crunchy carrots with nutty bits peeking through, these vegan carrot cake madeleines are a treat to make, see, and eat.
Ingredients
1

cup

All-purpose flour

1

tsp

Baking powder

1/8

tsp

Salt

1

tsp

Cinnamon powder

1/4

tsp

Nutmeg powder

1/3

cup

Sugar

1/2

cup

Almond milk, lukewarm

You may need extra milk

1/3

cup

Olive oil

1

tsp

Vanilla extract

1/3

tightly packed cup

Carrot, shredded finely

2-3

tbsp

Walnuts, finely chopped
Instructions
Whisk the flour, baking powder, cinnamon powder, nutmeg powder, and salt in a bowl.

In another bowl, whisk together the olive oil, almond milk, and vanilla extract.

Now gently fold in the flour mixture. Please don't over-mix.

If the batter feels too dry, add in a couple more tablespoons of milk.

Fold in the shredded carrots and chopped walnuts.

Cover the batter and refrigerate for a minimum of 2 hours or for up to 2 days.

When you're ready to bake, preheat your oven to 180C. Grease and flour the madeleine molds. If you have a silicone pan, no prep is needed.

Spoon the batter into the molds, about three-quarters of the way. There is no need to level the batter. Bake for 12-14 minutes or until they are golden and tops are springy to touch

Turn them out on a cooling rack. Cool completely and serve. Enjoy!