These vegan coffee hazelnut madeleines are tender, moist, cakey, and best of all, crunchy from the nuts and gooey from the chocolate chips!
Five years back, when I sat down to write my Lavender & Lemon Madeleines blog, I was amazed at the feat. As I said then, "I never thought I'd make madeleines, let alone write about them!"
What stuns me is that even after baking so many of them and knowing that they're so simple to create, I still get a sense of accomplishment.
Maybe because these delicate French tea cakes are so, so gorgeous? Or perhaps it's the softly, spongy texture and the downright heavenly taste? I don't know.
What I do know is that I made another batch – vegan coffee hazelnut madeleines this time.
How to Make Vegan Coffee Hazelnut Madeleines?
My madeleine guru and one of my favorite cookbook authors is Dorie Greenspan. Her book Baking: From My Home to Yours is one of my all time favorites. When I bake these shell-like delicacies, I follow her recipe with eyes closed.
This time I wanted to go completely vegan, dairy-free, and refined sugar-free, so the madeleine recipe got tweaked a bit. I even added my favorite flavor for baked goods – coffee.
I might fall strictly on the tea side of the 'tea or coffee' debate, but when it comes to treats, I utterly adore hints of coffee.
So, any chance I get to use it, I grab with both hands like for my Granola Bliss Balls, Mocha Gingerbread Biscotti, and Mocha Cupcakes with Chocolate Cream Cheese Frosting.
For these vegan coffee hazelnut madeleines, I brewed very strong coffee, cooled it down, and added it to the rest of the wet ingredients (milk, oil, and vanilla extract). This was whisked into the dry ingredients (flour, salt, sugar, and baking powder).
For the brewed coffee, I used what is easily the most revered product in our home - the Coffeeza Finero. This machine is great for making quick espressos or lungo. My husband and daughter use it every day - I am convinced this is what wakes them up in the mornings.
In this batter, I gently folded a tiny amount of finely chopped hazelnut and on a whim, a few mini chocolate chips.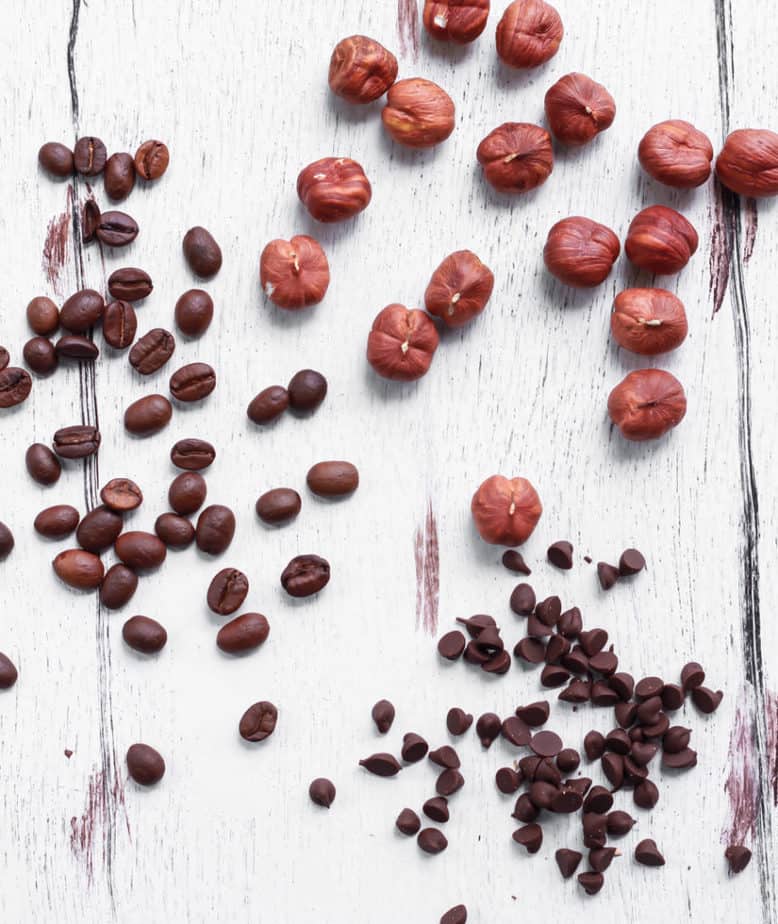 Quick notes:
Making madeleines is a breeze; the only requirement is the mold, which you can easily get online!
I am partial to homemade almond milk, so I use it often. You can switch it with any milk you prefer. The same goes for the sugar, I added coconut sugar to make the madeleines refined sugar-free, but whatever you have at hand will work too.
If you don't have coconut oil (what I used), replace it with melted and then cooled butter.
The traditional madeleine recipe requires the batter to cool in the fridge before you bake them. I always follow this rule and chill the batter for a couple of hours.
It solidifies the oil (or butter) and ensures that the madeleines get their characteristic scalloped underbelly and golden topside hump.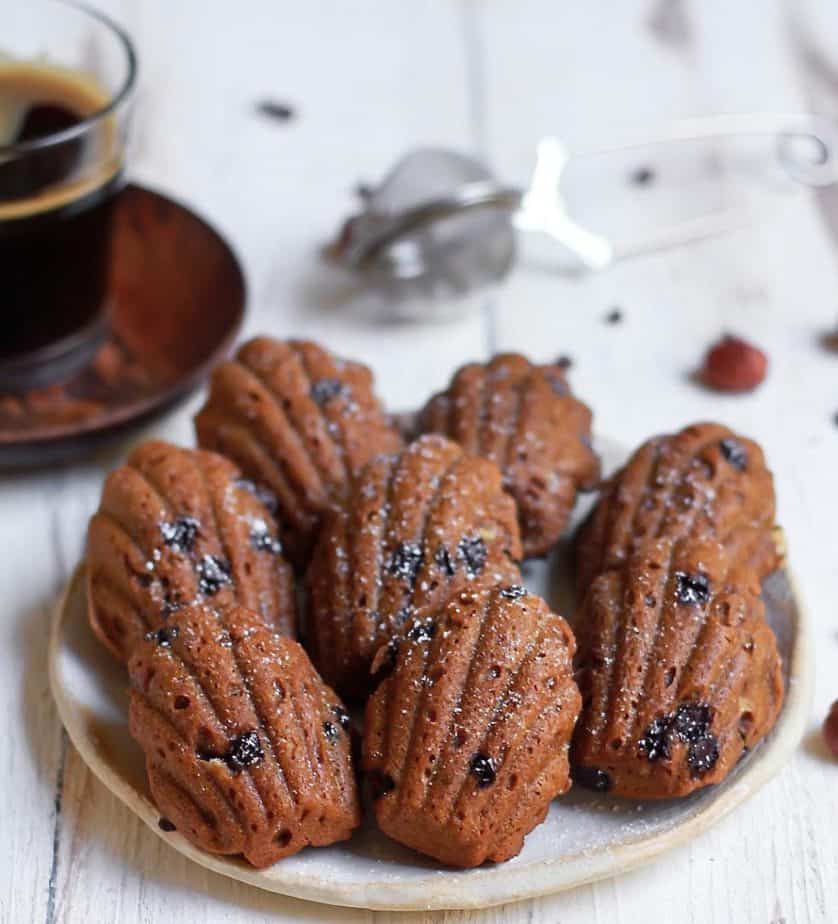 Baking the vegan coffee hazelnut madeleines
Once the batter firmed up, I spoon it on the molds. I have silicon ones that you can view here. They do not need to be greased. In case you're using metal molds, grease them liberally.
It takes 12 to 15 minutes for the coffee hazelnut madeleines to bake. These sweet mini-cakes are done right when you can see the lovely soft crumb forming. So, keep an eye out, or they'll dry out quickly.
Variations of madeleines:
You can take these cake-cookies hybrids in just about any direction your taste buds desire. You can leave the coffee out or add more. You can switch hazelnuts with almonds, walnuts, pistachios, or any other nut you like.
Add in cocoa powder and you enhance the flavor to the next level, just remember to adjust the ratio of liquid ingredients.
If you are looking for a little zest to these buttery sweet treats, follow my orange madeleine cookies or lemon madeleine recipes.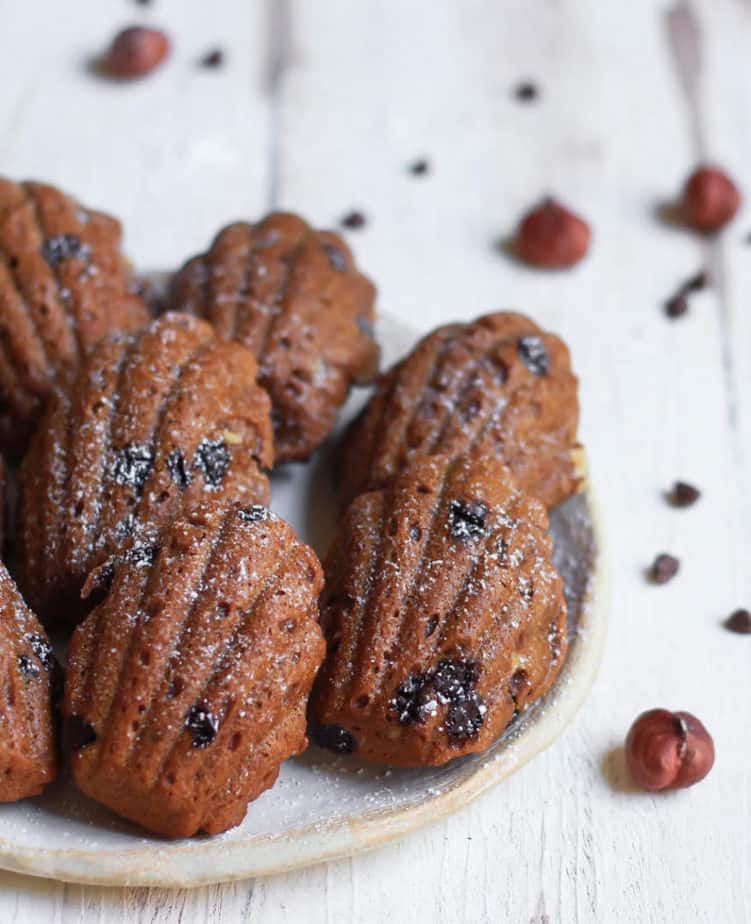 Serving the Vegan Coffee Hazelnut Madeleines
Soft, fluffy, and not overly sweet, the madeleines have that thick espresso coffee note that instantly wakes you up. I advise eating them while they are still warm from the oven.
A slight dusting of icing sugar is all the garnish these lovelies need. But if the mood strikes you, dip them in white chocolate (take a look at my Chocolate Madeleines to find out how) or drizzle them with melted dark chocolate.
When I began making these vegan coffee hazelnut madeleines, I was faintly apprehensive. The first dunk into a hot cup of tea bulldozed the feeling. Vegan madeleines are much easier to bake and just as good!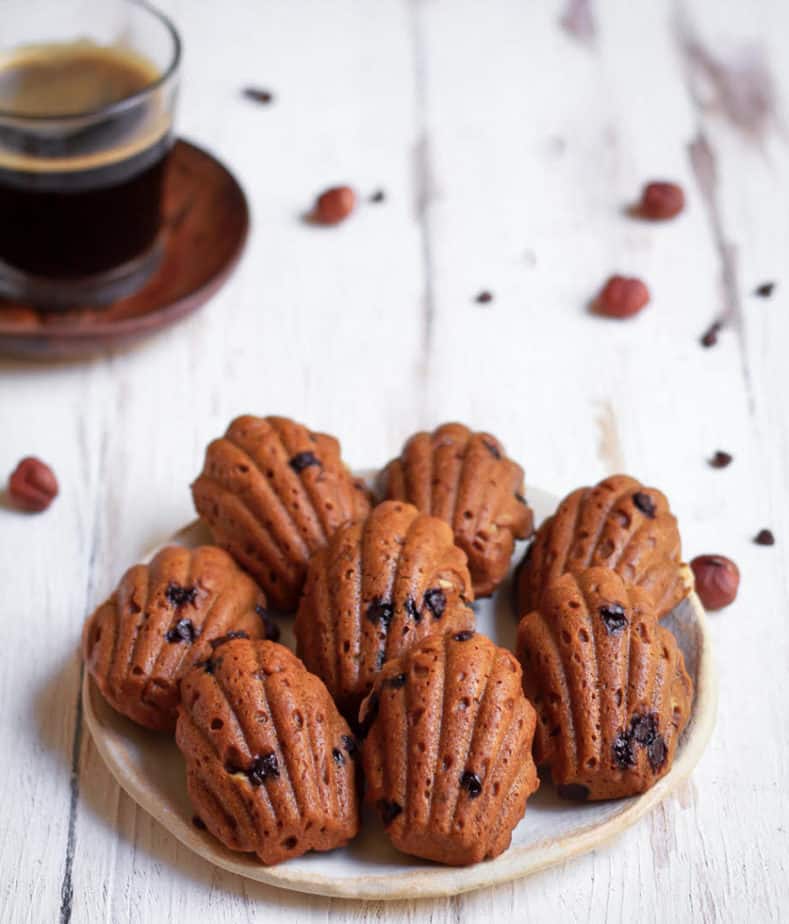 I'd love to hear from you! Please tag me on Instagram @tashasartisanfoods, using the hashtag #tashasartisanfoods. You can also FOLLOW ME on INSTAGRAM, PINTEREST for more fabulous recipes! Do subscribe to Tasha's Artisan Foods so you'll never miss a recipe!
This blog post contains affiliate links. These don't cost you anything, but they allow me to continue running this site and providing free content for my readers.
📖 Recipe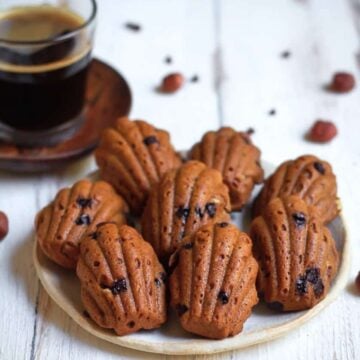 Print Recipe
Vegan Coffee Hazelnut Madeleines
These vegan coffee hazelnut madeleines were tender, moist, cakey, and best of all, crunchy from the nuts and gooey from the chocolate chips!
Ingredients
1

cup

All purpose flour

1

tsp

Baking powder

1/8

tsp

Salt

1/3

cup

Coconut sugar

You can use any sugar

1/2

cup

Almond milk

You can use any milk of your choice

1/3

cup

Coconut oil

1

Tbsp

Strong brewed coffee, cooled

1

tsp

Vanilla extract

2-3

tbsp

Chopped hazelnuts

2-3

tbsp

Chocolate chips

Optional
Instructions
Sift the flour, salt and baking powder in a bowl.

Stir in the coconut sugar.

Whisk together the coconut oil, almond milk, coffee and vanilla extract.

Now gently fold in the flour mixture. Please don't over mix.

Fold in the hazelnuts and chocolate chips, if using.

Cover the batter and refrigerate for a minimum of 2 hours or for up to 2 days.

When you're ready to bake, preheat your oven to 200C. Grease and flour the madeleine molds. If you have a silicone pan, no prep is needed.

Spoon the batter into the molds, about three-quarters of the way. There is no need to level the batter. Bake for 12 -15 minutes or until they are golden and tops are springy to touch.

Turn them out on a cooling rack. Cool completely. Enjoy!