Typically, we don't coo over the look of a dessert, but lemon madeleines have you salivating from the first glance. And don't even get me started on the taste- it is meant to be savored.
After the heavy-duty baking and cooking for Holi, both my stomach and my soul wanted a respite. Something light and airy that pairs with a cup of tea in the evening like a song.
Lemon madeleines came to mind as I was flipping through Dorie Greenspan's, a baker I follow religiously, Baking: From My Home to Yours. I have used the book as a source of inspiration for a long, long time and this lemon madeleine recipe is another adaption from it.
How to Make Lemon Madeleines?
Madeleines are classic French cookies with a recognizable shell-like appearance. A deliciously impressive dessert, you'll love it if you crave cakes as much as cookies.
These buttery, spongy tea-cakes are ludicrously easy to make because all the ingredients are right there in your pantry. All you require is a madeleine mold, and you're good to go.
In a pan, mix all-purpose flour, salt and baking powder and set aside. In another bowl, with your fingertips blend powdered raw sugar and lemon zest. Mix till you get that citrusy whiff and the sugar is moist. Now add in the eggs and beat well. When the mixture is wonderfully thick, pale and almost double the original volume, stop whisking and sprinkle some lemon juice in it. Fold the dry ingredients in followed by melted butter to form the batter.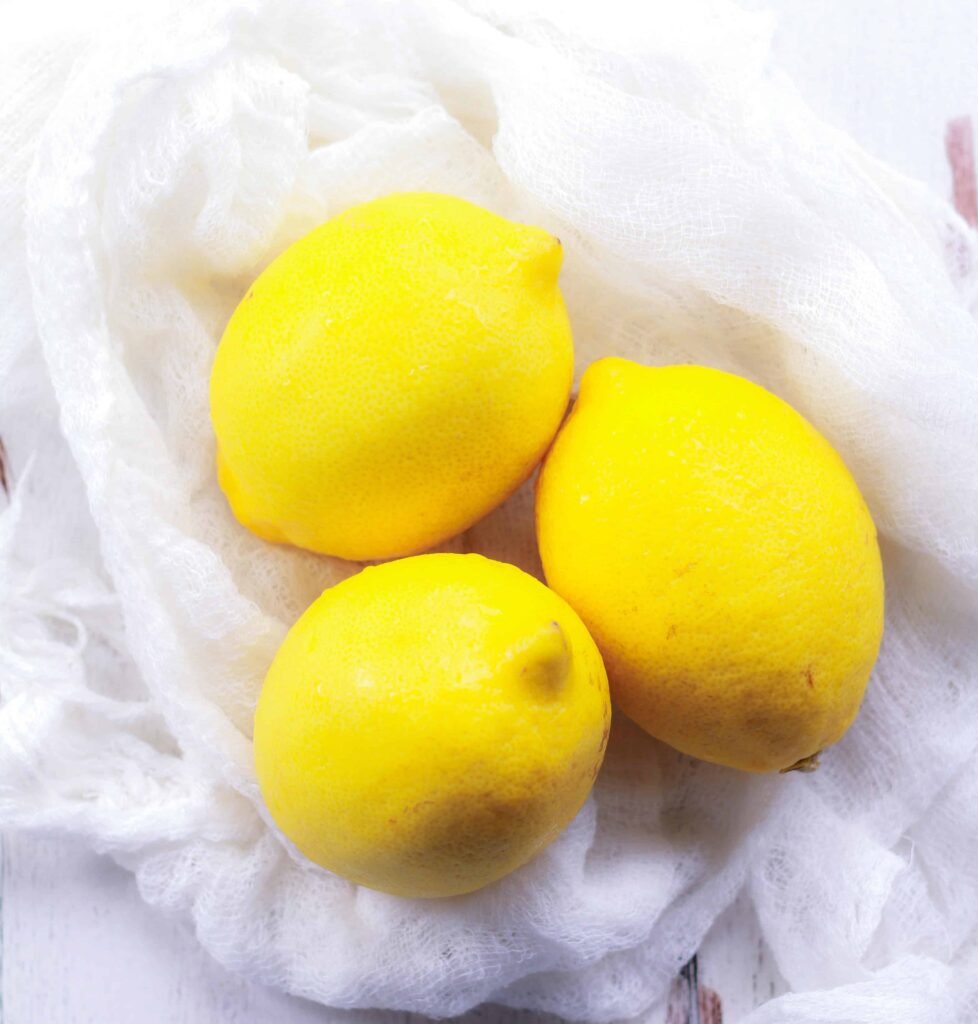 Important Notes:
When you fold the flour and butter into the egg mixture, do it very, very gently. You actually fold them together, not madly whisk them! The butter has to be cooled slightly after melting before you pour it in to give the madeleines a rich, complex flavour.
For that signature hump of madeleines, you need to chill the batter. After all the ingredients are folded (gently!) slide it in the refrigerator for a minimum of 2 hours. If you wish, you can even chill the madeleine pan to get that characteristic shape better.
Baking the lemon madeleines
When the batter is chilled enough, scoop it right into the middle of each mould. You don't have to spread it around. As the madeleines bake, they do so automatically.
As I said at the beginning, baking madeleines is easy if you have the correct mould. There are two types of them - metal and silicone. I use the latter which you can find here but if you have the metal one at home, take an extra step. Brush each mould with melted butter. Liberally.
It hardly takes fifteen minutes for the madeleines to cook, but as the clock reaches the 10-minute limit, I recommend keeping a constant eye on them because they can burn quickly after a certain point.
When the madeleines get that lovely golden hue and are springy to touch, that's the time to take them out of the oven. Garnish with slivers of pistachio and lemon glaze and the madeleines are ready to be served!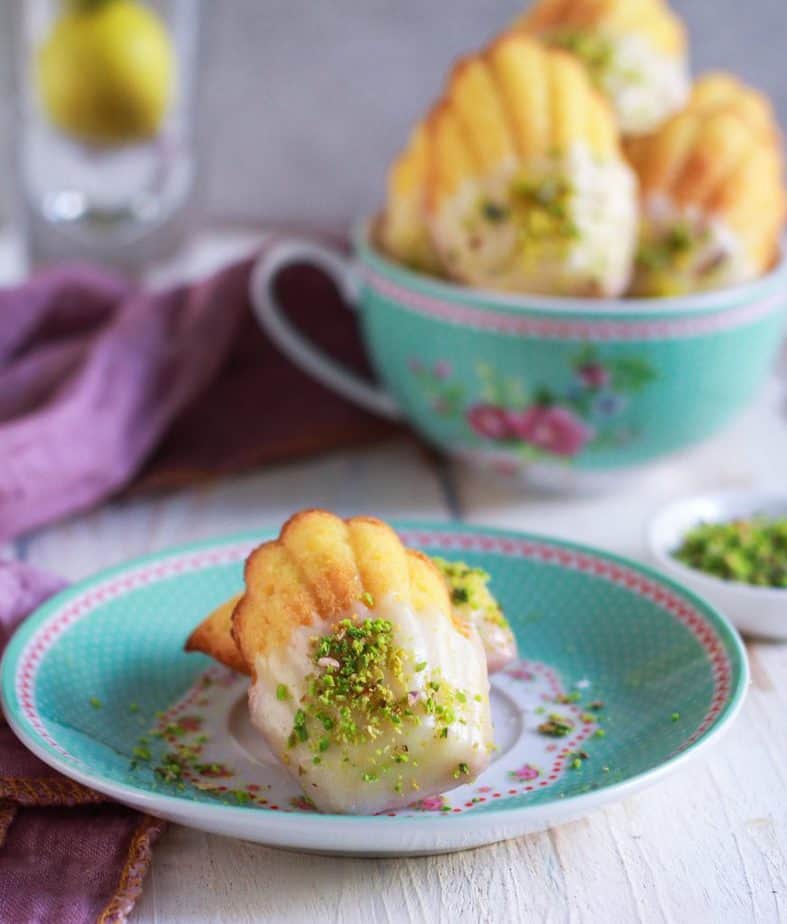 Variations of madeleine recipe
These elegant and summery cakes were a pure delight to make and not just because of their exquisite prettiness. The buttery cake cum cookies also have absolutely the best taste, especially when they're still warm from the oven.
Plus, like every other cake on earth, madeleines are highly adaptable. If you like a zing to your treats, try the orange madeleines. For those chocoholics, the chocolate madeleine recipe is a match made in heaven. And if you're looking to up the game, the lavender madeleines are a great choice!
You know the joie de vivre, people keep talking about? Every bite of these lemon madeleines has it. I hope you relish them as much as I did.
I'd love to hear from you! Please tag me on Instagram @tashasartisanfoods, using the hashtag #tashasartisanfoods. You can also FOLLOW ME on INSTAGRAM, PINTEREST for more fabulous recipes! Do subscribe to Tasha's Artisan Foods so you'll never miss a recipe!
This blog post contains affiliate links. These don't cost you anything, but they allow me to continue running this site and providing free content for my readers.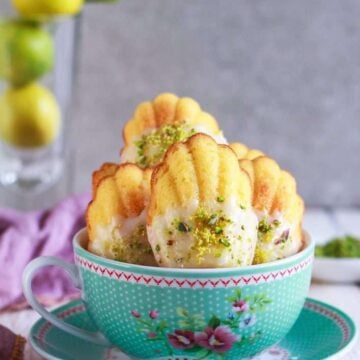 Print Recipe
Lemon Madeleines
These elegant and summery Lemon Madeleines are a pure delight to make. They are exquisitely pretty and have a wonderful buttery lemony taste!
Ingredients
1

cup

All purpose flour

1/2

tsp

baking powder

1/8

tsp

salt

Leave this out if using salted butter

2

tsp

Lemon zest

1/3

cup

Raw sugar, powdered

I powdered the sugar in my coffee grinder

2

Eggs, at room temperature

2

tsp

Lemon juice

90

gms

Butter, melted and cooled

I used salted butter
Lemon Glaze
2-3

tbsp

icing sugar

1-2

tsp

Lemon juice

Lemon zest and chopped pistachio for garnishing
Instructions
Sift the flour, salt and baking powder in a bowl.

In a small bowl, mix the lemon zest and sugar with your fingertips till the sugar is fragrant and moist.

Beat the eggs and sugar till pale and thick, doubled in volume. Whisk in the lemon juice. Now gently fold in the flour mixture, followed by the butter. Please don't over mix.

Cover the batter and refrigerate for a minimum of 2 hours or for up to 2 days.

When you're ready to bake, preheat your oven to 200C. Grease and flour the madeleine molds. If you have a silicone pan, no prep is needed.

Spoon the batter into the molds, about three-quarters of the way. There is no need to level the batter. Bake for 12 -15 minutes or until they are golden and tops are springy to touch.

Turn them out on a cooling rack. Cool completely. Dip each madeleine halfway into the lemon glaze. Immediately top with chopped pistachios and lemon zest. Let these set for a few minutes and serve. Enjoy!