A lot of people can throw together ingredients for a decent bake. But when you've been baking for years, you want each piece of joy to be an experience. A taste journey that evokes forgotten memories or longings for something new.
So, when I started gathering things to bake madeleines, I couldn't fathom what flavors to use. I've already made them the traditional way – with lemon and orange. I've even made them the unconventional way – with chocolate.
And then, I decided to throw caution to the wind and explore a new combination. That's how the coconut ginger madeleines came about.
With each bite of the buttery, ribbed cookies, I could taste the mellow coconut first and the sharp notes of the ginger second. The almost sponge cake-like madeleines were soft and tender on the inside with a lovely crunch on top from the toasted coconut.
I whole-heartedly endorse making them at least once. And if you're thinking 'but I don't have madeleine molds,' don't worry. I imagine these will do well as mini-muffins. The only change will be the texture. You'll still get that distinct nutty taste of coconut offset by the kicky bite of ginger exceptionally well.
How to Make Coconut Ginger Madeleines?
You begin by whisking, not sifting, the dry ingredients together – flour, desiccated coconut, salt, raw sugar baking powder, and ginger powder.
For the flour, I used half quinoa and half all-purpose. You can use only all-purpose flour or even whole wheat flour. I am not entirely sure if the madeleines will hold their shape if made with just quinoa flour.
The recipe is vegan, so a gluten-free flour like quinoa might not do all that great. If you try the recipe with only quinoa flour, I recommend adding an egg or flax egg.
In another small bowl, mix almond milk, coconut oil, and a little bit of vanilla extract. Stir the dry ingredients into this very gently till everything is well moistened.
Chill the batter for a few hours, give it whisk, scoop it in your madeleine molds and then bake. These bake at higher temperatures, so the time is about 10-12 minutes. Do check them after the clock strikes the last minute, as they can dry out in a blink of an eye.
Tips for baking great madeleines
Madeleine batter must be cooled before baking. The lower temperature solidifies the oil or butter, and gives you that gorgeous hump on the top and scalloped belly on the bottom. You can even slide your mold in the refrigerator along with the batter.
Grease your molds if they are made of metal. Brush them liberally, don't be sparing with it. If you use silicone molds like me, then you can skip this step.
Try not to overfill the molds. Think spooning the batter right at the center, instead of spreading all over to touch the sides evenly. This will save you from misshapen monsters and give you flawlessly ribbed coconut ginger madeleines.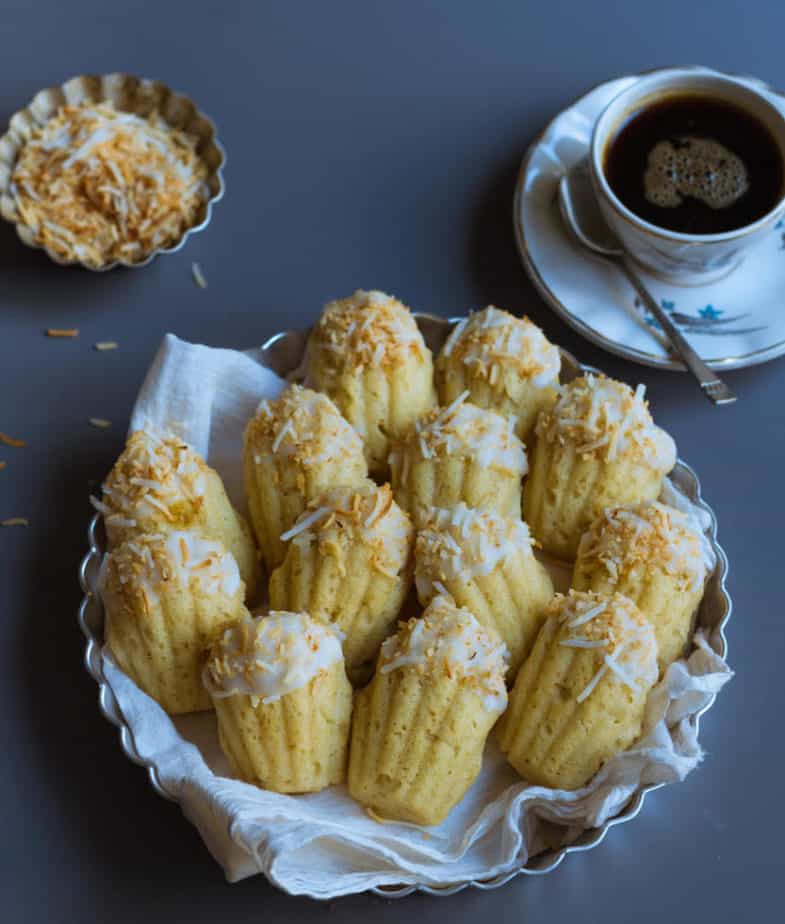 Variations of coconut ginger madeleines
Ginger is key to this madeleine recipe. Combined with coconut, its unique citrusy and earthy flavors make for the perfect marriage.
I really couldn't get my hands on crystallized ginger. Otherwise, I would have used them to get that extra bite. In case you don't like the warming kick of ginger, lessen the amount of powder you add.
If coconut oil is not your cup of tea, then replace it with melted butter as I did for my lemon madeleines. Remember to cool the butter a bit before you add it.
Instead of raw sugar, regular white sugar will work too, or you can even use coconut sugar. Homemade almond milk is my go-to choice, but any milk you're partial to is fine.
Serving the Coconut Ginger Madeleines
I dipped the ends of these summery yellow and fantastically soft cake-cookie amalgams in a thick glaze made of almond milk and icing sugar. I sprinkled some crunchy toasted shredded coconut on top of the glaze to create one more layer of texture.
Glazing is entirely optional. Madeleines are pretty even without any adornments. Dust a spot of sugar on top, and they're ready to be devoured.
While for most cookies and cakes, I advise cooling; that's not the case with madeleines. Eat them right away while they are still warm from the over. It begets a pleasure that you simply can't put to words.
That's not to say you can't enjoy them cold. That's the best time to dunk them in your cup of tea or coffee. The man of the house had them with black coffee to his great relish.
The raw sugar blended with coconut's natural sweetness was just enough that the delicate tea cakes were not cloyingly saccharine. Fused with the gingery zest that came through with every bite, the coconut ginger madeleines had the most astonishingly well-balanced flavor profile.
Suffice to say I one-upped my coffee hazelnut madeleines, something that couldn't be true in any realm of my imagination!
I'd love to hear from you! Please tag me on Instagram @tashasartisanfoods, using the hashtag #tashasartisanfoods. You can also FOLLOW ME on INSTAGRAM, PINTEREST for more fabulous recipes! Do subscribe to Tasha's Artisan Foods so you'll never miss a recipe!
📖 Recipe
Print Recipe
Coconut Ginger Madeleines
Fused with the gingery zest that comes through with every bite, the coconut ginger madeleines have the most astonishingly well-balanced flavor profile.
Ingredients
1/2

cup/ ( 60 gms)

All-purpose flour

1/2

cup/ (60 gms)

Quinoa flour

1/2

cup/ (45 gms)

Desiccated coconut

3/4

tsp

Ginger powder

1/3

cup / ( 60 gms)

Raw sugar

You can use regular white sugar or coconut sugar.

1 1/4

tsp

Baking powder

1/4

tsp

Salt

1/3

cup /( 60 ml )

Coconut oil

You can also use cooled, melted butter.

1/2

cup ( 100ml )

Almond milk

You can use any milk of your choice.

1.5

tsp

Vanilla extract
Glaze ( Optional)
1/3

cup

Icing sugar

1

tbsp

Almond milk
Topping ( Optional)
Shredded coconut, shredded
Instructions
Whisk both the flours, desiccated coconut, raw sugar, ginger powder, salt, and baking powder in a bowl.

In another bowl, whisk together the coconut oil, almond milk, and vanilla extract.

Now gently fold in the flour mixture. Please don't over mix.

Cover the batter and refrigerate for a minimum of 2 hours or for up to 2 days.

When you're ready to bake, preheat your oven to 200C. Grease and flour the madeleine molds. If you have a silicone pan, no prep is needed.

Spoon the batter into the molds, about three-quarters of the way. There is no need to level the batter. Bake for 10-12 minutes or until they are golden and tops are springy to touch.

Turn them out on a cooling rack. Cool completely.
Glaze
Mix the icing sugar and almond milk to form a smooth, thick glaze.

Dip one end of the madeleine into the glaze and top with toasted coconut. Set aside for 5 minutes for the glaze to set. And enjoy!