A bite of the Apple Walnut Salad tastes of gem blue skies and the end of summer's grip. Each morsel is a fete of flavors, all perfectly balanced to tell you that yes, fall is finally here!
This month has been about crunchy, sweet, and satisfying apples.
Is it because their high fiber content is great for metabolism? Is it because the boatload of vitamin C (and others) is excellent for immunity? Is it because they're packed with antioxidants fabulous for overall health?
I swear I am nodding to all these nutritional benefits. After all, making healthy food is an eternal priority for me. But it's not why September has been an apple month.
It's the joy of working with seasonal produce that gets me every time! Since I've already made apple waffles and a chai-spiced apple cake, it was time for a savory dish.
The easiest way to include the sweetness of any fruit in savory dishes is salads. I've used mango in a red rice salad. I've mixed apricots and dates in a pasta salad. I've combined peach and mozzarella, and even watermelon and feta for salads.
And all of them have been resounding successes. So, when I got a fresh batch of organic greens delivered from a local farm, I decided to combine them with crisp apples and create an apple walnut salad.
How to Make Apple Walnut Salad?
The recipe stands testimony that by no means a salad has to be relegated to the diet food category. With minimal effort, you can create something healthy without compromising on the taste, even one bit!
To make the salad, on a bed of greens went a blanket of cooked quinoa. Then a layer of thin, juicy apple slices. A few crunchy walnuts, some pomegranate arils, and cranberries went on top. Overlaying it all were a handful of microgreens and some rich, musky pieces of smoked gouda.
I've always felt that a salad should be a paradisiacal medley of flavors and textures. That's why I use an abundance of ingredients. The bright flavor of baby spinach and the peppery arugula meet the crispy sweetness of apples and the crunch of walnuts beautifully. Throw in the sweet-tart cranberries and pomegranates along with creamy smoky cheese and hearty quinoa, and the salad becomes rapturous.
Making the salad dressing
The finishing touch to the seasonal and entirely wholesome apple walnut salad is the dressing.
In a small jar that has a tight lid, add balsamic vinegar, olive oil, maple syrup, and dried thyme. Add in salt and pepper to taste and then shake it all. Pour the dressing on the salad, so it enlaces everything.
Why make the dressing at home instead of using a bottled one? Because it's basic and a 2-minute job at the most. Plus, it's much cheaper, all the while giving you full control of the amount of sodium. But it's getting a preservative-free alternative that does it for me!
Variations of the salad recipe:
You can use any apple variety you get your hands on. But the crispier they are, the better the salad. I prefer to leave the skin because an unpeeled apple has far more vitamins than a peeled one.
Do try to get organic apples if you want to keep the skin on.
In case you have fussy eaters at home, please go ahead and peel them. While my kids are okay with the skins, they turn their noses up on oxidized apples. So, to prevent it, I squeeze lemon on top of the slices.
Another trick is to keep them in cold water mixed with a spoon of lemon juice. Store the entire thing in the refrigerator and when you're ready to serve, simply pull the slices out.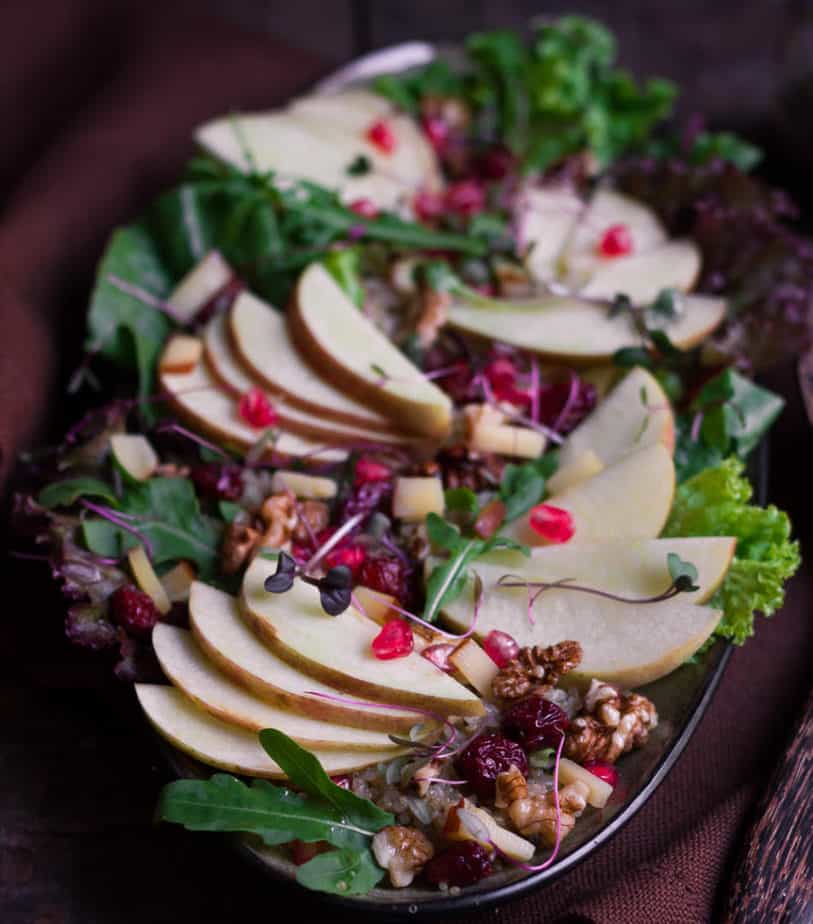 Any fresh greens you have will work like a charm for the salad. You can omit quinoa with ease. But if you want to get grain in there, try cooked millet, wild rice, red rice, or even couscous.
Apples and raisins are always a lovely pairing and something you can use instead of cranberries. The mild taste of gouda complements fruits and nuts naturally, but any cheese, I surmise, would couple glowingly. Try cheddar, brie, or even a plant-based cheese.
For the dressing, you can switch maple syrup with honey. In case you have fresh thyme, use it. I couldn't find any, and that's the only reason I availed of dried thyme.
Serving the Apple Walnut Salad
A good salad is one that brings a burst of flavors to your mouth. A great salad is one that awakens all your senses. The apple walnut salad, not to toot my own horn, does that without missing a beat.
It's a delicious balancing act of sweet, sour, bitter, salty, and umami. With all the textures thrown in there – crispy, creamy, crunchy, fibrous and sticky – it's hard to call it just a salad. Really, you can serve it as an appetizer or bulk it up with cheese toast and call it a full meal, as I did.
Apple Walnut Salad Recipe
I'd love to hear from you! Please tag me on Instagram @tashasartisanfoods, using the hashtag #tashasartisanfoods. You can also FOLLOW ME on INSTAGRAM, PINTEREST for more fabulous recipes!
📖 Recipe
Print Recipe
Apple Walnut Salad
A good salad is one that brings a burst of flavors to your mouth. A great salad is one that awakens all your senses. The apple walnut salad, not to toot my own horn, does that without missing a beat. 
Ingredients
2-3

cups

Mixed salad greens

1.5

cup

Quinoa, cooked and cooled

2

Apples, thinly sliced

Sprinkle with some lemon juice to avoid oxidizing.

1/3

cup

Walnuts, coarsely chopped

1/4

cup

Pomegranate arils

1/4

cup

Smoked Gouda cheese, diced

You can use any cheese you prefer.

1/4

cup

Dried cranberries

You can use raisins if you prefer.

A small handful microgreens
Balsamic Vinaigrette
2-3

tbsp

Balsamic vinegar

4

tbsp

Extra virgin Olive oil

1/2

tsp

Dried thyme

1

tsp

Maple syrup/honey

Salt and pepper to taste
Instructions
Balsamic Vinaigrette
Whisk together the olive oil, balsamic vinegar, maple syrup, dried thyme, salt, and pepper in a small bowl or a small jar with a tight-fitting lid. Taste and adjust for seasoning.
Salad
Arrange the salad greens in a large platter or a serving bowl.

Toss quinoa with half of the dressing.

Spoon quinoa on top of the greens.

Arrange the apple slices on top of the quinoa.

Sprinkle over the walnuts, pomegranates, and cranberries.

Top with the cheese and microgreens.

Drizzle over the rest of the dressing.

Serve immediately. Enjoy!

If you want to serve the salad later, keep all the elements ready and cold. Assemble just before serving.
Notes
To cook quinoa -
Rinse the quinoa very well under running water.
Place the quinoa with double the quantity of water and a little bit of salt, in a saucepan over high heat.
Cover and let it come to a boil, bring the heat down to low. 
Let it cook until the quinoa is cooked and has absorbed all the water.
When cooked, quinoa grains open up and look like little sprouts.
Fluff up the cooked quinoa gently with a fork.