The Pomegranate mimosa is a quick one. Not stirred or shaken—exactly what you want for holiday party drinks. The sparkling wine cocktail is super fun to make and fabulously fancy!
If you're looking for Christmas cocktails that come together in a jiffy and appeal to everyone, there's nothing more delightful than a Pomegranate Mimosa!
All you'll need is a bottle or two of sparkling wine, a bowl of pomegranates, and juice for this easy winter mimosa recipe that's just exquisite in front of a roaring fire or on Christmas morning! It's not overly sweet, has a bite of fizz, and has an enduring appeal, precisely how I like my cocktails.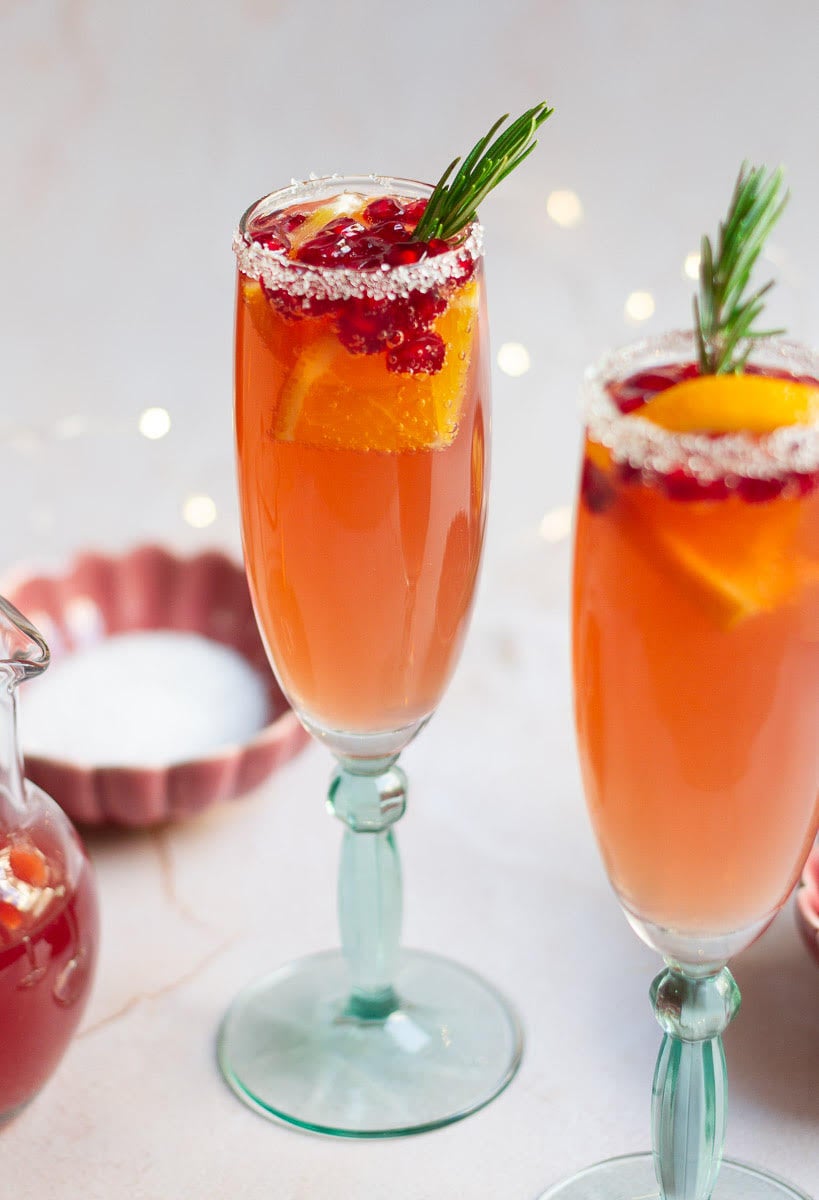 Jump To:
WHY MAKE THIS SPARKLING WINE COCKTAIL
Takes less than 5 minutes to make
Turns out gorgeous without any effort
Needs only 3 easily available ingredients
Crowd-pleaser, perfect for a Christmas brunch drink
WHAT IS MIMOSA?
Mimosa is a cocktail that became popular during the 1920s in Europe. Served in a flute, it's typically made by mixing orange juice and champagne, and that's how it gets its moniker. The pale orange, almost yellow color of the drink is very reminiscent of the mimosa plant's flower.
This is my take on the classic cocktail and is inspired by the pomegranate mimosa recipe by FreshCoastEats. The red tint from the sweet, tart fruit transforms the quintessential brunch drink into the prettiest Christmas mimosa.
HOW TO MAKE A POMEGRANATE MIMOSA?
Step 1: Begin with the rim. Run half a lemon along the lip of the glass and then dip it in granulated sugar.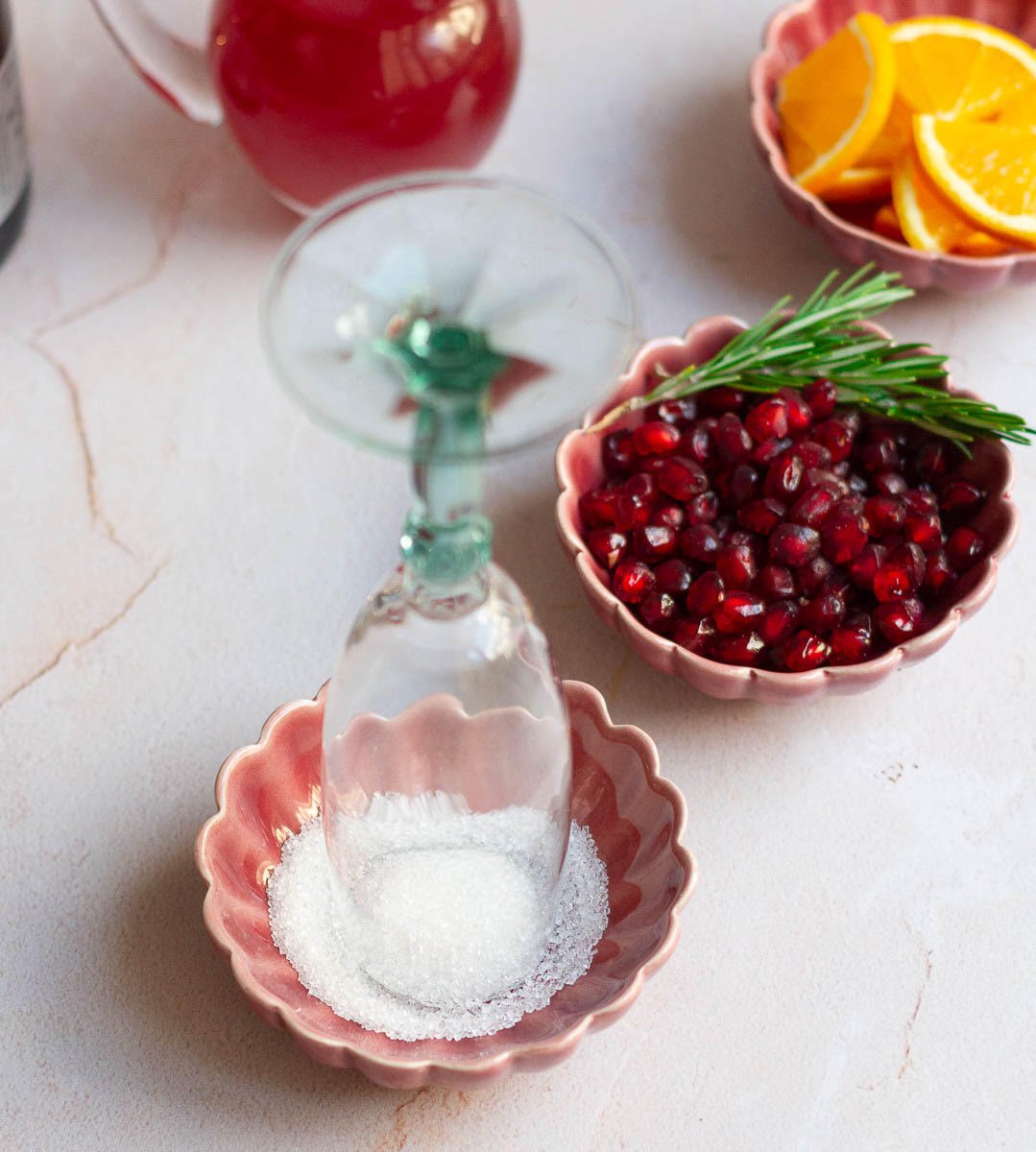 Step 2: Tumble a few pomegranate arils into the bottom of the glass and then pour juice until the glass is half filled.
Step 3: Top with sparkling white wine, almost to the brim.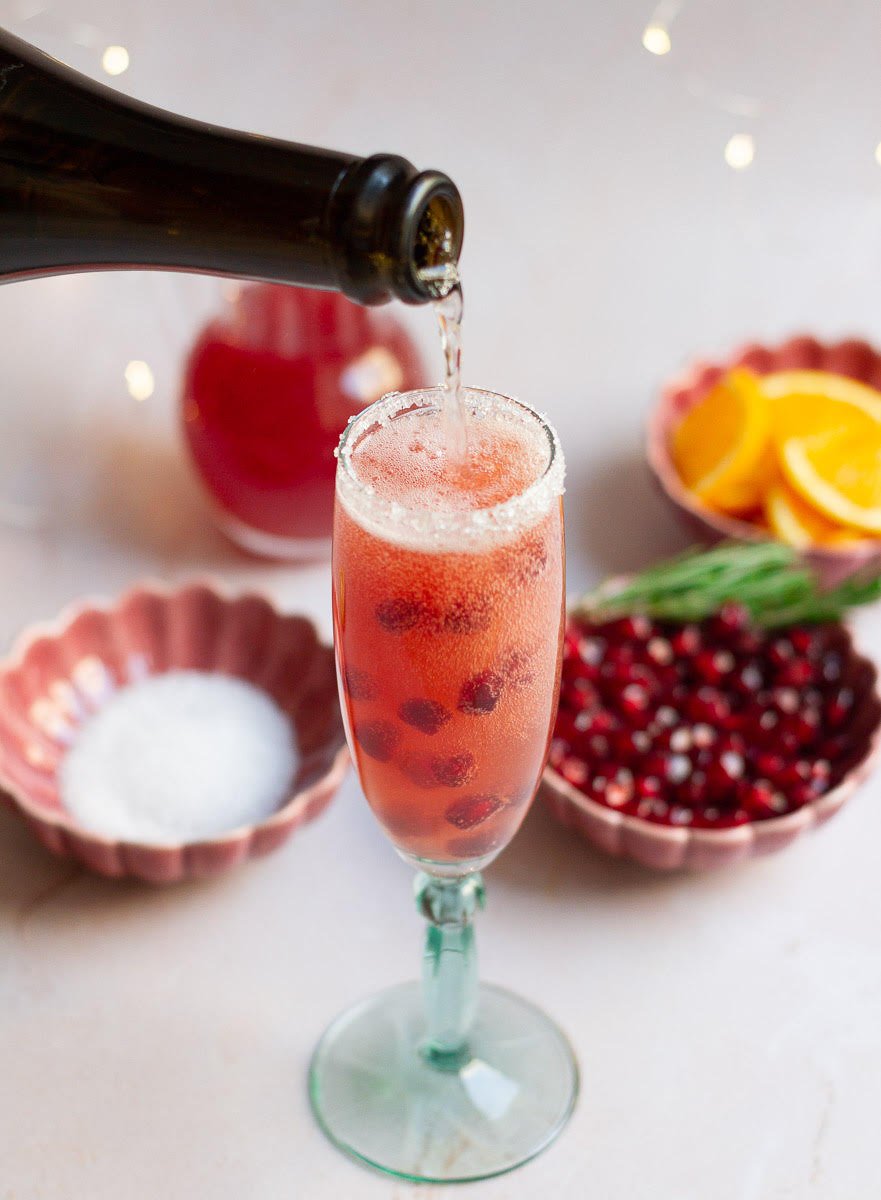 Step 4: Garnish with a slice of fresh orange and a sprig of rosemary, and you've got yourself a stunning sparkling wine cocktail!
HANDY TIPS FOR THE PERFECT MIMOSAS RECIPE
Lime, lemon, or orange: all three work to rim the cocktail glass. An orange will definitely lend more flavor to the Christmas cocktail.
Gently twist the glasses side by side to really cover the edge in sugar. Then set it aside, just for a moment, so the sugar sets.
Look for 100% pomegranate juice, not one loaded with sugar. You want the tartness and crispness of the winter fruit to shine through!
Have your champagne glasses ready (sugar-rimmed and topped with arils) so you just have to pour the juice and wine when guests arrive!
I won't recommend making the holiday mimosa ahead of time. Pre-mixing the pomegranate juice and sparkling wine will turn the cocktail flat – not what you want with this fun drink!
Sips of this light, almost effervescent drink pair really well with baked camembert or a cheese platter.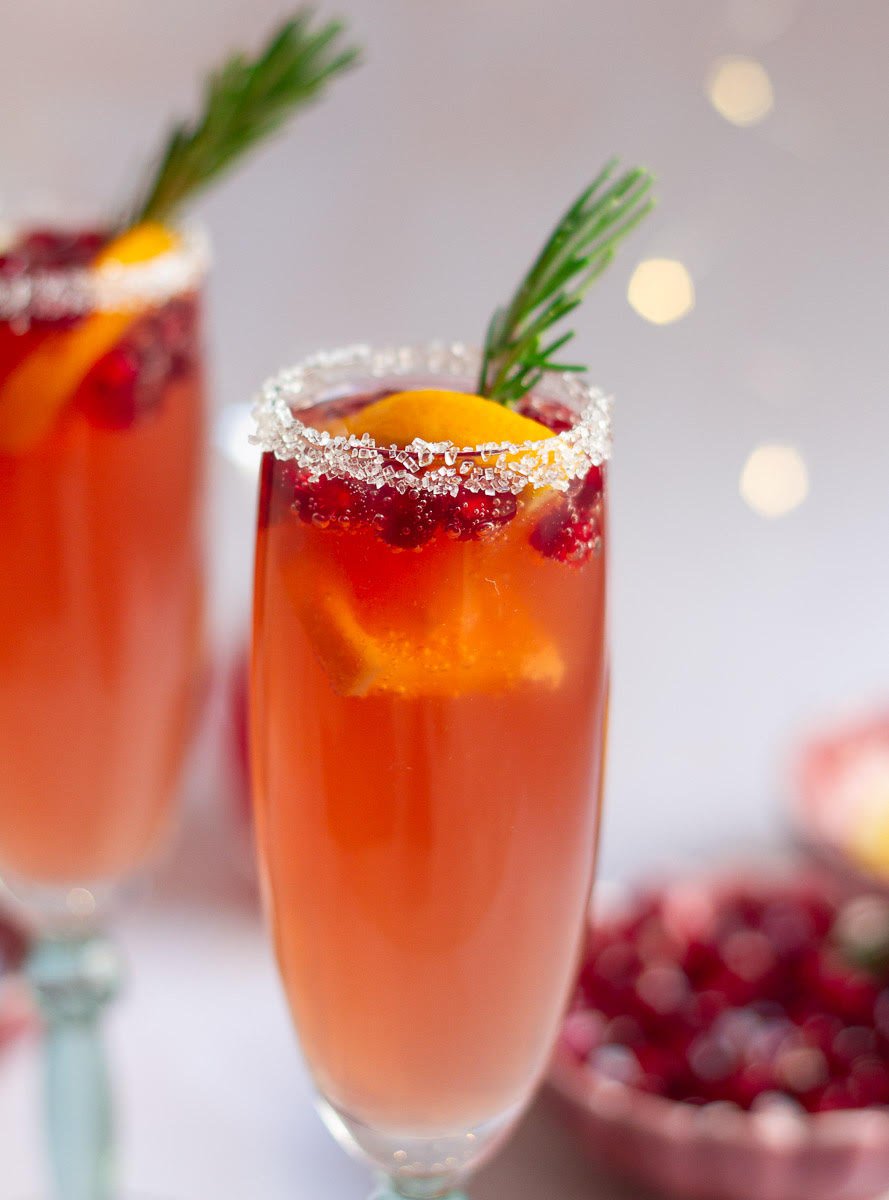 MIMOSA VARIATIONS
Arils: These are optional, but believe me, they elevate the whole sparkling wine cocktail experience, with their texture, flavor, and drama.
Juice: Mimosas work wonderfully with oranges, pomegranates, cranberries, and co. If the flavor combination of orange and pomegranate speaks to you, go ahead and mix the two juices!
Garnishing: Like the arils, the garnish is not obligatory, but it does bring such a festive feel to this Christmas mimosa! Don't have rosemary? Try thyme, an orange peel, or a cinnamon stick!
Booze: Pomegranate mimosa recipes are not fussy about the alcohol you use. Champagne is the traditional choice because the notes offset both pomegranates and oranges.
I stuck to sparkling white wine, but Prosecco (an Italian sparkling wine) is a fantastic option. I also hear that Cava (Spanish sparkling wine) is another delicious substitute. I haven't tried the winter mimosa recipe with it; if you do, let me know how it turned out.
As for the ratio of juice to alcohol, switch it up as you like. Make it boozier or just the right amount of fruity and bubbly, as I did.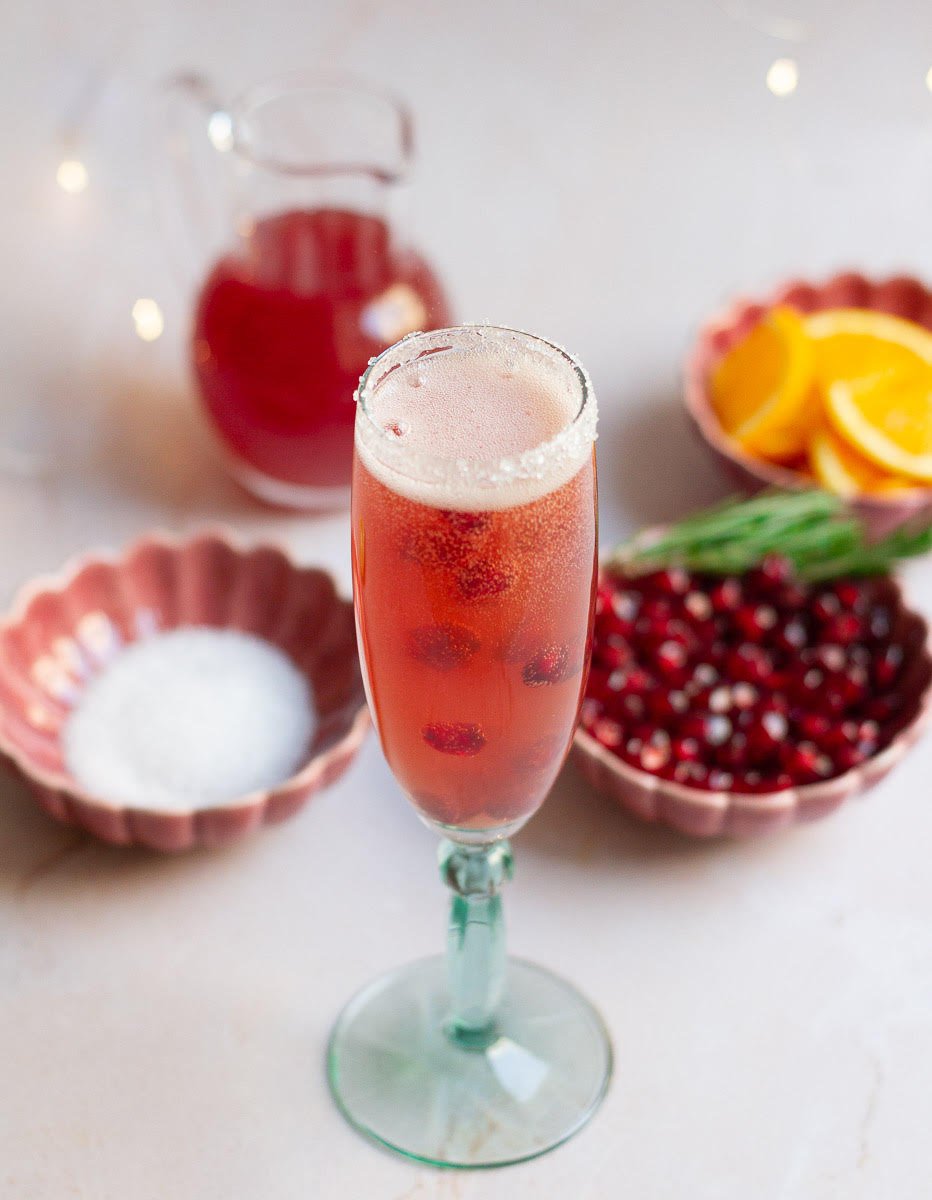 MORE HOLIDAY PARTY DRINKS
Half the joy of cooking is sharing it with others, which is why I'm always eager to hear from you. So go right ahead and drop a comment or reach out on Instagram, Pinterest, YouTube, or Facebook. I hope you love this Christmas mimosa recipe as much as we do!
📖 Recipe
Print Recipe
Pomegranate Mimosa :Sparkling Wine Cocktail
The Pomegranate mimosa is a quick one. Not stirred or shaken—exactly what you want for holiday party drinks. The sparkling wine cocktail is super fun to make and fabulously fancy!
Ingredients
1/2

Lemon

2

tbsp

Granulated sugar

3/4

cup

Pomegranate juice

3/4

cup

Sparkling white wine / Champagne

2-3

tbsp

Pomegranate arils

Orange slices and rosemary for garnishing
Instructions
Run the lemon along the rim of each glass and dip the rim in a small bowl of sugar.

Spoon in 1 tbsp pomegranate arils in each glass.

Pour pomegranate juice halfway into the glasses.

Top with sparkling white wine or Champagne.

Garnish with orange slices and rosemary sprigs.