Watermelon Iced Tea - what a refreshing summer cooler this drink is! This watermelon drink is really easy to make and absolutely delicious.
I love making my own iced teas, lemonades, and other beverages at home instead of picking up bottles or packs of readymade ones from supermarkets.
Making them from scratch hardly takes any time and you are guaranteed fresh, delicious and healthier drinks every time.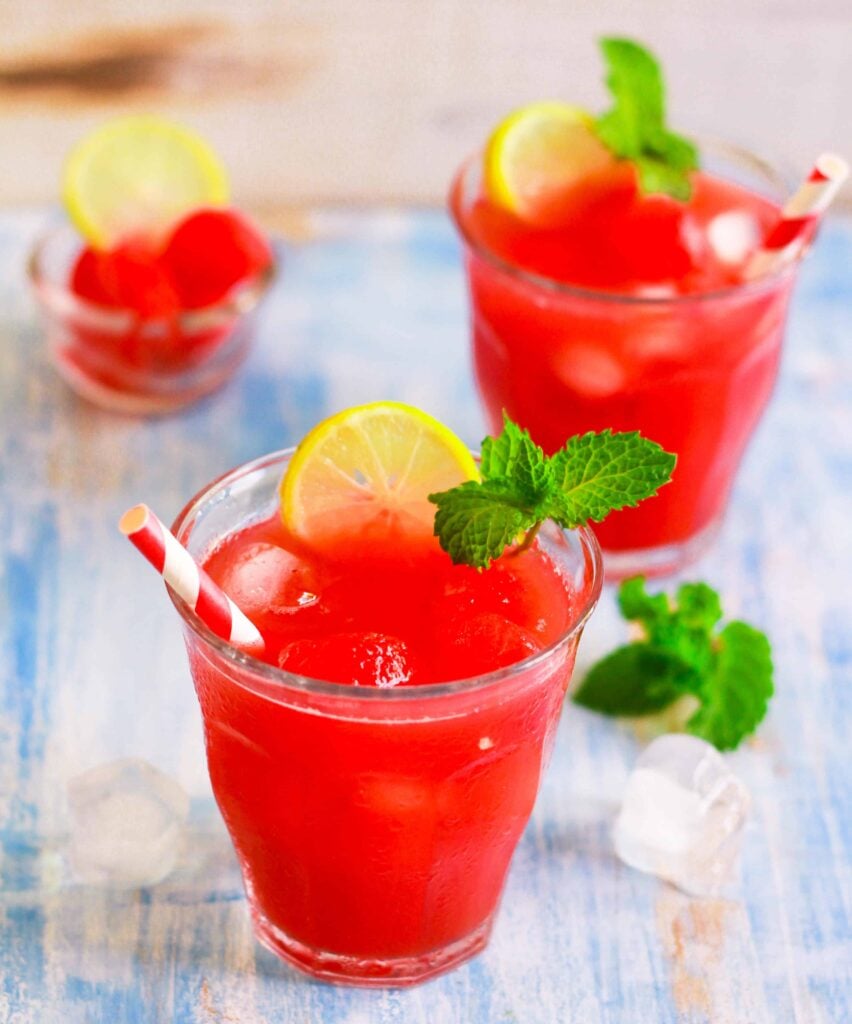 Last year I learned about making iced tea using the cold-brewed method. My Peach Iced Tea was such a success at home that this has stayed on as my preferred method from then on. It's really simple and a great cool drink to have on hand at home.
What is Cold Brew Tea
Its simply tea brewed in room temperature water for an extended period of time. In this method, you rely on time and not temperature to make the tea. What you get is a very flavorful concoction, without any bitterness, but with all the health benefits of the tea. Apparently, the amount of caffeine in these is also less compared to the traditionally steeped ones.
What kind of teas can be used for Cold Brews
Broken Orange Pekoe ( that's what I have used here), Oolong, White Tea, Jasmine Green Tea, and Earl Grey are wonderful for cold brewing. I find that Assam and Darjeeling get a tad bitter when steeped for a long period. You can also try this method with herbal teas like Tulsi, Sweet Rose or Chamomile.


How do I make Watermelon Cold Brew Tea
This really couldn't be simpler. You just add 1 teaspoon of tea to a cup of water at room temperature. Stir it well and keep it in your refrigerator for 8 hours up to 12 hours. I like to add a couple of mint leaves at this point for that extra special flavor. Overnight steeping works the best. Next, you strain the tea into a pitcher, stir in pureed watermelon, honey or simple sugar syrup to taste. A dash of lemon juice is optional, but it really brightens up the tea.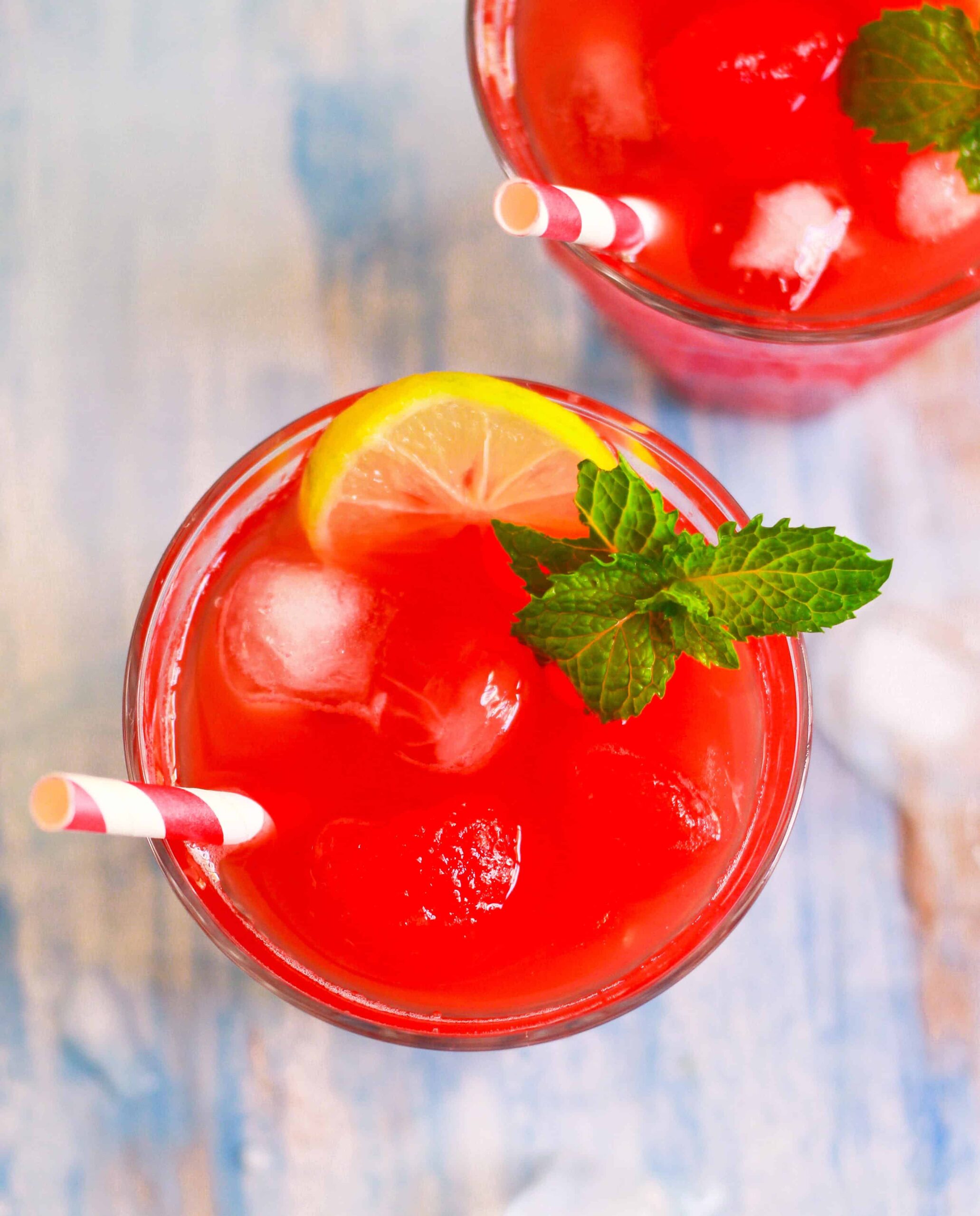 MORE EASY SUMMER BEVERAGE RECIPES
I hope you'll enjoy this easy refreshing Watermelon Iced Tea as much as we do!
I'd love to hear from you! Please tag me on Instagram @tashasartisanfoods, using the hashtag #tashasartisanfoods. You can also FOLLOW ME on INSTAGRAM, PINTEREST for more fabulous recipes! 
Print Recipe
Watermelon Iced Tea
Watermelon Iced Tea - what a refreshing summer cooler this drink is! Cold brewing the tea makes it so easy and absolutely delicious!
Ingredients
4

tsp

Broken Orange Pekoe Tea/ Oolong

4

cups

Water, room temperature

4-5

Mint leaves

2

cups

Watermelon pureed and strained

Simple syrup or Honey to taste

Simple syrup - combine 1/4 cup sugar and 1/4 cup water in a small saucepan. Bring to a boil,and let the sugar dissolve in the water.

1-2

tbsp

Lemon juice

Optional

Mint for garnish

Frozen scoops of watermelon balls for garnish

Optional
Instructions
Stir in the tea in the water. Add the mint leaves. Refrigerate for 8 hours up to a maximum of 12 hours.

Strain the tea, discard the mint leaves. Mix in the fresh watermelon puree. Add honey or simple syrup to taste. Stir in some lemon juice if you like.

Garnish with mint and some frozen watermelon balls. Serve chilled. Enjoy!