For us, there is no occasion too inconsequential for mithai. But when it comes to festivals, it's a full-on, no-prisoners-taken fiesta. But if I had to pick just one mithai that is undoubtedly involved in all festivities, it'd be besan burfi with condensed milk.
Dussehra to Diwali, no celebration is complete without besan ki burfi. The sweet is like a blank canvas I can mold to my moods and preferences. Taste, texture, shape, and even color, there is not a morsel of burfi I can't tweak.
And I've tried all of them over the years. This year I felt like having a fudgier version (and it's my new favorite, hands down).
Besan burfi with condensed milk feels like sinking your teeth into fudge while listening to Clair de Lune, a journey of emotion and intensity. The condensed milk lends richness to the delicate and fragrant burfi and nicely balances the nuttiness.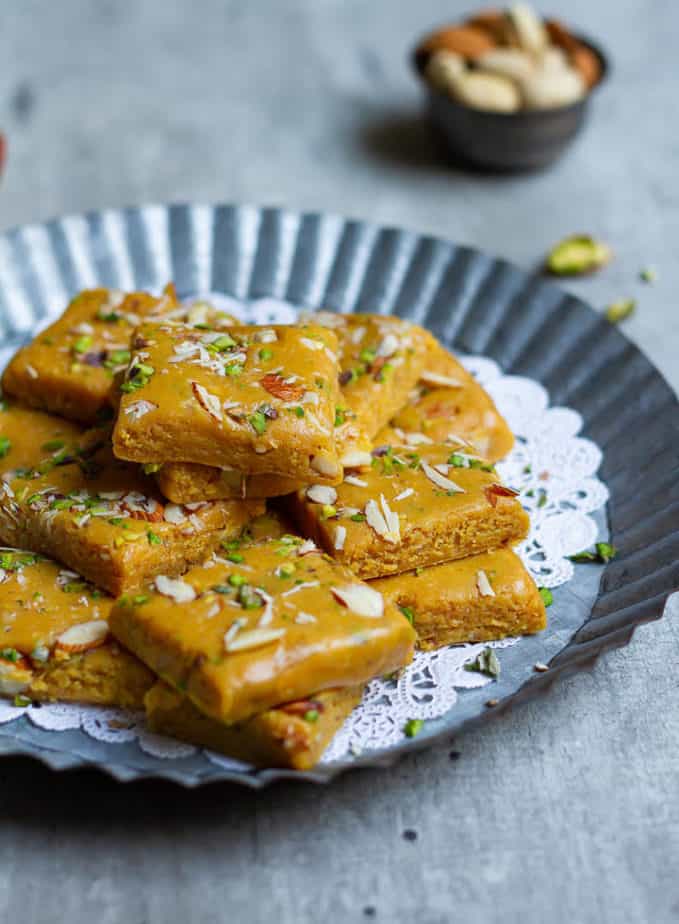 Jump to:
How to make besan burfi with condensed milk?
I love simple recipes and this one doesn't disappoint. Made with just 3 main ingredients, it's quick, taking no more than 20 minutes if you prep all the ingredients. And that too is mostly roasting the besan.
Heat ghee in a heavy bottom pan or kadhai.
Add besan (gram or chickpeas flour) and roast it on low to medium heat. This is the most important step of any besan burfi recipe. My advice? Have patience and take your time.
Stir, stir, and stir constantly.
When the besan is gloriously fragrant with that nutty aroma and is lightly golden, reduce the heat to low.
Add your condensed milk and cardamom powder.
Stir for a minute or two and the mixture will come together. Do note, that you'll have to work swiftly at this juncture because the mixture does tend to get hard. I switched off the stove because my besan was already leaving the sides of the pan and the residual heat of the kadhai was enough to cook it through.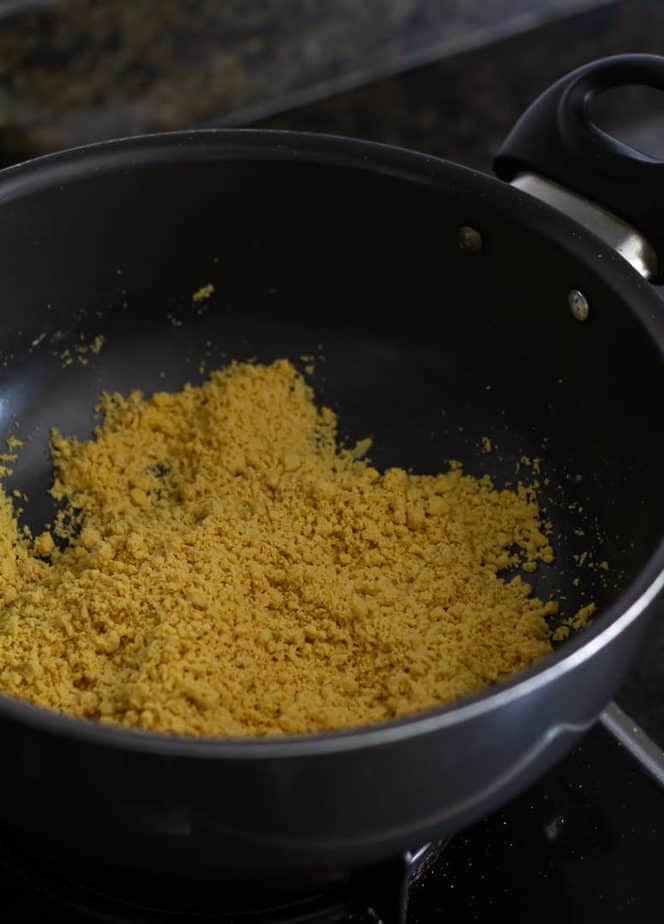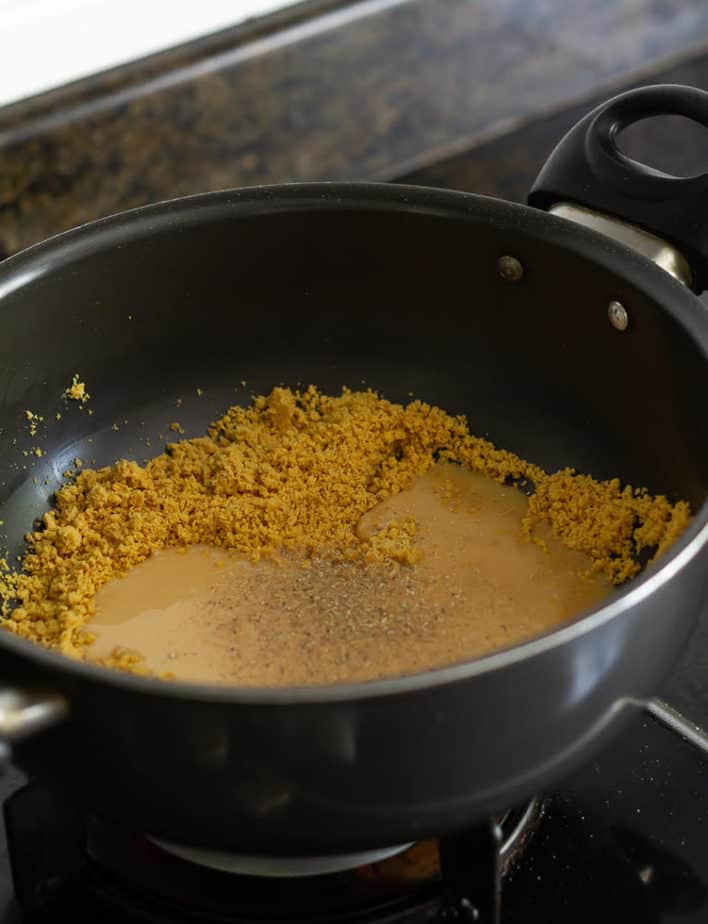 Shape and cut besan burfi
Grease a plate and scrape the mixture onto it.
With your hands or spatula, pat it down in an even layer. Because the besan burfi mixture is sticky, oiling your hands or spatula will help handle it better.
Sprinkle some chopped pistachios and slivers of almonds on top.
Then let the mixture cool completely.
Cut into squares and enjoy.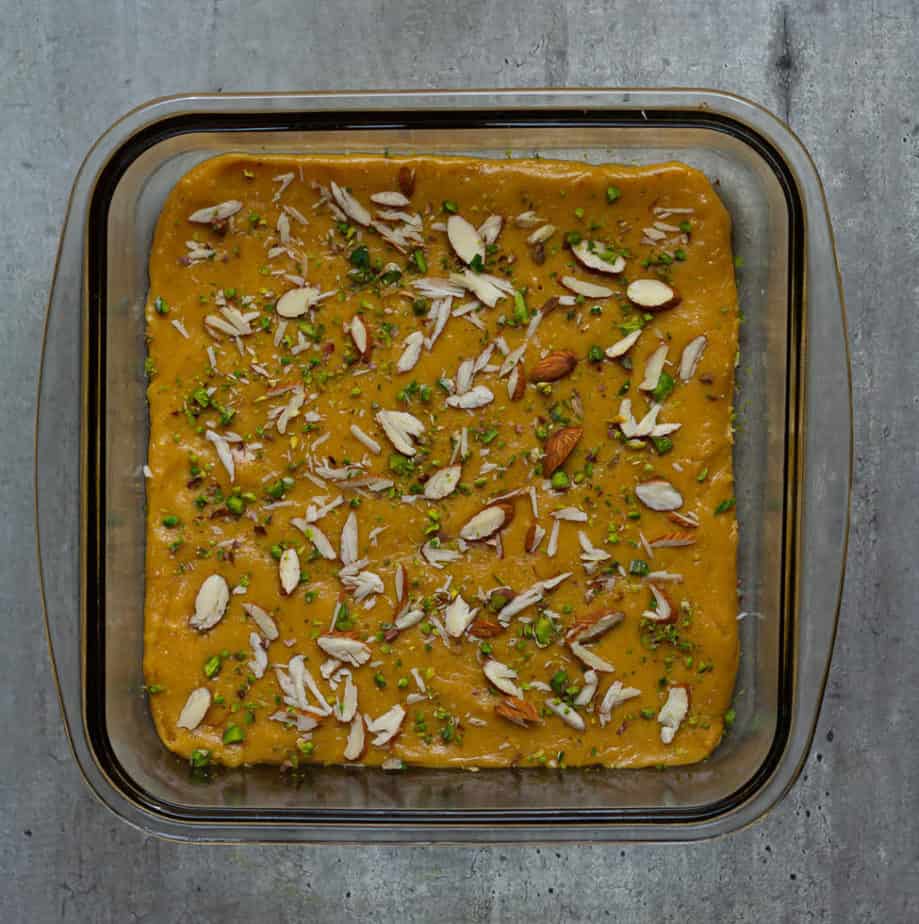 My tips for an easy burfi recipe
It is crucial to cook besan to the right color and aroma. Undercooked besan tastes terrible and is horrible for your digestion.
Keep the flame at medium-low, else the besan will burn and gain a dark brown hue. Also, at a lower temperature, the roast is more uniform.
Besan tends to form lumps. Keep breaking them with your wooden spoon or spatula to roast evenly.
In case the burfi mixture feels too dry to you, whisk in a tablespoon or two of milk to correct the consistency.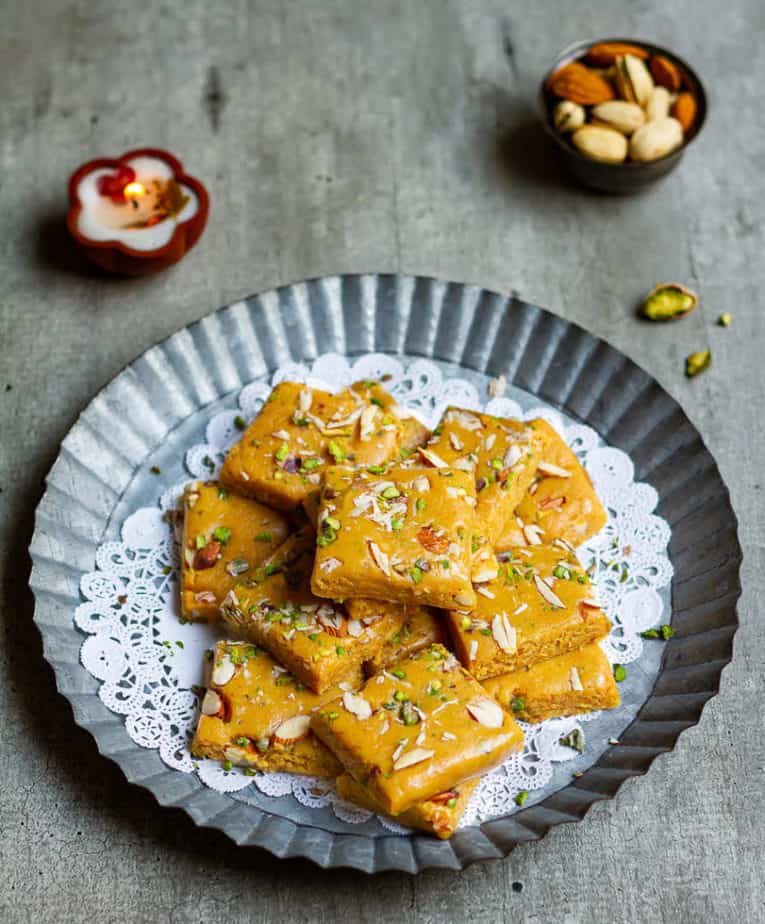 What else can you use for besan burfi with condensed milk?
Besan burfi with jaggery: Condensed milk lends all the sweetness my family likes in a mithai. But if your taste runs towards sweeter mithais, incorporate jaggery when you add condensed milk. You can even use powdered, regular sugar.
Nuts: Besan burfi is quite versatile when it comes to nuts. Don't like almonds or pistachios? Use any nuts you prefer. Want a crunchier texture to your burfi? Include them in the mixture when you add the cardamom.
Vegan besan burfi: I haven't tried it yet, but you can easily veganize this besan burfi recipe. Substitute ghee with coconut oil and use coconut condensed milk (you can make it at home in a jiffy with this recipe).
How to store besan burfi?
There is no need to refrigerate besan burfi made with condensed milk. It stays well for a few days in an airtight container. Just in case your burfis last longer (although that's highly unlikely, they're too addictive) or it is still warm where you live, refrigerate them.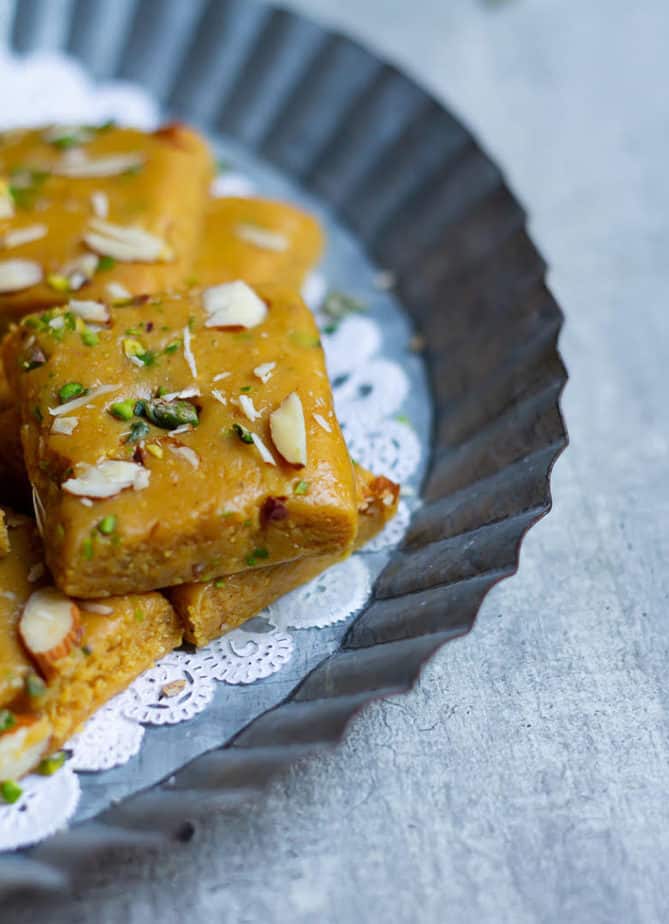 Why do I love this besan burfi recipe?
Quick to make
Screams of festivities
Super simple, fun recipe
Hugely popular with everyone (like all ladoos and burfi)
Different from the regular besan burfi with a little more chew and creaminess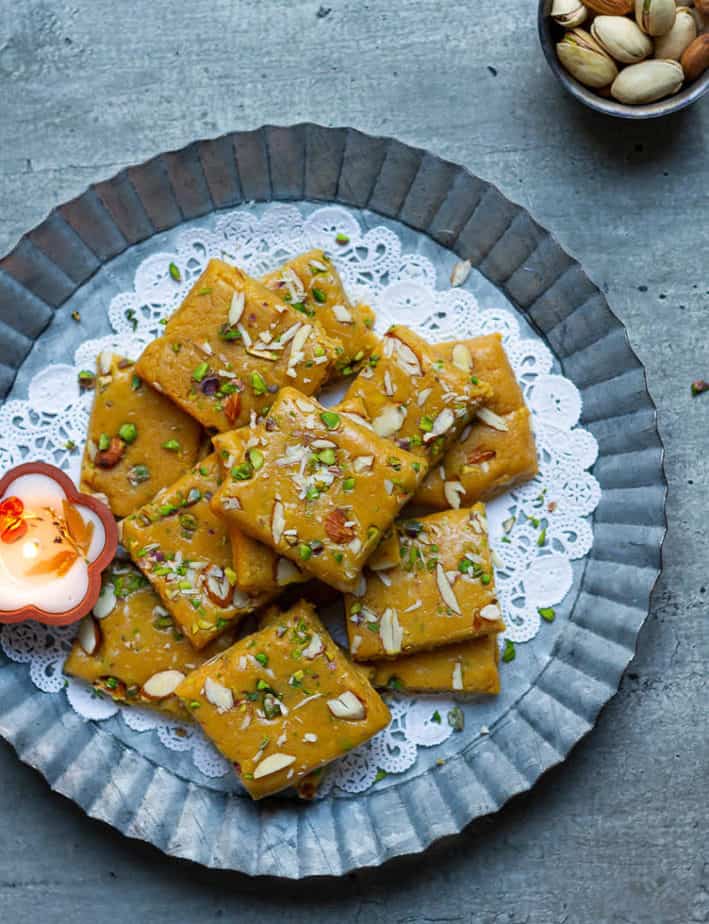 More burfi recipes:
More mithai recipes for festivals:
📖 Recipe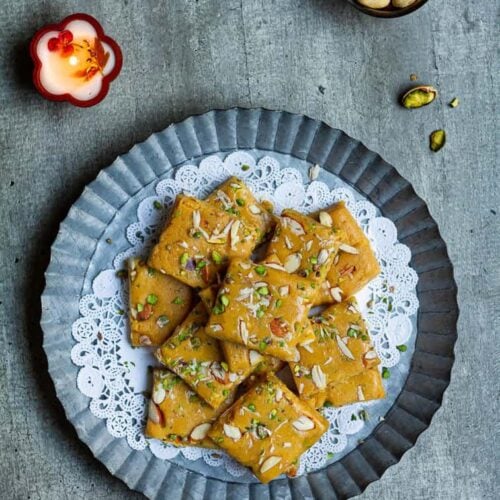 Print Recipe
Besan Burfi With Condensed Milk
Ingredients
125

gms

Besan / Chickpea flour

4

tbsp

Ghee

200

ml

Sweetened condensed milk

1.5

tsp

Cardamom powder

3-4

tbsp

Almond and Pistachio, roughly chopped

Optional
Instructions
In a heavy-bottomed pan, heat the ghee.

Add the besan and on low heat, keep stirring and roast it for 10-12 minutes, until you get a nutty aroma and the flour has a nice toasty color.

While you are stirring, keep breaking up the lumps in the flour.

Now add the condensed milk and cardamom powder. Mix well till you get a smooth mixture. This should take about 1-2 minutes. Turn the heat off.

Transfer this mixture to a greased tray or thali. Sprinkle the nuts, if using, and press them down.

Let this cool for 30-40 minutes. Cut into squares and serve. Enjoy!