This sweet and chilled Mulberry Sharbat will be your best friend on a hot summer day! With just 3 ingredients, it is an easy and satisfying recipe!
Sharbat or Sherbet is a popular drink in India that is usually made with fruits or flower petals and served cold. I personally like to make it with seasonal fruits and using natural sweeteners. Today I am sharing the recipe for a Mulberry Sharbat, with jaggery and rock salt.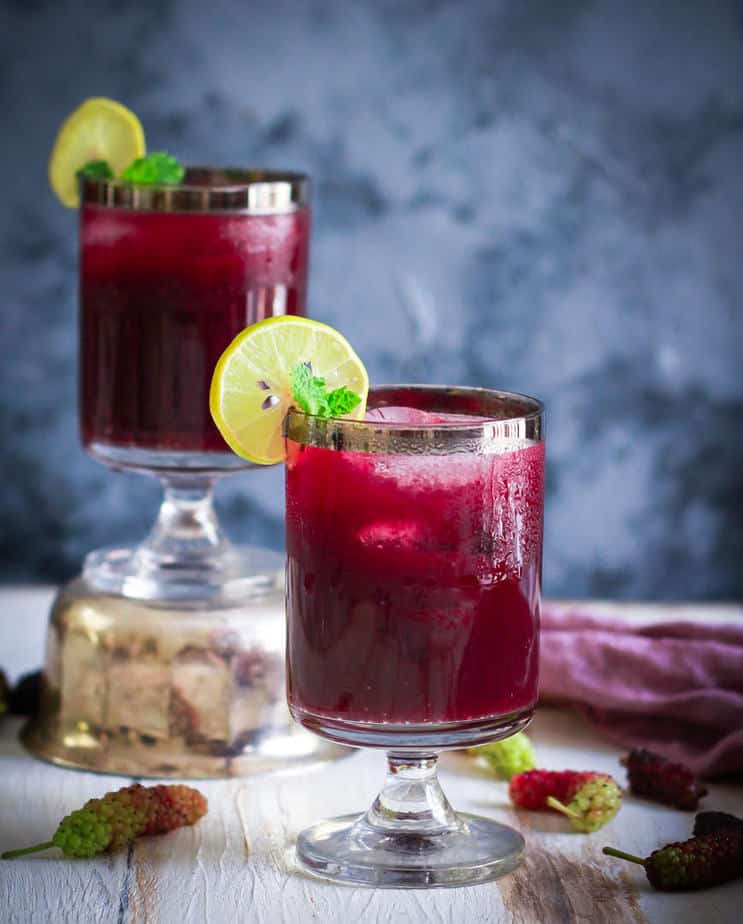 One of my fondest childhood memories in the summertime was being greeted with a chilled glass of sharbat after school. It never failed to melt away my irritation with the heat and whatever trials I had faced that day! Now, even with my ever-growing arsenal of summer coolers that range from iced teas to nice creams, there is nothing I find more refreshing than a fruit Sharbat, made with just 3 ingredients!
Mulberries are a tart and delicious fruit, which are tiny but pack a punch! For this recipe, I used juicy purple-black mulberries which have a wonderful sweetness and tartness. They boast an impressive antioxidant content, that has been proven to reduce oxidative stress. Oxidative stress can lead to cell and tissue damage and plays an important role in the aging process.
Mulberries are also a potent source of Vitamin C, which is important for skin health and immunity. I've been upping my Vitamin C intake after reading a lot of research on how we consume it and the effects it has on our body! Humans are the only animals (aside from guinea pigs and a few other primates) that don't produce their own Vitamin C, so need foods and supplements to acquire it. It repairs our collagen – the most abundant protein in our body which is crucial for skin and bone health. Fruits like mulberries are an easy and accessible way of including Vitamin C in our diet.
This recipe couldn't be easier - All you need to do to make this drink is cook the mulberries, rock salt, jaggery powder, and some water in a pan for 15 minutes. Blend the cooled mixture and strain it! Refrigerate the drink for a few hours. Serve it chilled with ice for that much-needed reprieve from the heat! This Shehtoot/Mulberry Sharbat is perfect as an everyday refresher and for entertaining.
I'd love to hear from you! Please tag me on Instagram @tashasartisanfoods, using the hashtag #tashasartisanfoods. You can also FOLLOW ME on INSTAGRAM, PINTEREST for more fabulous recipes!
Print Recipe
Mulberry Sharbat
This sweet and chilled Mulberry Sharbat will be your best friend on a hot summer day! With just 3 ingredients, it is an easy and satisfying recipe!
Ingredients
500

gms

Mulberries

I used purple and black mulberries

500

ml

Water

1/2

cup

Jaggery Powder

1

tsp

Rock Salt
Instructions
Combine the mulberries, rock salt, and jaggery powder in a small pan. Add water.

Bring the mixture to a boil and let it simmer on low heat for 15 minutes.

Let the mixture cool to room temperature, then blend it.

Once blended into a smooth consistency, strain the mixture into a pitcher/jar.

Cool the strained mixture in the fridge for a few hours. To serve, combine the sharbat/syrup with water and ice per glass, according to taste. Enjoy!