Easy, healthy, fresh Apricot & Date Pasta Salad is just in time for summer! I love this salad as a family meal, for all-day snacking, for entertaining...cold or warmed up, it just works every which way!
Summers are flushed with stone fruits. The hotter it gets, the sweeter and juicier they get. As much as I revel in baking with them, I adore them in savoury dishes too, like this Apricot & Date Pasta Salad. The combination of sweet with salty is a total winner for me. And no, don't worry, you're NOT eating a dessert or a fruit salad. No wayyyy! Once you hit the fruit and dates with some salt and olive oil, they turn into flavour bombs!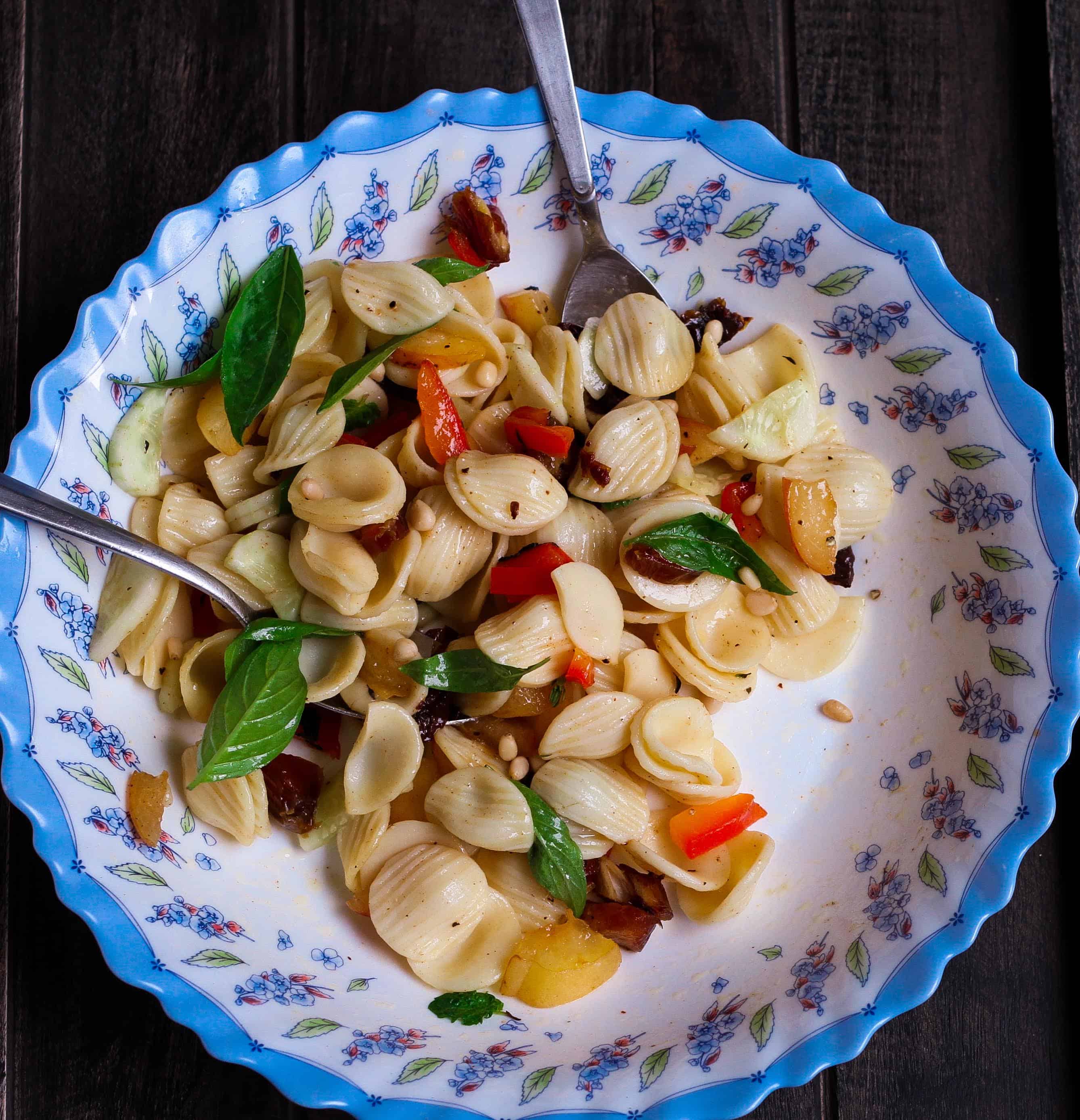 This salad has the kick from coarse black pepper, heat from smoked paprika and gosh, how herbalicious is it with loads of fresh mint, basil and thyme! The herbs go in here in place of regular salad greens...well its monsoon season here and we aren't getting very good leafy vegetables. So the garden came to the rescue..with abundant mint and basil growing all over! But yes, please add some lovely rocket and baby amaranth leaves if you have access to them.
While this salad served us well as a main dish as is, you can easily add some protein to make it heartier. Serve as a side to grilled chicken, shrimps or tofu ( paneer would be great too). Like cheese? Throw that in too! It's a breeze to make and an absolute crowd pleaser. Go ahead, make it quickly before the apricots go away for the year!
If you try this recipe, do let me know. I'd love to hear from you! Please do tag me on Instagram @tashasartisanfoods, using the hashtag #tashasartisanfoods. You can also FOLLOW ME on INSTAGRAM, PINTEREST for more fabulous recipes!
Print Recipe
Apricot & Date Pasta Salad
Easy, healthy, fresh Apricot & Date Pasta Salad is just in time for summer! Eat it cold or warmed up, it just works every which way!
Ingredients
250

gms

Orechhiette or any other small Pasta

5

Fresh Apricots, cut in thin slices

5

Dates, cut in thin slices

6

pcs

Sundried tomatoes, cut in thin slices

2

small

Cucumbers, peeled and cut in thin half moon slices

1

Red bell pepper

A good handful of fresh mint and basil leaves

5-6

sprigs

Fresh Thyme

2

Tbsp

Fresh lemon juice

2-3

Tbsp

Extra virgin Olive oil

1

tsp

Black pepper, coarsely ground

Add more if you like

1.5

tsp

Smoked paprika

Add more if you like

Salt to taste

2-3

tbsp

Pinenuts for topping
Instructions
Bring a pot of salted water to a boil and cook pasta as per the directions. Drain it and keep aside.

While the pasta is cooking, roast your red bell pepper. Turn the gas flame to medium. Place the bell pepper on top. Let it roast for 15-20 minutes, turning it every 5 minutes with a pair of tongs. Once its nicely charred and softened. Take it off the heat and wrap in a piece of aluminium foil for 10 minutes. Now you can easily take the skin off the bell pepper, seed it and cut into thin slices.

In a large bowl, add the cooked pasta, cucumbers, roasted red pepper, sundried tomatoes, apricots and dates. In a small bowl, whisk together lemon juice, olive oil, black pepper, smoked paprika and salt. Pour over the pasta mixture. Mix well. Taste and adjust for seasoning.

Now gently combine the fresh herbs, sprinkle with pinenuts and serve. You can serve this salad at room temperature, chilled or even warmed up. Enjoy!